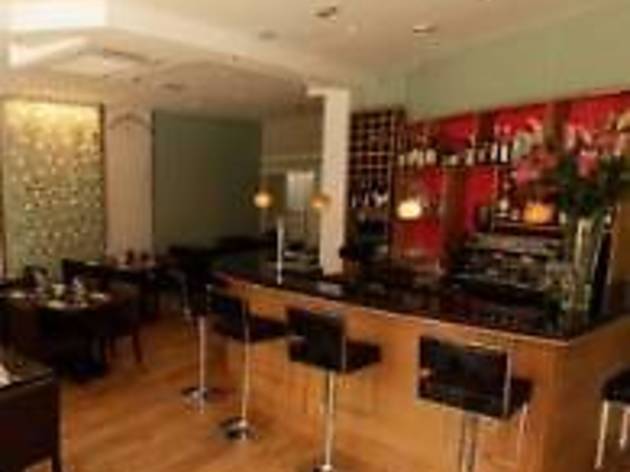 Venue name:
Hazara Restaurant
Contact:
Address:
44 Belsize Lane
London
NW3 5AR

Price:
£££
Menu:
View Menu
Do you own this business?
You may be interested in:
Average User Rating
4.6 / 5
Rating Breakdown
5 star:

12

4 star:

0

3 star:

1

2 star:

0

1 star:

1
Great ambience to with amazing food makes this place a must go for the authentic Indian Cuisine.
Gosh, seeing all these good reviews must mean we went on an extraordinary unusual evening, with terrible service, very meagre portions, and no spicy taste (both dishes ordered advertised with chillis next to them).
We had to wait ages to be served: drinks took forever, and mine at least 20 minutes after my friend's was served, as well as just after my food was served; my friend's dish was 4 small portions of cubed fish with a small dollop of insipid garnish, and mine was 5 small cubes of chicken in what tasted like OXO stock, instead of a spicy/coconut taste.
They also charged for sambals i.e. chutney, even though we were not asked if we wanted them or not.
The staff also seemed very distracted and disorganised, with the table next to us having a similar problem with a lack of service.

Glad the other reviewers raved, but I don't recommend this experience.

I liked the food and service here. The ambiance of the place is good. We had a gathering of around 2 families. . The service and behavior of staff is very friendly.The bhuna gosth and sea food biryani is very nice the lamb was very tender and we
The food, ambience and service is excellent at Hazara. Very high class and fine dining quality. I have been to Hazara so many times and it has become my favourite Indian restaurant. George on kebabs along with some great wine. The restaurant is a good,
Beautiful interior and delicious food; I've taken both american and local friends there, and it never disappoints. A fantastic reataurant. Home away from home. For a Delhite, it was a fantablous experience to find such a place in belsizeparkThe vast and grand dining room really is impressive, as is the service. Staff are agreeably professional yet friendly and great at helping with dilemmas and difficult choices The food is unique and the combinations are brave.. Awesome cuisine and ambience.We had a three course and were treated to superlative Indian food stimulating all tastebuds and the service is out of this world. Will definitely go back again. Perfect for business meetings and those special occasions Awesome culinary experience What to Try:white fish plater,samudri sangam,murgh makni
A very tasty meal and I loved the Indian food My boyfriend and I visited this restaurant on a Satarday evening. There were plenty of tables when we arrived but within 30 minutes every seat was filled.We were very much engrossed in chatting and old memories but as soon as starters arrived, we were totally into food. It is an 'authentic Indian restaurant' in bringing the best dishes from various regions, and cooking them to the highest standards with quality ingredients imported from India or. it's decor from decorations to its unusual cutlery (I must get some!) highlights its difference. Loved the food, loved the service, loved the interesting and different dishes to choose from and tasted nothing quite like it before. Everything was amazing, fresh, perfectly spiced, perfectly cooked lamb that melted in your mouth, bursting full of flavours. ervice is always excellent, from keen knowledgeable staff, and an energetic engaging manager. as for the food, it is simply some of the best Indian food I Have had anywhere, and this in an area where competition is high and customers demanding. d particularly recommend dal makni" bhuna goeth" and the chicken tikka masala the fish curry was mouth watering. "Well done and all the very best for keeping up the good work" Don't forget to try the special dalmakni with garlic coriander bread
have heard a lot about hazara for past one year, but today I got an opportunity to visit this place. I was there today and I enjoyed my food there. Started with tockri chat was awesome. dalmakni was exelent+. I also ordered Tandoori meat plater which I would rate as ten of ten .Chicken Tikka Lababdar was something like mouth watering and Chicken jalferze which was good. Price wise I would rate it in higher side. Ambience was good. Overall had a quality time
Guaranteed good food This place is my favorite below are the reasons why Great consistent high quality food Good attentive service Homely/ business atmosphere Excellent wide variety of choice of food for veg and meat lovers Ambiance is lovely nice decent meat platers if you are hungry and want to entertain guests or clients and do not want to risk bad food or service GO HERE its Guaranteed good food and service
Just been for the second time and will be going again without a doubt! Amazing quality food and service of a standard not often seen these days. Just the description of the specials made the mouth water and when the food arrived it was as delicious as it sounded. Expert and friendly staff, outstanding quality of ingredients made it a meal to remember. Like one of the other reviewers we had a birthday to celebrate and the owner sliced the top off the champagne bottle with a silver sword. I had only ever seen that done on TV before! Amazing. Be sure to ask them to do it. Can't recommend this restaurant highly enough.
oh mygod mind blowing i came here with my friends for a friends birth day .we were able to get a big table for our party with out reservation on las friday evening.food was really emazing.we ordered the lamb korma,dalmakni,chicken tikka masala,with bread garlic naan was very soft.i would come back to the agian great food nice atmosphere i think just might be my new favorite indian restaurant
One of my favourite restaurants in the whole of london! I went to this restaurant for my birthday and it was fabulous! The food was outstanding and the service was great too. Hazara really does live up to its title of "Michelin Star" I would most certainly recommend this restaurant to anyone! We spent our childhood growing up in delhi so are very knowledgeable regarding authentic Indian food and love the fact that Hazara is based on the moti mahal that we know so well in delhi. Having grown up in delhi I really love the fact that Hazara is based on the old moti mahal that I know so well. The food tastes great and is really authentic, the waiters are friendly and efficient, the atmosphere is relaxed and I really like how you can pop in any time of day (breakfast, lunch or dinner) for a delicious bite to eat! We particularly enjoyed the mouth watering dal makni, the chicken tikka masala and the tookri chat East or west HAZARA is the best
After a number of visits to this restaurant I feel compelled to leave a review. Each time I've been here I have found the food to be better each time even when I didn't think it could it may have something to do with the kitchen gelling over time. The food is wonderfully balanced not too spicy but if you like spice they can increase things to suit you but they prefer you to be able to distinguish and identify all the flavours which real Indian should be like reliably informed by the welcoming owner. The place has a modern feel to it and is buzzing at weekends it's by far the prettiest restaurant on Belsize Lane and by far the best food. Go check it out you won't be disappointed.
Fantastic venue the food is fabulous fresh and light the best Indian food I've ever tasted. Will definately be back