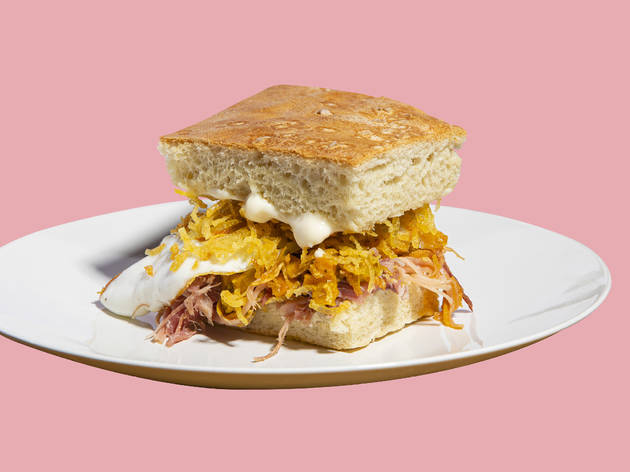 Hype Dish: Max's rustic but rad ham, egg 'n' chip sandwich
Chef Max Halley explains how he came up with the idea to turn a pub food classic into a sarnie
When Max Halley decided to open a sandwich shop that was open at night, he realised he needed to convince people that a sarnie could be dinner. 'Everyone likes ham, egg and chips, and I thought if I just slapped that in a sandwich, it would be an easy sell to explain what I was doing,' he says. That's how Max's Sandwich Shop's most famous cult creation was born – and it's been on the menu since it opened. Halley talks us through how he transforms a pub banger into an epic sanger.
The bread
'You can't mayonnaise a sandwich appropriately with sourdough. That's why I like focaccia. We make our own. It soaks up juices without losing its structural integrity.'
The chips
'We use a mandolin for the shoestring fries, then fry them. They're so small and they're mad crunchy. The crunch is where most people's sarnies let them down.'
The piccalilli
'We make big vats of it. It's got literally half my spice rack in it and an extraordinary volume of vegetables – onions, carrots, cauliflower. It gets along so well with the ham.'
The ham
'We use whole hocks – the bit above the trotter. We braise them for four or five hours. That creates a beautiful stock, which we reheat the meat in, so no flavour is lost.'
The egg
'The egg is fried quickly and really hot, so you have a crispy bottom and a runny yolk. I think you want that in a sandwich. You want it medium rare, as it were.'
Max's Sandwich Shop. 19 Crouch Hill. £9.95.
We dissect what London's much-loved dishes are made from.