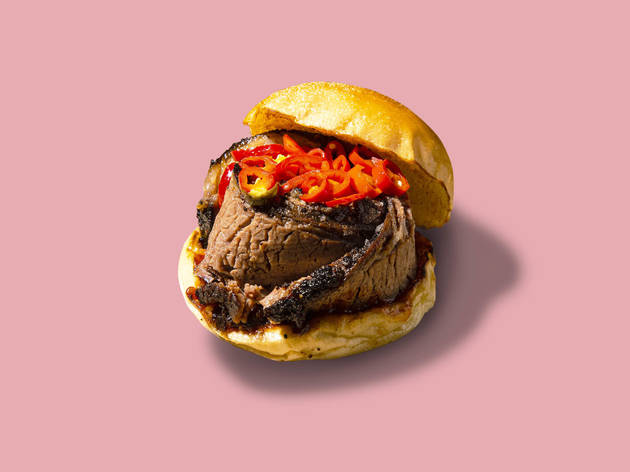 Hype dish: Smokestak's 'perfectly balanced' brisket bun
Smokestak founder David Carter explains why when it comes to this signature bun, less is more
Smokestak's brisket bun has been on the scene in some form since 2013, from the restaurant's early street-food days to the DIY kit version released in lockdown. Founder David Carter came up with it on the festival circuit. 'We were doing smoked ribs but it was quite messy, so we started doing the brisket bun,' he says. 'I'm not saying it's the perfect dish but, to this day, I don't think we've managed to get a dish as perfectly balanced.' He talks us through what makes it work.
The bun
'We work with a very small Asian bakery which makes milk buns, but we don't know the recipe. They're a brilliant vehicle – they retain the barbecue sauce and beef fat.'
The dripping
'We trim the fat off the brisket and render it in the oven. It makes it more decadent. It's like adding butter to pasta: it doesn't need it but why would you not use it?'
The brisket
'We smoke it for 12 to 14 hours. It breaks down, and it's as much a texture as a flavour. We use around 120g per bun. We've tried adding more but it throws off the balance.'
The sauce
'It's a classic barbecue sauce. We make huge vats of it. To make a really good one, you need a pan with a really big base. The bigger surface area helps it all to caramelise.'
The chillies
'We boil cider vinegar and sugar and let it cool before adding red chillies. They keep a bit of heat and a bit of crunch but they're milder than if they hadn't been pickled.'
Smokestak. 35 Sclater St. £9.50.
We dissect what London's much-loved dishes are made from.