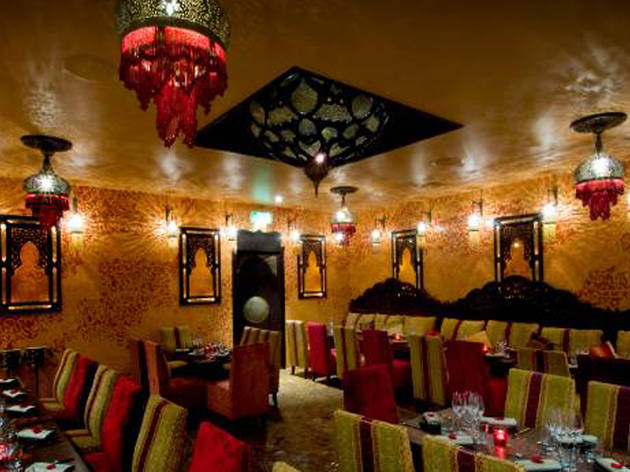 1/6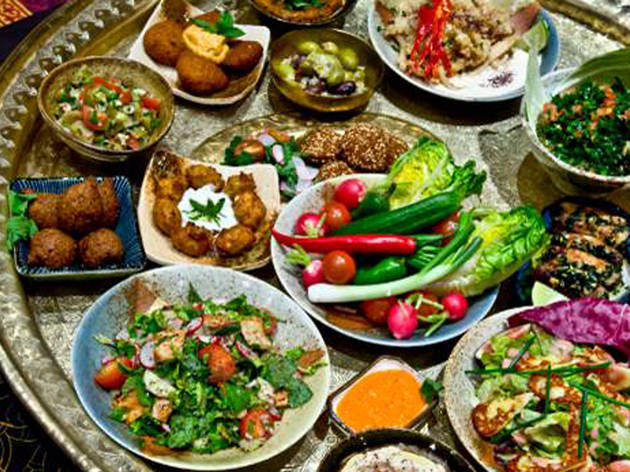 2/6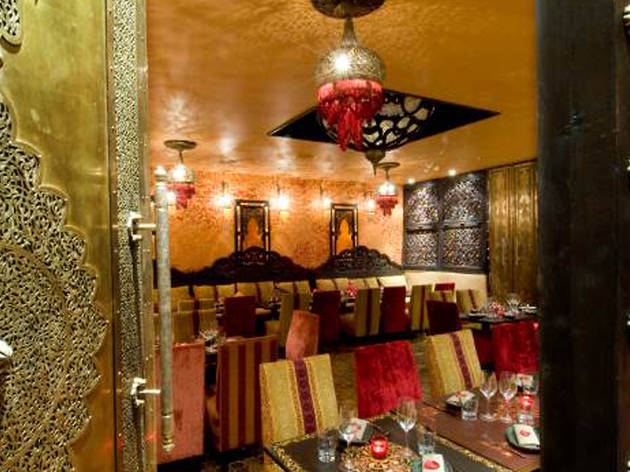 3/6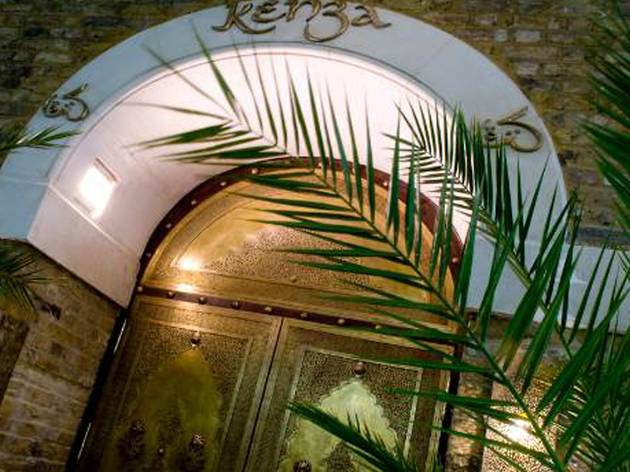 4/6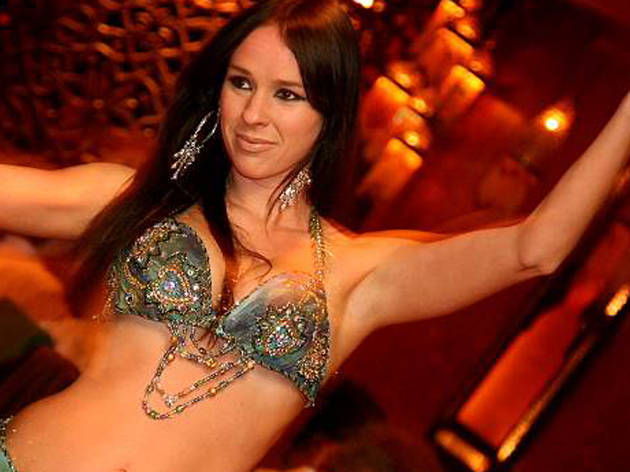 5/6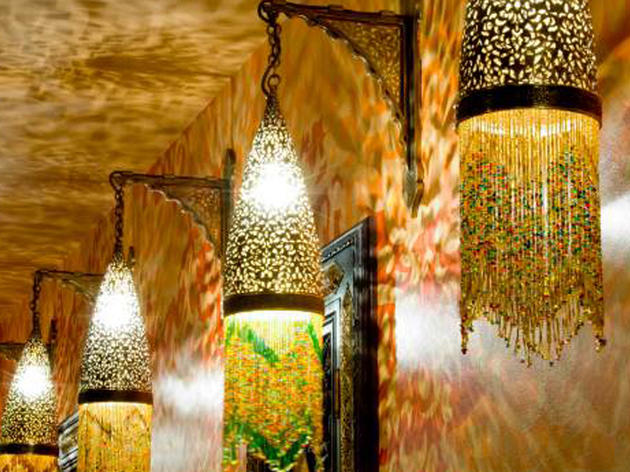 6/6
Time Out says
A palatial Lebanese restaurant in the heart of the City.
A little known fact: Tony Kitous's cheap and cheerful Middle Eastern franchise, Comptoir Libanais, set up shop two decades ago, but it also has an older, more seductive sister. Hidden just off Devonshire Square, Kenza is flanked by a bodyguard (with possibly the sweetest security gig in the city), flickering flames and an entrance that's more Arabic nobility than your average Liverpool Street alley. Leave London cynicism behind and let yourself be wooed by the twirling mosaic-covered staircase and rose-petal-scattered water features, as it leads down to a dining space that you may genuinely struggle to leave. A dark wooden lattice divider separates the bar and restaurant areas, which are fashioned like an upmarket souk, with striped silken furnishings and twinkling Moroccan lanterns. It's just the right level of opulent-kitsch and on our Saturday night visit was packed with chic, merry groups of all ages.
As for the food, it's home-style Lebanese meant for sharing – we opted for the mashawy feast menu, comprising seven mezze plates, lamb meshwi, shish taok and lamb kofta on a mountain of rice, with a tiered platter of fresh fruit, baklava, Turkish delight and mint tea. First came fresh, hot pitta spiked with nigella seeds for dipping in buttery smooth houmous (they peel the chickpeas first), a rich umami moutabal (fried aubergine dip) and koosa bil tahina, a cooling blend of fried courgettes, yoghurt and garlic.
More arrived as soon as we scooped up the last of the dip holy trinity: sautéed potato chunks topped with spicy red pepper sauce, heady, herby falafel and kibbeh filled with aromatic lamb and pine nuts. Mezze passed with flying colours and a long wait for our main was allayed by the arrival of complimentary Beiruts, a twist on a lychee martini. That and the fact that the music was turned up for the four belly dancers to wind between tables (both Friday and Saturday nights include early and late sessions).
Then came the mashawy, which obliterated any memory of sad holiday buffet mixed grills – instead it was all tender cuts of meat, seared to crisp on the outside and juicy on the inside. Vermicelli rice was appropriately buttery and extra harissa matched the punches pulled in the mezze selection. For £37.50 per person, it's a lot to get through (and that's even before dessert arrives), so come ravenous, or expect to take some home with you.
With the kind of heavy pop soundtrack that will get you into a partying mood, you could easily go to Kenza and stay dancing. One woman, who must be the embodiment of Kenza herself, was grooving for the entire three-hour dining slot. You'll want to book a booth if you're after a more secluded, quieter night. My advice? Beg, borrow or steal to find a reason to cut loose.
Details
Address:
10 Devonshire Square
London
EC2M 4YP

Transport:
Tube: Liverpool Street
Price:
Dinner for two with drinks and service: £110.
Contact:
Do you own this business?
Average User Rating
3.1 / 5
Rating Breakdown
5 star:

1

4 star:

3

3 star:

1

2 star:

2

1 star:

1
One of the best experiences. Beautiful ambience, friendly service and good food, def will come bk and will highly recommend it xxx
good value, nice service. the belly dancers were a nice touch too, will be returning.
STOLEN OR MISPLACED CAKE????
I have been to Kenza a few times and each time was ok not the best but ok! THIS trip had to be the worst one of all! I threw a hen party dinner my sister's who's getting married and moving away! The evening was going great UNTIL it came to dessert! For a while I kept asking the staff for the cake I had provided which can I ADD was a surprise for my sister! I could see them pacing and looking around! It's not a cake that could be missed as it was larger in person! These people had the audacity to say "Madam we accidentally gave the cake away" HOW HOW HOW?
How could that happen? I am still very confused! How do you give away a cake that was marked and distinct? At night which was going well, which would have filled with amazing memories ended in tears and hurt! I am SOO DISAPPOINTED and ANGRY!
My advise is , If I was any of you, I WOULD NOT STEP FOOT in a place like that!
Delicious food and a nice ambience at Kenza. The food is veggie friendly and there's a lot of choice. The restaurant does feel a bit cramped with the tables tightly packed together. Overall good service. There are belly dancers who perform whilst you dine. I didn't enjoy this because I was trying to talk to my friends but the music was very loud and the dance show felt uncomfortable, but I can see why other diners would enjoy this.
I've both ordered delivery and eaten at Kenza. It's delicious, and definitely one of the best Lebanese restaurants in London. Their portion sizes are a bit over the top, I love food (especially Lebanese), but a single serving at Kenza could easily feed 3-4 people! Their generosity in the portion department can only be matched in their extensive list of cocktails. You'll easily spend hours deciding on what to drink before you even get a chance to look at the food menu.
One negative though is the service, while the delivery was very fast, reliable and the presentation was amazing (especially considering it was delivery), eating in the restaurant is another matter. The staff are either pretty lackluster and disinterested or they're trying to force food down you and get you out the door giving you indigestion! I really really hope they change this behaviour as it ruins what is a majestic and beautiful experience in their otherwise perfect restaurant.
The restaurant itself is stunning and very romantic, it makes you feel like you're in another land. While it's amazing for the winter, being in a opulent, atmospheric basement is probably not what you're looking for in the summer. Which is a terrible shame, seeing as Lebanese is even more tasty in the summer months. I can only hope they open another branch somewhere more summer friendly.
I totally agree with Jennah at all levels. The only good point about this restaurant is that the decor was carefully designed. However, the service offered is very low. The waitress are rude, arrogant... and helpess when you ask a question. The food is so-so As Jennah mentionned It seems also that the restaurant applies a weird menu rule, and is quite expensive for what you obtain. Will never go back there.
This restaurant is just mediocre. The decor is stunning and theres no questioning that it's beautiful and luxurious, but it's all a bit of an anti climax from there on! The foods tasteless and average, they have strange menu rules and a basic menu. the staff are a tad abrupt when they don't need to be, it's like you're doing them a favour dinning there, their belly dances lack any authenticity and are distant and souless, the music is deafening making a conversation not that easy. To top it all off it's expensive for what you get to eat, service and OK nice decor, I don't drink and I still paid £45! If you want to look posey in your FB pictures go here if you are a genuine foody and no your restaurant stuff don't go!