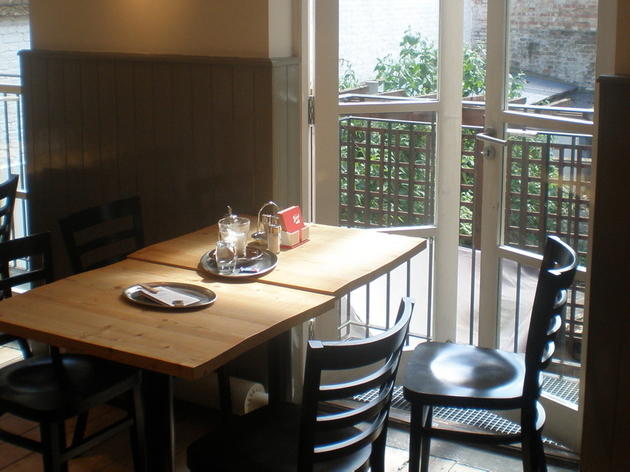 Time Out says
We're fond of this Austrian café/restaurant, but it seems to have become a bit complacent. What's listed on the menu isn't always what appears on the plate, and too many dishes lack flavour.
A starter of smoked trout on toasted rye bread and cranberry horseradish emerged from the kitchen as a bland, supermarket-style fish, on a mountain of cream lightly tinged with cranberry and horseradish, plus a few fingers of bread. Beef goulash with spätzle (egg noodles) was OK, but had no depth of flavour, and the spätzle could have used a little more butter. Spinach dumplings with organic mountain cheese from Vorarlberg and green salad was tastier. Best was kaiserschmarrn – thick chunks of pancake, served with raisins and a little pot of morello cherries – though we wished the cherries had been served hot, as advertised.
The short wine list has some reasonably priced Austrian wines (also available to take away) – but don't get too comfortable; the place closes at 10pm, and staff start clearing up well before, making it clear that diners should pay up and leave. Service is otherwise helpful, but on current showing, these light, modern premises are more suited to their daytime café existence, offering plates of sausage and sauerkraut, cakes (apple strudel, cheesecake), and coffees (served the Austrian way, with a glass of water and a little chocolate).
Details
Rating Breakdown
5 star:

6

4 star:

1

3 star:

4

2 star:

1

1 star:

0
So, they've only gone and got themselves a zero (yes, zero) hygiene rating from Islington Council a few months ago (autumn 2016). Which is a pretty impressive thing to get for somewhere which just fries eggs and toasts bread (that or thereabouts). I've always rather liked it but recently, it's taken a nose-dive off the famed Austrian cliffs - the food is lacklustre, the wieners very disappointing, and the service quite frankly appalling. We had three different waitresses all bringing us different takes on what we'd actually ordered - it's so simple to have a table served by one member of staff who (blimey) writes down what you've actually ordered, but no, this isn't the Kipferl way . . . Shame really as it used to be great back in the day . . .
Half way through a day full of meetings, one of the others from the office had gone to Kipferl Café, located off Camden passage in Angel, to pick up takeaway Kaiserschmarrn. Even though he, nor most of the other guys in the UK office had never heard of the traditional Austrian dish before, everyone was intrigued by this dish and wanted in.
The Kaiserschmarrn came in these takeaway boxes (see picture) and I thought this rather hipster brown box was a great look for it. Despite it's journey on a London bus, it arrived still warm. No compote, but with strawberries to garnish. The pancakes looked great, perfect array of torn sizes, and the portion size per box was good.
The taste and texture of the Kaiserschmarrn was amazing, the edges were crispy, middle gooey and fluffy. There were ample raisins, plenty of icing sugar – and despite the lack of compote (I think may have been due to taking away) – each mouthful was moist and absolutelydelicious. There was a prominent vanilla taste (perhaps vanilla icing sugar was used) and a note of lemon, which gave it a flavorsome edge, a substitutethe lack of fruit tang from the compote.
Thanks Kipferl for this truly amazing Kaiserschm

arrn experience

.
Lovely place to have authentic Austrian cuisine. The goulash and the Kaiserschmarren are fantastic, the schnitzel is good (although when I went there last, it lacked the evenly golden colour you would expect in Austria..). Good beer, friendly atmosphere - a must-visit for all expat Austrians and everyone who loves Austrian cuisine. Highly recommended.
Excellent in every way. Hearty delicious food, home made cakes and best coffee in London...by far. Definitely will return!
great place, great food, great variety of meals, coffees, wine and cakes! haven't been there for the first time with my kids! very very child-friendly team!
It is an okay place to go for breakfast, however I miss Macondo a lot. That place is not very child-friendly unfortunately. we might be back for a coffee but for a nice breakfast we go somewhere else.
Had a fantastic brunch on Saturday morning, great coffee selection and huge omelet. Service was very friendly and the variety on the menu will need a few more visits to do justice