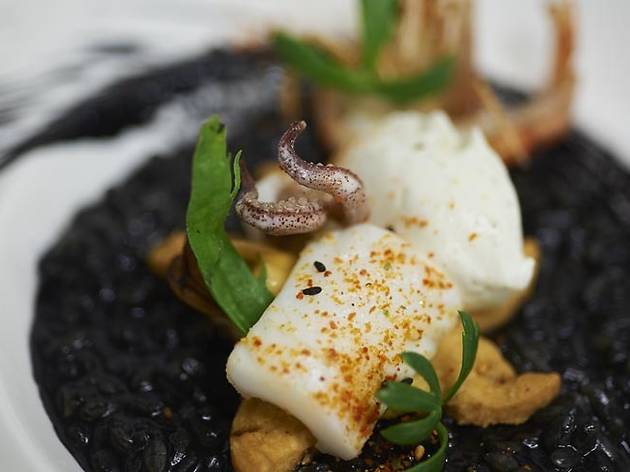 Time Out says
A restaurant in High Barnet.
Details
Address:
Unit 9a, Alston Works
Falkland Rd
London
EN5 4LG

Transport:
Tube: High Barnet
Contact:
Do you own this business?
Rating Breakdown
5 star:

2

4 star:

0

3 star:

0

2 star:

0

1 star:

0
I didn't know much about gastrophysics or multi sensory dining before visiting Kitchen Theory, but this experience, even though it appeared interesting while reading about it on paper, it revealed to be beyond my expectations after actually trying it. Kitchen Theory is a restaurant in Barnet, not too far from High Barnet tube, and easily reachable thanks to the instructions you will be sent after your booking (and which you can also find online). It is a restaurant where Chef Jozef Youssef and his team, will guide you to experience how aroma, texture, color and sound affect our dining experience.
When I arrived, I was greeted by the manager Lulu who was extremely friendly, offering me champagne (as the experience began with a drinking reception waiting for the other people to arrive). The interior design was pleasantly minimal, with white walls, antique furniture and pictures on the walls showing previous dishes proposed in the history of Kitchen Theory.
After watching a brief clip on what gastrophysics really is, we met Chef Jozef Youssef who greeted and asked us to do some sample taste tests, before introducing us to his team and later, lead us to the dining table, where a 13-course dinner was waiting for us.
Every dish was paired with a specific cocktail or wine, and you could clearly feel every since flavor in every single dish. Let's take the Ryujin's Servant one for instance, which was jellyfish marinated with garlic, sesame seeds and served with seaweed and cucumber gazpacho. Reading a description of a such a dish you might not really be attracted by it, especially as when we think of jellyfish we think of it as jelly and perhaps disgusting; the experience of this dish however, was very far from being disgusting, it was actually delicious! Thanks to a projector, the tablecloth changed colour, adapting to the "sea theme" in terms of colors and lights, we were also given headphones to focus on the crunchiness of the jellyfish, listening to sounds which enhanced and let us focus on our experience; and drinking a white wine which paired perfectly with what we were eating. Later, we were served on a piece of log (yes, a piece of log!) the Tsumikasa, a mushroom in four ways, served with parsley crust, olive oil pebbles, Cassava, shallot crisp, pumpernickel soil and picked sultanas. The tablecloth turned to green and black, representing what looked like the Amazon forest; the air was spayed with a smell that included the smell of the rain during a thunderstorm, the smell of wood and the one of the forest. Lastly, another dish worth mentioning is the Umami, made of Amazake rice ice cream, chocolate Parmesan, mushroom sponge and licorice. Yes, this was a pre-dessert, and even if at first the ingredients might not seem to pair well with one other, you should be brave and taste them, and I'm sure you'll agree with me on how delicious they are.
Kitchen Theory multi sensory dinner was a wonderful experience, and I truly believe that colors, experimental ingredients pairing, sounds and smells can deeply change your dining experience. Chef Youssef was nice and entertaining at all times, always open to give further explanations and satisfy our curiosity about what we were eating. This is an experience which you should absolutely try; flavors, you'll discover, can be deeply changed if we involve all senses during our dining experience.
Last, but not least, it's worth every penny, so go for it! You'll impress your date (if you'll have one), but most of all, you'll discover new flavors and feelings that otherwise you might have not been able to taste and feel.