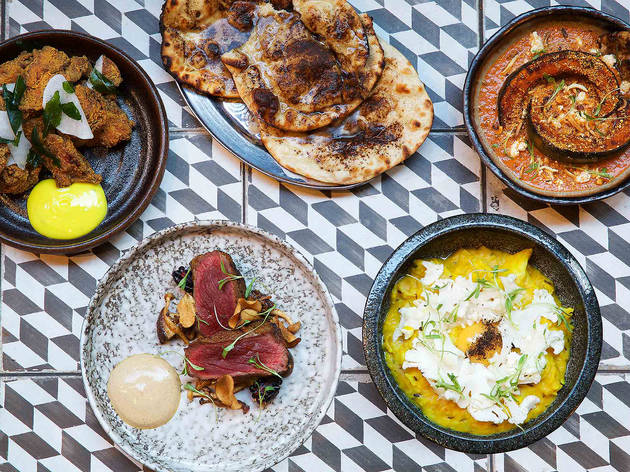 1/6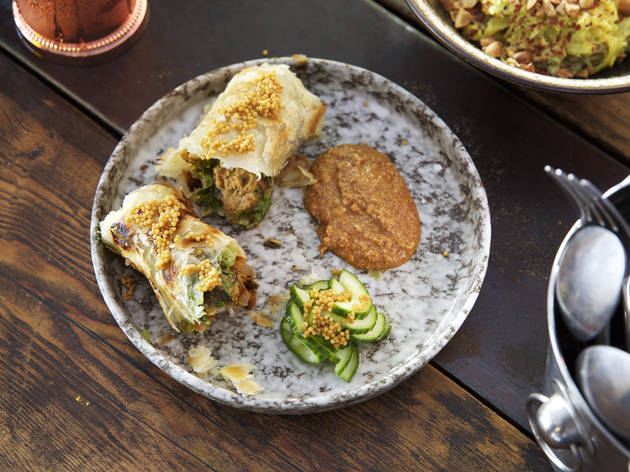 2/6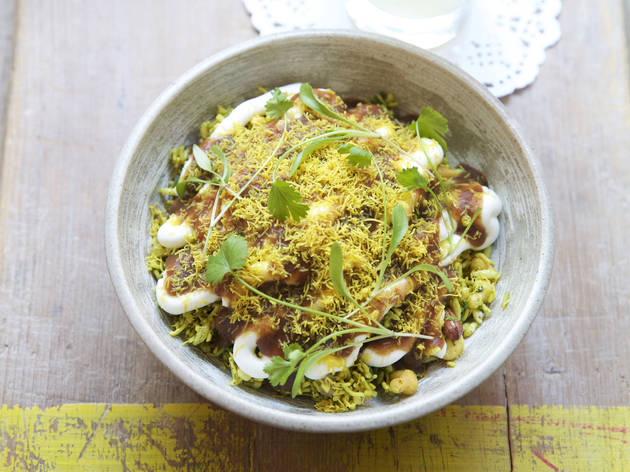 3/6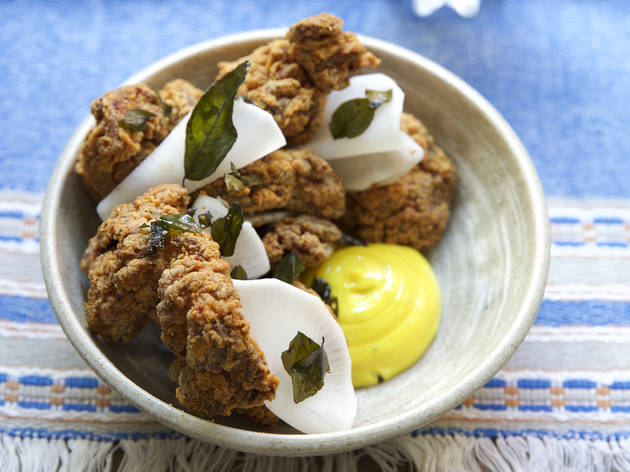 4/6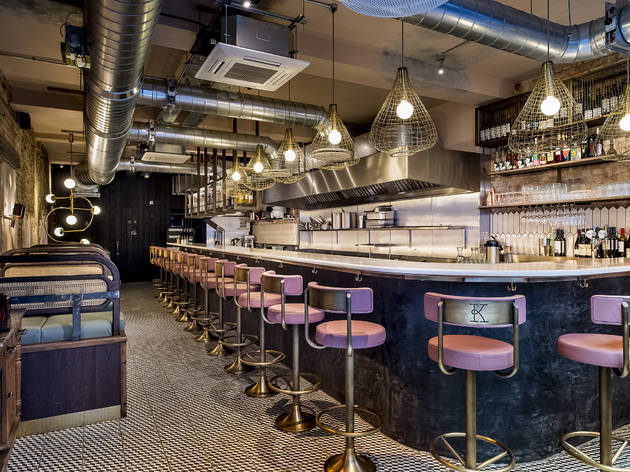 5/6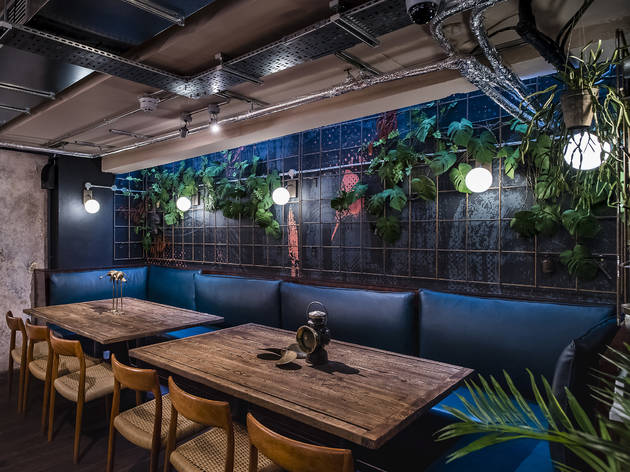 6/6
The first bricks-and-mortar branch of this modern Indian-inspired restaurant.
Kricket's new Soho restaurant is the much-awaited spin-off of the tiny but brilliant Brixton original. Once again, Anglo-Indian small plates are the speciality here. But this time, the vibe is more obviously one of stylish sophistication: think exposed brick and sleek monogrammed barstools, dominated by an L-shaped counter where you can dine looking over into a gleaming open kitchen. Sit here for the best experience – the chefs are fit and friendly, and you get to watch them do clever things like skilfully rolling kathi (skewer-roasted kebabs).
Just as good-looking is the menu itself. Refreshingly short, everything on it felt carefully considered. Best of all was the kid goat raan: served in a simple ceramic bowl, this was a generously portioned stew of tender meat, dotted with sweet pomegranate seeds. A dish of butter garlic crab was also delicious: perfectly creamy and packing a chilli punch, it came beautifully presented in a dinky little bowl with poppadoms perched on top for dipping. My only nitpick would be that it was so rich it could have done with being half the size (and, therefore, price). There were a couple of niggling errors elsewhere too: samphire pakoras came with just a tad too much date and tamarind chutney, and the signature Keralan fried chicken was a little too salty.
But when Kricket's good, it's brilliant. The delicately aromatic cardamom kheer rice pudding was hugely comforting; a spiced masala chai so delicious I ordered two. Plus this joint looks so good and feels so intimate that it'd be a great place to wine and dine a hot date – not something you could claim of your average Brick Lane cuzza. Feeling lucky? You could always go solo and try your chances with one of those chefs.
Venue name:
Kricket
Contact:
Address:
12 Denman Street
Soho
London
W1D 7HH

Transport:
Tube: Piccadilly Circus
Price:
Dinner for two with drinks and service: around £90.
Menu:
View Menu
Do you own this business?
Average User Rating
3.7 / 5
Rating Breakdown
5 star:

4

4 star:

6

3 star:

4

2 star:

1

1 star:

1
Another one of Soho's puffs and huffs that will surely die out if it carries on like that.
Went for an early business lunch for 2, on a quiet snowy day, and found the establishment mostly empty, which didn't stop the host from first ignoring me, then giving me suspecting looks as though trying to estimate my worth in average spend.
Taken downstairs to a very 'cool' communal table where things went from bad to worse. A terribly inhospitable waiter barked at me that, (just in case I never ate out before) "it's a small-plate-sharing-concept so minimum 5-6 plates - ok?"
Then the strange looks as we ordered the entire vegetarian block of the menu (cheap he must have thought) and the even more cumbersome presentation of the dishes that followed as they arrived.
My partner for lunch was looked down upon too as he said water will suffice.
Food was average. nothing special. but I had a bite caught in my throat each time the bully-waiter approached.
On almost every empty table there sat a pseudo-manager gazing at his laptop totally ignoring the fact the team had no clue about service.
Punchline - "we don't do coffee. only chai". Do you have milk-alternatives - "No".
The restaurant was half empty when we finished our lunch but it didn't stop the bully from starting to re-lay our table in front of me and my partner whilst we were putting out coats on. Disgusting.
They clearly invested in the design and must be paying £250,000 in rent a year (if not more) for that site, it's a shame they have no clue how to turn this investment into an experience.
Very very poor.
Having read the glittering reviews I was really looking forward to dining at Kricket. Unfortunately it was big let down. As we entered the door we were greeted by the very friendly hostess who showed us to our tables, so far so good. The friendliness disappeared with her unfortunately as the serving staff were unfriendly and somewhat aloof. We each chose 3 half plate dishes as recommended by the staff:
The Bhel Puri was very average, the Samphire pakoras tried too hard to vary from standard pakoras whilst not bad were not particularly great either. The Telangana beef pickle was microscopic in size, avoid. The Kerala fried chicken was okay and came in a decent portion. The only outstanding dish was the Tandoori Monkfish, very succulent with a perfect Tandoori flavour. Now to the cocktails, quality okay but they need far more variety for a Central London venue.
The final impression wasn't good either, we received the bill without asking or being asked if we wanted it. Whilst many Central London/City restaurants state a time of 2hrs table time whilst booking very few will have the bad etiquette of suddenly producing a bill without 1st asking if you want it. Overall this venue didn't leave a good impression and I cannot recommend it. There are far better Indian fusion style restaurants out there for the same money.
Kricket has pipped Dishoom to the post as my top modern Indian small plates eatery, it's dishes are as flavourful as they are creative and beautiful to behold. My tip would be to go with the waiter's suggestions - and don't miss out on the scallops - as their knowledge of the menu is superb. The menu is nicely split between meats, fishys, and veggies and of course some classic naans to kick things off. Wine was nice and also very nicely priced. Dinner for two with drinks was around £70 so very reasonable considering how yummy it was. Will be heading back here again before long!