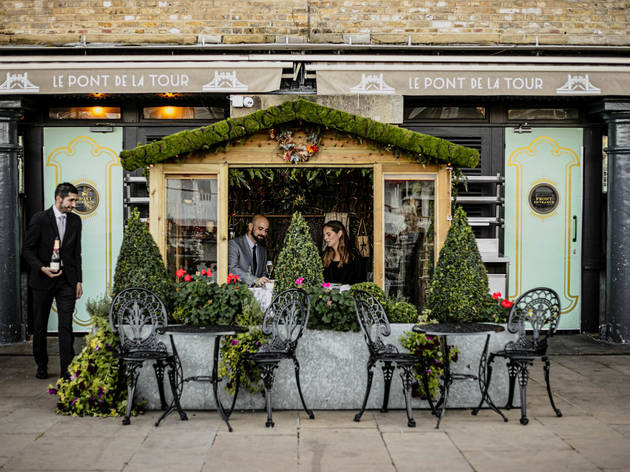 1/10
Thomas Alexander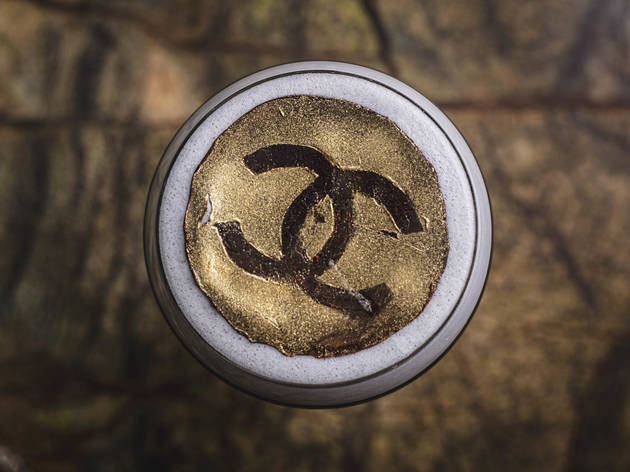 2/10
Thomas Alexander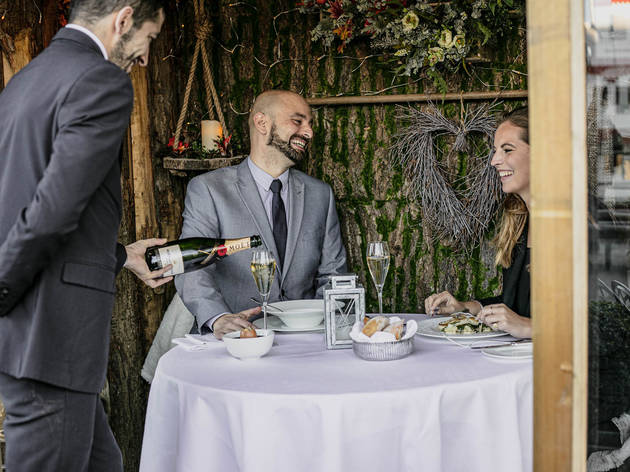 3/10
Thomas Alexander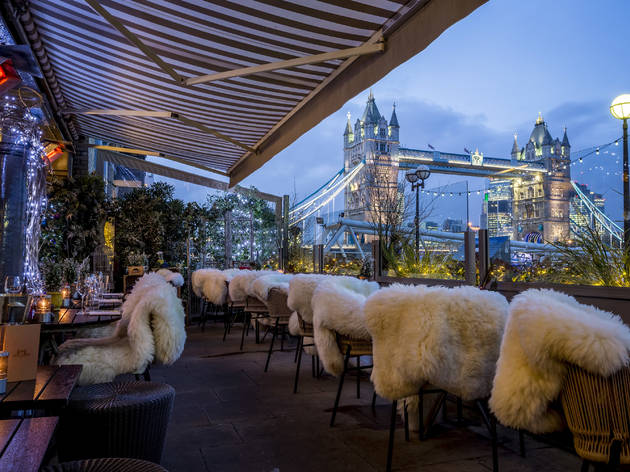 4/10
Thomas Alexander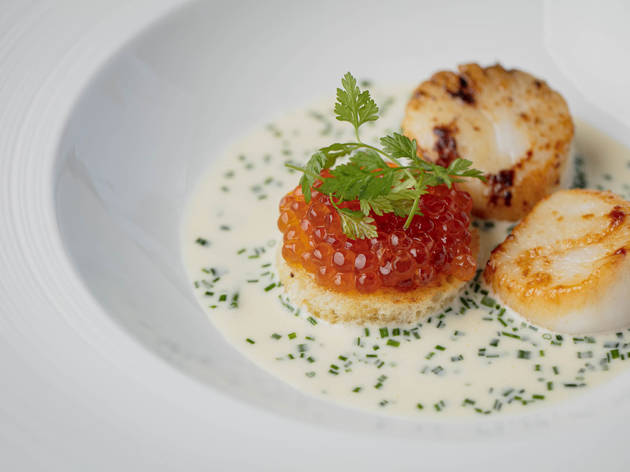 5/10
Thomas Alexander
6/10
Thomas Alexander
7/10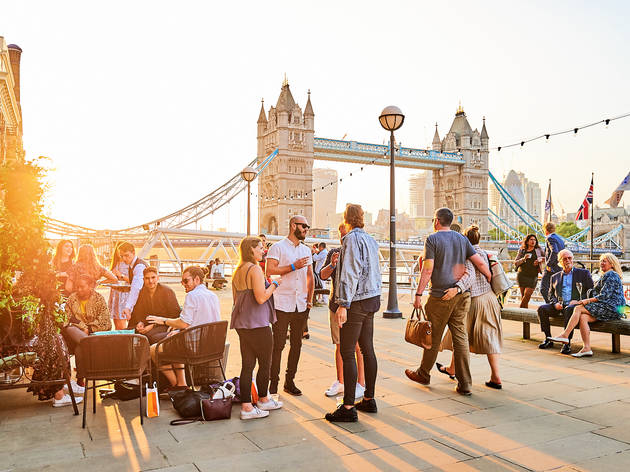 8/10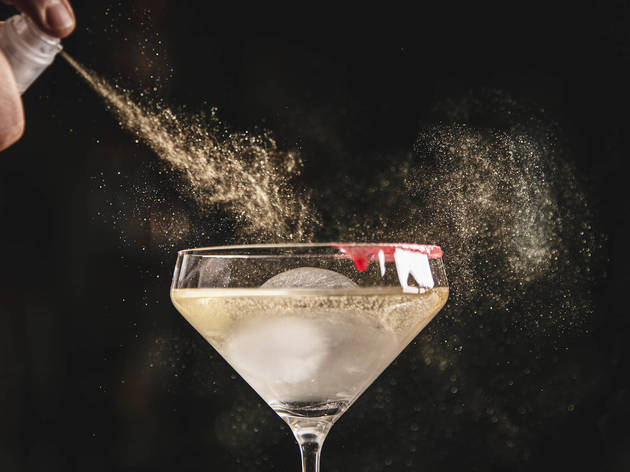 9/10
Thomas Alexander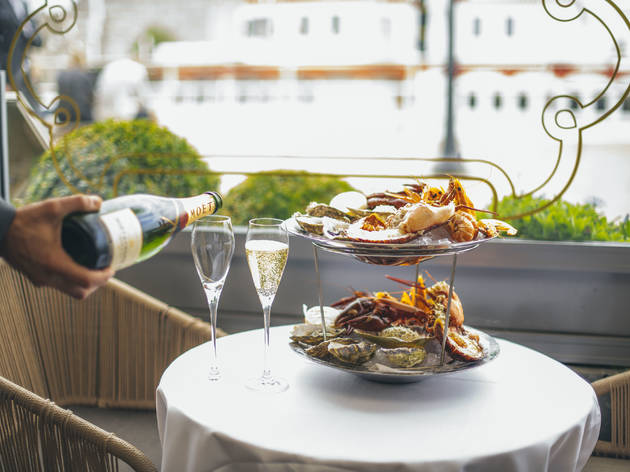 10/10
Venue says
Our Truffle Hut is back! It's cosy interiors and show-stopping truffle menu make it the perfect spot for a romantic meal à deux!
Time Out says
The long riverside dining room is elegant if a little soulless, but the setting is picture-perfect: dining on the outside terrace with a view of Tower Bridge feels like posing for a London tourist brochure. Cynics might expect the food to disappoint. It didn't. The lunch and dinner menu du jour offers great bang for buck, with many dishes lifted from the carte. Vegetables cost extra. New potatoes were an unnecessary addition to a lovely crisp-skinned bream with courgettes, fennel and tomato. A snappy salad added much-needed colour to a rewardingly varied plate comprising pithivier of rabbit leg confit and a ballotine of the saddle around herby forcemeat, either side of exquisite mashed potato. A nicely tart raspberry crème brûlée again showed what the kitchen does well: matching fine technique with focused flavours. The food may be French, but on a fine day Le Pont de la Tour can be a top London attraction. Typically British: our waiter admitted he'd arrived in the country only a few days earlier, and service slowed terribly towards the end of lunch. The adjoining primary-coloured Bar & Grill offers food that is more brasserie in style: more cheaply, more informally and with less sense of occasion.
Le Pont de la Tour says
A luxurious riverside destination with iconic views, Le Pont de la Tour combines traditional yet innovative French cuisine, knowledgeable and friendly staff, thoughtful design evoking the Parisian chic of the 1930s and stunning views of the City and Tower Bridge.

Le Pont de la Tour's sommelier team oversees an impressive collection of old and new world wines, including legendary maisons.

The new Bar & Grill at Le Pont de la Tour is a destination in its own right, offering a relaxed dining experience and cracking cocktails with breathtaking riverside views in a buzzing atmosphere in the heart of Shad Thames.

With one of the best riverside locations in the city and delicious French cuisine, there really is no excuse!
Details
Address:
36D
Shad Thames
London
SE1 2YE

Cross street:
36D Shad Thames
Transport:
Tube: Tower Hill tube or Tower Gateway DLR or London Bridge tube/rail
Contact:
Do you own this business?
Special offers
New Year's Eve 5 courses tasting menu and live entertainment for £195
Enjoy 5 courses tasting menu with a glass of champagne and live entertainment for £195 A full menu price deposit per person is required in advance in order to secure this booking. Terms and Conditions: Maximum of 8 diners. Includes VAT, excludes service. Valid For: 2 - 8 People Tue 6:00PM-10:30PM
Offer valid until
Dec 31 2019
Christmas Lunch 5 courses tasting menu £100
A full price menu deposit per person is required in advance in order to secure the booking. Terms and Conditions: Maximum of 8 diners. Includes VAT, excludes service. Valid For: 2 - 8 People Wed 12:00PM-4:00PM
Offer valid until
Dec 25 2019
Restaurant Set Menu: 2/3 courses £24.50/£29.50
Set Menu 2 courses £24.50, 3 courses £29.50. Maximum of 6 diners. Includes VAT, excludes service. Terms and Conditions: Maximum of 6 diners. Includes VAT, excludes service. Valid For: 1 - 6 People Sun 12:00PM-3:00PM 5:30PM-9:30PM,Mon-Fri 12:00PM-2:30PM 5:30PM-6:30PM 9:00PM-10:30PM,Sat 12:00PM-3:00PM 5:30PM-6:30PM 9:00PM-10:30PM
Offer valid until
Dec 20 2019
Average User Rating
3.1 / 5
Rating Breakdown
5 star:

4

4 star:

2

3 star:

2

2 star:

4

1 star:

2
My best friend's parents were visiting London from Australia so we wanted them to have a special meal with an amazing view! We had drinks and nibbles on arrival at the bar. The staff were incredibly attentive and very friendly and made everyone feel at home.
The food was spectacular and my quail was cooked to perfection. We were all absolutely impressed with our meals! Our glasses remained full of wine and our waiters were fun and full of personality. They made sure we were looked after the entire night!
I will definitely be back when family from Australia visit!!
The new look here is incredible - what a fantastic restaurant. I can't wait to head back here in the summer when those views out across Tower Bridge will be even better. The food, as at most D&D venues, remains exceptionally good. Cracking wine list, too.
Been twice and on both occasions the same: good food in a brilliant location (the views of Tower Bridge are stunning) but absolutely terrible service - extremely long waits for the food, eventually served by unattentive and disinterested staff. For this high price category, you really should expect better treatment. The service ruins what would otherwise be a lovely experience. There won't be a third time.
When we were unable to get a table at another establishment, we went to La Pont De La Tour for a friends leaving do. After having very high expectations, due to their website, we were thoroughly disappointed. When we entered, we were greeted with a smile, and shown to our table. They gave us a few options of tables, which is nice, but completely unprofessional. One should be shown to their pre-reserved area, and made to feel welcome and wanted, rather than a "sit where you want / free for all". We waited for between 5 - 10 minutes, before being watered or given any sort of wine list / told about any technicalities with the menu (we later discovered, that the French Onion soup was not on that day - but it would have been nice to have been told this, before ordering). The wine list, was extensive, and what was disappointing was the large variety of non-french wines. Italian and south african wines, seems to be dominant. If I wanted a shabby italian wine, I would have gone to Strada. The MD took our order, and referred to everyone as "Lady", including myself - and I am not even a woman. The MD also forgot to take one friends order - which was unprofessional. They brought us our wine. The wrong one. One glass of house white, for a table of 6 just isn't going to work, is it now... We got some complimentary stale bread to accompany our wine. A very crusty outer shell of dry rye bread, with a slab of salted butter, which one could only imagine was lurpak - as it was the best thing I ate all night. Anyway, on with the food - the starter came, after a long wait. I had the ham hock pate, which was bland, flavourless, and very watery. I then had the lamb chops with petit pois & french onions. I asked for medium rare, it can very very medium. The lamb was tasty, however, lacked seasoning and a tescos finest would have been just as good, if not better. The pea & french onion watery broth which it nested on, was tasteless. I left the majority of this on the plate. Every other guest also left a lot of their food. We even got some french fries to share on the table - which were hard and lukewarm. After plying us with our wine, topping it up every time we were empty (which was nice). They never offered another bottle and trying to get our waitresses (we had two apparently?) attention was fairly difficult. Sober and disappointed, some guests got desserts. The lemon gateaux tasted no better than an iceland cheesecake. I am surprised Kerry Katona wasn't endorsing the restaurant it was that disappointing. After our meal, we wanted the bill quickly. Well, after waiting too long for two coffees. It took us at least 10 minutes to get anybodys attention for the bill. Finally we got it, and then waited too long to pay. A bartender, who clearly couldn't do maths took our bill - and tried to over charge us by £25 each. Nice try. The ambience was stale - very stale. Actually that's a lie, as there was no ambience to review. When we got our coats from the cloakroom - i was originally given a ladies coat. Definitely not mine. I then had to go into the cloakroom and find my own coat. Then as they carried my friends coat to the table for her, they dropped it. I don't know why we felt obliged to pay service. All in all - the worst restaurant I have eaten out in in London. Cafe rouge would have a better quality of food and service. It was completely over priced, and giving it One star is generous.
Le Pont de la Tour Bar & Grill is a disappointment. Very small portions of food at very expensive prices. My seafood arrived overcooked. Service started well but as the meal progressed our waiter forgot about us and went to work behind the bar. I would not recommend or want to go back to this place other than to look at the river views.
Came here for a business lunch once and despite its touristic location the food and service is really top notch - great view too!
On a recent trip to London we had dinner at Pont de La Tour. The location is great, very close to Tower Bridge and we were impressed by the classy, elegant décor and professional and efficient manner of the staff. The restaurant was packed despite being a cold mid-week night and as we were early, we had a glass of nice champagne at the bar. A young lady in our group accidentally knocked her glass which smashed but was quickly cleared up without any fuss and with hardly anyone noticing. When we got to our table we were looked after by a very attentive and professional Gianluca. The four of us all ordered different dishes.
For my starter I ordered the Sauteed Foie Gras and I still dream about the delicious flavour and delicate texture of this dish. I found myself eating small pieces and very slowly to fully enjoy every mouthful. My husband's Scottish smoked salmon and our companions' scallops were equally delicious. My halibut main just hit the spot and my husband raved about his Dover sole while our two guests feasted on equally delicious quail and venison. A selection of cheeses rounded off a very special dinner. As we were talking to GM Ricardo at the end of our dinner, he spotted and called over head chef Frederic so that we were able to express our appreciation for his exceptionally nice dishes.
All in all a night to remember and I know I speak for everyone in our group in highly recommending Pont de la Tour for that special dinner or celebration.
A nice refurbishment making it a much cosier atmosphere which encourages you to linger. Unfortunately you don't have a choice but to linger as the service is so slow and apathetic that you are forced to stay for over 2 hours in order to eat. 5 of us dined and had a list of errors, the wrong wine, missing main courses, long waits and total lack of service. As we finished our mains they cleared our wine glasses and didn't even ask if we wanted more drinks, I wonder how D&D feel knowing that their staff are completely disinterested in the success of their restaurant. Luckily the chefs save it as the food which was eventually produced was all excellent.
My boyfriend and I went to Le Pont de la Tour last night for dinner and were extremely disappointed. We ate in the main restaurant which has a three course set menu for £44.50. As it was a bit late, we decided to only each have a main course which we were told we were allowed to do and would be charge £26 each. We were fine with it. We each had a glass of wine which was lovely. The service on the other hand could use improvement. For the prices they charge you would think they could hire a bit more staff. At the end of the meal we decided to order a small cheese platter to share. It took a very long time to get the attention of the staff and when we finally managed to put in our order, it took even longer for the cheese to arrive. When it finally did I wish I could say it was worth the wait but it definitely was not. One of the worse cheese platter presentations I have ever seen. We ordered a selection of cheeses but the portions were very tiny and the presentation was disappointing. A few small pieces of cheese, 6 grapes, 5 crackers and that's it. To make it worse, when the bill came we were charged £20.50 for this cheese platter. So in the end our bill came to be over £120. We go out for dinner a lot but even for us that seemed a bit extortionate considering how little we ate and drank. Our main courses were nice but still don't think it justifies the price. I would definitely not recommend this restaurant to anyone and will not be going back.