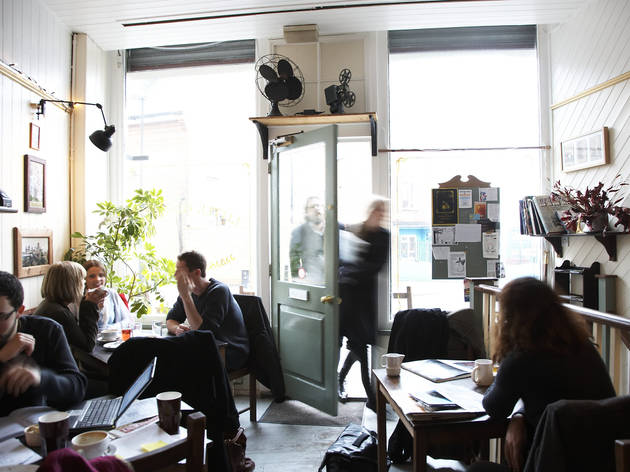 Time Out says
Compared to its more expansive Islington offshoot, Little Georgia in Hackney is a much simpler prospect – a retro café by day and an unlicensed BYO restaurant by night (check out the artwork and curios dotted around the place). The café is famous for its substantial Georgian breakfasts, all-day lunches, deli-style sandwiches and homemade cakes washed down with teas, coffees, juices and fresh fruit smoothies, while nightfall heralds a menu of traditional dishes based largely on family recipes – perhaps borscht, beetroot salad or some mixed meze followed by chashushuli (spicy beef stew cooked in red ajika and tomato sauce) or tabaka (roast poussin with chicken livers and Georgian plum sauce). Either way, don't miss out on the freshly baked khachapuri (traditional cheese bread) – either plain or stuffed with beans, smoked pork and onions.
Details
Address:
87 Goldsmith's Row
London
E2 8QR

Transport:
Tube: Liverpool Street tube/rail then 26, 48 bus/Old Street tube/rail then 55 bus
Contact:
Do you own this business?
Average User Rating
3.8 / 5
Rating Breakdown
5 star:

7

4 star:

4

3 star:

2

2 star:

1

1 star:

2
Service and welcome was cold and rude.
Food is nothing special, just potatoes, salad, roast chicken and stews.
Pricing is fair but cuisine is average too.
The waitress had no idea what spices they used, it is like pre-made bought in bulk.
Neighbourhood is dodgy and dangerous, there were running after each other with huge sticks.
Food is microwaved....
The waitress told me over the phone she only accepts cash, then I find out customers pay with card.
The waitress keeps the best seat for her friends and places other customers downstairs instead of a first come first served basis for the best seats.
Waitress also told me that sh
If you haven't had Georgian food yet, you are missing out on an undiscovered gem. The Georgian brunch here is particularly good - make sure to have the snazzy beans and some khachapuri cheese bread of you stay for lunch.
This was my third visit here, spread over a couple of years. The mixed meze was ok, but not a patch on the previous times I've been here, and the lamb kebabs were also ok, but nothing more. But what really stood out was the crappy service. The table wasn't very clean; when the waiter realised that there were 2 of us, and not 4 as he'd thought, he tried to get us to move to another table; although it was before 11, the bill was brought to us without us asking for it, and, as the piece de resistance, the music was then turned off while we still had full glasses of wine.
I had similarly bad service at the sister restaurant a few months ago, which put me off ever going back there.
It makes me sad that these two restaurants have become complacent about their cooking, and are evidently contemptuous of their customers. I'm passionate about Georgian food, and I love the decor in this restaurant and its no corkage policy - it wouldn't take much for them to lift their game. But in future, I'll give them a miss and go to Tbilisi on Holloway Road instead, which always has .great food and friendly, professional service.
well.... i guess should have paid attention to the reviews talking about the bad service.... lets get one thing straight before i start. i dont like "service". the staff in my favourite vietnamese restaurant in australia used to wipe the crumbs from the previous diners off the table into my lap. i thought it was really funny. i also very rarely write bad reviews.... so. worst service ever? not sure but it was very very poor. served mainly buy a guy with a pretty sweet tache. he was kind of sketchy, enigmatic,.. or on something - dealing with him was just ...odd. and messy. between courses he grabbed all our dirty cutlery with one-hand from his position at the end of the table. after the main, he stacked all the dishes at the end of the table, dropping food across the table, and cutlery on my girlfiend's mum. not a pretty sight. the food. i was hoping for some kind of home styley georgian food umm rustic, honest, fun,.. dunno. but it was just quite poor really. e.g. "kebab". for £13 you get 2 thin dry lamb mince sausages (think kofte) rolled in that cheap "never goes off" tastes-of-plastic wrap bread. for £25 you get the "meze for 4" - 6 child-sized-handfulls of meze. and some "special" cheese bread. 3 of the meze were quite nice, and the cheese bread was ok. but come on for £25?? £25 still gets you much further than that at this end of the market the summary. They cant really justify the prices for the quality of the cooking or the lack of basic table service. maybe we were unlucky... but judging from a couple of reviews here, maybe we werent....
This is a great little spot (little unfortunately being the operative word!); very good value and offering an eclectic mix of dishes from Eastern Europe and further afield. Really enjoyed the pancake with smoked salmon.
We had breakfast here one Saturday in December 2012. Food was very tasty and extremely well priced. Coffee was good and service delightful. We live locally and are really looking forward to going back. A great spot to read the paper and watch the passers by.
We just went to the sister restaurant, Little Georgia North in Barnsbury, the food was delicious and service really great! We had a Georgian brunch with snazzy beans (comes with beetroot) and delicious sausages and egg. Would recommend as one of the more interesting breakfasts in London (and probably same for dinner and lunch!)
Absolutely terrible service. Rude and arrogant. Food very average.
Georgia's always on my mi-mi-mi-mi-mi-mi-mi-mi-miiiiiiind!
Brilliant local food. Great vibe. Cute and quiet seats outside when the weather is good
I love this place...the Georgian breakfast is the best hangover cure I know! Food is delicious and the quirky surroundings add to the usually bustling atmosphere!