London's best street food
Pack some napkins – our guide to London's best street food delivers everything you need to know about the city's top on-the-hoof eats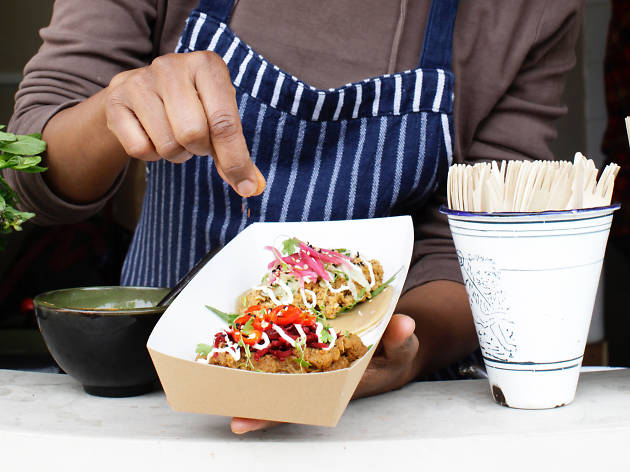 If you're food-obsessed but don't have the disposable income for London's best restaurants, street food is your saviour. Fun events, food markets and even London's best night markets are now bursting with stalls serving up cheap eats of an exceptional standard in dinky disposable containers. So we've done the rounds to dig out the best street food stalls in London. If we've missed something delicious we'd love to hear about it in the comment box below.
Reviews by Ashleigh Arnott, Alexi Duggins, Laura Richards and the Time Out Food & Drink team.
London's best street food: 50-41
London's best street food: 40-31
London's best street food: 30-21
London's best street food: 20-11
London's best street food: the top ten
Where to find London's best street food
From weird and wonderful international cuisines, to great value seasonal produce sold by the pound, London's best food markets offer variety and colour by the basketful. There is no more enjoyable way to shop than stall-hopping at one of these foodie fairs. Here are the best ones to tuck into.
Read more
There is no need to choose between having fun and filling your belly in London these days. If you don't mind sharing a table with twenty fun, slightly inebriated strangers (or simply love scoffing while standing) then you'll have a ball at these night markets. Expect street food, great booze and good times at all of them.
Read more
Sponsored listing
Oh'Lola
Like sangria and dicking about with bulls, paella is generally best kept within the borders of Spain. When it's properly done, shallow-cooked in enormous pans and served with a Mediterranean view, it's one of the great joys of Iberian cooking. But even London's best Spanish restaurants often don't do justice to this Valencian classic. Otherwise decent spots trip up when it comes to packing that ultra-short-grain rice with flavour and moisture. So it takes big cojones to try and tweak the process for office workers on a 15-minute lunch dash. A gang of enterprising Valencians have taken on that task, and at Oh'Lola they've somehow served up some of the best paella I've tasted outside Spain – and it comes in a cardboard box. ¡Anda! The place they've picked is Hatton Garden, better known for jewels than jamón, but only a minute or two from the delicacies of Leather Lane Market. Step in through the big french windows and you can watch Team Lola simmering up three kinds of paella in a semi-open kitchen behind a glass screen. Veggie and chicken options are available, but the seafood special is the most eye-catching thing in the room, coming laden with mariscos: a fat prawn, a mega mussel, squid rings, shrimp, octopus and meaty swordfish. And the rice: ¡qué rico! A big sock of flavour – sticky, juicy, rich, salty and fishy, with just the right metallic tang of saffron – it was so authentically Spanish that it felt odd stepping back out into the British summer drizzle. Prices are dec
Venue says: "Visit us in the evening and enjoy our dinner menu."