London's best street food markets and food halls
Find street eats at every corner with this list of London's best markets and halls for grub on the go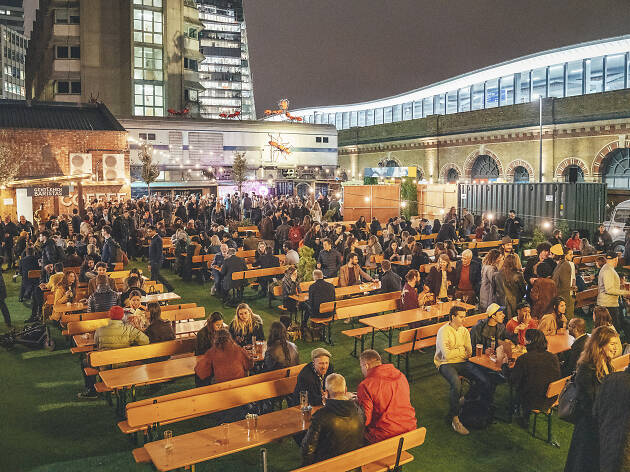 OCTOBER 2019: Hot off the press, we've added Venn Street Market, which has become a community hub in Clapham, Vinegar Yard (the latest head-turner in London Bridge from the people behind Flat Iron Square), along with a couple of old favourites: the Southbank Centre Food Market beside the Royal Festival Hall and Victoria Park Market in south Hackney – a locally renowned Sunday treasure. We're also giving you the heads up on two big new openings due in summer 2019; the massive Market Hall West End on Oxford Street, and Buck Street Market (Camden's answer to Boxpark and Pop Brixton's shipping container villages).
You can barely swing a tote bag without hitting an artisanal street food stall or provenance-first farmers market in London these days. They're everywhere. To make traversing them a bit easier, we've collated food-focussed markets and food halls old and new (that is, where ready-to-eat food is available) into the city best and the still-notable rest. Whether it's a quick coffee, lunch-on-the-go or a perch down dinner you're after, you'll find it here.
When you've eaten your way through this one – check out our roundup of the best stalls.
London's best street food markets and food halls
Meet Bang Bang Oriental: a gargantuan pan-Asian food court…in Colindale! Yes, Colindale. The long journey might be a turn-off, but this is the largest food hall of its kind in Europe, with 27 individual kiosks offering a whole range of oriental cuisines and seating for up to 450 people. The vast space also hosts Chinese beauty parlours, a community dance rehearsal studio and the 300-cover flagship Golden Dragon restaurant. Don't know where to start? Here's our list of five things to eat at Bang Bang Oriental, from dim sum platters to fried intestine. Well worth a trip out to Zone 4.
Monday-Thursday, noon-10pm; Friday-Saturday, 11.30am-10.30pm; Sunday, 11.30am-9.30pm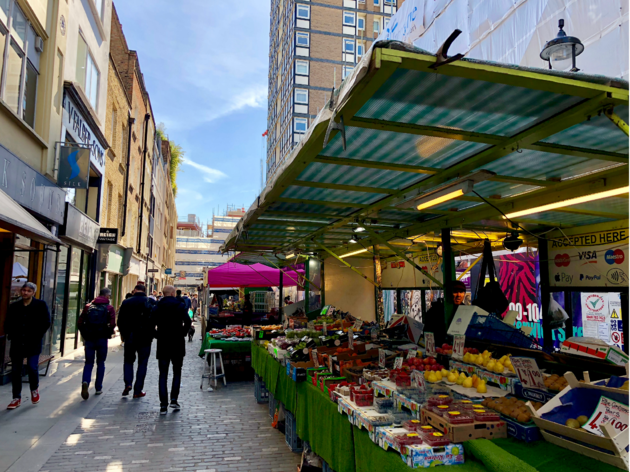 A bastion of old Soho, 300-year-old Berwick Street Market is a strip dotted with shouty fruit-sellers, florists and fabric merchants in among the 20 or so street food vendors. Snaking lunchtime queues are a daily sight with local workers, tourists and shoppers hankering for goodies from the likes of Afghan Delights, Greek2Go, Paella Fellas, Savage Salads and The Jerk Drum. There's no seating and not all the food traders are open every day, but Soho's swell for wandering. Ever in danger of gentrification, this market's a slice of traditional London to treasure.
Monday-Saturday, 8am- 6pm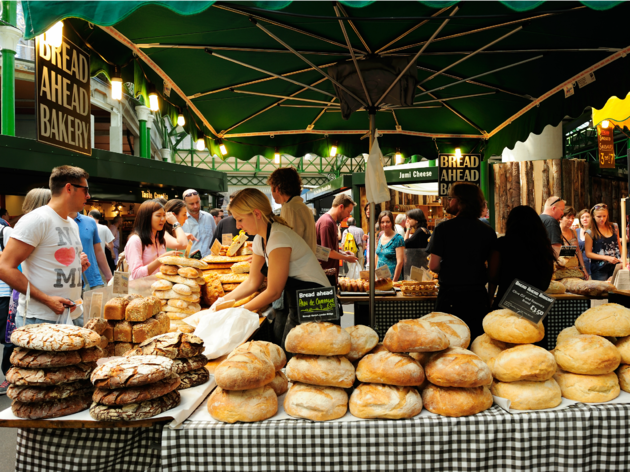 Dating back to the thirteenth century, this historic institution is now regarded as the mother of all artisan foodie markets in London – a sprawling cornucopia of home-grown producers and gourmet goodies from across the globe. Wedged in among the butchers, bakers and cheesemakers, you'll find a host of street food stalls selling everything from French confit duck sandwiches to aromatic Ethiopian stews, Spanish chorizo sarnies, Tuscan porchetta-inspired spit roast and even gussied-up scotch eggs (courtesy of Scotchtails). A mini-version of the market operates on Monday and Tuesday, with a limited number of traders.
Monday-Thursday, 10am- 5pm; Friday 10am-6pm; Saturday 8am-5pm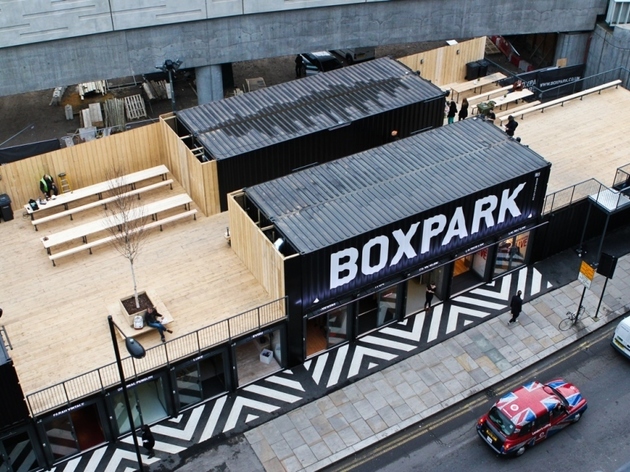 Shoreditch can be a bit of a raucous hellhole on weekends, but it's worth braving the boozy throngs for a trip to Boxpark – a shipping container complex next to the Overground station. Cram yourself into one of the teeny tiny units to scoff fare from a rolling roster of small traders: Eat Chay (Vietnamese/Korean vegan), Voodoo Ray's (monster pizzas), Snog (frozen yoghurt), Rudie's Jerk Shack (Jamaican) and more. Boxpark has been around since 2011, making it an old hand on the street food scene. Doesn't time fly?
Monday-Saturday, 8am-11pm; Sunday 10am-10pm
You can't move in Brixton for fab food spots these days – and Brixton Village (aka, the old Market Row, located down Coldharbour Lane) is a gastro ground-zero of sorts. Its strengths lie in its sheer whatever-ya-fancy variety. Superlative barbecue? Got it. Japanese okonomiyaki pancakes? Sure! Gigantic plates of home-style Latin cooking? Si señor! French cheese and bubbles? Naturellement! The vibe's a little more refined and less yuppified than nearby Pop Brixton, too.
Monday, 8am-6pm; Tuesday-Sunday, 8am-11.30pm
Arguably London's trendiest market, this crowded, buzzy parade is the food-loving hipster's hangout of choice and an East End classic known for its vibe, as well as its quality. It welcomes well over 100 stalls selling a fabulous array of stuff, including plenty of delectable street food from the likes of Deeney's (Scottish toasties), Lord of the Wings (chicken galore), Makatcha (south-east Asian classics), OSU Coconuts (vegan pancakes) and Zardosht (two sisters taking a fresh look at Persian food).
Saturday, 9am-5pm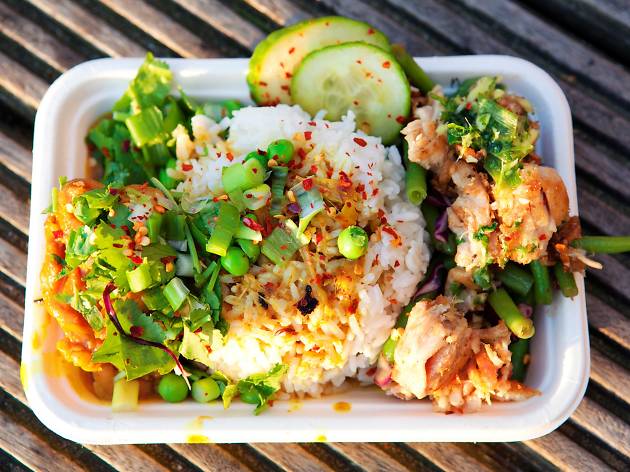 South London's finest is a Saturday morning staple right through the year. Stylish SE4 locals mill around, stocking up on succulents and farm produce while snaffling down artisanal coffee, imported wines and fine street food. It's long been a trendsetter: foraging heroes Mike + Ollie and cult burger faves Mother Flipper started out here, and still ply their trade on a weekly basis. Queues can be lengthy – and seating's limited to a few benches – but everything here is worth the wait and the vibe is super-friendly.
Saturday, 10am-2pm
Due to open in summer 2019, revamped Buck Street Market is Camden's answer to Boxpark and Pop Brixton – a multi-purpose village space spread on three levels and built from 52 repurposed shipping containers, many of which will house booze and street food vendors (including Camden Market regulars). The whole complex will also boast a rooftop garden and terrace for eating alfresco. Details of specific traders are yet to be revealed.
[opening times tba - updated April 2019]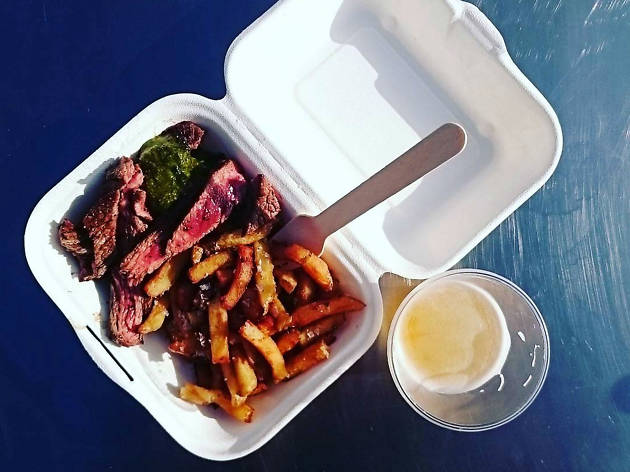 Camden Market's West Yard (the cobbled bit next to the canal and behind Lock 17) was (until recently) synonymous with KERB's brilliantly creative street-food collective, who revamped the site and helped to make the neighbourhood cool again – thanks to a hot list of global vendors selling genuinely interesting and imaginative grub. The traders are still there, but KERB is no longer involved – although you'd hardly know it given the line-up of street-food stalls, cult cafés and terrace bars peddling their wares on the site. It's an ever-changing feast but do look out for names such as Petare, Tongue 'n Cheek or Young Vegans. The areas leading off the West Yard have also been cleaned up and re-branded as 'alleys' (eg 'Asian alley'), although they're mostly occupied bymore mainstream traders.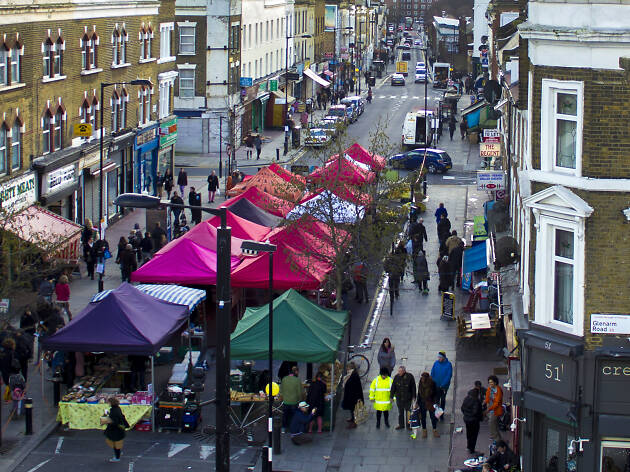 Chatsworth Road © Kriss Lee
It's now run by Hackney Council rather than the local Traders & Residents Association, but this bustling Sunday market is still a winner – although it's nothing on the scale of its whopping 200-stall forebears. There's always plenty of street food to be had among the antiques, everyday goods and crafty bits and pieces. Keep an eye out for the likes of Paddy Field (sushi-style Japanese rice parcels), the Pie Cart, Souvlaki Street, Hanoi Kitchen, Deeney's (Scottish toasties) and other tasty outlets.
Sunday, 11am-4pm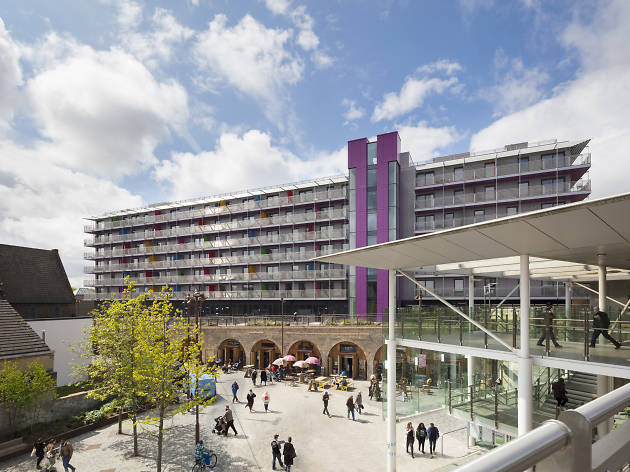 Located in a complex of arches in downtown Deptford, the Market Yard is a hip hub of indie shops, bars and on-trend street food eateries. If you're peckish, head to Hank's for burgers (and beers), the Tapas Room for Spanish nibbles and wine or Mama's Jerk for funky Caribbean classics. If you're simply after some booze, set your sights on Taproom SE8 (a real ale and craft beer mecca) or Little Nan's Bar, where the cocktails are served in teapots. Note that individual stalls may vary their trading hours.
Monday-Friday, 7.30am-11pm; Saturday, 9am-11pm; Sunday, 10am-10pm
Street Feast's Shoreditch base is a tastemaking street food hub, having served up folks such as Smokestak and Breddos Tacos. It does a roaring good trade, dispensing a mish-mash of global fare (from pizzas and steamed dumplings to chargrilled seafood and vegan Mexican classics) alongside punchy drinks in such subtly named spots as FünkenPümper and German Sex Dungeon. Dinerama may be housed in a former bullion truck depot, but the vibe is strictly 'party'. Not a quiet night out, but a delicious one.
Wednesday-Saturday, 5pm-midnight. Entry is free before 7pm, £3 after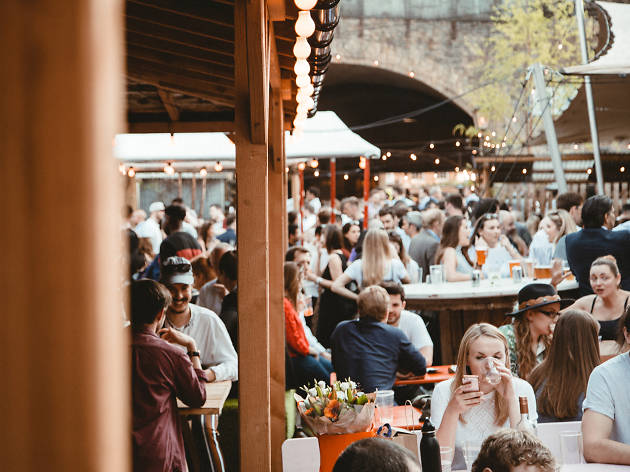 This snazzy food court and bar/venue, sprawled through a few Borough railway arches, may look a tad sheeny, but don't be fooled: this is keenly curated stuff. Fab fare – from manti dumplings to ramen, Levantine bits and tip-top toasties – can be scoffed in the midst of the indoor crowds, or on outdoor tables under heaters (there are a couple of sit-in restaurants too). FYI: one of the guys behind it is Jon Spiteri, king of London maître d's and a co-founder of St John. Respect.
Daily, check www.flatironsquare.co.uk for opening times of individual stalls.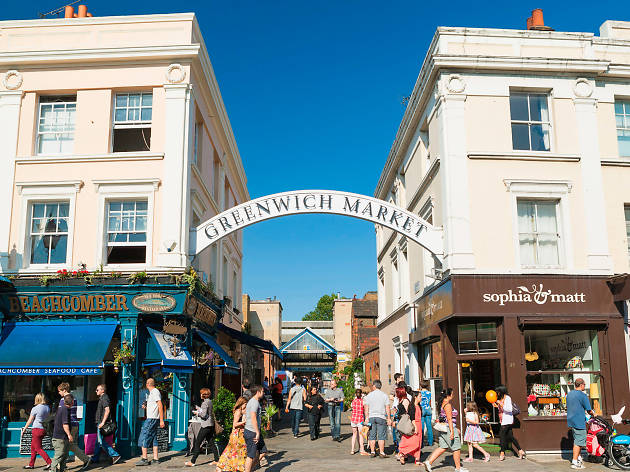 Stefano Baldini/Alamy Stock Photo
Although famous for its jewellery, crafts and antique stalls, this 200-year-old covered market at the heart of Greenwich's World Heritage Site also does a good line in street food – on any given day you'll find up to 40 pitches selling everything from artisan sarnies to Ethiopian veggie food. Da Fish Ting is renowned for its epic soft-shell crab burgers, Chuckling Wings specialises in crispy chicken coated in shards of ramen, while Brazilian Churros speaks for itself.
Daily, 10am-5.30pm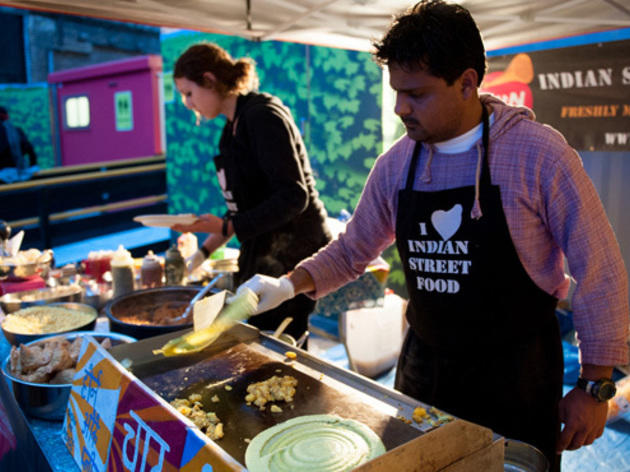 This is where the big daddy of London's fertile food market scene had its original site in 2009 (remember Eat Street?). It helped kick-start the area's foodie regeneration, and there are loads of familiar global traders (aka KERBanists) on show these days – from Bill or Beak and Mother Flipper to Truffle and Wandercrust – plus 'inKERBators' from the brand's talent scheme. This site is also fab in summer, with Granary Square's fountains as a backdrop and lots of benches (or canal steps) to sit on. Also find KERB at Camden, Paddington, West India Quays, St Katharine Docks ('St Kats') and the Gherkin, with a new Seven Dials site due in summer 2019.
Wednesday-Friday, noon-2pm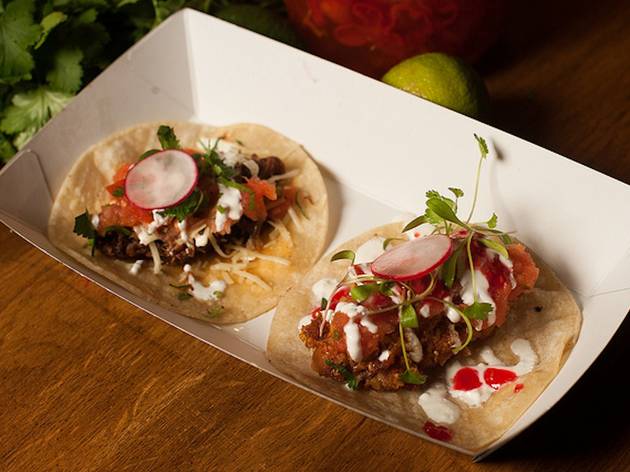 Restaurants, Contemporary Global
The best way to describe The Kitchens in Spitalfields is as a street food market and restaurant hybrid. Launched by Nuno Mendes (of Chiltern Firehouse fame), it features up to ten rotating kiosks ranging from Flank (nose-to-tail British cooking) to Thousand Knives (Japanese small plates) and Yum Bun (steamed buns) – although we're sold on the Insta-famous crispy shengjianbao (Shanghai's pan-fried 'soup dumplings') from Dumpling Shack.
Monday-Friday, 11am-8pm; Saturday, 11am-6pm; Sunday, 11am-5pm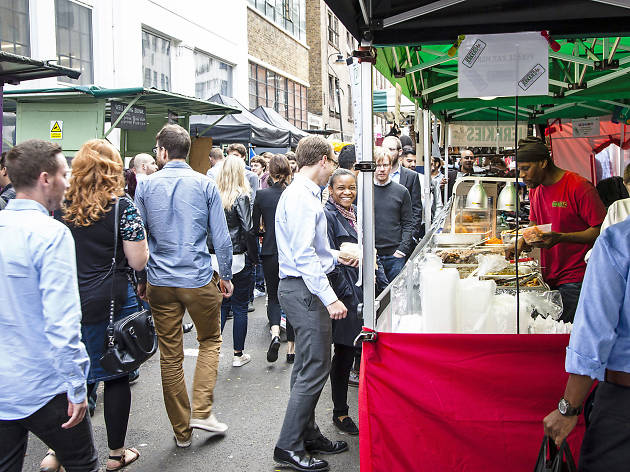 Andy Parsons
A weekday sprawl of stalls – stretching from Clerkenwell Road to High Holborn – Leather Lane mixes old-school tat'n'threads charm with newfangled foodie appeal (helped along by the road's status as a coffee mecca). It's understandably popular with lunching local workers, desperate to get their mitts on a mac'n'cheese toasted sarnie or a banging burrito. If the weather turns, it's lined with great brick-and-mortar spots too (some of which used to be stalls).
Monday-Friday, 10am-2pm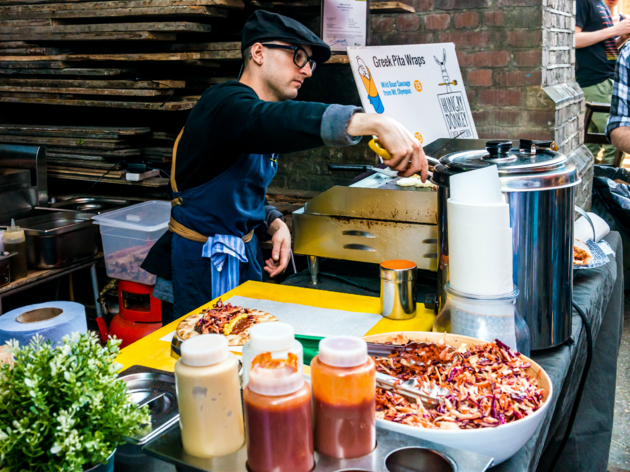 Found on Bermondsey's Ropewalk, between the railway arches and the LASSCO salvage warehouse, this heaving strip of a market started taking shape in 2009. Back then, it was just coffee kings Monmouth cupping up for a couple of hours every Saturday. Now, it's a proper institution, and the main contender to Borough Market's crown. Street food, booze and produce of every shape abounds, emptying the wallets of tourists and locals alike. Look for names like The Cheese Truck, Comptoir Gourmand, Devi's, Gyoza Guys and Waffle On.
Saturday, 10am-5pm; Sunday, 11am-4pm
You know porky barbecue restaurant Pitt Cue? Well, its co-founder has joined forces with a property investor to open a series of food halls across the city. First up is Market Hall Fulham – complete with a ten kitchen line-up from your wildest gastronomical dreams. Take a tour and you'll find the likes of Super Tacos (from the Breddos boys), Made of Dough (sourdough pizzas), fried chicken peddlers Butchies, Hot Box (Texan barbecue), Ahi Poké and more – all in an abandoned Edwardian tube station ticket hall. Sounds spooky, but you'll only be shaking in your boots if you drink too many espressos from the Press Coffee stand.
Monday-Friday, 7am-11pm; Saturday, 8am-11pm; Sunday, 10am-10.30pm. Traders' opening times may vary (check Twitter for details).
The lovely crew who brought us Market Hall Fulham weren't happy with having just one food hall, so they created this one at Terminus Place in Victoria. What was a shopping arcade is now a vibrant, opulent space with three bars, a coffee shop and 11 kitchens – including big names such as salt beef maestros Monty's Deli, hand-made pasta purveyors Nonna Tonda, noodle gods Koya Ko, skewer specialists Fanny's Kebabs, healthy eaters Squirrel and more. A brand new, 100-seater roof terrace is launching in spring 2019, just in time for the warm weather.
Monday-Friday, 7am-11pm; Saturday, 9am-11pm; Sunday, 9am-10pm. Traders' opening times may vary (check Twitter for details).
Due to open in summer 2019, the West End sibling of Market Hall Fulham and Victoria is destined to become the largest food hall in the UK. Housed in part of the old BHS building on Oxford Street, it will feature a mix of local producers, retailers, restaurants, street food vendors, four bars, event spaces and a demo kitchen. There will be proper knives, forks and glassware too, so it will feel like eating in an insanely big restaurant, not a street market. Note: details correct at the time of writing (April 2019). Please check @MarketHalls for updates and a full line-up of traders.
[opening times tba]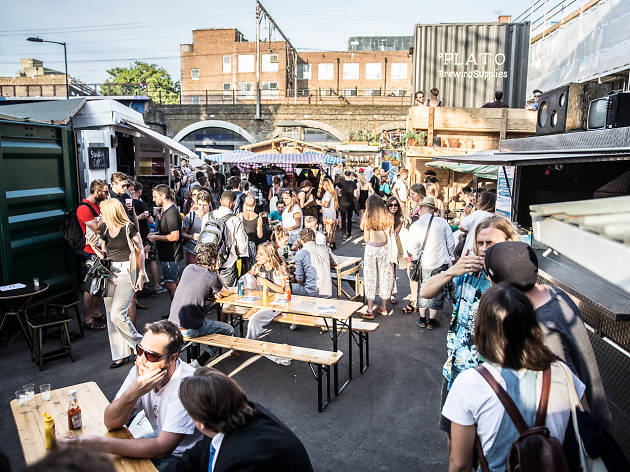 A little bro to the creative complex of Netil House just down the road, this London Fields hub is a quirky gem, filled with an ever-changing rotation of rickety stands and more charming than the nearby Broadway and Schoolyard markets. There's not much cover, but you can brave the hipsters and plonk down in the park opposite on sunny days.
Monday-Friday, 9am-6pm; Saturday-Sunday, 11am-6pm
Restaurants, Pop up restaurant
Did you know the geniuses behind Pergola also have a year-round rooftop spot in Kensington, on top of Olympia London? You do now. This site, unlike the other one in Paddington, is primed for good times whether it's a scorching summer or snowy winter (in other words, there's heating). Food-wise, British seafood experts Claw are in residence with crab rolls in tow, while burger legends Patty & Bun are there to flip their legendary patties. Note: no cash.
Wednesday-Friday, 4pm-11pm; Saturday, noon-11.30pm; Sunday, noon-10pm. Check Pergola's website for further details.
Venue says We're back for Winter at our high up in the sky Pergola rooftop location with a new theme ~ Winter lights! ~ BOOK NOW!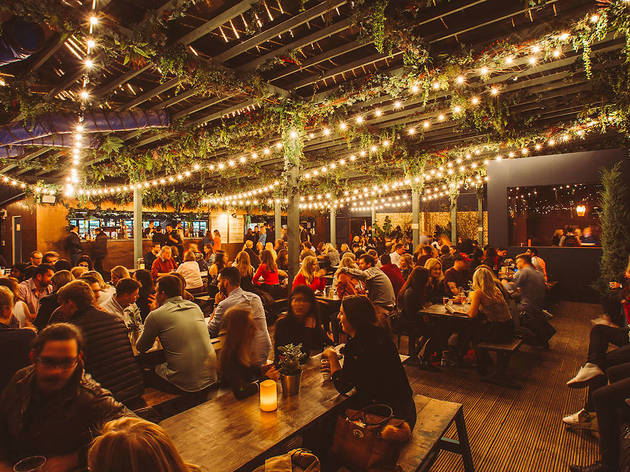 Restaurants, Pop up restaurant
It's back! Pergola Paddington is now open for the warm-weather season and the theme this year is high summer on the Balearic coast. The mighty behemoth has alfresco seating for 850 revellers, plus bookable day beds, bars and a rockin' street-food bonanza. Traders will come and go, but the starting line-up features kebab kings the Babek Brothers,
Honi Poké
, An Choi (from the
Salvation in Noodles
team) and Smash Patty (from the guys behind
Patty & Bun
). If that's not enough for you, Pergola's offer also includes DJs all weekend and bottomless brunch on Sundays.
Wednesday, noon-3.30pm, 6-11pm; Thursday-Saturday, noon-11pm; Sunday, noon-10.30pm. Check Pergola's website for details of traders.
Venue says Pergola Paddington returns as an urban winter forest this winter with a warm welcome as the nights draw in ~ BOOK NOW!
Snap up exclusive discounts in London
Time Out's handpicked deals — hurry, they won't be around for long...