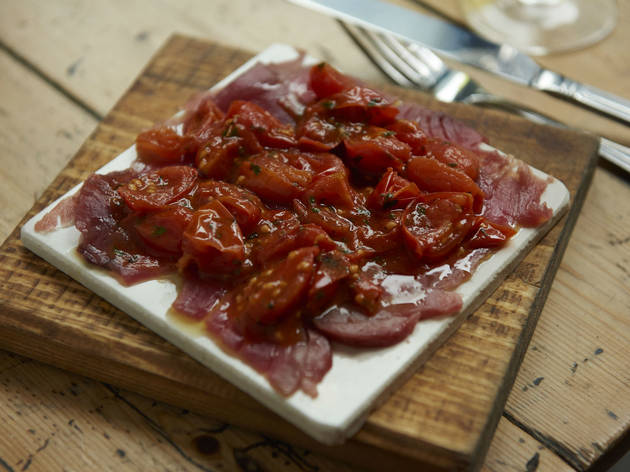 1/8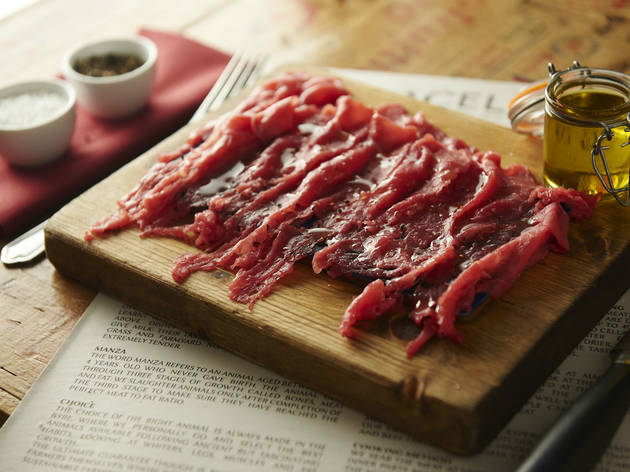 2/8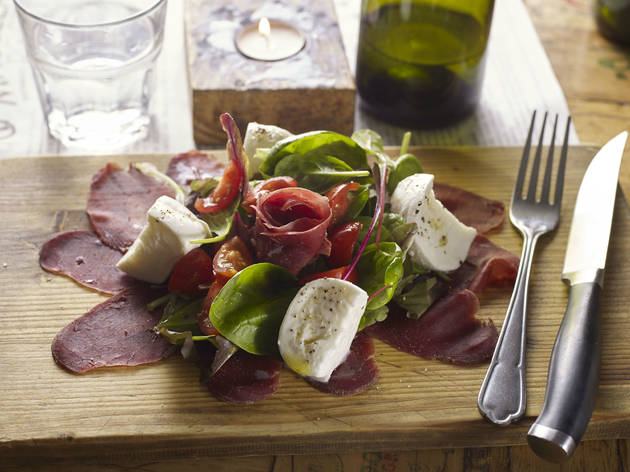 3/8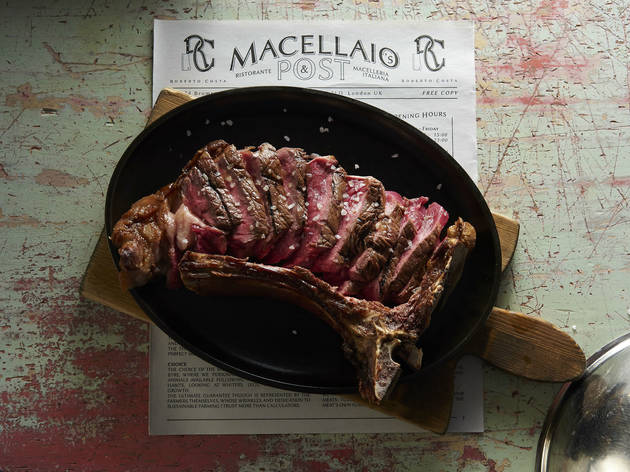 4/8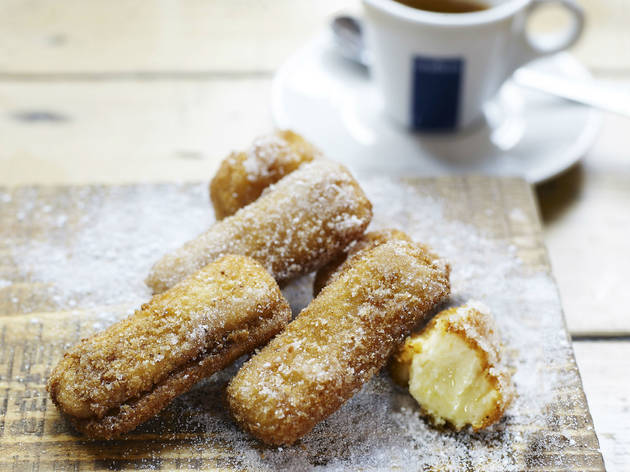 5/8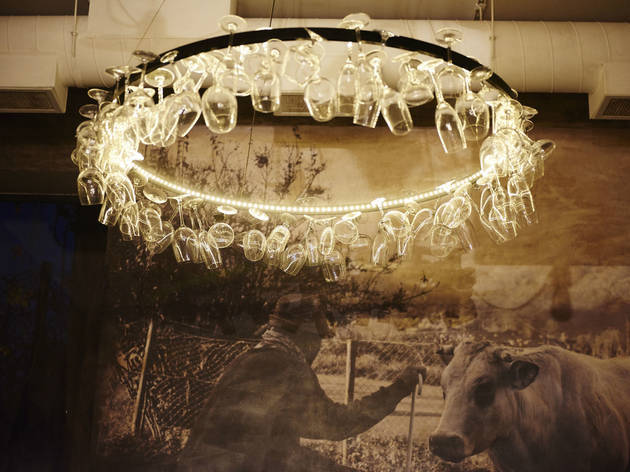 6/8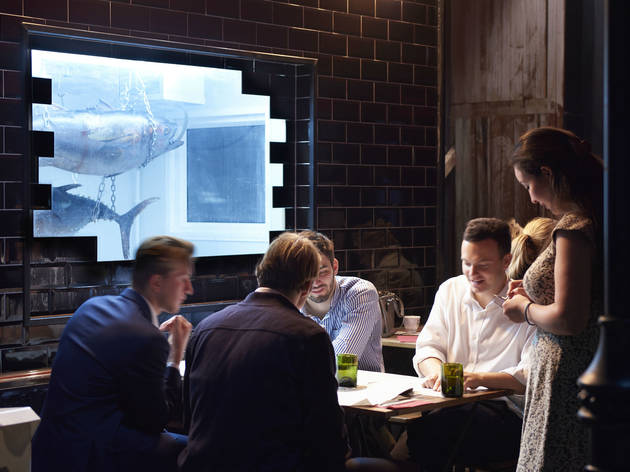 7/8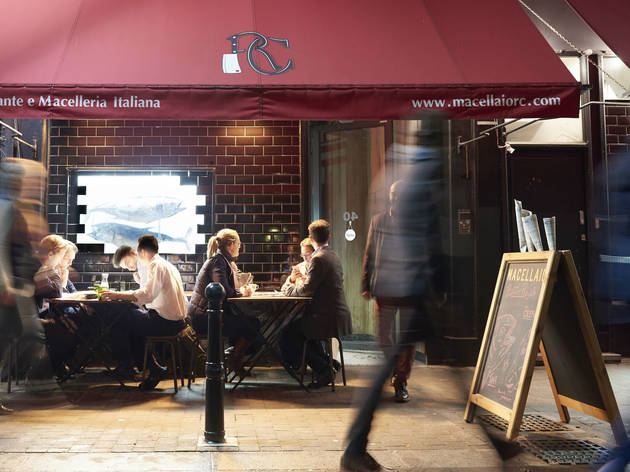 8/8
Time Out says
An altar to steak and tuna on Exmouth Market.
Here's a challenge: try to find the naff retro phrase 'surf and turf' on the menu of this high-concept Italian tuna-meets-beef restaurant now occupying the former site of Medcalf on Exmouth Market. Okay, I'm joking, but you can imagine the lively folk behind this second branch of a quickly expanding Italian chain rolling their eyes at the kitschy term. Truth is, though, surf and turf is what they offer: they've reinvented the wheel by building their intriguing menu around bloody cuts of tuna and beef and encouraging diners to mix the two. Their big idea is that tuna are the cows of the sea (both being red-blooded and, er, tasty), so naturally they should live on your plate together.
Never mind the waffle, taste the food. The ingredients are king here, and the enthusiastic, extremely helpful staff are rightly proud of them – so much so that they've hung their dry-ageing tuna and beef in the double-fronted windows of this onetime butcher's shop and they excitedly show off the raw elements of your meal before cooking them. Their excitement also includes dramatically stabbing a sharp knife into the wooden table before serving – so, yes, you do have to endure a fair bit of theatre before getting to the main show. Luckily, the show is worth waiting for as it involves a timeless double act: bloody fish and meat, cooked with rare care. The sirloin, offered in three different weights, comes in small, lightly-charred, extremely soft shareable pieces. The bluefin tuna reminds you it's a crime to eat it any way but near-raw. If vampires lost their taste for humans, this is where you'd find them hanging out, skipping the overly fussy starters and alternative main courses (pears on my steak? No thanks) and going in for the kill. Bloody good.
Details
Address:
38-40 Exmouth Market
London
EC1R 4QE

Transport:
Tube: Angel
Price:
Dinner for two with drinks and service: around £100.
Contact:
Do you own this business?
Average User Rating
3.3 / 5
Rating Breakdown
5 star:

0

4 star:

3

3 star:

3

2 star:

1

1 star:

0
I tried both the Exmouth Market and the newly opened Northcote Road restaurant and both times I had a lovely evening. The food is always very tasty and well presented. Prices are a little high especially if you order wine. I would recommend the burrata and beef tartare for starter!
A friend who works at one of the hairdressers on Exmouth Market booked the table as she had heard great things about the place.
Waiters we're friendly though largely unattentative.
They had ran out of the Burrata so we had just the heart of the cheese, the starters took 20 mins to arrive, by the time the main meals had arrived 40 mins later we still hadn't received our drinks (which we had ordered on arrival despite asking numerous times)
I ordered the rump steak my friend the tuna but our main meals came ten minutes apart, the meat wasn't v warm, the fries and the potatoes oily.
Waited ages for the bill, this place is definitely style over substance and very over rated and over priced. Will not be returning.
Blimey. Having read the review from Jill has made me feel rather silly for not checking where the meat comes from. I was completely blind-sided by the incredible service and tasty starters we were provided free. The mix of tuna and beef was an interesting one but the beef was waaaaay better than the tuna which was a tad too fishy tasting for my liking. Having said that, I'd defo go back again.

I was a huge and longterm fan of Medcalf although it was never the same once Justin left the kitchen. So it was a big shock and disappointment when they suddenly vanished. This Italian butchers / winebar/ ristorante has a lot to live up to.
I went in to check out the menu and was told that all the meat came from Italy. Now I can be a bit nerdy on this front so I looked up beef production in Italy and it wasn't that reassuring : a notable percentage of italian beef is imported as young calves from Romania and Bulgaria and then fattened in factory style units. In fact in my experience even in the north of Italy you rarely see cattle outside, so the meat in this place has travelled across Europe (possibly as a a calf from Bulgaria and then back again) and has been reared in large sheds with no access to air /sky/pastures. I asked the butcher there what was wrong with English beef and he said they wanted to do it the Italian way. All I know is that the Quality Chop House restaurant and butchers know within a few miles where their beef has come from (Somerset or Yorkshire, whether it is Longhorn or Dexter etc) and the topside I had from them a few weeks back was superb.
I don't want to be overly negative but I do wonder if imported beef ( no matter how well hung) is really what Exmouth Market is crying out for ? Perhaps the restaurant can provide more details on the cattle welfare etc ? And why not bring over some really fine Italian vegetables - the sort that don't grow well here - whilst they are at it ??
More reports needed .