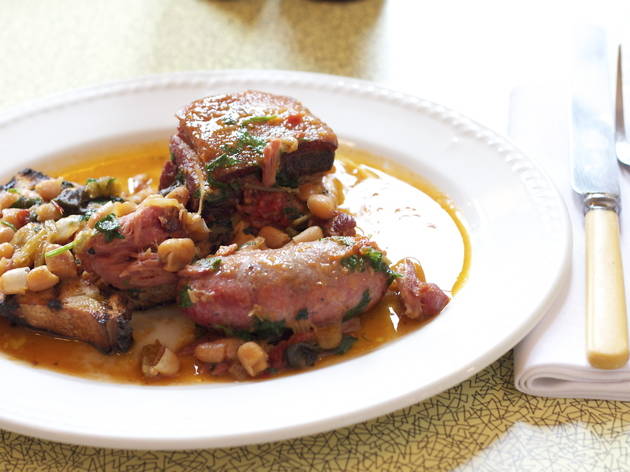 Thanks to its prime position overlooking the canal at the bottom end of Broadway Market, this place attracts, as you might expect, plenty of Hackney hipsters. Much about the venue is fun – the studiedly casual decor with vintage wallpaper and Formica tables, the relaxed bar area and the prosecco on tap – but compared to other restaurants in the area, the kitchen (run by Hugo Warner, formerly of Benugo) doesn't quite manage to distinguish itself.
The menu is concise, with strong Italian touches including hand-cut pastas. A starter of potted duck with piccalilli made up in generosity what it lacked in real moreishness; arancini with a good, deep-flavoured romesco sauce were rather sedate versions of what should be unctuous treats. The risotto of the day – nero with prawns – was perfectly unmemorable. Veal escalope was the only truly lip-smacking dish: dark, oily and crunchy.
The bill for all this was on the high side, although there are several very well-priced wines by the bottle. For people-watching and some decent dishes, the Market Café is fine – just don't expect fireworks.
Venue name:
Market Café
Contact:
Address:
2 Broadway Market
London
E8 4QG

Opening hours:
Bar Open noon-11pm Mon-Thur; noon-midnight Fri; 10am-midnight Sat; 10am-10pm Sun. Restaurant Brunch served 10am-5pm Sat, Sun. Meals served noon-10pm Mon-Thur; noon-10.30pm Fri; 6-10.30pm Sat; 6-10pm Sun
Transport:
Tube: London Fields rail or bus 26, 48, 55
Price:
Main courses £9.50-£18.50
Menu:
View Menu
Do you own this business?
You may be interested in:
Average User Rating
3.2 / 5
Rating Breakdown
5 star:

6

4 star:

0

3 star:

2

2 star:

1

1 star:

4
GREAT FUCKING BREAD

Sunday. The day that assholes the world over partake in the tragically middle class ritual that is brunch. Being one such asshole, and never one to be left out, I too frequently partake in the custom.

This week's brunch took me to Market Cafe. Generally, I like the place. It's full of gorgeous natural light and offers Prosecco on tap. I appreciate this because I enjoy hiding my alcoholism behind socially acceptable lunch beverages, such as mimosas. It's also a fantastic spot to check out all the hot local hipster dads.

There, my friend and I talked about all the usual brunch classics: life, love, and our respectiveopinions on whether or not we should stay in the EU. (Fuck you, Boris Johnson. I hope you cycle off your shitting garden bridge. We're not leaving.)

Everything was going great until it was time to order. As a vegan - I know, I'm the worst kind of human being - my options were somewhat limited. So I ended up settling on the Ratatouille. Approximately five mimosas later, my lunch arrived: a bowl of what appeared to be a handful of sad courgettes in some gnarly tomato sauce.

Being a disgusting pig-person, I was somewhat dismayed. This would not be enough to satisfy my ravenous appetite. And so, to remedy the situation, I ordered some sourdough bread. And when that was not enough, I ordered some more.(In total, I think I ordered something like four slices. But who can really be sure, because at this point I'm borderlineblackout drunk.)

Desperately needing something more substantial, we decided to pay our bill and go somewhere else in search of sustenance. Imagine my surprise when I found I was charged close to six pounds for my bread. Now call me old fashioned, but I don't think I should have to remortgage my flat just to afford a meal in Hackney.

Now, this situation was troubling for me as it filled my heart and soul cognitive dissonance. Was I an idiot for paying close to six quid for what was less than a quarter of a loaf of bread? Or was this the best fucking bread in the universe and worth every penny? Since I'm a pathological narcissist, I was unable to accept the former as a reality. And instead, had to concede to the following: Market Cafe sells the BEST FUCKING BREAD in the entire universe.

5/5 stars
Best place on Broadway Market
we love this place nice food and great stuf worth a try
fast line minicab service 0208 5332727

Most unfriendly staff ever!!!!! Food was average and wine shit. Never again!!!
Terrible. Been here a few times, every time it gets worse. Had dinner last Saturday, will officially be our last visit. I ordered Gnocchi with sausage Ragu, what I got was uncooked Gnocchi, with unseasoned, cold, tasteless sauce and sliced sausage, which was sent back. My partner ordered another pasta dish, equally tasteless. Awful. Should've realised how bad its got, the only place on Broadway Market with free tables on a Saturday night.
Even if the ambiance was nice, my mouth didn't deserve that. The easy chocolate cake at the end of the meal was not any consolation... Retrospectively, knowing that they didn't cooked the rice properly, we should have guessed that the cake was also challenge. I hope it was a bad evening for them because everything on our table was shockingly un-tasty. The meats too... One of the worst meal ever.
Love this place. Friendly with a lovely vibe and prices are keen. Brunch is always rammed so a bit chaotic, but the evenings are relaxed and good fun. Food has always been delicious when we visit, and the menu changes often. Espresso Martini's are cracking!
Sorry, but this place fall well short of the mark. Mixed identity food, overpriced, and poor service. The area is crying out for a good Italian, but an average quality pasta dish at £12 is just not right for Broadway Mkt.
Great addition to the area but find the italian food is poor and the place a bit derivative. The more british centric food is far better and in my view good value!
Disappointing to have a chain restaurant in place of La Vie en Rose, doesn't suit the area. More importantly, Market Cafe is too overpriced to warrant a lengthy afternoon stay, which is a shame.
What a fantastic addition to the London eating scene. Great location by Broadway market, with a very homely and lovely atmosphere and friendly staff. The menu is great with honest food made out of great produce. Great menu which is cleverly made and has something for everyone! Had slow cooked lamb leg with polenta which was divine. Oh and amalfi lemon sorbet was to die for. I often come on saturdays to get a bite at the market stalls. From now on I'll go to the market cafe instead. Emelie
More venues
Sponsored listings