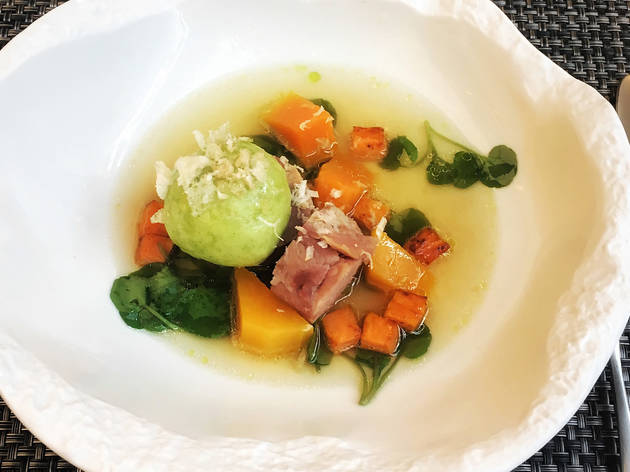 Time Out says
An upmarket modern European joint from 'MasterChef's Monica Galetti.
This, the first restaurant proper from Monica Galetti – late of Mayfair stalwart Le Gavroche and some tellybox thing called 'MasterChef' – is an oddly old-fashioned place. There's a lot of dark wood and 'corporate blue'. The jazzy groundfloor bar – all plush seats and teeny tables – screams 'four-star hotel lobby'. Muzak is saxy. Cutlery and glasses are Mere branded. And the food? Rich and quite French, despite the grab-bag of global ingredients and dishes. #HipLondon this is not.
Down in the basement restaurant (ask for a seat in the airy, street-side atrium section) the cooking was meticulous, but the interesting-sounding menu was rather muted in practice. A case in point: 'Mushroom and Marmite', a dinky dish of tortellini, practically hummed with fungus, but please (please!) don't promise something as magical as 'Marmite butter' if it's too subtle to taste, dammit. The pork 'boil up' – a bowl of ham hock, cubes of sweet potato and a squidgy green dumpling – needed a more fragrant broth to cut through all the salt.
To mains. First: lobster. Everyone likes lobster. This one was poached and its claw wrapped in crispy vermicelli-style pastry, with hyper-buttered pommes purées and a bisque sauce. It was soporific stuff: a double portion could've downed Gerard Depardieu. Lighter was an ace dish of roasted squab breast – pillowy, pink and faintly gamey – served with a crisp, meaty pastilla (which would've benefitted from the traditional sprinkling of sugar) and some tart slivers of rhubarb. Great, but it needed more rhubarb. A dessert of chocolate crémeux and coco-nib ice cream on a cakey base, flecked with Crunchy Nut Cornflake-alike peanut praline, was perfectly decent; but a sphere of blood orange mousse stuck with meringue shards (sea coral in appearance, ethereal marmalade in taste) was magnificent.
Service was friendly but a tad flustered, and perilously slow. They'd only been open for two days, to be fair – but then, at these prices (just shy of £130. For lunch. With no booze!) and with Galetti's exceptional reputation, you'd expect the wheels to be better oiled. We overheard her, as she went around charmingly gladhanding the room, telling another table that many of the new crew were ex-Le Gav, which makes perfect sense: Mere feels a little like its updated little sis, transplanted to less-fusty Fitzrovia. High-quality, upmarket and fastidious stuff. A place for a business dinner.
Details
Address:
74 Charlotte Street
London
W1T 4QH

Transport:
Tube: Goodge St
Contact:
Do you own this business?
Best selling Time Out Offers