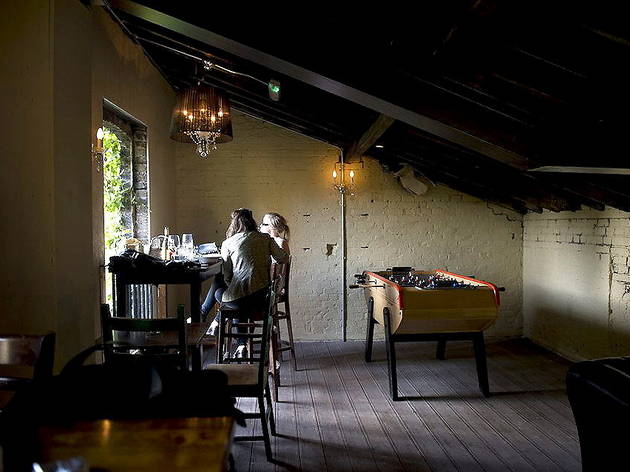 Time Out says
The days when this was a sticky-floored, studenty gig den are now a distant memory. Funky young professionals now dominate, wine isn't available for less than £20 a bottle, and on a Friday night locals without reservations hover at the bar, fervently scanning tables for the first sign of movement. In the rear dining area, vast skylights pour light on to green and white tiled walls, smartly upholstered red leather booths and a big wood-fired pizza oven.
A menu that leans towards American fast food has burgers, pizzas and foot-long hot dogs as mainstays, alongside a more European range of starters. We enjoyed tart, creamy cauliflower cheese dip served with squidgy, inch-thick breadcrumbed halloumi sticks, but a dry lamb burger and watery dill-based tsatsiki were less successful. Service can be rushed, but don't let that deter you from sticking around for dessert. The range of curious-sounding sweet takes on Italian cuisine are excellent, particularly a gooey chocolate, banana and marshmallow calzone. Be warned, though: it's not advisable to tackle it solo.
The pub is part of the Capital Pub Company, with siblings including the Florence microbrewery in Herne Hill and the Actress in East Dulwich, so there are house beers such as Weasel and Bonobo on tap.
Details
Address:
316 New Cross Rd
London
SE14 6AF

Transport:
New Cross/New Cross Gate rail
Contact:
Do you own this business?
Average User Rating
3.2 / 5
Rating Breakdown
5 star:

4

4 star:

4

3 star:

4

2 star:

2

1 star:

3
got shortmeasured on my pint , ordered beef roast , the veg all ok , potatoes too salty but nothing compared to the beef which was far too salty and each mouthful like drinking sea water , so didnt eat it all . told waitress / barstaff who didnt comment even apologise , wont go there for food again
Nice pub, usually with a decent crowd. Despite being devastated when they took the incredible chorizo chilli nachos off the menu (WHYYYYY?), the food is great - although the (almost always) friendly service can be a little slow, as mentioned by other reviewers. Being able to control the music from your phone is a nice touch too.
Although I have a beer in this pub quite often, it's not one of my favourite New Cross pubs, mainly because the staff are pretty oblivious when you are waiting at the bar, often because they are talking to each other… The garden is average in cooler weather, but in the summer it makes for a little haven. The décor is lovely where the original tiles still lie and prices are half decent. It's worth popping in for a beer or two if you can hack the crowd's of students!
I have been to the New Cross House for food about 15 times and I have to say that the service is terrible. The barstaff are just that, barstaff, and seem to have no training whatsoever when it comes to waiting on diners. They all seem to be stoned half of the time, forgetting to put orders through or forgetting to bring us drinks. They have kept me waiting for up to an hour for my food on more than one occasion. Once or twice they have gone the other way and brought our main courses out just as we were beginning on our starters, so that the table was cluttered and the mains went cold. So why do I keep going back? Because the food is exceptional. Their range of stonebaked pizzas with exotic toppings are as delicious as they are creative, their full menu is ambitious, inventive and above all, tasty. They have a great range of desserts as well, including a calzone filled with chocolate ice-cream, marshmallows and bananas. They also have some great drinks on tap and behind the bar and the barstaff are all very friendly, if almost completely inept. I will be going back and I will be amusing myself at their poor attempts at serving us our food in a half decent way. And, as soon as the food arrives on the table, I won't care. Definitely go if you want good food and drink, but don't go if you're even slightly in a rush.
Fantastic pub. Always rotating draught ales so there's something new to try on tap - but the house ales, bonobo/weasel, remain constant (this is a good thing). Not too dear in comparison to other local bars either. Food is quite expensive but the pizzas (all I've tried) are delicious. Not a huge fan of the gentrified exterior but that irrelevant really. GREAT beer garden - very homely. Very accommodating if you book a few tables in advance too, which I have done more than once. Staff are generally jolly and nice but they don't seem to actually know much - on more than one occasion they didn't realise they served single malt and hence didn't know what they had available (thankfully I did). They cant tell you much about their draught ales but are often willing to let you sample, which obviously is fine by me! Only one bad experience - went outside to the front for a cigarette (the garden closes at 11), not allowed to take glasses out the front, and upon my return found that a bartender had taken my whisky glass away. Staff were apathetic to my waste of 4+ quid. Shame really. Otherwise it's a fantastic bar! Would recommend to any new x visitor.
I was really looking forward to a good Sunday roast but unfortunately I was let down by the most over cooked Toad in the Hole. It was like a huge dry savory meringue, with two rock solid veggie sausages and a leak and thyme stick side. I actually really like the atmosphere so I though I would point out the Yorkie issue when it came time to pay, all I got was a blank face, no response except 'Oh' ...come on, I used to waitress when I was 16 and I could muster a simple 'sorry' it's not like I was asking for my money back! Very frustrating!
Good food. Appalling service.
Beautiful pub and the garden is gorgeous! Waiters and waitress are very nice and the food! Food is delicious: Big pizzas from £8.5 from £9.5, available by the slice at £3. Main from £3 to £10.5 Suggestions: Macaroni cheesem spring oignons, roast tomatoes, truffle oil with/without bacon, pizza chorizo. Home made of course! Wifi is free. I live in front of the New Cross House, I don't have Internet: I'm here every day! :-D
A wide range of beers with great comfort food options. We have been 5 or 6 times now and the service and atmostphere is consistently good. Definitely our new local and a very welcome addition to the area.
A few friends are really into this place but the handful of times I've been I've been left wondering why. I've only been here on quiet weekday evenings – often they seem overstaffed but still bumbling or flustered, and the younger staff seem a little inexperienced and out of their depth with the impressively-stocked bar. Food ordering is an ambiguous and frustrating affair; I'm a big fan of table service as long as it's well organized, and here it is not. The last time I ate here it took someone an hour to reluctantly take my order (the third time I asked to have my order taken I apparently annoyed the guy who was 'on his break'). Half an hour later we noticed the pizza oven was empty, the chefs chatting/cleaning; turned out our order was lost or confused, so they had to hurriedly put it on again. By this time we had 10 mins before we had to leave so I shovelled my food down and left without a chance to talk to the manager (I've never done that before, or felt compelled to write a review on the internet...). I don't have unrealistically high standards! But this place has so much promise, and is let down massively by a handful of flaws easily-remedied by simple management and staff training.
This place is simply bad. I spent an entire evewning suffering a bunch of drunks - not of the jolly kind - breaking glass on the floor and throwing coals all around (I'm serious), while shouting and physically pushing my chair every five minutes. My partner's mother found a shard of glass in her fish & chips (from the broken glasses), my partner sit on another, and it was only by sheer luck that they both didn't get hurt. Then I've been soaked with beer - literally soaked, so much so that I had to put my shirt and my sweater off, and spend the entire night with my girlfriend's jacket directly on skin. Best of all, it turned out that these guys were the manager & his friends, so there wasn't anything that, well, the manager, could do. We didn't even receive an apology, just a discount on the dinner. Also, they spent a good part of the night touching and hugging a female waitress. I'm usually easy-going, so I just found the entire thing surreal. But this is a place to avoid if you like, well, anything remotely similar to a decent pub. And I know that this story seems so out there not to be true, but I swear, I didn't exaggerate: if any, I toned down some bits...
This is a much-needed addition to the local area. Good food, great beers and wines, and a really convivial atmosphere. It will give the other locals a run for their money.
I really liked the outdoor area, the converted barn (?) is lovely and having an extra bar outside too helps with queues.
Judging somewhere on it's first weekend of service and taking this long to write about it is a little unfair. We went on Sunday for roast and it was amazing - after a hard morning at work was just what I needed. The barstaff were knowledgeable and incredibly friendly, discussing real ale with my husband and recommending drinks, and the waitress was really friendly and attententive. The food was one of the best roasts I've had, particularly the yorkshire pudding which can often be disappointing when having Sunday dinner out. My husband and I were Goldsmith's Tavern regulars and had worried the gentrification of this pub would put us off visiting but we shall be making it our regular from now on. Good beer, good food, great service and comfy booths - this old farts dream, and only 5mins walk from the house!
Snap up exclusive discounts in London
Time Out's handpicked deals — hurry, they won't be around for long...