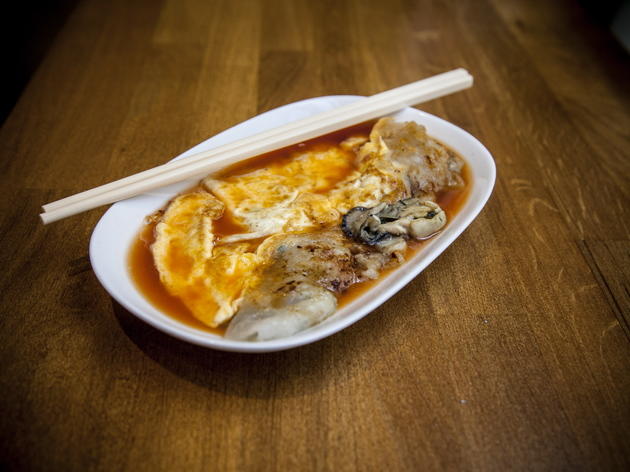 1/8
© Rob Greig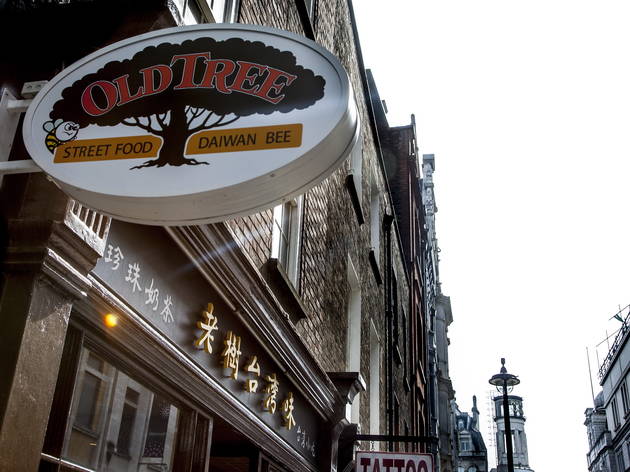 2/8
© Rob Greig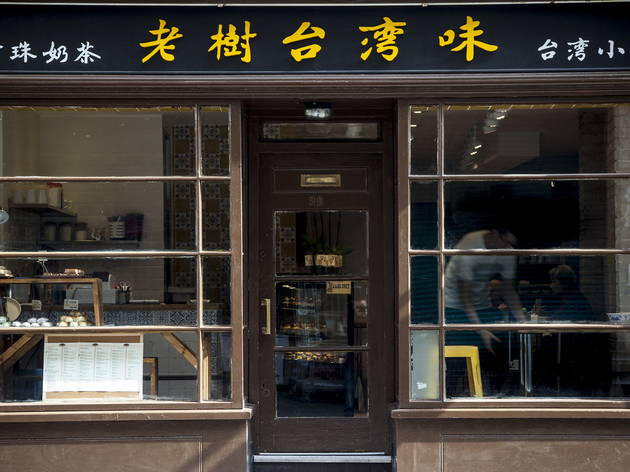 3/8
© Rob Greig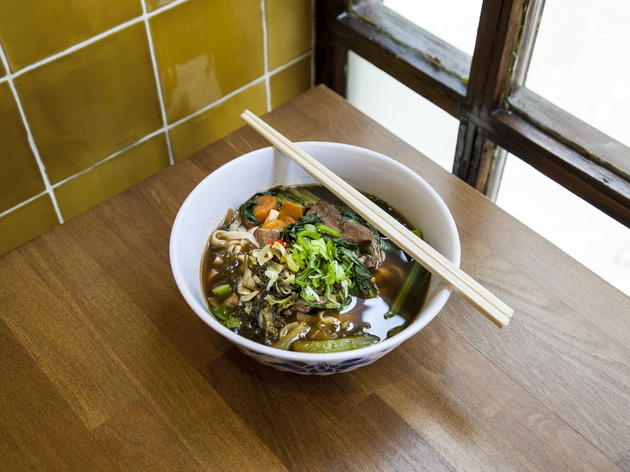 4/8
© Rob Greig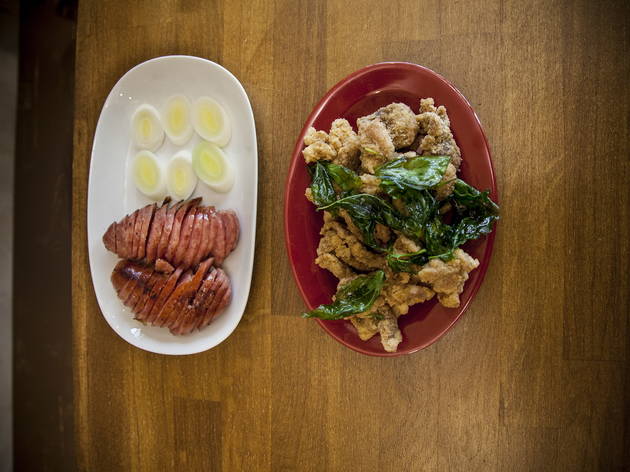 5/8
© Rob Greig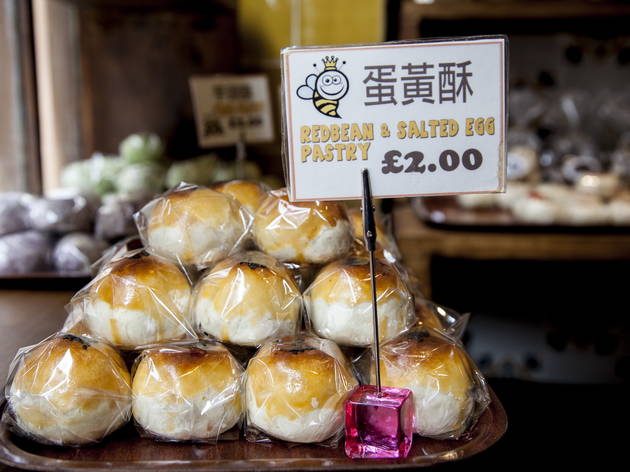 6/8
© Rob Greig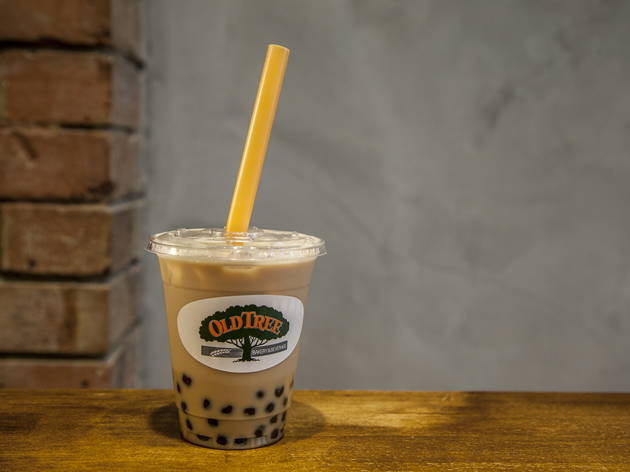 7/8
© Rob Greig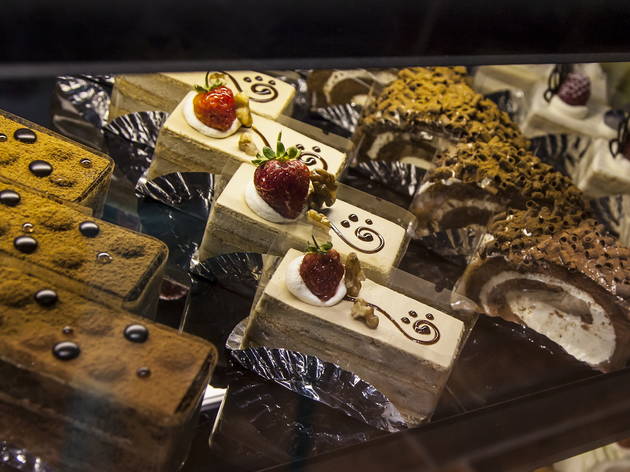 8/8
© Rob Greig
Time Out says
North London's Old Tree Bakery has come to Chinatown, promising authentic Taiwanese street food to sate even the most homesick emigre from Taipei. This Formosa near Piccadilly Circus inhabits a small, canteen-like space, cramped by its hard benches and narrow tables.
But from an oyster omelette that was stuffed and blanketed with tingle, taste and texture, to noodles that were nestled in richly-spiced broth, the short menu of affordable fare didn't disappoint.
Highlights of the menu included own-made Taiwanese sausages, just as aromatic as the wind-dried variety from China, but without the dog-treat texture of its waxy cousins. Salt and pepper fried tofu was sensational, with a delicate sweet and savoury coating encasing an airy, marshmallow interior.
Given its roots as a bakery, and the range of pastries tantalisingly displayed within the glass counter, desserts were an unexpected letdown. A Taiwanese puff filled with red bean paste and duck egg was hard and dry, as if it had languished by the window for many days; and a Western-style cheesecake was just too cheesy, tasting as if strong cheddar had been added to the Philadelphia.
Service was friendly but barely professional, with one waitress slipping on a pair of Marigolds as she took our order because she had to 'go and wash the dishes'. And despite the tempting variety of bubble teas on the menu (alcohol is not sold), none were available because the kitchen had run out of the tapioca pearls needed to make the Taiwanese beverage that's become an Asian drink craze. There's no toilet on the premises, and the place looks a bit drab. But the makeshift approach is reflected in the reasonably- priced, cash-only bill.
Details
Address:
26 Rupert Street
London
W1D 6DH

Transport:
Tube: Leicester Square or Piccadilly Circus
Contact:
Do you own this business?
Average User Rating
1.9 / 5
Rating Breakdown
5 star:

1

4 star:

1

3 star:

0

2 star:

2

1 star:

6
I'm a Taiwanese and I'll say if you're looking for delicious Taiwanese food, you came to the wrong place. the portion was small and the service was bad. the sauce on their Oyster Egg Omelette tasted like it was diluted. the waitress reached for my empty plate from my behind without saying a word and of course scared me. Not worth the money at all.
I came here because of homesick but now I feel so shamed they called themselves "Daiwan Bee" (which means authentic Taiwanese flavour) while Taiwan is actually an island full of lovely delicious street food.
Worst service. Could not even get a cup of water due to cup shortage. It was ridiculous that there were only two tables occupied and they tell you that they are out of cups.
Food is way too sweet. Not suppose to claim itself taiwanese food. what a shame
Have to admit the food I ordered was tasty even the the portion size was small but what do you expect for £3.50 - £4.50! it balances out.. However the only issue for me was the overpriced bubbletea. Although it wasn't as ridiculously sweet as Chatime it did taste diluted and it was a small portion for over £3... it was worth £2.50 at most and thats how it should be priced to attract people. Can't say much for the staff, seemed like kids really, they were eating their lunch when I went and watching their phone(s) at the same time lie you would at home instead of rotating like normal people.
Was ok, hard to find a good Taiwanese place I guess..
Very bad service. enough said.
We were staying at the W hotel, first night exploring the place at the footsteps, we passed by this little cafe during the day time, so we decided to be adventurous and give this place a try. All thumbs up! One of us have just been travelling around Taipei, and we asked the waitress to recommend some noodles to us. The waitress was patient and honest, she asked if we would like dry or with soup, we were open to all kinds, as long as it is authentic. At the end we ordered Oyster Egg Omelette, Sticky rice pudding with the red sweet sauce, we think the small portion was just right, as glutenous rice will fill you up very quickly, so to leave room for other excitements. Spring onion pancakes, Boiled Dumplings, Spicy beef noodles (in soup), Dan Dan noodles - loves the peanut sauce and spicy balance. I think another different bowl of Very spicy beef noodles, beef was very tender, and really quite spicy. Taiwanese homemade sausages. After we tried 3 other places' bubble teas, we all agreed this place is the most delicious. We went back for another meal just before we left London. It was very good. Very satisfying.
Food is a bit too pricey and doesn't tastes at all great, staff weren't really friendly as well. Wouldn't recommended it to friends
Dated 05.10.2013 at about GMT20:00. We thought would like to have dessert after dinner. So first thing we thought of Old Tree, 26 Rupert Street, London W1D 6DH, England (China Town) as tried to their take away cakes and drinks. It's really nice from first visit with the customer service. This time we sat down for their dessert and have no idea they served warm food too which we thought maybe next visit will come for dinner then dessert after. But after a BIG unwelcome service from this waitress (obese woman) who work at Old Tree. She was so ruled and told us that if you not ordering warm food, you guys shouldn't sat down for just dessert. and minimum spent per head for sitting down customer it's GBP15.00. and told us that if we insisted to occupied their table and not leaving will charged us 10% per head. 10% to us it's nothing but got annoyed with the waitress (obese woman) impolite service. So we decided to leave because one of the waitress lady came by to apologised and being polite. so we being professional decided not to argued with the immoral waitress and just left. Sorry that they will lost a bunch of customers as we thought will always visit the restaurant and recommended to our friends/relatives/colleagues. but with the bad experienced. A BIG NO to visit Old Tree ever again. There's many restaurant served good food with excellent service. so won't regret to crossed this Old Tree out from our list.
Went here yesterday, wish I went to Silk Road in Camberwell instead. BIG SIGH. Dan dan noodles were made with store-bought flat flour noodles that were super soggy, in a TOO peanuty sauce. Amiga's deep fried tofu was also very rubbery. Granted these are not traditional Taiwanese dishes, I'll give em a pass. But then we had the steamed sticky rice and pork starters (mee gow) and they just were a massive fail. Not enough rich, savory pork goodness, too much sweet red sauce, and also about the size of a biscuit. Not 4 pounds worth of food! I am sad. So so sad. The people around us who ordered some real dishes looked plenty satisfied though. 2 stars, for the superb pearls in the bubble tea!!!
Many night market street stalls in one little shop, just a short walk from Piccadilly Circus tube. Authentic taiwanese street food. Personal favourite: Taiwanese Beef noodle soup, Stewed Eggs, Oyster Omelette. Shop is small and need to share table, but quite delicious if you are looking for real taiwanese taste. Bubble Pearl teas are brewed not powder premixed.
Snap up exclusive discounts in London
Time Out's handpicked deals — hurry, they won't be around for long...