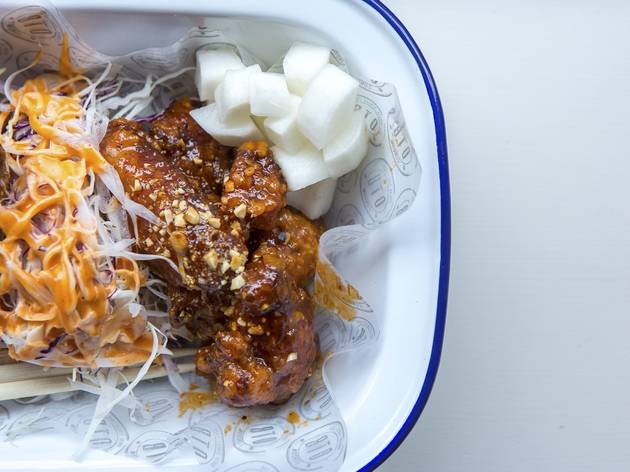 1/6
Victor Frankowski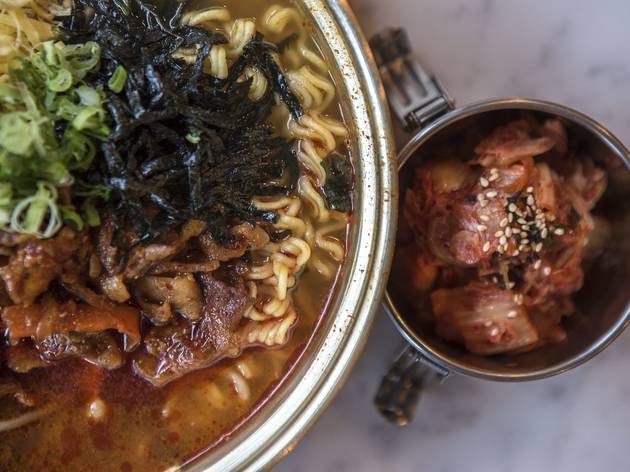 2/6
Victor Frankowski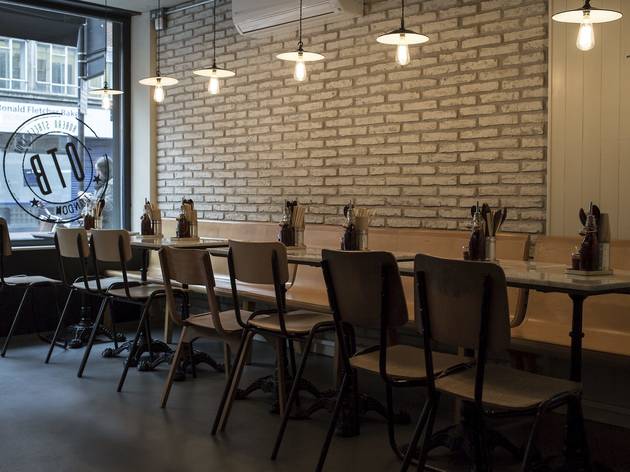 3/6
Victor Frankowski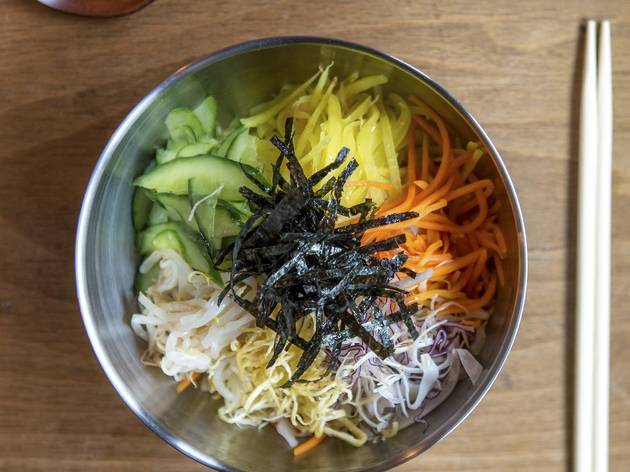 4/6
Victor Frankowski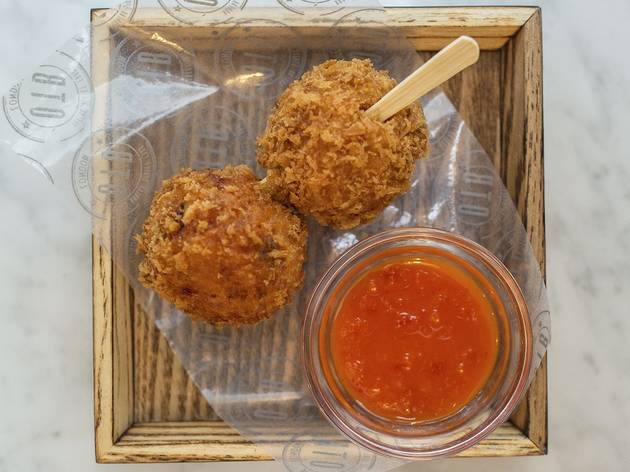 5/6
Victor Frankowski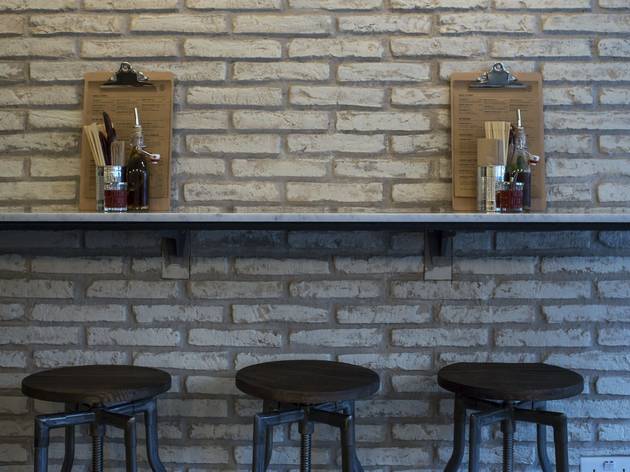 6/6
Victor Frankowski
Time Out says
It might sound like a fitting end to a night on the lash, but 'on the bab' has nothing to do with picking up something from a kebab shop. Instead, it refers to the Korean word for rice – bab, or bap – and there's plenty of it on this menu.
Jumping on the Korean fast food trend currently doing the rounds on London's street food scene, the menu here features Korean-style fried chicken in spicy sauce and steamed, meat-stuffed buns. Our Korean fried chicken sprinkled with chopped peanuts was fine, though they do this dish better around the corner at Jubo. A fusion dish of deep-fried arancini risotto balls filled with spicy kimchi cabbage pickle, on the other hand, was a surprising winner.
Sporting a decidedly distressed look with exposed brickwork, diner-style fittings and enamel serveware, this hip upstart makes a fun spot for a meal. But we still prefer On the Bab's more sophisticated central London sibling Koba.
Details
Address:
305 Old Street
London
EC1V 9LA

Transport:
Tube: Old Street; Rail: Old Street or Hoxton Overground
Contact:
Opening hours:
11.30am-11pm Mon-Sat
Do you own this business?
Average User Rating
3.6 / 5
Rating Breakdown
5 star:

5

4 star:

5

3 star:

4

2 star:

2

1 star:

1
A better restaurant in the world doesn't exist. Absolutely phenomenal.
It would be dishonest if I did not highlight how AMAZING this place is. If you like me enjoy a good Korean, this is most definitely the place to be. I almost ordered the entire menu because pretty much everything about it made me excited.
I went along to the Old Street/Shoreditch branch, which was fairly small with a handful of seats and queues out of the door as expected as I did my research. After a short wait luckily we were seated towards the corner. Perfect!
What we ordered:
·Beef Bao
·Soft Shell Crab Bao
·Bibimbab
·Korean Fried Chicken
·And a Tofu dish
Portion sizes were absolutely great and to be honest I definitely over ordered and had to take some of it away. Every single one of these were absolutely dreamy, I very much look forward to returning.
I visited the Shoreditch branch with some friends on a weekend. There was a small queue so we waited however no-one came to see us at the door to let us know the procedure or the waiting times. We waited for about 20 minutes then we were summoned to our table. A table that was hidden in a cramped corner by the little bar and the dirty dish area. It wasn't the most comfortable of seats but we'd waited long enough already and weren't prepared to wait for another table. We'd already decided that we were going to try the Korean fried chicken as that was what the place was famous for. We also ordered a BiBimBap, prawn patty buns, dumplings and a little traditional pickle platter. This was enough food for 3 people! The food was ok but the fried chicken was definitely the standout dish from the menu. The prawn buns lacked flavour and BiBimBap was accompanied by a salad that was smothered in a lot mayonnaise. Most of the staff were attentive and happy to help however one of the waitresses looked like she was having the worst time of her life. I suppose that's how I feel at work so I kinda understand!
I would probably go again for the fried chicken but the queue puts me off!
Having now discovered a love for Korean food, I can safely say I have tried a lot of 'buns' and here they really are standout. Packed full of ingredients, the flavours are mouth-watering. Whilst the menu is fairly limiting, what it does, it does well. The crispy chicken is succulent and sprinkled with crunchy peanuts to add that extra bite. Taking on a fast food esque style joint, we were in and out pretty quickly – probably a good thing as the queues were building outside (no reservations permitted). The staff could be a little friendlier even though the place is so popular however no one can fault the speed at which your food arrives. The restaurant is small yet intimate, with a relaxed and casual vibe. Watch the chefs prepare your food from scratch due to the close proximity of the open kitchen. Perfect when you need your Korean food cravings satisfied quickly! A must visit when in Shoreditch if you are looking for a speedy and reliable dinner.
Despite a lot of people say it's overrated, every time I go I'm happy and satisfy with my meal and how much I paid for it. The service could be better but overall the experience is very nice.
There is always a 20-30 min wait and a queue and that's maybe the biggest downside especially in winter.
On The Bab is one of my favourite Korean places in London! Although they don't serve their Bibimbap in a hot stone plate, it's still really authentic. It comes filled with vegetables, a good amount of rice at the bottom, a generous portion of the meat of your choice (beef, pork or chicken), and a lovely fried egg on top. It's rather filling and I had trouble finishing the entire serving, but very worth it. The also do a bunch of typical Korean dishes, such as the Fried Chicken. A small serving is perfect to share between 2 people as a starter and comes out fresh and really crispy!
The service was really good; our waiter was meticulous is taking our order and repeating it at the end to make sure he had everything. Our food also arrived rather quickly after we ordered, which is great if you're looking for a quick bite in the area. We had to queue to get seats but it wasn't too long of a wait, given it was a weekend night.
Definitely recommend this restaurant to any Korean food lovers out there and just generally as a really good restaurant to visit!
An amazing place to go at lunchtime. A little pricey but super delish and completely worth it. Simple, quick and very tasty Street food. Excellent service too. Will definitely return.
Small but cosy little place. One of the better KFC (Korean fried chicken) I've had. Good street style Korean food. It's not wheelchair accessible with a step and narrow entrance, which I just about fit though. But even though it's not accessible, the food is good enough for me to want to come back. Plenty of other people must agree as they have long queues all night long.
Great food in an industrial canteen setting. Food is served in tin pans and kinder jars, which aren't the easiest to eat out of, but the food is so tasty it's probably a good thing as it stops you rushing!
We decided to share a number of small plates, mainly because we were getting food envy with other diners dishes. The seaweed citrus salad was yummy and shrimp dumplings were very tasty (although only 3 to a portion) but the fried chicken bun was the star of the show. Big fluffy bun folded over a crispy coated juicy chicken portion, topped with slaw and delicious condiments, all well balanced in flavour and texture.
Very tasty and very well priced.
Terrible. Go to Po Cha, recently moved from Tottenham Court Road to Waterloo to taste really Korean food. This is bland, watered down Korean - no complexity to the fried chicken, just sugar, a bibimbap served in a cold metal bowl missing the crucial stone bowl sizzle, with plain vegetables rather than a variety of different marinades/seasonings, and with beef that didn't taste like it had even seen a marinade. Koba may be good but this is very very weak. Nice decor - all style no substance.
Had a fantastic meal at On the Bab last night. My particular favourites are the spicy fried chicken and the soft buns stuffed with bulgogi beef (a delicious marinated beef). My partner had the buns with spicy pork which were tasty also. The soju cocktails went down a treat! Service is friendly but discreet. I would highly recommend.
I have never served an instant noodle at restaurant... you should go Vietnamese restaurants 2 mins from there and they will serve you nicer and real food for less. i am very pissed off to see another fake low quality "trendy" asian food.
- Amazing food : small Korean style amazing tasty tapas with reasonable (affordable) price (3 of us with a bottle of wine and very full paid £65-ish, although wine cost £26) - Recommended food : Fried chicken, rice ball, bibimbab... and all of food actually - Friendly staff (some are a bit shy maybe?) - Nostalgic atmosphere - small but clean interior - oh, toilet light goes off while you are sat down...till you move again, it was a bit creepy...ooooohhhh - we would definitely (110%) go back!