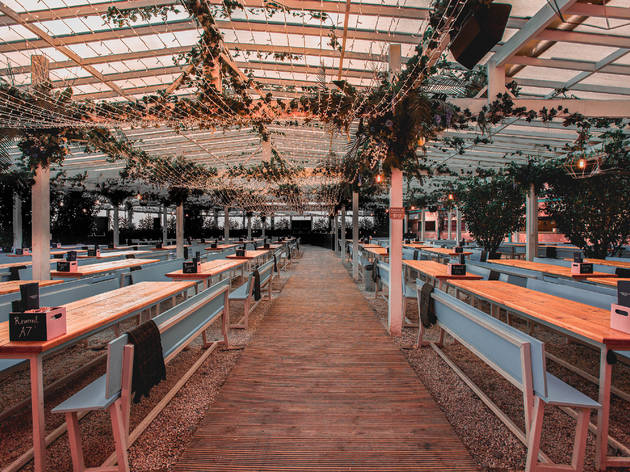 1/9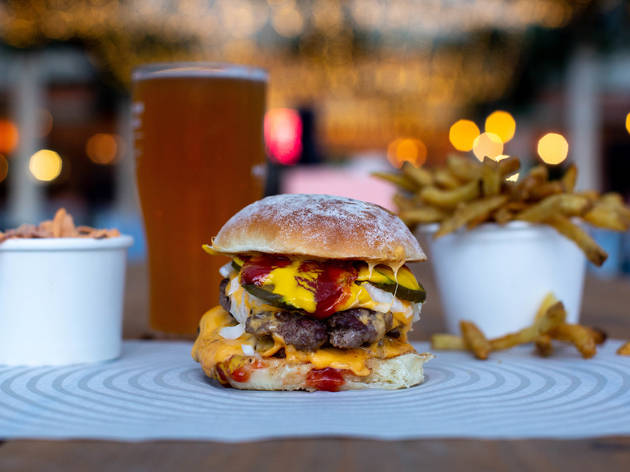 2/9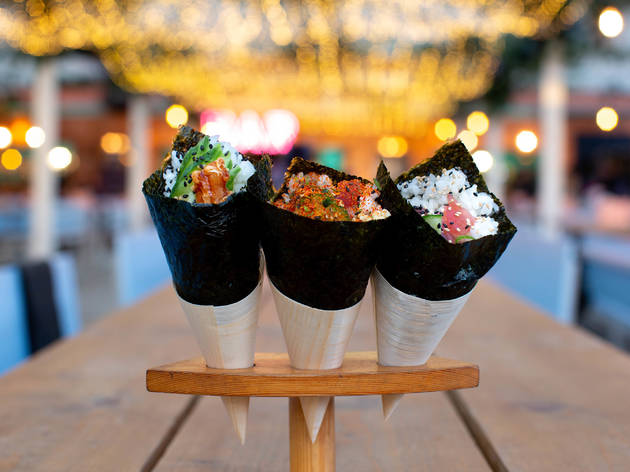 3/9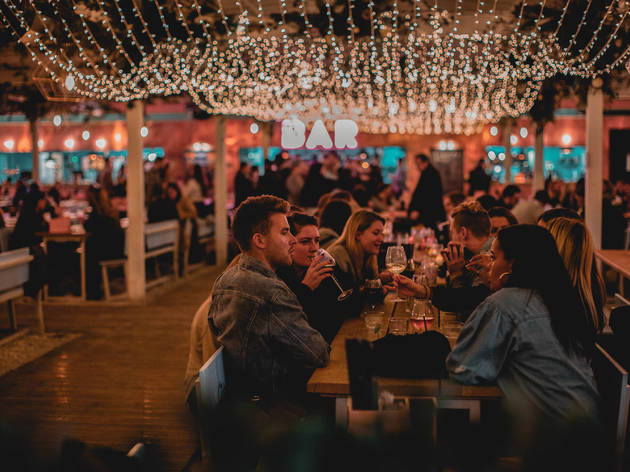 4/9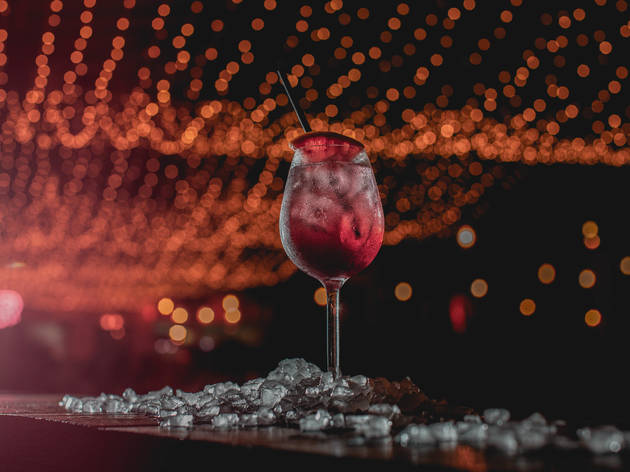 5/9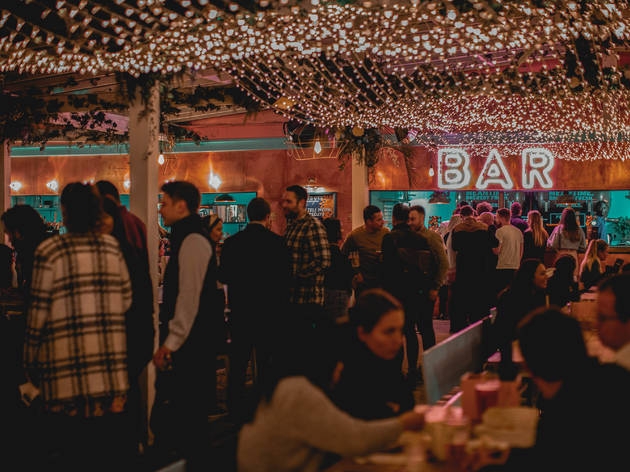 6/9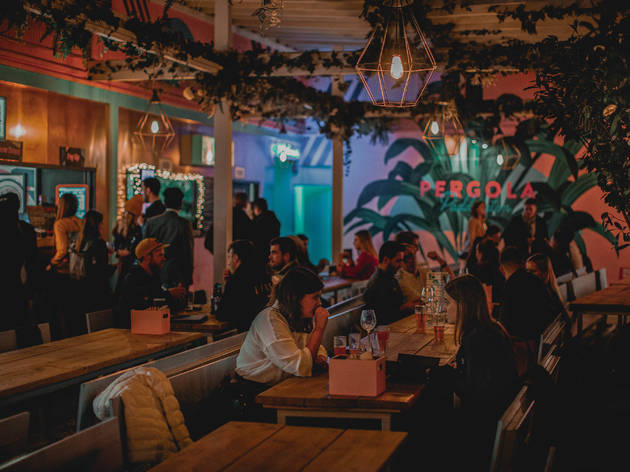 7/9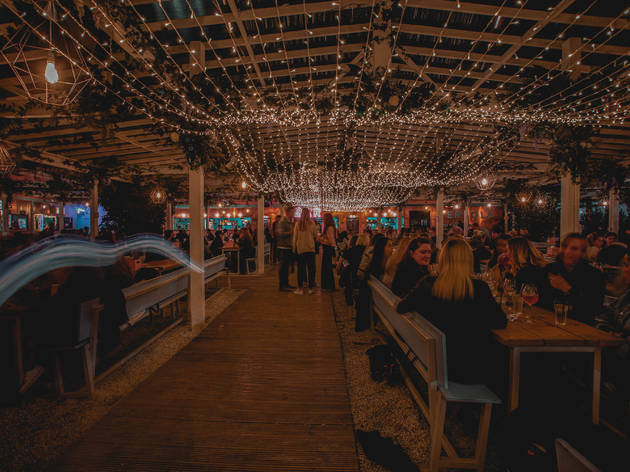 8/9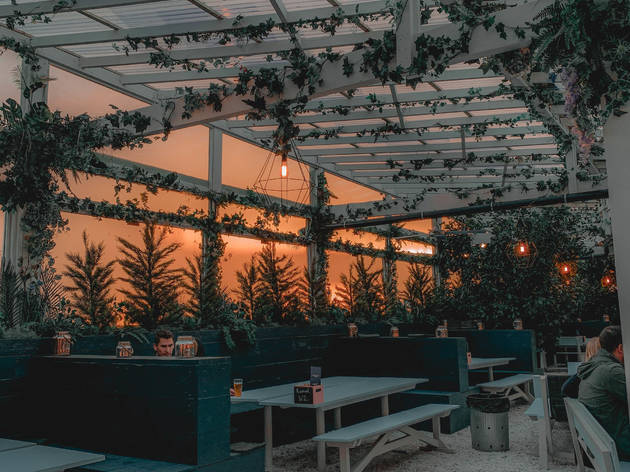 9/9
Venue says
Pergola Paddington returns as an urban winter forest this winter with a warm welcome as the nights draw in ~ BOOK NOW!
Time Out says
Please note, due to the nature of this venue, traders may rotate and change.
It's become a regular feature of the Paddington scene, and Pergola's 2019 blast is even bigger and better than before. This year's theme is high summer on the Balearic coast, and the owners have done their best to make it as sunnily alfresco as possible: they've taken the roof off the top deck and raised the roof downstairs, allowing up to 850 revellers enough space to eat, drink and make merry. Food traders will come and go, but the four-strong starting line-up features leftfield kebab kings the Babek Brothers, Honi Poké, An Choi (a new outfit from the Salvation in Noodles team) and Smash Patty (from the guys behind Patty & Bun). If that's not enough for you, Pergola's offer also includes DJs all weekend, bookable day beds, a summertime cocktail menu and bottomless brunch on Sundays.
Pergola is open all summer from 2 May until end of September 2019. Booking recommended, but walk-ins are welcome.
Pergola Paddington says
Hidden garden, drinking and dining in the heart of London, with 850 seats, brand new bookable daybeds downstairs, a winter food and drinks menu, DJs at the weekend.

To salute the special season where everyone gets a little bit cosier, Pergola Paddington will be transformed into an urban winter forest where groups of friends and intimate twosomes alike can chill out together – and enjoy the romance of this time of year when everything gets deliciously darker.

Expect food from four of London's top independent eateries: Babek Brothers, Temaki Bros, An Choi and Smash Patty!
Details
Average User Rating
3.5 / 5
Rating Breakdown
5 star:

4

4 star:

6

3 star:

9

2 star:

2

1 star:

1
A few great street food options (you can't go wrong when Patty & Bun is involved) and a very Instagram-able setting, but Pergola has definitely missed a few tricks - the most frustrating of which is the idea to open a semi-outdoor venue in England that doesn't have heaters.
Despite it being nearly May when we visited it was absolutely freezing and all they had to counteract this was a few thin blankets and booze, and when it's costing you £8.50 for an Aperol it's not cheap or easy to warm up. If you do plan to visit - wear layers! Secondly, the floor is made out of chalky grey pebbles which had obviously been rained on before we arrived. The result of this was shoes, bags and clothing that are now heavily specked with a sort of grey dust that I'm yet to work out how to remove. The blankets they give you end up hanging in the puddles, then when you move you find out you've flicked this chalky wet stuff up all your clothes, so my next bit of Pergola outfit advice is don't wear black, don't wear white, in fact probably wear something you don't mind getting ruined... Lastly, the free frozen margarita they offer you? Truly, truly disgusting. I never turn down a free drink but this one ended up in the bin. Only take them up on the offer if you like the sort of cheap tequila that tastes like a hangover in a bottle.
All that aside, we did have a fun day, and I'll be less bitter about the puddles when I get the grey stains out of my favourite handbag. The big tables are great for groups and the food options were really good (DF Mexico's fish tacos also deserve a shout out), and being able to book ahead is a definite plus. The venue is very pretty and I imagine that on a hot, sunny day it's a really wonderful place to sink a few cocktails and enjoy the weather. If I do ever go back, I'll dress accordingly and probably have a much better (warmer) time.
It is the perfect location to meet up with a big group of friends as they didn't charge to make a booking like most places & with the different restaurants available, it suited everyone's tastes. They've now got heaters for the winter so we stayed all evening long & felt like we was indoors but outdoors at the same time! Love Pergola! Can't wait to come back already.
Great decor and completely love the set up, but not really equipped with the views one would expect. Food is fairly overpriced and not the best quality. We tried out Mamalan Rice bowl and I went for the ginger crispy beef, a lot of rice and not the greatest quality beef.
Will be trying out the other stalls during lunch times to see if it gets any better.
For all the hype of Pergola, I wasn't that impressed by their news offering in Paddington.
The location is in a new development 10 minutes from the station and it reeks of lifelessness.
Pergola sits at the end of a row of gleaming office blocks, but wasn't everything I had expected.
I'd made a reservation, so we were taken down a floor to a table by the food outlets. Having booked a table, four of us were actually sharing a longer table, which, when the food is self service, it seemed rather pointless booking.
The decor and vibe was nice, I did think it would be open air, but in fact this section is all covered.
The food was good, DF/Mexico offered the best treats, but Mamalan let us down by giving our food to someone else and making us wait 20 minuses plus! The drinks were nice, I'd recommend the Le Gran Fizz, but really a bit pricey.
This is a new development in Paddington bassin. In many way it reminded me of a beer garden. There is a good choice of drinks and food at relatively affordable prices.
Now it all went wrong when at 10:30 we were kicked out of the lower ground and asked to move to the upper level. We complied and sat down at a table upstairs for about 5 minutes before being asked to finish our drinks and move out.
As we walked out we were asked to completely finished our drink (in cheap plastic glass) before going out of the venue by a lovely but unwavering bouncer. This was a private venue, we were guests and we had to comply with the rules. So were we told.
Fair enough. We were not patrons, just customers that could be milked to mercy. Having spent a substantial amount as guests was suddenly irrelevant.
We finished our drinks and promptly left that unwelcoming territory.
As we walk back towards the tube and stopped for a farewell, we were suddenly harangued by a security guard and its faithful alsacien who told us that this was a residential area and requested us to promptly part and move on.
We expressed our slight surprise but at the sight of the molosse, promptly kissed goodbye and parted.
Bottom line is that what could have been a nice and memorable friends reunion turned into a very unpleasant end of night.
We liked the place but trust me we will never go back or recommend it.
After loving the White City Pergola, I was buzzing to check out the Paddington one. After struggling to find it with my friend, we were greeted by a considerably creepy security guard at the entrance. The top level was completely empty when we arrived which gave it a strange atmosphere. When we walked into the downstairs area where our table booking was, it was like walking into a green house (minus the plants). The stones on the ground were so uncomfortable to walk on and left a chalky residue on all of our shoes. It was so unbearably hot even though it was only 17 degrees outside. It didn't have the charm of the White City venue and the atmosphere wasn't even close. There was no view, drinks were not cheap and the music wasn't loud enough. Would not recommend.
These guys are pretty great at alfresco drinking and dining - celebrated my birthday at their other venue Pergola on the Roof and had a fabulous time. Can't wait to see what this is like!
Excited for this venue to open, if its anything like Pergola on the Roof, well worth a visit