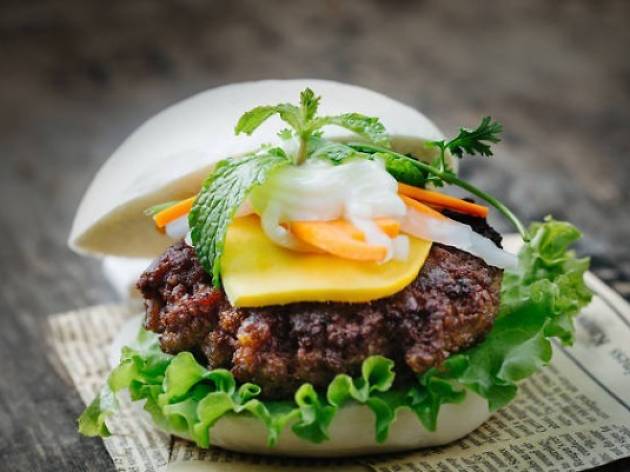 Time Out says
A Vietnamese restaurant on Shaftesbury Avenue focusing on pho noodle soups and banh bao 'burgers'.
Who says London isn't friendly? The couple sitting next to us at this trendy Vietnamese newcomer were nice as pie when we asked to borrow some space from them. We had little choice. The tables at Pho & Bun are tiny enough to make dining out feel like a game of Jenga, with dishes precariously placed and nimble hands needed.
But outside that gnawing grumble? Mostly pretty good, with props going to their signature dish: a burger served not in bread, or even brioche, but in a bao (steamed bun). We enjoyed the patty, its charcoal-cooked smokiness dialled up a notch by a punchy smoky mayo. A bao might not offer the depth of a traditional burger bap (your teeth meet the meat too quickly) but the sweetness and soft chew makes it an intriguing, memorable combo.
Elsewhere it was perfectly decent Vietnamese fare: summer rolls with plump tiger prawns, beef pho with a reassuringly clear broth. The main disappointment was from woefully underseasoned chilli salt-and-pepper squid. The fact that it was delivered by mistake (we'd ordered a different rib dish) didn't help, or the fact that the waiter returned to insinuate we were in the wrong. Sweet potato fries were okay, though the chilli mayo lacked clout.
Details
Address:
76 Shaftesbury Avenue
London
W1D 6ND

Transport:
Tube: Leicester Square or Piccadilly Circus
Contact:
Opening hours:
Mon-Thu noon-11pm; Fri-Sat noon-11.30pm; Sun noon-10pm
Do you own this business?
Average User Rating
3.6 / 5
Rating Breakdown
5 star:

7

4 star:

19

3 star:

9

2 star:

4

1 star:

2
We ordered the time out deal and the portion sizes were smaller than the actual sizes, felt like a con. Service was so slow and the food wasnt even that good

Hidden gem in the heart of Soho. Perfect for a pre-theatre meal or to catchup with friends.
It's tiny but cozy - really liked the decoration - so you I recommend booking in advance.
Delicious combination of flavours - recommend you asking the staff the best way to eat each dish to get the maximum taste out of it - and delicate presentation.
This was rated top Asian restaurant in Soho so it had to be done. I tried their Vietnamese burger, made with the bao buns. This tasted amazing and definitely worth trying! All around us people were ordering dishes that looked really tasty - definitely feel like I want to go back to try other things. Drinks were reasonable as well considering th location so worth a visit!
Tasty Vietnamese food - good salted chilli squid and pho, however portion size suffers slightly in my opinion versus other pho restaurants I've treid. The venue packs you in - fun if you don't mind rubbing elbows with your neighbours.
We experienced very poor service when we visited them recently, they were very slow to serve throughout the near 2 and a half hours we sat there but that didn't stop them from repetitively visiting us to ask if we would like anymore drinks.
The portions were also small, (set menu is what I went with), food was not even hot which makes me question if they even have enough people working in their kitchen on a mean assumption.
Quality of the food was pretty good though and different in a good way, the place is well decorated but would not say it was worth what all of us paid for our evening with them.
Will not revisit.
I had really high hopes for this place and have been wanting to go here for a while so was very excited when Time Out offered a 5 course deal – 3 starters, a main and dessert.
The 8-hour confit pork belly Bao burger was the stand out - absolutely delicious if a bit messy (probably not a first date dish!). The starters were also pretty tasty especially the chilli salt and pepper squid and their prawn summer rolls were as fresh as their title suggests.
The desserts however were a let down. Out of the three choices we went with the panna cotta and caramel flan, both of which had exactly the same consistency and neither particularly memorable.
Another slight let down to our experience was the staff. There were plenty of them always gathered at the back of the restaurant but none were paying much attention to the diners, so found it hard (and time-consuming) to ask for important things, like more wine.
This hasn't deterred me though and I will definitely be going back to try more of their menu in the hope that the rest of the food is just as good and at a time when the staff will be a bit more attentive.
This place is a hidden gem! Firstly, the service was pretty impeccable. The waiters are extremely friendly and eager to please, and the calm, cool atmosphere is just the kind I like. Although they didn't have many customers on the two occasions I've been there, I imagine this place will become a hot-spot for many, once everyone discovers what delicious food they have!
I got the vegetable spring rolls, which were the best I've ever tasted. There were no limp carrots, or tasteless bamboo shoots, these spring rolls tasted like they were freshly cooked, and the light, crispy batter was to die for!
I also ended up getting the prawn burger (also in a light batter), there was a slice of pineapple in the burger as well, which I was slightly dubious about, but the flavours worked perfectly.The only downside about this place are the tiny tables and squashed seating. Even so, I would still recommend this place to anyone.
This is quickly becoming one of my favourite lunch spots. The super soft bun burgers are amazing (I tried the prawn one) and if you're not the biggest fan of Pho, this cheap and cheerful spot might change your mind. Try the pho with sliced rare beef - it's hearty and delish.
Very friendly atmosphere and really delicious food. I had the Goi Cuon Tom (Tiger Prawn roll),
Muc Rang Muoi (crispy squid),
Pho Bo Chin (Tender beef Pho)
Banh Bao Kep Thit Bo Nuong (beefburger in a milky bun) and sweet potato fries (!) - not all to myself obviously - and all were delicious. It's a really small space so choose the time you arrive carefully but definitely try this place out.