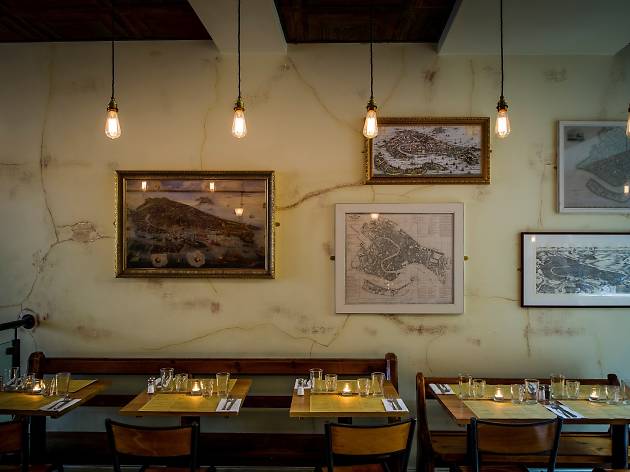 1/4
2/4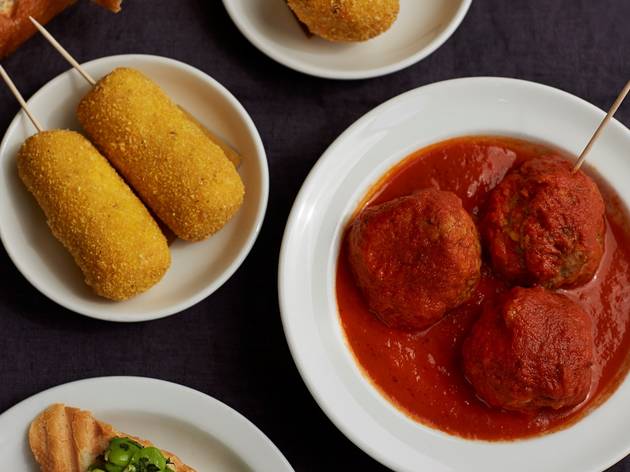 3/4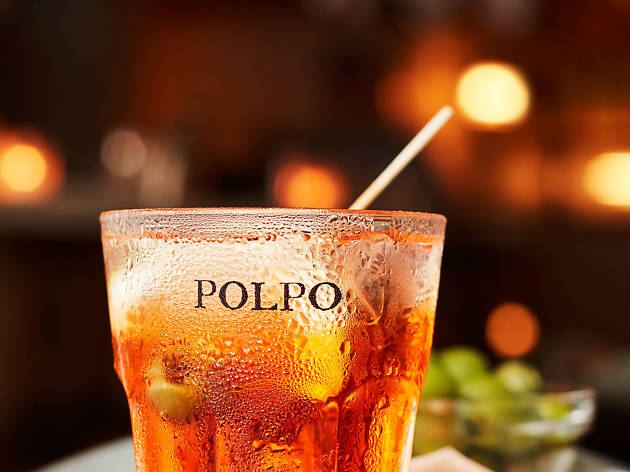 4/4
Time Out says
It's little wonder Polpo IV's starting to look like a chain restaurant, presenting fans with a creeping sense of déjà vu. Here (again) are the tin ceiling tiles, the filament light bulbs, the zinc bar tops, even the staff with heavy tattoos. Polpo Soho is simply more of the same.
Polpo's kitchen here is still on form though. The meatball section has been beefed up, and our pork and fennel version was moist and well spiced, served in a rich and flavour-packed tomato sauce. Heritage tomatoes were superior to the usual pallid varieties we get in the UK, partly helped by a dressing which seemed to intensify their ripe, summery flavour.
Ingredient quality was good, such as a fresh mozzarella ball, served on a base of peeled broad beans and pea shoots. A 'white pizza' (no tomato) topped with anchovy had appealingly chewy dough, crisp in places. The only miss was the grilled focaccia. Placing thick bread on a hot grill doesn't toast it, it merely brands it with tramlines – which although they look interesting when it's served, don't do anything for the flavour or texture of the focaccia.
The differences to the other Polpos are subtle. This one has a larger bar than its counterparts. But like the others, this has a no-reservations policy for dinner: very convenient for the restaurateur, but much less helpful for the diner.
Polpo Covent Garden says
Polpo on Maiden Lane is situated in the heart of the West End, perfect for pre- or post-theatre dinner and drinks. We offer tasty small plates, prosecco and spritz in a setting that reflects the gloriously faded elegance of Venice, and the of charms of its backstreet wine bars.
Details
Address:
6 Maiden Lane
London
WC2E 7NA

Transport:
Tube: Covent Garden tube
Contact:
Do you own this business?
Average User Rating
3.3 / 5
Rating Breakdown
5 star:

2

4 star:

8

3 star:

3

2 star:

5

1 star:

1
I visited Polpo with my boyfriend on our anniversary, the restaurant is very romantic and relaxed, not too showy. The food is simple yet delicious, and there are reams of options to choose from. We started with a very reasonably priced glass of prosecco and then went on to order a couple of plates to start and around six plates between us to follow. I would particularly recommend the crab linguine and the lamb meatballs- both divine. Needless to say we were stuffed afterwards, but you can easily just have a few plates and be satisfied, it's up to you how much you order and the waiters and waitresses are really good at making suggestions.
If you are looking for something easy, yet still slightly romantic, I would highly recommend Polpo. The dimly light restaurant is buzzing with people enjoying food, wine and conversation. Perfect to grab a small bite or make a full blown meal out of it, It's completely up to you how much you order. I recently enjoyed a girls night out, where we only had to wait 5 minutes to be seated downstairs in a cozy little corner. Our waitress was lovely and explained how many plates we should order and if we wanted more we could order again. We sipped aperol spritz and enjoyed a selection of seafood, breads, stuffed friend olives (yum!) and pizzette. The only thing I didn't enjoy was the dessert, I had the Nutella pizza which should have been made from dreams but was slightly disappointing. Overall I will definitely be visiting again
Went for a cheering 'end of holiday' Christmas lunch and was slightly disappointed. Although the cocktails were good, service was a bit slow and most of the dishes we had were extremely average. The Duck Pappardelle, however, was excellent but the Rosemary Roast Potatoes were undercooked, underseasoned and lukewarm. A bit disappointing for a £60 lunch with only one drink each- did not live up to the hype!
A nice venue. The food was nice enough but certainly not four stars. Would say I've had elsewhere better tapas at that price.
Sad that with the food they have brought to London something that would have been better left in the lagoon. PLEASE AVOID THIS PLACE AS THE MANAGER IS VERY RUDE...We were VERY disappointed by our visit to the Polpo Covent Garden restaurant. It all started as my husband with whom I lived in Venice for three years, was very keen to celebrate his 40th birthday at Polpo. I called at the beginning of November, explained that I wanted to book a table for 7 people on Saturday 1 December for my husband's 40th. I was told it was impossible as they only took bookings two weeks in advance. I diligently waited and called again two weeks before 1st December, but... bad luck apparently, somebody had already booked 'the' table. They only take one 'big' booking a night. I asked if there was another solution...I was told ...NO. Not even by booking the downstairs bar for a private party. I would have happily chose a different more welcoming place but my husband was committed to come to your restaurant, so asked his friends to meet there at 5:30. Surely we could have got a table so early even if we had to wait a little...after all the web site is very clear in advertising the 3 bars in the restaurants. Such fools in thinking that - by reading on the website - we could use the bar and have a few drinks whilst waiting for a table. We were told by not a very helpful or friendly girl that we could not get a drink at the bar whilst waiting as they do not have a license to use a bar as a real Venetian bar and therefore what is written above ' you really should try to visit them before or after your meal if you are coming to Polpo in the evening' is deceitful at its best and we could MAYBE get a table if we waited by the entrance for one and a half hours but being 7 people this was impossible as the entrance is just not big enough to have 7 people there for 1 1/2 hours. Even my husband in the end was persuaded by the unhelpfulness and lack of customer service skills to leave for good. I'd like to note the bar in the basement was set up as tables and it was impossible to use it as a bar. It was like being back in my hometown ... VENICE, where I was born, still have a house and spent the first 22 years of my life before I came to London. I didn't manage to experience if the food served was Venetian as claimed, but I most definitely experienced that very Venetian attitude...you know, that customers are a bother and you should be lucky to be served...I have rarely experienced it myself being Venetian, but I have seen it with tourists, it is not something that makes me proud of my hometown. Stay clear of this place. They really don't know how what customer service is.
shame about the poor service and the manager being really rude. the food is tasty and exotic flavours with a nice ambiance but wouldn't go back again
Have been a frequent vistor to the polpo restaurants over the past few years, which use to be a fav. It's a shame to see that the service has deteriorated and become so arrogant, in particular the manager. Avoid Da Polpo if you want a good nite out with friends it could spoil your evening.
OK little place, with nice enough food, however we had a few issues such as too cramped seating for a tapas place, very expensive wine and just ok food. The sauce on the minted lamb meatballs we had reminded us both of tinned Heinz tomato soup. Better than the chain places on Maiden Lane but don't really get the fuss tbh, you can get much better for your money up in Soho.
Really great little spot with character and atmosphere. Food was really tasty and portion sizes very generous. I really like the sharing / tapas aspect. We went for pre theatre dinner and sat at the bar. Staff were really friendly and service very good.
Went on a friday night with the wife. Food overall was very good without being "wow". I like the idea of "Italian Tapas" which is what this place was. Not as romantic as hoped due to busy and atmosphere, definatly try and sit downstairs if possible where it seems quieter.
Best of the Polpo bunch so far. Light, airy, fun, friendly and really tasty meatballs. Will be back.
My husband and me went to Da Polpo last Friday after work and we had a great time. House red wine was decent, the selection of dishes we chosen were tasty and good-sized (which is very important for me, I always find tiny teeny portion of tapas dishes you get in some trendy restaurants very frustrating). I was slightly surprised that it wasn't filled up quickly, maybe the location is a little bit out of way.
Went for Sunday luncheon - classic Polpo-style food and with delightful staff (of which there seemed a huge number). Have the veggie meatballs...mmmmmmm
Snap up exclusive discounts in London
Time Out's handpicked deals — hurry, they won't be around for long...