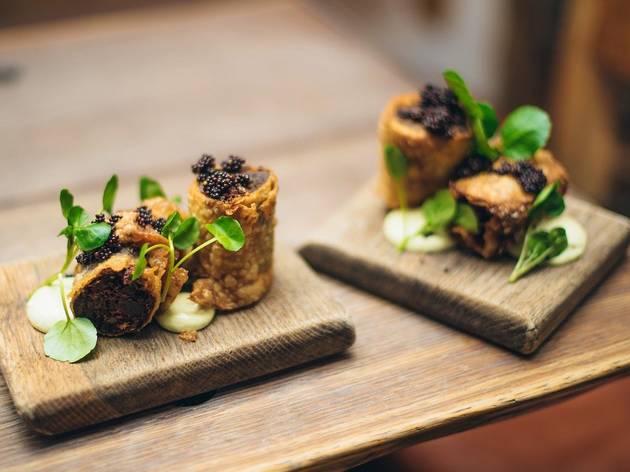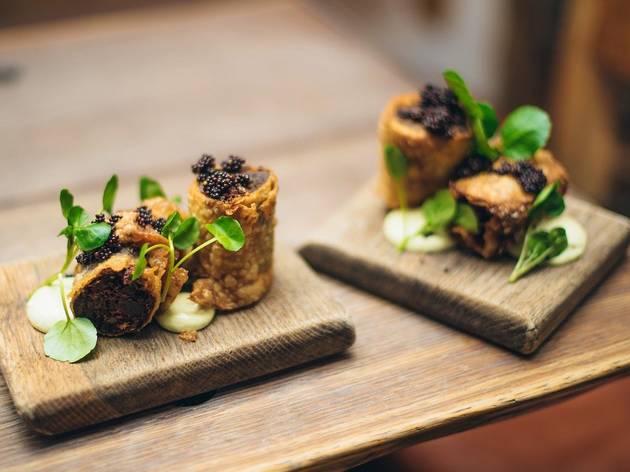 1/14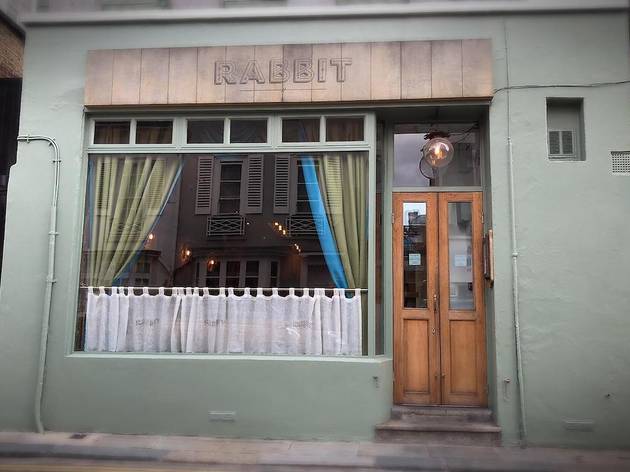 2/14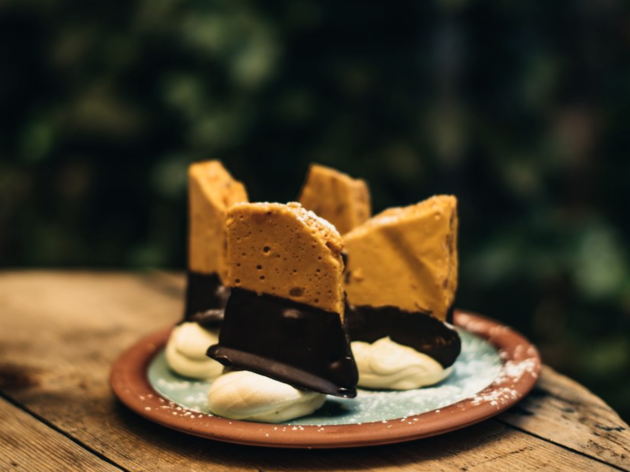 3/14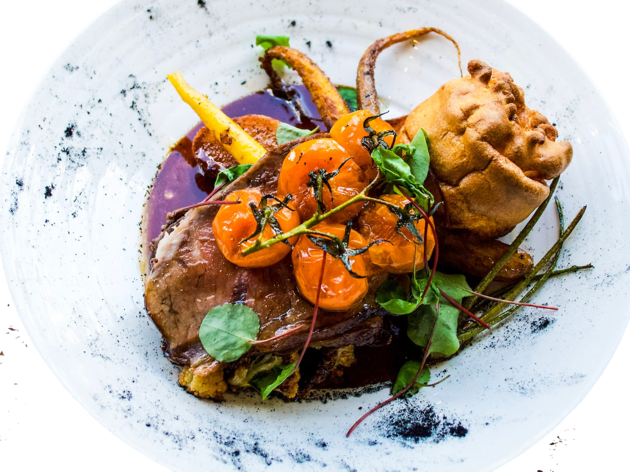 4/14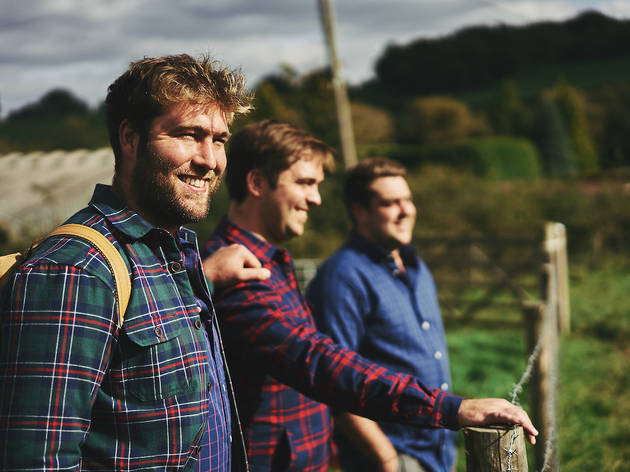 5/14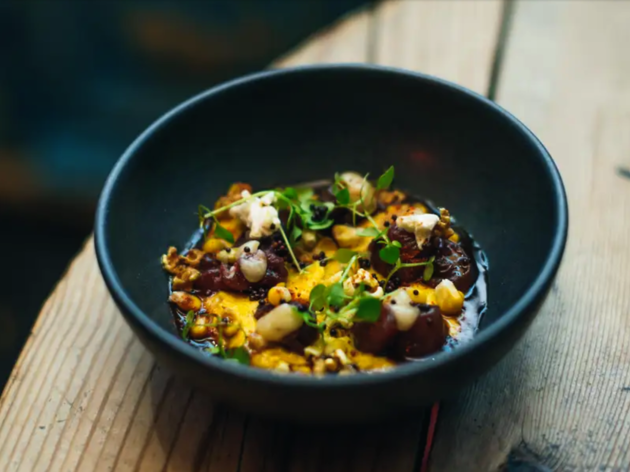 6/14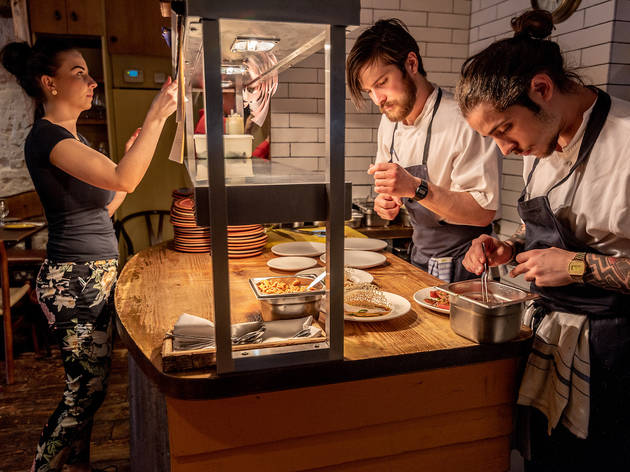 7/14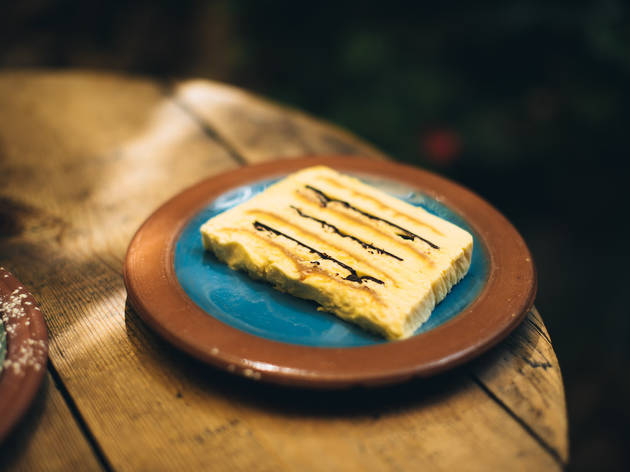 8/14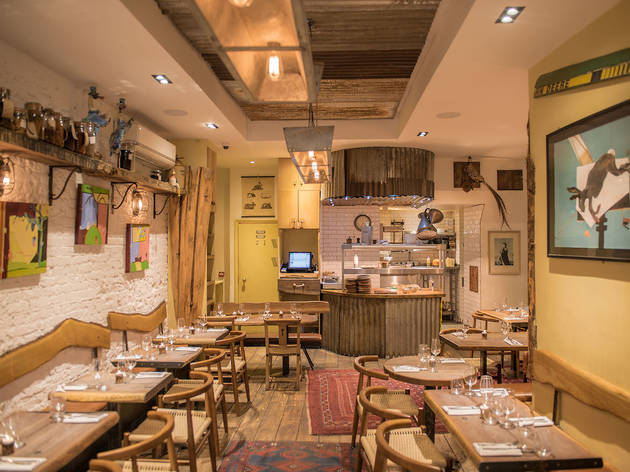 9/14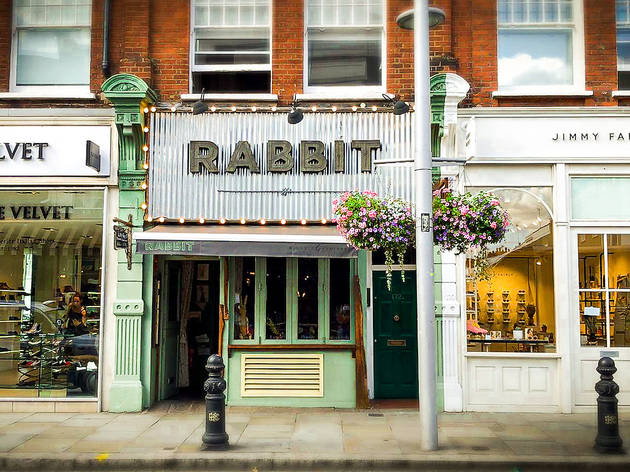 10/14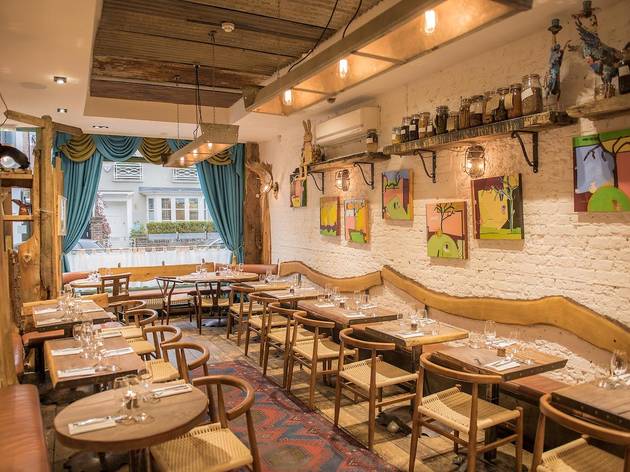 11/14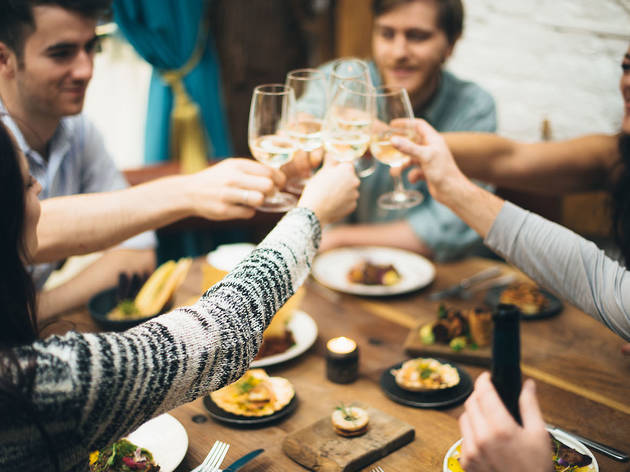 12/14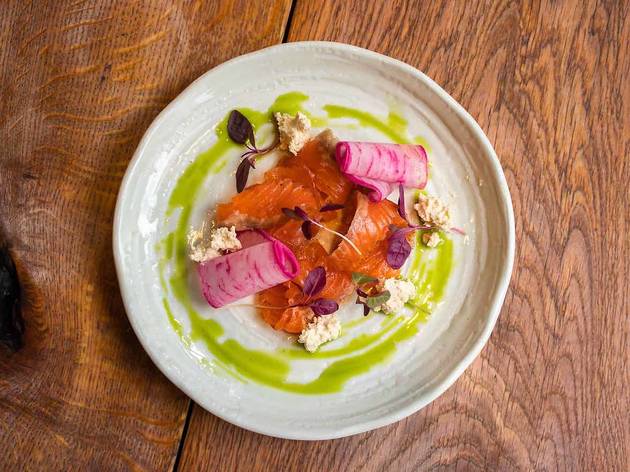 13/14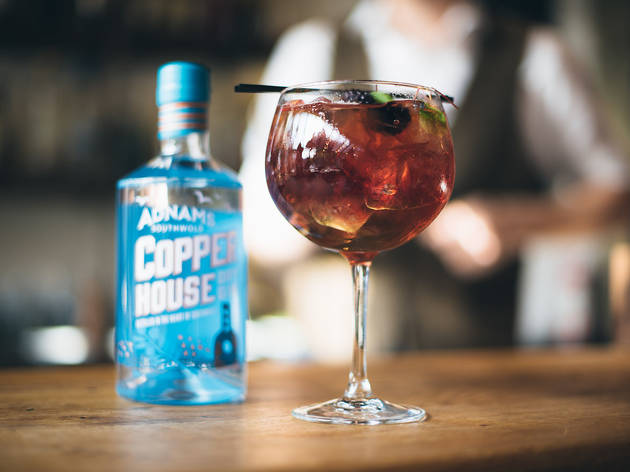 14/14
Time Out says
A spin-off of the popular 'wild' food Notting Hill eatery 'Shed', with a focus on nose-to-tail eating.
'Rabbit', as Chas 'n' Dave fans know, is Cockney rhyming slang for 'talk'. And customers of Rabbit, a new restaurant on the King's Road, excel at talking – plus shouting, hooting with laughter and generally making a lot of noise. This is Chelsea, where some view town as a place to party and country where you go to recover at mum and dad's. On our visit, some customers even gave high-fives to the Gladwin brothers, the chef-proprietors (who returned the overfamiliar Americanism).
We're not sure what real country folk will make of Rabbit's jokey, 'rustic' interior, but as Oliver, Richard and Gregory Gladwin hail from West Sussex farmland themselves, we imagine they didn't have trouble sourcing the tractor bonnet decorating the bar, the corrugated iron panelling, or the back end of a fox mounted on a wall. It feels more like a bar that does food, down to the 'stable door' entrance where smokers can linger outside. But to see it as a party venue does the cooking a disservice: the Gladwins – who also run The Shed in Notting Hill – can really cook.
The 'small plates' menu lets you try at least two or three per person. A 'mouthful' (appetiser) of 'brown crab bomb, lemon dulse' set the scene for cooking of great technical prowess, with a crisp shell containing the warm crustacean centre, held in place on the plate by a seashore-scented lemon mayonnaise.
Rabbit ravioli was the best dish, meat tender, pasta al dente but glossed with bone marrow, lovage pesto and wild mushrooms. Foraged and wild ingredients feature prominently. Marshland salsify and sea-purslane leaves littered a fillet of hake, with a perfectly balanced sauce of cider, cockles and butter. Vegetables are used imaginatively: smoked Jerusalem artichoke was stir-fried with rainbow chard and served with spaghetti squash. We can't comment on desserts: service was getting patchy as the evening wore on, and our orders never arrived.
The Gladwins grew up at Nutbourne Vineyards, so the perfectly good Nutbourne wines are well-represented. We watched the staff decant the 'Shed white' from silver vacuum packs into rustic wine bottles for serving at the table, with one person holding the pack and the other 'milking' it. The effect was fittingly like being in the urban version of a cow shed.
Rabbit says
Rabbit is situated on the iconic Kings Road, Chelsea. It is a neighbourhood restaurant with a difference, capturing the flavours, freshness, and vibrancy of the English countryside on this famous London Street. Run by the Gladwin Brothers, Rabbit offers inspired original cooking; knowledgeable, attentive service, and an electric atmosphere.

Our daily-changing menu champion's local and wild, seasonal produce with sustainability at the forefront of everything we cook. We use all things wild, foraged, and locally grown, including sustainable livestock from the Gladwin's family farm in West Sussex. Plus, we have a range of English Wines from our vineyard, Nutbourne.

We serve "small plates" designed for sharing or to enjoy individually. Our team will guide you through the menu to help you make a balanced selection of dishes. Join us for lunch- Tuesday to Sunday or dinner- Monday to Saturday.

We offer excellent value weekday lunches, fantastic brunch on Saturday and Sundays, and, of course, a special Sunday Roast menu complete with fluffy Yorkshire Puddings and seasonal vegetable sides.

Indulge in our exciting 'Local & Wild' tasting menu, an eight-course experience showcasing the best of British produce, including wild game and foraged vegetables and herbs cooked with creativity and flair.

Rabbit is an excellent location for private parties or to play host to big groups, whether for brunch, lunch, or dinner!
Details
Address:
172 King's Rd
London
SW3 4UP

Transport:
Tube: Sloane Square
Menu:
View Menu
Contact:
Do you own this business?
Average User Rating
3.8 / 5
Rating Breakdown
5 star:

7

4 star:

7

3 star:

1

2 star:

2

1 star:

2
Very unpleasant experience eating here last week. The four of us were crammed into a tiny space in uncomfortable chairs. Service was criminally slow and when the food did arrive the minuscule portions did not justify the prices.
Tried the English wines which were overpriced and incredibly acidic.
Definitely one to give a miss, particularly when there are so many quality restaurants in the area.
A place I had always wanted to try in the neighborhood of Chelsea. On a lovely July Sunday, my friend and I went in for their 'Sundays on the Farm' seasonal menu and it did not disappoint. With sustainably sourced prime cuts of Sussex beef served with wild veggies and unconventional spinach puree over traditional gravy, it was definitely a wise choice for lunch. Although the menu is pricier than your usual roast lunch, what you get with the slightly heavier bill is a different comfort-food experience in an interesting rustic, cozy setting with good service.
If it's a roast lunch you fancy on a Sunday but crave more than the usual carvery, this is a good option in Central London. Next time I will hopefully go for dinner and try even more of their mouthfuls and food to share!
Tip: If you love to people-watch, there's a couple seats right at the front of this eatery facing King's Road!
Rustic decor, cozy atmosphere and a very different culinary experience- if you find yourself on a weekend shopping trip to King's Road, stopping by this tasty venue is well worth it. It won't come as a surprise that there is a wide range of meats on offer, each with its own tailored cooking style. You have the braised and marinated selection (think pulled turkey with pearl barley risotto and cabbage) or the grilled and raw bunch (think fallow deer, oak smoked potatoes and mushrooms). But don't think this place is a no go for vegetarians. The chefs get quite creative with the non-meat dishes too. The pan fried goat's cheese with honey and almonds, coupled with one of the tasty salads on offer, is a dish in its own right. While you're in Rabbit though, you may want to try something more exciting. If that's the case, then the bacon jam doughnut (see pic below) is worth a bite (or two). While the meat has very little to do with traditional bacon, it is tender and sweet, and very nicely complemented by the jam served alongside it. Overall a nice pick for a Sunday lunch with a twist.
Great food and great people ......
Great food and great people ......
Wonderful seasonal British produce!
Thoroughly enjoyable experience had each time I have been and I consistently recommend Rabbit to friends and family looking for a restaurant. The portion sizes are the right size for the "Sharing Plate" experience.
The ethos behind the restaurant is creating interesting, innovative and tasty recipes using seasonal and fresh local produce. The diner is reminded of this by the rustic outdoorsy interior, a bushy fox tail suspended above the open kitchen which brings you closer to nature whether you like it or not.
I had been averse to goat's cheese after I overdosed when I was seven – until Rabbit cured me with the beetroot crisp. My dining companion was a marmite loather but it was incorporated so beautifully into the rich earthy truffleness of the éclair that he too overcame his dislike.
Still poring over the menu the couple at the adjacent table came to our aid, and very enthusiastically. So enthusiastic, in fact, that they admitted to having worked their way through every dish and would happily do an encore. They even donated the remainder of their butter with the instruction to slather it on whatever we could. One we had paired it with the freshly baked wild yeast bread it we began to understand the couple's eagerness to share the joy. Freshly whipped, lightly salted and garlicky with finely chopped shallots. Read more: http://www.culinasophia.com/2014/12/rabbit-restaurant-review/
Absolutely tiny portions. Good staff but extremely overpriced for what you actually get on your plate. Would not recommend.
I guess whn you book a table for say 8 pm and when you turn up you are told it was booked/available at 8.15 when you have it sets the tone a bit. i don';t mind if the fact is that the table is still occupied provided you are told that in advance. However, it would be a nice touch if you were offered some nibbles to make up for it instead of just standing in a crowded passageway/entrance. An offer o look through the menus would also have been welcome as we sipped our wine.
Essentially the food ualit and variety is vey good, although there is an unnecessary oversalting the dishes, something which we all agreed upon.
The restaurant is spartan, and, should really have fewer tables and better soundproofing as it is near impossible to hold a conversation. This segues into ordering as two items were wrong, and whilst the waitress endeaoured to explain the format from one end of a table for 4, at the other end it could not be heard clearly. I also agree with the previous review that the tables are really too small, and fewer tables/more comfort would pay for itself
It is a great concept in terms of traceable ingredients with good and inventive dishes but could do much better if they focus on the comfort of their clientele
We entered enthused at the prospect of a chilled environment with great food in a room with decor of country meets soho house cool (the few taxidermy here and there were funny, especially the framed fox bum).
After waiting to order, we were told these were 'sharing' platters, so choose 2-3 per person. If we're sharing, the plates should be share-able, much to our disappointment when they brought the two 'main' dish rabbit ravioli.
Perhaps the experience would have been enjoyably, as the atmosphere itself certainly was, if the waiting time between meals had not been so extensive. I watched the three men in a small kitchen spooning sauces and such with such patience, I nearly got up to do it myself. Last time I waited so long between dishes was at The Suvretta House in St Moritz, and that is part of the performance of dinner time, not to mention you are seated in comfortable chairs in a grand hall.
Their food has an amazing ensemble of flavours and textures, but a few twitches need to be made here or there. Or perhaps I should avoid such small scale serving restaurants in future, being the old fashioned quality-with-some-quantity kind of eater.
My new favourite restaurant in London! Absolutely delicious food and I can't believe most of it comes from their own farm. On top of this, It has a great family atmosphere, it's not too expensive and has great wine.... I'll be a regular!