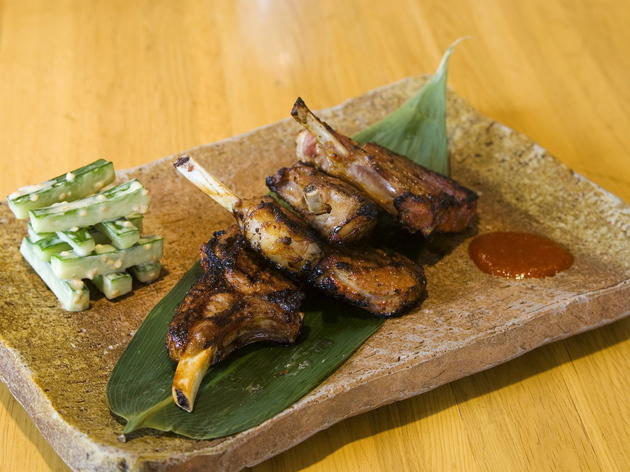 Time Out says
Zuma's younger sibling in Fitzrovia gets top marks for glitz and glamour, for the theatre of watching chefs at the robata grill, and for impeccable cooking.
Zuma's younger sibling gets top marks for glitz and glamour. Much of the action takes place on full show at the central robata grill, where a repertoire (similar to Zuma's) of contemporary izakaya-inspired food is created. The knotted wooden counter, framed by glass cases displaying the day's produce, is filled with expectant punters enjoying the show.
The tasting menu is popular with first-time diners, taking them on a spin of the best that Roka has to offer. Ours started with a spicy spiral of own-made kimchi. Next came a sashimi platter elegantly presented over crushed ice, and including flavoursome minced tuna with spring onions to be scooped on to crisp, black bread. Sticky skewers of tebasaki (chicken wings) were succulent, while charred salmon served with pickled onion and a tare sauce was crisp-skinned and soft-centred. Another highlight was a showy trio of desserts, which featured Pocky-style chocolate and sesame biscuit sticks.
The tasting menu isn't cheap, but each dish was impeccable. At such prices, though, service has to be spot on, and ours faltered towards the end. It took an age to get the bill, and we were made to wait further by the chilly door as attempts to retrieve our coats and bags were ignored.
We checked out dishes from the menu:
<
Details
Address:
37 Charlotte Street
London
W1T 1RR

Transport:
Tube: Goodge Street or Tottenham Court Road tube
Contact:
Do you own this business?
Average User Rating
4.3 / 5
Rating Breakdown
5 star:

13

4 star:

4

3 star:

1

2 star:

0

1 star:

2
This place is a jewel! the decoration is beautiful, with a natural wooden bar. The food is amazing, roasted meats and truffle sashimis are a blessing. Although not being especially cheap, it's definitely a place to recommend for a tasteful, high-quality, Asia-inspired meal. The staff is a bit lazy but the sommeliers very good and helpful.
superb dishes and dessert to die for.
Amazing - fanatatic food, service and ambiance - you can't beat it!
I went here with a friend and the food is AMAZING. My friend was 10 minutes late, however, and the waiters made me feel pretty uncomfortable at the start - I didn't want to order anything until she arrived. But after that things cheered up. The only down-side with great food is that it's often really expensive - definitely the case with this place. They also took my rice away before I'd finished, which was a bit annoying. Overall, great food, not such a great price and the service was good, but a little awkward at times!
You have to try the black cod, and beef and truffle.. And if you leave without the shared dessert you will be missing a treat so leave some room. It's great upstairs and down stairs wine choice is great and always a great atmosphere. Would go again and again
Absolutely brilliant! It doesn't just taste amazing, the aesthetical issue leads to a satisfaction of the senses. You haven't had sushi (particularly the eel and wagyue), unless you've tried this one. But also the other dishes, like the cod, is made in the best possible way, the perfect amount, so you can have a good conversation while eating. The service is quick and very polite, reservations work perfectly. Not to stiff and certainly worth it's price. Favourite restaurant in London, and not only because nowhere else you don't want to eat your dish due to it's optical perfection, but also cause it's by far the best Asian food I had so far. Recommend it to everyone, particularly for a nice lunch. Hint: Have a tasting menu, you'll have everything in there and won't ever be dissapointed.
Disappointed by the whole dining experience and wouldn't recommend this place to anyone, even though the food was delicious and flavoursome. We went downstairs for pre dinner drinks at Shochu bar, as we arrived an hour early. We were sat at a table and said we had an 8pm booking. We weren't offered to order any snacks prior to our meal - which I found odd. We had to enquire twice if our table was ready and at 8:15pm finally taken up to our table - makes me wonder would we have been standing waiting for 15 minutes upstairs? When we sat at the table we decided to order the premium tasting menu. The first 4 or 5 dishes were beautifully presented on a dish filled with ice as they were served cold. When we had finished all of the items, the did the grilled Scallop came next timed perfectly. After we ate the scallops, then the disappointment came - we felt like it was a rushed job to get us out the door with hot food getting cold on the table, we had to ask them to hold off on brining more food immediately only to be told that was the last of the main dishes. 4 hot dishes on our table was way too much food from a tasting menu. The food became cool and felt like we were being rushed through our meal. Ended up having to say do not bring the desserts until we ask - this is really poor form from a restaurant that offers a tasting menu. I had high hopes for Roka but the restaurant's attitude was not up to scratch and the experience of dining there was disappointing. The staff in the dining area provided great service and were attentative - shame the attitude of the restaurant for a tasting menu isn't one dish at a time - which it is at many restaurants that offer a tasting menu.
What a huge disappointment in terms of customer service! I asked if they had half bottles of wine and the sommelier said that they didn't but could open a bottle and offer a craft. Seemed like an excellent and convenient service to offer customers who want more than 1 glass but can't quite finish a full bottle. So the wine I ordered was priced at GBP64 for the full bottle. I figured the craft wasn't going to be quite half but should be 40-45 (otherwise why not get the full bottle). The bill comes and shockingly they charged me GBP54 for a craft!!!! What a rip-off!!! I was better off ordering the full bottle of wine with pricing like that. I complained to the waiter how disappointed and shockingly surprised I was with what they charged me for a craft of wine. He apologized and asked if I wanted to speak to a manager. Along comes the manager, Aurelien. He starts off the conversation defensively asking if I had a "problem" with the wine. I explained that I was disappointed with their pricing policy. He started explaining the difference in size (as if I didn't know that a bottle was 750ml). I explained that my point was that the sommelier should have informed me that I was better off just having the full bottle. He said that he will tell his staff to do this going forward. He then charged my credit card and said thank you very much…as if that was going to make me feel better! Is this the type of customer service you'd expect from a restaurant of this caliber with a bill that was over GBP200. This was so disappointing and I could never recommend Roka again. I've been to both locations several times and will never return!
Absolutely amazing food. I highly recommend the ribs and the tempura tiger prawns. Service was excellent - friendly but attentive and (unlike many resturants of this type) not at all condescending. Can't wait to go back.
This is one of my favourite places in London. For me it ticks all the boxes, great design, great atmosphere and of course top notch food and service. Foodwise, ignore the yakitori stuff (I know the robota grill its what they are known for) go for the fish. The tuna sashimi and green apple is to die for as well as the deep fried rock shrimp.