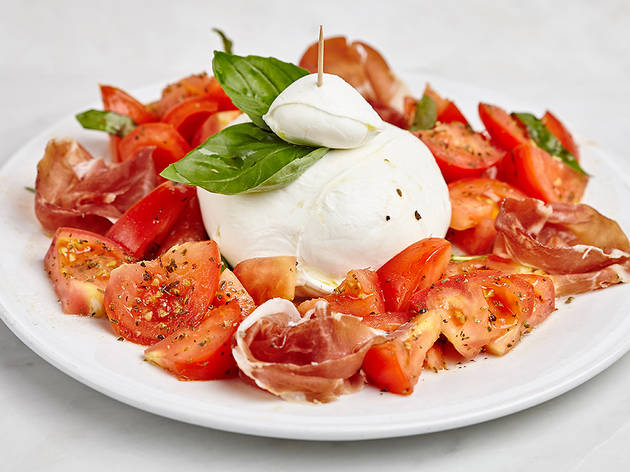 This chain of Neapolitan restaurants must be doing something right - from humble roots back in Naples it's grown into a group of more than 80 venues worldwide. There are eight now in London, including this branch, on Monmouth Street.
The chain's ethos is one that sticks to those Neapolitan roots. The food menu ranges from freshly baked breads, bruschetta and antipasti platters to salads, classic Italian pasta dishes and a house special of black ink linguine with prawns and cherry tomatoes. The stretchy, chewy pizzas are made with Neapolitan flour and given a blast in the wood-fired oven.
The wine list sticks to Italy, and most are available by the glass. There's Birra Moretti, spumanti and limonata made from Sorrento lemons, too. A short cocktail list includes rossinis, negronis, bloody marys and espresso martinis.
Venue name:
Rossopomodoro Covent Garden
Address:
50-52 Monmouth Street
London
WC2H 9EP

Opening hours:
Mon–Thurs: noon–11pm. Fri–Sat: noon–11.30pm. Sun: noon– 10pm.
Transport:
Tube: Covent Garden tube
Price:
Main courses £7-£14. Set lunch (noon-3pm Mon-Fri) £9.99 2 courses
Do you own this business?
You may be interested in:
Average User Rating
3.9 / 5
Rating Breakdown
5 star:

8

4 star:

6

3 star:

3

2 star:

2

1 star:

1
I have walked past here a few times and wanted to try it, but never found the excuse. Well that came along when my Dad and his credit card wanted somewhere for dinner and a catch up!
We were seated near the back, by the dough making machine (which intrigued me no end wondering what it was, until they used it). We started with doughballs and ordered a red wine. We followed this up with a pizza each, which was a good choice since it can be a challenge to find a decent pizza in London. Lastly my Dad introduced me to Affogato and I havn't looked back since, always making it my preference for Italian desserts!
I really recommend this place, the staff were friendly and the restaurant decor is pleasing. The pizza's are cooked in the back of the restaurant in full view of the tables, so it gives the place a really good atmosphere.
Had to wait for a good while for a table, but that's my own fault for not booking, had a seat and a glass of wine though so not all bad. The service is really friendly, from a pretty much exclusively Italian staff as far as i could tell. The food was simple, fresh and tasty which I imagine is just what they're aiming for!
Came for lunch and had the Cornucopia pizza which was delicious, would thoroughly recommend. Eager to try the pasta next time as I hear its just as good. Only down side is service wasn't great as we had to ask three different people for the bill before it actually came, but all in all a pleasant experience

Some people really dont know what real neapolitan pizza should be like....... "Pizza was floppy, not cryspy......" The Pizza Napoletana IS floppy and thats how it should be! ...... "Food taste like it's made for americans, lots of fried food" ......... Silly me, neapolitans do not fry food....... ;) Please, please, please, if you like pizza hut or other american shitty places, do not go to Rossopomodoro and expect the same rubbish...... This is Pizza Napoletana at it's best: fresh ingredients, perfect dough, cooked in a wood fired oven, what more need i add? One of the best, if not the best, in London!
I have never left a restaurant so appalled at the service. I ate here a few years ago for a friend's birthday and the pizza was sublime, so I recommended it to a friend for his birthday. By about an hour into the meal, I felt ashamed for doing so. So- the waiters ignored our table for the first 25 minutes because two of the group were late. BUSINESS TIP 1: If your clients want to buy drinks, you should probably serve them as this can occasionally make you money. When they arrived, the fat bald man at the door told them: 'Your table is just next to the toilets. enjoy your meal'. TIP 2: Don't treat latecomers- no matter how much an inconvenience they've caused- like dirty outcasts. When our waiter eventually came to the table, rather than introducing himself, or dropping a friendly hello, he managed with impressive speed to shove a drinks menu *under each of our elbows*. He pinched me with the card, twice. TIP 3: Don't assault your customers with menus. TIP 4: Don't employ (rude) ninjas as waiters. They burnt the (different) bruschetta starters of 4 of our group. The meatballs were delicious and so was the calamari. But that wasn't exactly fair on the diners who had made the mistake of ordering bread. BUSINESS TIP 5: Don't let dragons toast your bread starters. The pizzas were pretty good, the 3 unlucky diners who picked pasta mains (against my advice) were sorely disappointed. TIP 6: Er, you're an Italian restaurant, not a pizzeria- sort it out. And finally, when it came to the bill, we ended up £25 over after the service (HAH!) charge. The waiter then *shouted* loudly in Italian at the birthday boy that we were £20 short. Luckily he is also Italian and explained that "short" and "excess" have different meanings. TIP 7: Don't shout at your customers, particularly on their birthday. Don't be such rude, ignorant morons. DINER TIP 1: Don't eat at Rosso Pomodoro Monmouth Street, unless you have dangerously low blood pressure and need somewhere to raise it.
We booked a table at Rossopomodoro in Covent Garden upon recommendation from a colleague. The restaurant was really busy (and quite noisy) but this didn't bother us too much as we were looking forward to the food! Whilst seated, the couple next to us returned their chicken/beef salads saying that there was little flavour to the dish, and that they could do better themselves. This put me off getting the salad. In the meantime, the table on the other side of us was returning a pizza to the kitchen. We ordered a olives followed by pizza and a pasta dish. Unfortunately we found that the food wan't that great. The olives seemed to have come straight from the jar, and were undressed. The thin crust pizza was sloppy (not crusty) and didn't have the choice of topping requested, and the pasta dish was bland, which led me conclude that it was not a very skilled kitchen, hence the reason I have come to write this, and the poor rating. Rossopomodoro need to up their game!!
Came to this place last saturday evening for the first time as i just moved to the area. I must say I have never been happier with a restaurant experience. The service was super friendly and attentive, the atmosphere buzzing and the food was delicious! My girlfriend and i shared the buffalo mozzarella starter and then shared a pizza! Never had pizza that good! Found my all time favourite place!
Went here last Saturday with some friends who were visiting. Haven't been before but always looked quite lively and buzzing when walked past. From the minute we walked through the door it was an amazing atmosphere. They'd gone to town with the Halloween decorations, carved pumpkins everywhere, all the staff were dressed up, the (male) manager was even serving in 3 inch heels! All the staff seemed to really be enjoying themselves,and I think that speaks volumes as so often I have been to restaurants with really surly staff. Anyway, there was quite a bit of a wait for the food, but the place was really busy and we didn't mind too much, although if we'd had theatre tickets or somewhere to go, we might have brought it up, but as it was we were quite content with our drinks and soaking up the atmosphere. We didn't order any starters just went for pizzas (3 and one Calzone) I can't remember what mine was called, it began with a V but it was amazing, the cheese was so gooey, the dough perfect and it had truffle oil on it which I love. Everyone else loved their pizzas, and my friends Calzone was absolutely enormous. I really loved being able to see pizzas go into the oven too. Will definitely be going back!
Service is good - althou the meal isn't a traditional Italian meal, seams to cater for Americans... With it being deep fried in some cases. Only come here if you miss the food in the states. Very commercial, doesn't have that home cooked effect to it.
Had loads of good meals at this place. I've always found it to be great value for money and simply don't think there's a better pizza in town. Salad has also got much better recently too
Amazing food, great atmosphere and very good service - the best pizza restaurant in London!!!
It is the first time I manage to find a real authentic Italian restaurant in London, finally! The pizza was excellent, it was as good (if not even better) than those I usually eat in Italy. The service was perfect and the whole atmosphere very enjoyable. I had very pleasant evening. I would recommend it to all Italians who want to feel back home and to all those who want to try high quality Italian food for a very reasonable price!
Delicious food, super friendly staff, great enviroment. We had hot and cold starters which consisted of meat and fish, mains were salads and pasta dishes. Everything was presented very well and all the food was seasoned perfectly. The enviroment at the restaurant was lively and the team are very friendly and were always on hand. 10/10
Fantastic service, nice, laid-back atmosphere and a brilliant new menu. The asparagotta pizza and grilled vegetable salad were both delicious. Thoroughly enjoyed myself last night and will have no hesitations recommending the place.