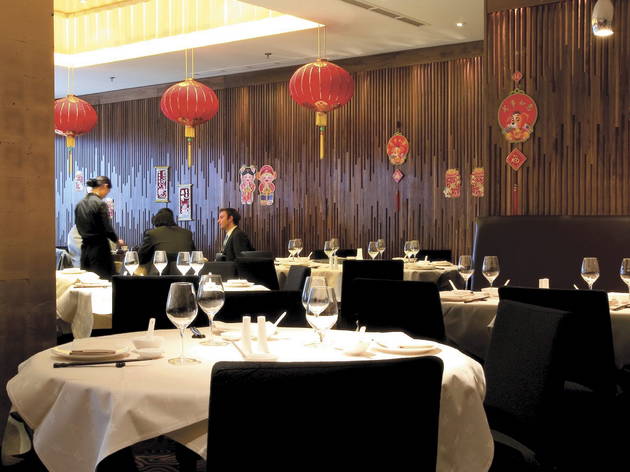 Time Out says
The poshest branch of this high-end mini-chain, Royal China Club puts a premium spin on even the humblest of dim sum, making you feel like royalty.
The 'club' in the name makes RCC sound like a members-only section of the Royal China Group, which isn't far from the truth. This, the premier link in the chain, has an air of quiet elegance found in five-star hotels, right down to the faint tinkling of a piano. The kitchen turns out consummate Cantonese cooking, using prized ingredients (abalone, lobster, veal) at every opportunity. At lunchtime, dim sum includes the signature cheung fun, which here comes filled with velvety dover sole and smooth pieces of scallop – all sitting in a puddle of sweet, smoky sauce. A quartet of siu mai (steamed pork dumplings) are topped not with a dice of carrot (as they would be in Chinatown), but with pearls of salmon roe, as you'd expect at the banqueting table. Even simple noodle dishes are elevated to premium status: our steak ho fun noodles were smothered in a dark, soy-laced sauce full of umami savouriness, heaped with expertly judged slices of medium-rare sirloin, and sprinkled with sesame seeds. Wherever possible, the polished, softly spoken staff employ silver-service methods, making everyone feel like a visiting dignitary.
Details
Address:
40-42 Baker Street
London
W1U 7AJ

Transport:
Tube: Baker Street or Marble Arch tube
Contact:
Do you own this business?
Average User Rating
2.2 / 5
Rating Breakdown
5 star:

3

4 star:

1

3 star:

1

2 star:

1

1 star:

9
Perfectly good food, but when we realized there is shark's fin on the menu, hard to keep it down. Very evil practice and they need to change this. I would happily recommend this restaurant to everyone as soon as they catch up with the times and stop supporting this outrageous practice.

This group of restaurant has just been caught by Westminster Trading Standard for illegally importing shark fins from HK. Shame on them.
Unapologetic waitress who made a mistake but made up excuses on us after messing up the order. Big fail on services for a pretentious restaurant like this. Also, £5 for a plate of fresh chilies is a rip off!
Terrible customer service and management. The staff insulted a customer by laughing at a person trying to figure out about the lost property and said that they were accused of stealing it in a very casual and inappropriate way. Really awful attitude towards customer that left sour taste on our mouth and we on e used to be a regular customer would like an apology.
The food was average at best but I have never been treated so poorly in my entire life . On arrival the waiter pointed out that "my kind of people often do not pay the bill ". Through out the meal one waitress was assigned the job of watching us eat , and when someone headed to the bathroom they were asked if they had paid (this was before their main course had arrived). Food arrived late , was cold and drinks that we had ordered did not appear. The worst part was that after paying the bill a waiter came to our table with a calculator creating a spectacle in front of other diners and after much shouting between him and his manager we were allowed to leave as we had overpaid substantially. It was incredibly humiliating to have been treated like criminals when we had simply wanted to enjoy a meal at a decent Chinese restaurant.
had noodles with crab meat amongst others such as calamari. result: i have been very sick for the past 2 days. wouldn't recommend going
went today with the family and guest to treat them with dim sum been regular there and evan got a vip card, however this time i was not allowed to use it!!!!!! the standard has gone down the hill…….big time, now it is like Mr Wong from my student days as i remember but RCC it is extremely overpriced so one can expect better service and better food the dishes are not consistent with taste and size, ordered twice fried squid as we were hungry after spending £130 for tree person no drinks!, first dish of fried squid was edible and the second dish was not edible at all as the texture and taste was totally different and both were ordered 20 min a part…... portion size is miniature overall staff are very route and not helpful, not to mention that during bookings i was told….to return the table after after 1h30….never been asked they before in restaurant????? what a waste of time and money on Sunday morning and still hungry
Me and my partner eat out a lot in London, and we visited this place by accident when passing by. Tempted by nice high end interiors we expected the best chinese in town. Basically the rest is just disappointment. I ate better chinese in a takeaway shop. Some items were disgusting. Service poor, the mains where served separately, so i had to wait 10 minutes before my partner got her dish. The same with starters. We spent 100 pounds, and felt like we basically trew the money away. Will never visit and make all friend vary of this place. P.S fish dish worth 30 pounds - you would expect somthing tasty?No in there! This place is a rip off.
Great place for a group celebration dinner. I can only comment on a big group experience. We were a large group of people here for Chinese New Year so we booked the private room as the restaurant was sure to be crowded. The set menu was on line so no price surprises. The food was really excellent, comparable to Hong Kong and Guangzhou with fresh ingredients and both delicate and savoury dishes. Presentation was simple and straightforward ( some might gripe at that being too simple for the price). Dessert, while traditional, could have been a bit more elaborate in presentation in my opinion but did taste great. Service was fast and attentive. The manager passed by a couple of times to check things were going ok. The wine list was a real surpris ... really excellent French wines at prices that did not reek of extortion. This is not a cheap place so have no illusions about going there for any kind of bargain. Your credit card needs to be be in good health. For a large group, a special occasion, several memorable hours of good food, wine, conversation and then leave to face a snowy cold London with smile and warm stomach..it is hard to beat. If you have an excuse for a splurgefor a very large group, I highly recommend. Would rate it 8.5-9/10 and I would say prices are high but pretty fair considering the amount of work that went into preparing some of the dishes.
Three times been at this restaurant,three times the same quality and hospitality!real Chinese tastes in a very modern "black" lighted place
Royal China Club is bloody great, excellent dim sum and tea, quiet a few comments about arrive on here which I have never really had a major problem with. Maybe more of a lunch venue rather than dinner.
Food is always excellent service leaves a lot to be desired Raised this with management and they just smiled
Food so-so but service atrocious. First of all, there was very little service during the meal--our water was not refilled, no one asked us how the food was, etc. The waitress brought us the wrong food item and then when the bill came, we were charged for both items. Finally, when we tried to pay at the end, we asked to pay the "recommended tip" in cash while the meal was put on our credit card. The manager, Eddy Ho, came over and started berating us, saying we MUST charge both the meal and tip on the credit card. He REFUSED to let us pay the tip by cash. He said that if we charged the meal only on our credit card and paid the tip separately, we were not allowed to come back to the restaurant! It was unbelievable. I have never seen such complete lack of customer service in a manager. He obviously did not care about keeping customers (or there is some scam going on).
I can't believe that this restaurant gets such high ratings. I'm Chinese and I think the food is pretty average if not mediocre, and the service is anything but Royal. When we ordered the scallop asparagus, there was not one tip in the stir fry, only the middle waste. The prawns in the fried rice were microscopic. When it came time to split the bill, the waitress insisted that we were 3p short and needed to pay the FULL 13% percent. A combination of stinginess with ingredients and a disproportionate sense of entitlement to service charges spoiled what would've otherwise been a nice evening out. Time out: Please raise your standards. There are plenty of better Chinese restaurants. If you want attitude in your service, save your money and go to Wong Kei's.
Gourmet Chinese cuisine for the connoisseur.Conservative ambience and pleasant service.Chinese,foreign visitor, business and family clientele.An appealing foodie destination at above average prices.
Snap up exclusive discounts in London
Time Out's handpicked deals — hurry, they won't be around for long...