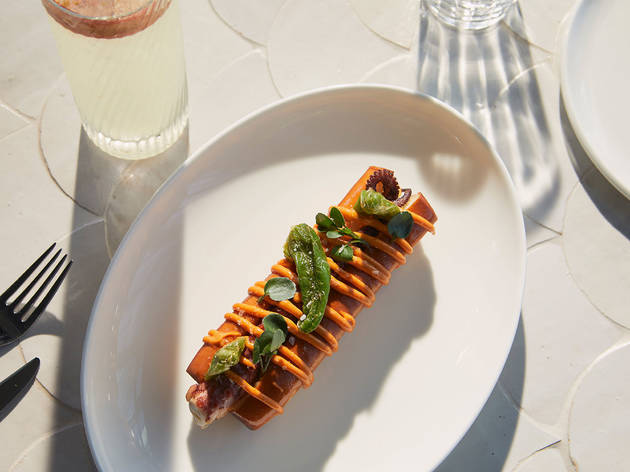 1/10
Photograph: Seabird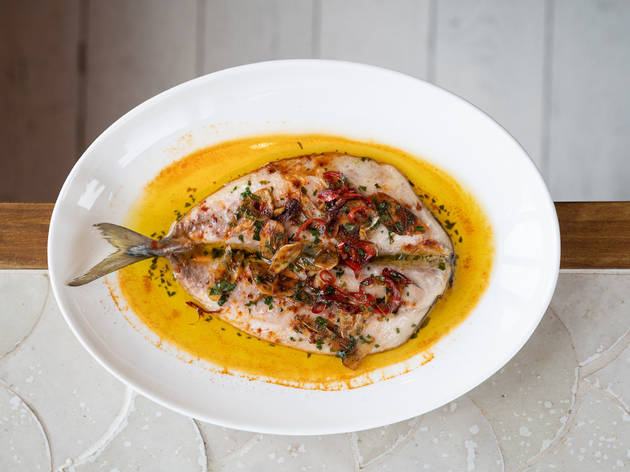 2/10
Photograph: Seabird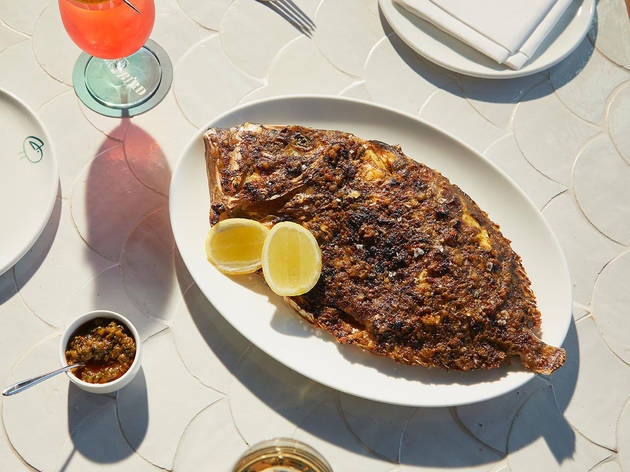 3/10
Photograph: Seabird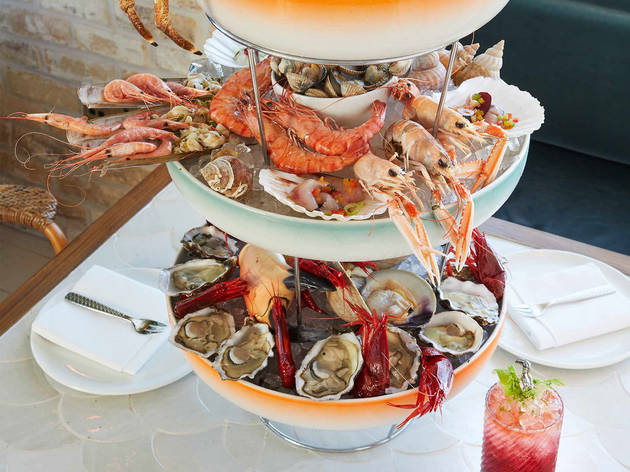 4/10
Photograph: Seabird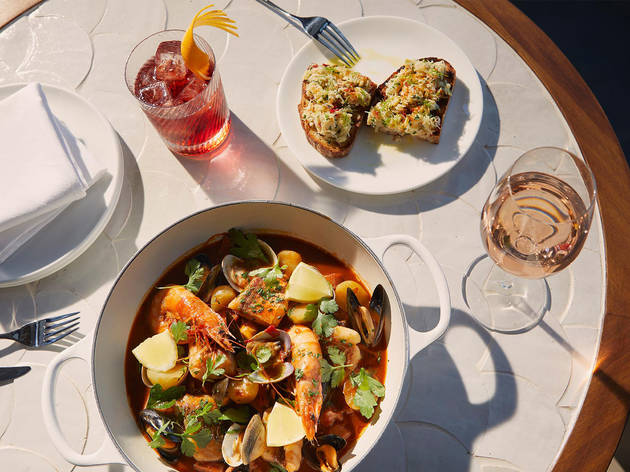 5/10
Photograph: Seabird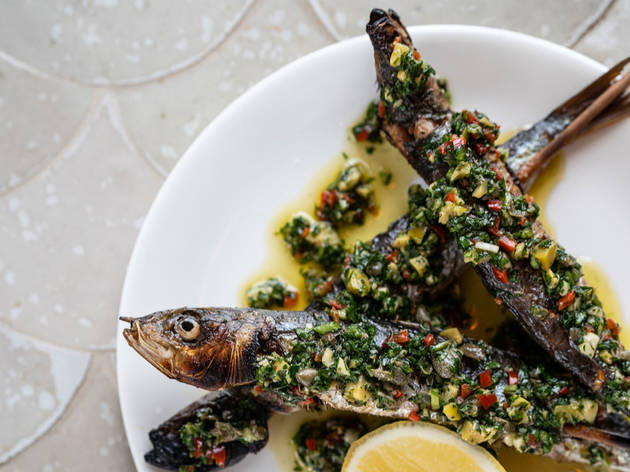 6/10
Photograph: Seabird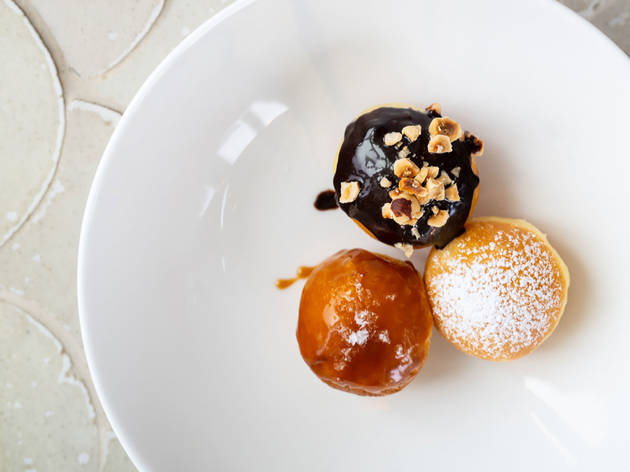 7/10
Photograph: Seabird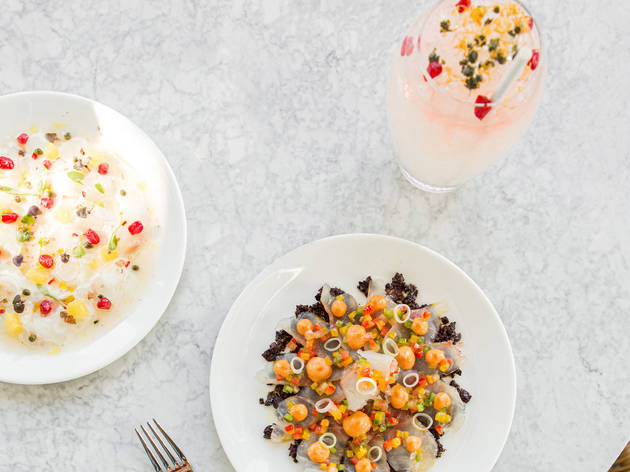 8/10
Photograph: Rebecca Hope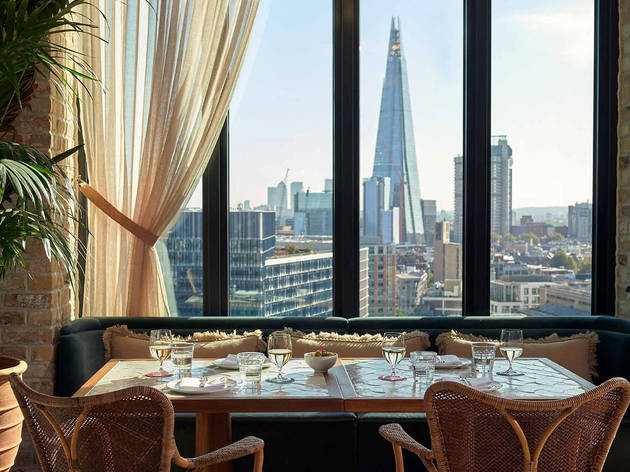 9/10
Photograph: Seabird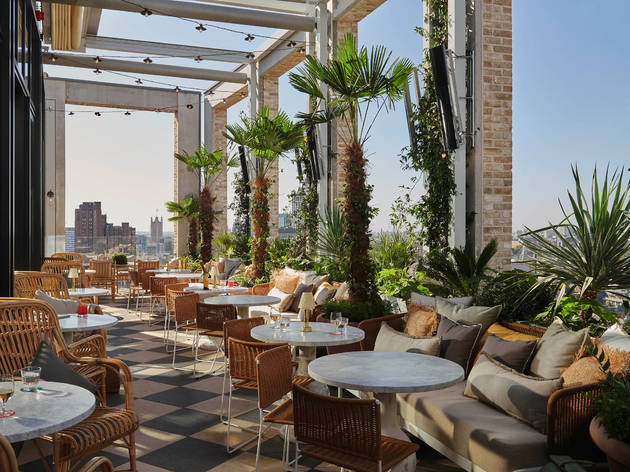 10/10
Photograph: Seabird
Time Out says
A fourteenth-floor seafood restaurant in Southwark.
My first impressions of Seabird? Laidback, Californian vibes. Enticing rooftop views, with the shimmering Shard nearby. And, bizarrely, the whiff of paraffin from the lamps on the tables. Scent-wise, it was like standing outside Heathrow.
The stench of airport runways aside, the food was generally brilliant. An octopus tentacle, squidgy and soft, came encased in a nicely fried brioche bun, with slices of sharp padrón pepper and a gentle heat, thanks to the zig-zagging squiggles of sobrasada (spiced sausage) aioli on top. An ace combo.
Then, a whole mackerel, de-boned and flaky, came in a pool of oily, spicy goodness. Both fish and seasoning worked in harmony: smoked paprika, fresh chilli and slivers of mild garlic. The dessert of Portuguese doughnuts, too, was fantastic. Three dough balls were filled with a citrussy, vanilla custard: one was topped with icing sugar, the next with hazelnut and lava-like dark chocolate, the last with sticky caramel and salt flakes.
However, the good grub was dragged down by sluggish service. While our second waiter was lovely, the first seemed bored by her job. Also, this place is pricy: the small plates, in particular, upsettingly so. Still, for quality seafood and gazing at the cityscape, Seabird won't disappoint. Just brace yourself for that bill.
Details
Address:
40 Blackfriars Road
London
SE1 8PB

Transport:
Tube: Southwark
Price:
Dinner for two with drinks and service: around £140.
Do you own this business?
Rating Breakdown
5 star:

0

4 star:

0

3 star:

0

2 star:

1

1 star:

0
We came to #Seabird to celebrate #BirthdayGirl's birthday. We'd seen it on the #instagrams.
To start with the positives: the lighting, WOW: everyone in the restaurant had a quaint little #underglow courtesy of dinky little paraffin lamps on each table, and the suspended orbs provided misty tones and ocre hues; gold for the gram. Anyway, we all looked BEAUTIFUL. And that view: DOUBLE WOW. 'Grammed it so hard our phones died. Though thinking about it, it's probably a stretch to credit the restaurant for the view since the view is, really, the sum total of the efforts of precisely everyone NOT in the restaurant. Anyway, benefit of the doubt and all that.
Onto the, um, 'areas for improvement'. The table wasn't ready when we arrived. Alright, we thought, not a problem, we can stand around and have a fifteen quid cocktail instead. We were eventually shown to our table to discover a sofa down one side, yep: a SOFA. I took the hit but it did mean that I was a good 1.5 feet lower in altitude than everyone else, like being in the baby chair. No one would take me seriously and I struggled to access the conversation.
Drinks arrived... 1 x pint poured straight on the lap of the birthday girl. They did bring a round of tequila sorbet shots, or something weird, to make up for it. Accidents happen I suppose, but then again that's easy for me to say: I've got a dry bottom.
I've always wanted to see what a £95 seafood platter looks like. In truth I was a little underwhelmed but I guess it would have been impressive in a gallery context. Dali made it work and he only had one lobster at his disposal, not even a Megaclam™. For the uninitiated, a Megaclam™ is a gritty chunk of mollusc sandwiched between two Disney™-sized plates of shell: nature's answer to the Seaburger. Both I and #BirthdayGirl gave it a whirl (you know: #newyearnewyou). It was hard work, but watching the rainbow of expressions on #BirthdayGirl's face as she chewed her way through this briny monster was at least a #beautifulbirthdaymoment, for which the restaurant deserves a significant amount of credit.
The rest of the platter was tastier, though at circa £2 a prawn it left both soul and stomach a little on the empty side. We had an #oystervirgin in the group and the experience wasn't horrendous enough to put her off for life. It's all about the small wins.
The main course took so long to arrive there were another couple of birthdays at the table. Me and my friend Harold thought we'd played it safe by ordering the mackerel, though when it eventually turned up it was so small I had to look twice to make sure it was actually there. We worked out it was exactly the same width as my friend's phone, and he doesn't even have the iPhone X.
Flirting with the idea of making a complaint Harold asked one of the waitresses where the fish was from, to which she replied, 'rest assured sir, everything is local.' Which given that we were in SE1 was a little baffling. Maybe she meant Waitrose, or the Thames. Anyway, the mackerel didn't improve with age and #BirthdayGirl's lobster should have come with a free roll of crime scene tape (not in a good way). The poor thing looked like it had died in a motorway pile up, though at least we know it would have been a local one. I couldn't even bring myself to look at the sea bass.
At this point two of our party had to leave to go and rescue a babysitter, though in reality we all knew it was the other way round. Desert came: three balls of air with chocolate on top. The air was the best bit. Incidentally, the whole place also smelt like a runway. Perhaps it's jet fuel they're using in those paraffin lamps.
Bill paid and off we went, to begin our fourteen-floored decent back to sanity (whoops there goes gravity). The journey down was quick, on account of the group being the sum total of FOUR HUNDRED POUNDS lighter than we were on the way up. It had worked out at the best part of seventy quid per head, which given that I was still so hungry I had to have a slice of toast is a bit on the steep side I'd say.