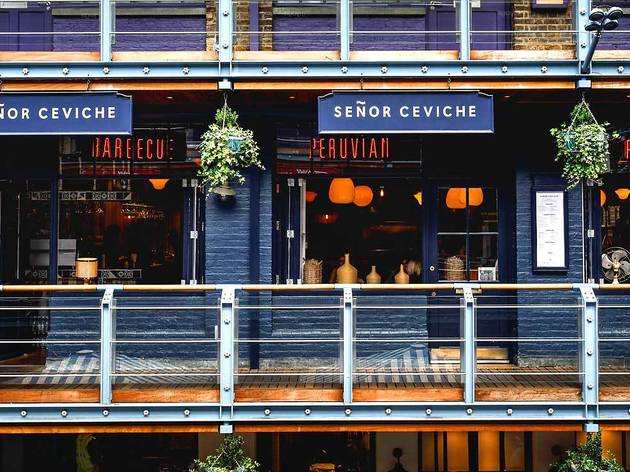 1/5
Kris Piotrowski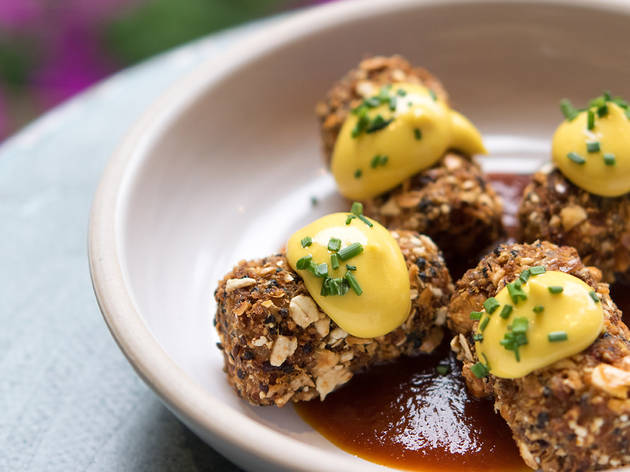 2/5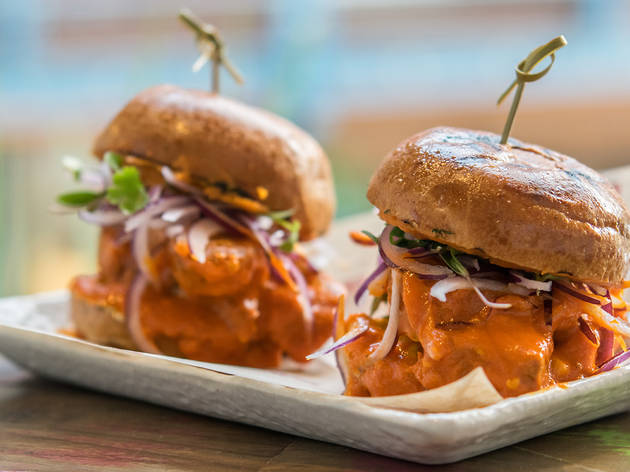 3/5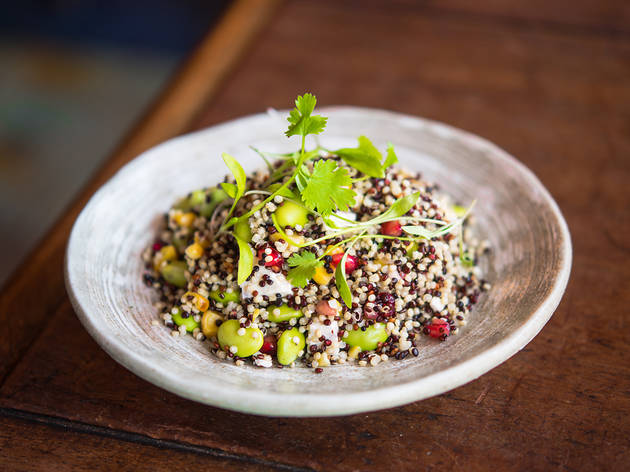 4/5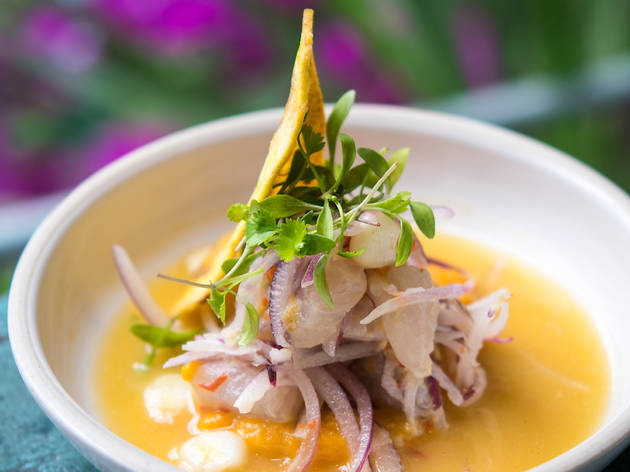 5/5
Time Out says
The first permanent venue for this popular Peruvian pop-up.
You know what they say: practice makes perfect. And Harry Edmeades, aka Señor Ceviche, has had plenty of practice. In 2012, after a stint at Lima's renowned ceviche restaurant El Mercado, the 25-year-old British chef came back to London and started Don Ceviche, a pop-up with just five ceviches (raw fish cured in citrus juice). Then he spent another two years perfecting and expanding the menu before launching this 'proper' restaurant.
Señor Ceviche is in Kingly Court, a faux-historic shopping courtyard just off Carnaby Street. But it's not in an 'easy' ground-floor site, which would guarantee passing trade to an ice-cream shop in winter. It's a first-floor venue, which you have to go out of your way to find. But be assured, this cheery place is worth climbing the stairs for.
The large dining room is bright, open-plan and pretty. Sure, there are obvious design points, such as overhead venting ducts and the ubiquitous open kitchen but, rather than going all Soho-by-numbers, this is a slick London take on Lima's boho Barranco District, with patterned floor tiles and chicha street-art posters the colour of highlighter pens.
Dishes are equally vibrant. 'Spaniard' ceviche added just-cooked king prawns and crunchy chorizo to the sea bream in its tomato-laced citrus-chilli marinade ('tiger's milk'). There are terrific anticuchos (chargrilled skewers), such as daringly pink-middled beef steak with smoky chilli sauce. Even quinoa salad – a dish that, let's face it, normally wears socks with its sandals – impressed with zingy, perfectly textured grains, al dente veg and crunchy corn. Only one grumble: they could have been more generous with the promised 'crumbly queso'.
And the final 'Olé!'? A passion fruit posset whose sweet, sharp and creamy base came topped with teeny-tiny pieces of dehydrated mango and – get this – a scattering of popping candy.
The music is upbeat, the staff almost improbably good-natured. Cocktails have plenty of Latin spirit. So, señor, muchas gracias! We'll be back. Wouldn't want you to get out of practice.
Details
Average User Rating
3.6 / 5
Rating Breakdown
5 star:

5

4 star:

9

3 star:

3

2 star:

1

1 star:

3
I discovered this restaurant whilst out and about in the carnaby street area...I saw the menu outside and thought sensible prices, so I decided to take my hubby there for a treat, as he had spent 2 years in Peru as a volunteer re-building a town after an earthquake...
When we got there we were seated at a table for two right at the back, near the toilets, I would not have minded, BUT we were virtually ignored by the staff. We had to hail down a waitress and waiter several times and they just went straight past us, even though they had to pass us to get to the kitchen....they were more interested in the table that had 6 people on it rather than our table for 2.
We ordered Lomo Saltado and ceviche When we were finally served the portions we got were miniscule...would not feed a mouse... We asked for pisco sour they said they had none....we asked for chica morado, they said they had none....so we asked for inka cola....finally they had that..
Then we got the bill.... quite heavy for such a tiny meal....i went away feeling still hungry and very disappointed, I had to apologize to my hubby as I felt I had let him down...as he is used to real peruvian food...proper big plates.
We will NEVER go back, there are better restaurants in london...we found one in THE ELEPHANT AND CASTLE... it is plain, no frills, just like in peru, plain table, little decor, plain chairs... and serves real peruvians, this is where they come to eat...you do need to speak spanish.
Just came back from the Kingly Street branch and what a lovely charming place. The food is great and the staff adorably bubbly and they know their food. We loved everything but the pork belly was awesome! Recommend a thousand times! 7 starters to share + 1 cocktail each + 1 dessert to share..£45 each.
Love this little place! Myself and a friend came here for some ceviche and the pork dish was out of this world! Great cocktails as well! This place is defo worth a visit or 2!
A couple of friends and I rocked up to Senor Ceviche last minute on a busy Friday night - no problem though! They were able to seat us within the hour and the food was worth the wait. We ordered a variety of small plates, ceviche and Peruvian bbq. Absolute taste sensation, hard to fault any of it! The passionfruit and lemongrass pisco sours were on point. Will definitely go back!
Great food, service, atmosphere and location. Well priced!
Senor Ceviche is tucked away in Kingley Court, a lovely quiet place off Carnaby Street. It's great for groups, with choices for those who perhaps aren't keen on the signature dishes of ceviche, large group tables and bookings available. Plus with £5 cocktails during happy hour (5-7) it's perfect for a post-work get together. The chicken wing starter and Senor Ceviche dish were the highlights, and the fact that we got £20 off the total bill with the Cake app!
Best evening out : great atmosphere /food/cocktails/staff ....
This Peruvian restaurant only opened last week in Soho's Kingly Court - but even a week in it's serving affordable sharing plates in a colourful restaurant that's great fun. Music is quite loud, but I'd say it's a good restaurant to take a date. Good cocktails.



I wanted to book a table of ten for my best friends birthday - she loves Peruvian food, and we had heard great stuff. But unfortunately it's an awful set menu with no room for manoeuvre if you are over 7... So we won't bother
Shockingly overpriced. Terrible in terms of value for money.
The ceviche is ok but even Wahaca manage to do it better, the two types we tried were both quite bland, hardly the lime and coriander blast one would expect. The portions are ridiculously small and despite our wallets taking a good beating, we left feeling so hungry we went to an Italian.
Very overpriced and very very disappointing. Drop your prices by a couple of quid, or double your portions Señor Ceviche!