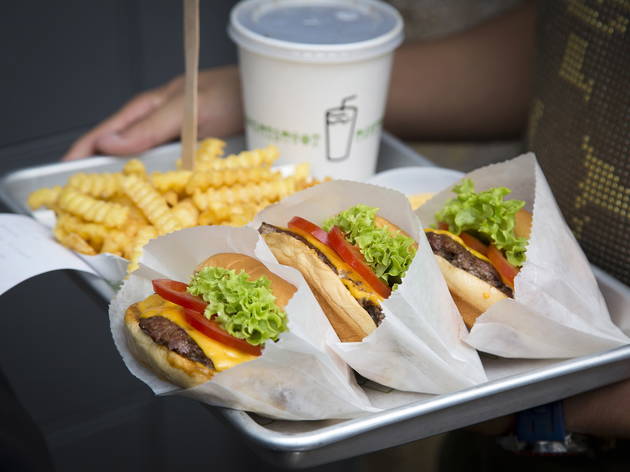 1/9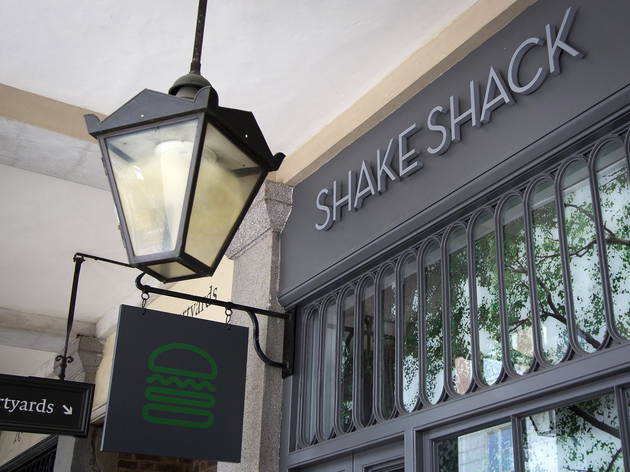 2/9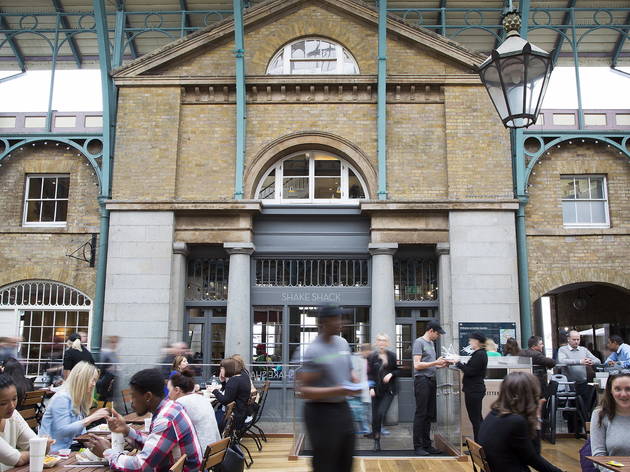 3/9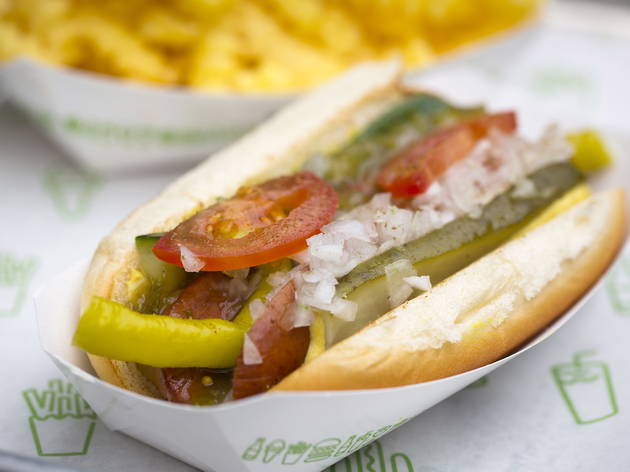 4/9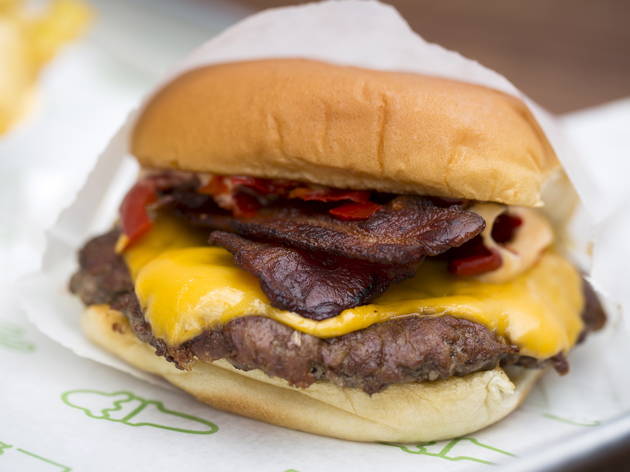 5/9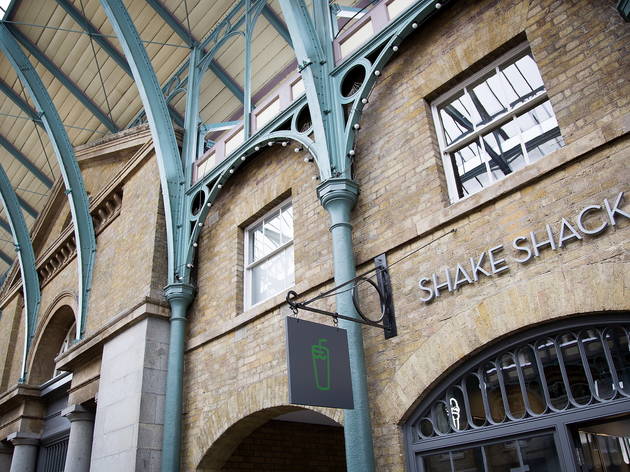 6/9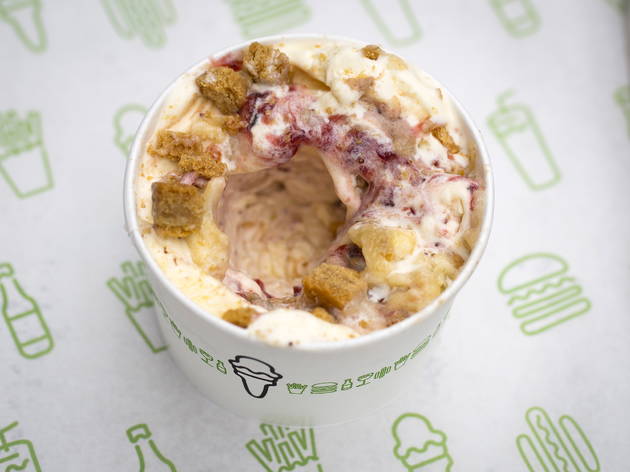 7/9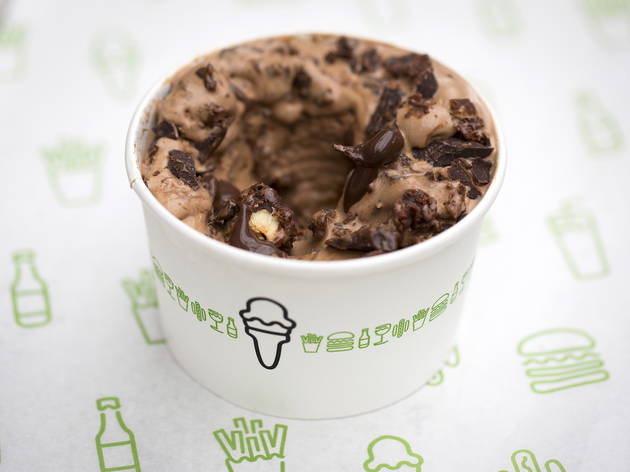 8/9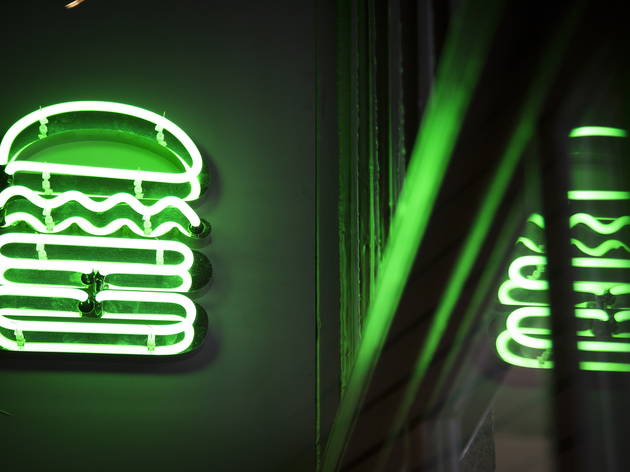 9/9
Time Out says
Shake Shack is a fast-food chain founded and based in New York. The NYC version has something of a cult following, helped along by clever marketing and the use of social media; for example, webcams show live pictures of the queue, so that the Twitterati can alert their friends to their 30 seconds of fame on the live feed.
However, diners used to the high standards of burgers from British chains such as GBK, Byron or the many brilliant independents shouldn't get their hopes up. Despite the slick branding, Shake Shack's appeal has more to do with enjoying an American diner-style experience than with British-style gourmet burgers. There are buzzers to tell you when your food's ready, drive-by style hatches from which to pick up your full tray, and friendly staff kitted out in baseball caps. Prices are another draw, with the cheapest burger coming in at £5.
And there's the location. Shake Shack has chosen one of the prime sites in the UK for capturing tourist footfall – right in the centre of Covent Garden piazza. The site that for a while was the Icecreamists (an ice cream parlour) is now the counter where you stand in line before placing your order. There's plenty of Shake Shack seating in the central market, out on to the cobbled piazza, or indoors in an adjacent building.
As for the burgers, they're no great shakes – thin patties, soft buns and processed American cheese. The crinkle-cut fries are fine, in a mass-produced way; the cheese sauce was gloopy and highly processed. Other options include hot dogs and frozen custard ice cream. The highlight of our meal was the chocolate milkshake, because of its distinctive and strong chocolate flavour.
Burgers have moved on a long way in London over the last few years, and it's hard to see Shake Shack becoming a cult with London's highly discerning burger enthusiasts. But with such a good site and enthusiastic, engaging staff, Shake Shack is bound to be popular with tourists.
Details
Address:
24 Market Building
The Piazza
London
WC2E 8RD

Transport:
Tube: Covent Garden tube
Contact:
Do you own this business?
Average User Rating
2.7 / 5
Rating Breakdown
5 star:

0

4 star:

4

3 star:

14

2 star:

1

1 star:

5
Since it graced these shores I've been holding back going to shake shack. People who I thought of as burger connoisseurs had told me various other burger joints were better, and you don't get enough burger for your buck here.
I finally found an excuse to go ( national burger day = 20% off). I was not disappointed with my shackmeister. It was delicious. Stick a gherkin in it and it might have been perfect!
The cheese chips were ok. I mean I ate them all. But wouldn't have noticed if I hadn't.
The double burger was filling enough. Yes it's a overpriced. But isn't every burger in London overpriced (traditional fast food joints excepted)
Not my favourite burger in London but deffo top 5. Sometimes all you want is a simple patty in a sweet bun with some processed cheese!
I only had the shakes there... one of the most overpriced and worst chocolate milkshakes I've had in London... can't believe a place called shakeshak is sooooo bad at miakshakes
I really like this place, and it's always got queues out of the door - which I feel is a good sign. My only issue is that that the food always seems to be on the cold side? It's definitely got the feeling of an American burger chain, reminiscent of McDonalds but tastier! I love their fries, and I think Covent Garden is a great location as the outdoor Piazza is great to enjoy this type of food to catch up with friends, or a quick bite to eat!
I don't think London the idea if you are opening a chain ,you better do your research and do it well,the food was crap and the shake was average,service with no smile.i had to repeat myself 3 times but. Guess I can take my money somewhere else ,this week is being disappointing trying to get a weaker burger :/
I had heard that these would be the best burgers of my life.
I would say they are pretty good, you can taste the meat which is very very positive but I wouldn't say it's the best burger ever, probably far from it, BUT its definitely a quality burger!
Also enjoyed the Cheesy chips :)
I like shake-shack, I can't deny that. It's upscale fast food, which tastes a lot nicer than your average McD's. It's a little overpriced for what it is I think, especially when you compare it to it's New York prices, it seems us brit's are being ripped off. But I go to shake-shack quite frequently so I can't complain too much. The only thing is that in my last couple of visits, I have noticed a drop in quality of food. When it first started the buns were light the meat tasted fresh as did the chips. However recently the buns are soggy and sometimes a bit stale. The burger no longer tastes fresh but of old oil. The chips are still good though, as are the frozen custards. It's definitely a place to stop by at if you're hungry and fancy a burger in covent garden.
The burger was actually quite good. However, I do not have cheesy chips to experience the orange cheap melted cheese on top, I have cheesy chips to experience hot stretchy cheese that tastes like cheese!! The milk shake was OK, but my main reason for 1 star is the price. Two of us had one burger, one fries and one drink each and it came to £35!! However I left no more satisfied than I would leave a McDonalds...but I was out of pocket by £25. NEVER AGAIN!
Personally I thought the food at Shake Shack was really top notch. If you find yourself occasionally craving a McDonalds but just can't quite bring yourself to step back through the doors of a proper fast food chain, then Shake Shack is just what you need. This isn't about poncey gastropub burgers made with ciabatta or little pots of triple cooked chips with the skins left on, Shake Shack make a proper burger and chips - they just make it really well. The milkshakes (which are made using custard) are particularly good, the burger was excellent. I was less sold on the crinkle cut fries, normal french fries would have worked slightly better. All in all, a definite recommend.
Most overhyped and underwhelming experience of these new burger joints. The shroom burger was about the size of a £2 coin (priced at £5.25) and just as tasty. The dryness of the chips (with or without plastic American cheese topping) brought the whole thing down even further, only slightly to be taken back up by a Meantime London Lager. Worth maybe 1 star for its branding, but definitely not worth queuing up for...
Snap up exclusive discounts in London
Time Out's handpicked deals — hurry, they won't be around for long...