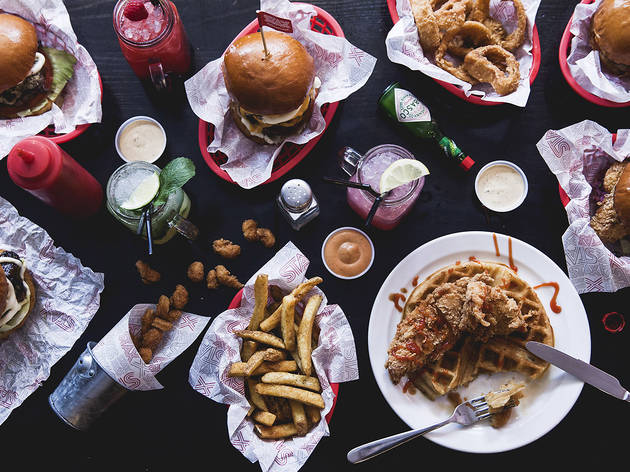 1/4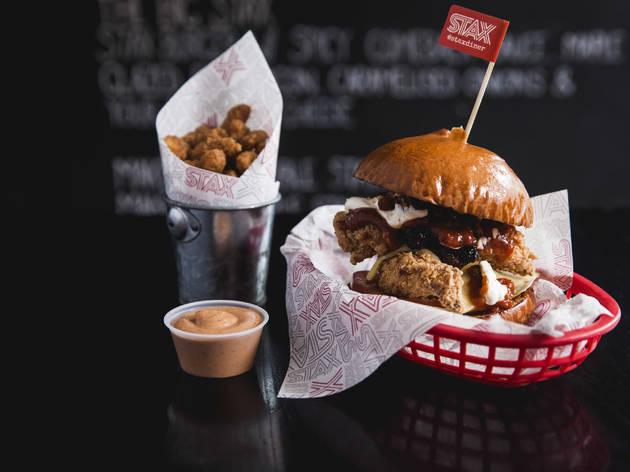 2/4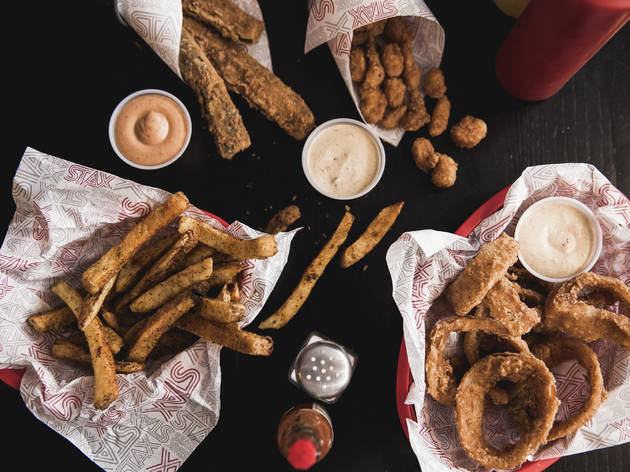 3/4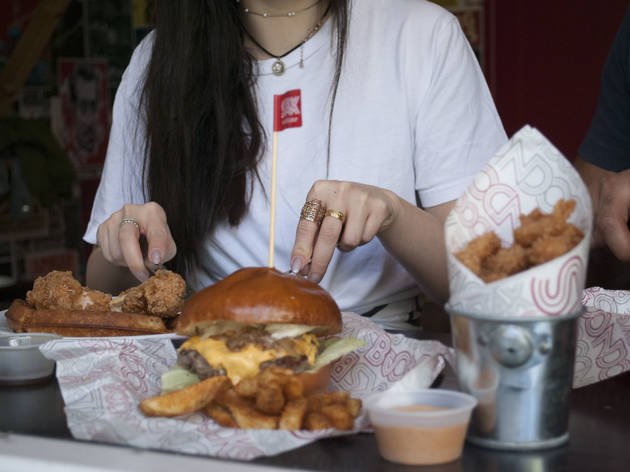 4/4
Is London over the burger craze yet? Seemingly not, as there are still new burger bars opening all the time. With such a range of fresh meat-flippers to choose from, a newcomer really has to do something different to stand out. In the case of Stax, that something is adding a few lesser-seen dishes from the southern US. Chicken breast is buttermilk-marinated then fried in the Southern way; shrimp is deep-fried; even a whole onion is deep-fried. If you like your food fried, then you've come to the right place.
There are some nice details in the dishes: the sweet brioche buns (bought in from the Balthazar bakery) are excellent quality, though we found ours fell apart too easily when wrapped around a moist burger. The triple-cooked chips were also paragons of their kind– skin-on, firm and fresh, tasting properly of tuber and well-seasoned. Our red cabbage slaw came with poppyseed stirred in to vary the texture and add interest.
While it gets the basics of the dishes mostly right, Stax misses a few tricks otherwise. The name suggests Southern or Memphis Soul, but the soundtrack was the usual bland MOR you can find at the turn of an FM dial. Desserts consist mainly of ice-cream based dishes (made in-house), which makes a very rich meal after that fried main course; but then you're not likely to be coming here anyway if you're concerned about healthy eating. The service, although jolly and obliging, was haphazard on both of our visits; orders were mixed up, the bill took a long time to sort out (all this at 12.5 percent service added). But dishes such as the fried shrimp po'boy or the fried green tomatoes make a very welcome change from the too-ubiquitous fried beef patty.
More
Less
Stax Diner says
Stax Diner – the first child of the Feed Your Soul family serving up authentic home style cooking of the American Deep south.

A charming gem located in the bustling Kingly Court, Stax Diner is a bright, yet cosy space to get your hearty American fest on!

Strictly walk ins only
More
Less
Venue name:
Stax Diner
Address:
1.7 Kingly Court
London
W1B 5PW

Opening hours:
10am-11pm Mon-Sat; 10am-8pm Sun.
Transport:
Tube: Oxford Circus or Piccadilly Circus
Price:
Meal for two with soft drinks and service: around £35.
Do you own this business?
You may be interested in:
Average User Rating
4.2 / 5
Rating Breakdown
5 star:

8

4 star:

3

3 star:

3

2 star:

1

1 star:

0
Delicious chicken and waffles! Loved how cosy it is and great location too - perfect post shopping stop!
Love the Chicken & Waffles. Small, cute diner, but you'll probably have to wait for a table. The other restaurant, Boondocks, can be reserved and is much bigger
Burger and fries was just soooo good. Really enjoyed it today. Going back for the chicken and milkshakes soon!
Situated just off Carnaby street in Kingly Court, this area has slowly become the place to be for decent food when you need a break from the chaotic streets of Oxford Circus. Stax American Diner comes from the creator of the best cupcakes in London (in our humble opinion), Beas of Bloomsbury. There's been a saturation of naughty American food outlets in recent years, so we hope Stax can stand out from the rest based on their amazing fried chicken and waffle dish (the unlikely combo DO work!). The popcorn shrimp was also first class. Bit cramped for buggies but high chairs were available in this casual venue.

LOVE this place. Amazing food, lovely service, friendly and helpful even when they are rushed off their feet.
Best burger in London? Probably. Been three times in three weeks and had the same thing each time!
Best burger I've had in London, and I've had a few! V friendly service and a cool vibe. Loved the drum kit chandelier.
Really delicious burger. Juicy, really meaty flavour, yummy crispy outside. Very fun, bright, vibrant atmosphere with cool music. Will try chicken next time. Apparently amazing.
I went to Stax on Friday night prior to meeting friends later for a drink in Soho on the recommendation of an American friend who lives in London, and who had been on the soft launch and tried the Chicken and Waffles which she was just raving about because it was so good, and the only place in London she was aware that serve up what is apparently a Southern Classic. Not being a big fan of sweet (Maple Syrup) and savoury dishes I tried the Deep Fried Chicken sandwich with the poppyseed and apple 'slaw and all the extras ... absolutely amazing. Crispy batter and really tender and juicy chicken, which was beautifully accompanied by the 'slaw. The triple cooked fries were bigger than I expected (think "chips", not fries) but really crispy on the outside, fluffy on the inside and so perfectly seasoned I didn't even reach for the ketchup.
I'm not sure I agree with the comments on the music above either. I am a self admitted music buff, and although not all the tracks I heard were of the Stax label, it was an eclectic mix of old school soul by the likes of Bobby Womack and Smokey Robinson, as well as at least one Otis Redding track, as well as some classic blues and blues rock.
I didn't try the shakes, but I have heard from my American friend that the Strawberry and Vodka one is to die for. I will be back! ....