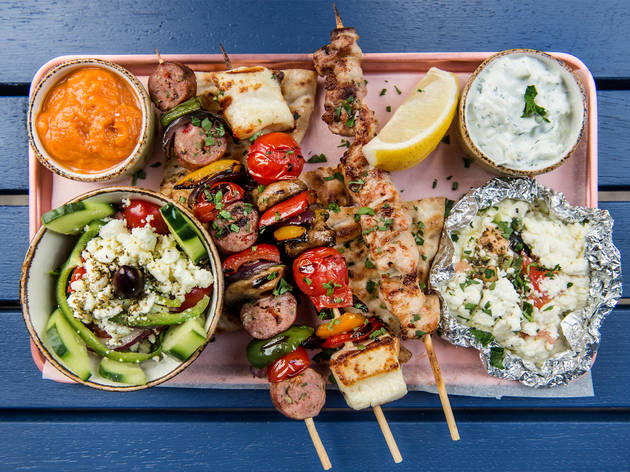 Time Out says
A relaunch of Greek restaurant 21 Bateman Street, serving souvlaki, Greek wines and craft beers.
This tiny venue has been an outpost of Greece for a while, but Suvlaki has made big changes in décor and even bigger changes in the level of cooking. Its predecessor here, simply named 21 Bateman Street, was nothing more than average. Suvlaki is well above that, and more.
The décor, however, needs more than a passing nod. This is a seriously good-looking place, showing clear evidence of careful thought and liberal spending. If you're sitting with your back to them, make sure you check out the fluted columns along the side wall. We assumed they were cast in concrete, perhaps in south London. In fact they're the real thing, reclaimed, and Italian. The marble table-tops are from Greece, tiles from Morocco. All this makes Suvlaki a real pleasure to sit in.
When the food arrives, you realise it's also a pleasure to eat in. The menu's short and simple: mini-wraps (served in threes), skewers, a few other sandwiches, a few snacks, a few starters, a few sides. The cooking's done in the small kitchen right inside the door, which makes a nice spectacle if you can take your eyes off those columns.
What sets Suvlaki apart is the care taken with buying, seasoning and cooking. Supremely gamey wild boar sausages (from a farm on Mount Olympus, no less) are of five-star quality. The pork is from rare breeds. Succulent chicken thighs are rich with herby flavour. All the wraps are garnished individually, a nice touch. The Greek salad is of superior quality, even if the portion could be a bit more generous, and the tzaziki features notably tangy, creamy yoghurt. Greek coffee is properly made.
If you're in drinking mode, you're in luck. The quartet of all-Greek wines includes two at £22, and even more intriguing is the list of beers from Greek micro-breweries – all names that were unfamiliar to us.
Suvlaki is by no means extortionate, but don't expect a cheapo kebab-shop-type meal. A full lunch without drinks will set you back around £30 to £35 for two. Alcohol will raise the spend considerably.
But we thought it was worth it. And when I say 'we' I mean me and a companion who has travelled extensively in Greece. A welcome addition, even in the restaurant-rich environment of Soho, and a welcome reminder that not all news of Greece is bad news.
Details
Address:
21 Bateman Street
London
W1D 3AL

Transport:
Tube: Tottenham Court Road
Contact:
Do you own this business?
Average User Rating
4.1 / 5
Rating Breakdown
5 star:

4

4 star:

6

3 star:

1

2 star:

1

1 star:

0
I think this is my new favorite restaurant in Soho, not only is the food very good, the staff are incredibly friendly and accommodating. The first time I went we arrived late on a Thursday night, the wait was only roughly 15 minutes for a table - and we got a free shot for waiting! I had the chicken wrap, side Greek salad and baked feta (I highly recommend the baked feta)! I've also tried the veggie wrap which is just as delicious. The venue is nice and very reasonably priced overall I think it's great for a mid week dinner!
I ordered this as takeaways and I'll be ordering again as well as possibly visiting the restaurant. Food was nicely packaged and all the authentic Greek flavors are there and they gave me a lemon, this is not a joke, this is very important to a Greek but most UK Greek restaurants fail on this. I was worried the portions would be small because of the comments but I I thought the portions were fine, they do recommend three dishes per person. I ordered skewers, they were a good size and could easily be shared. I also ordered a side Greek salad which was a regular size, not stingy on the feta and tomatoes, the chips were fresh and cooked in fresh oil, not dry or oily and nicely seasoned with oregano, again other Greek restaurants fail on this. I was stuffed after my meal but I wanted more. It is a touch expensive if you think £20 is too much for quality but I've eaten at some shoddy places in some dodgy areas that cost more than this. You could pay the same at some pub for some deep fried frozen rubbish. I think most of the raters are cheapskates with eyes too big for their bellies. I hope this place lasts.
We visited the restaurant on a Sunday for lunch. The place was almost empty, staff were polite and welcoming. The space was small and dark, all painted in dark blue!

The Menu was short and simple. Food was tasty but definitely it is not considered to be the best greek souvlaki and does not worth a bill of £67 for two adults and a child (3 portions of souvlaki+salad+ 2 portions of chips+3 loux lemondates+1 beer). Every portion has three small souvlaki wraps and the salad and chips were served in the smallest plate available -they were delicious though.

Why is it that almost every attempt to open a Greek place in London does not last for more two years? Is it because they think this will be an easy profit? Any Greek you ask will tell you that there is a market for a proper souvlaki space with proper souvlaki prices. Why don't they choose to rent a space at the outskirts of London so the rent won't be that expensive and won't be reflected on the prices?

Hopefully, the owners will realise they need to change way of thinking and it won't have the same fate as the other Greek place that closed a couple of months ago.
One thing for sure, we are not going back and that's a shame.

We gave this a go but found it to be overpriced and with small portions. The food was tasty, and the skewers and wraps, though small were appetizing. The let down was the sides which was so small they were really pointless and didn't make up for the lack of size of the main parts. Sent back one side as it was over baked. And why one burger on the 2 person option? Half a burger each? Rubbish. Bill came with service charge already added, looks like this isn't a restaurant run with heart and soul, rather with the intention of saving the Greek economy from Soho. Put it this way - for £50 we left hungry.