Taberna do Mercado - CLOSED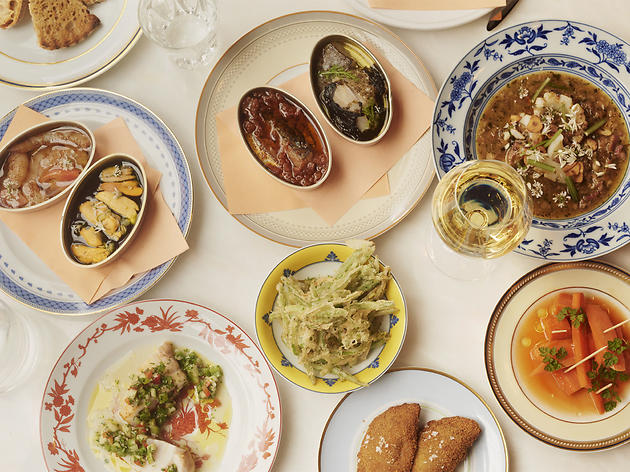 1/7
2/7
3/7
4/7
5/7
6/7
7/7
Time Out says
The newest venture from Nuno Mendes, of Viajante and - most recently - Chiltern Firehouse fame.
Please note, Taberna do Mercado E1 6EW has now closed. You can find them at The Kitchens, Old Spitalfields Market. Time Out Food editors, August 2018.
When the chef of the paparazzi-swarmed Chiltern Firehouse sets up his own restaurant, you take notice. But Nuno Mendes is not trying to attract red-carpet customers here. He's going back to his roots with a modest-looking Portuguese restaurant in Old Spitalfields Market.
This 'market tavern' takes classic dishes and plays around using the latest techniques and ideas. The wittiest example is the 'house tinned fish': prawns cooked sous-vide to mimic the pasteurisation effect of the canning process, then immersed in prawn-flavoured olive oil, with a tangy kick from Goan balchao tomato, and served in a tin with toasted sourdough. It's a treat that evokes Portugal, but does it better than even the best tin of sardines.
Every dish seems to come with a story, which our waitress was happy to detail. Persecution under the Inquisition meant that many Iberian Jews pretended to convert to Catholicism, and they adapted their food accordingly. One example was the alheira, a sausage made with poultry instead of pork; Taberna's version adds a sour kick.
Another story lay behind our pudding. Egg white was once used in Portugal to starch nun's clothes, so we were told, creating a surfeit of egg yolks which were then used in desserts such as pudim Abade de priscos. This is usually set with pork fat and red wine, but Mendes slow-cooks the egg to set it, and uses red wine to make a jus. Its meltingly rich texture, not too sweet, is extraordinary.
Even if you couldn't care less about clever culinary tricks, there's much to enjoy at Taberna. The wine list is affordable; the room is spacious and bright, with a large terrace in the covered market; and the staff seem genuinely passionate about what they do. If you found a restaurant like this is Lisbon, you'd be delighted. But you never will, because Taberna do Mercado's an export model, and a one-off.
No bookings taken for for dinner.
Lunch reservations by email only, to lunch@tabernamercado.co.uk
Details
Average User Rating
4.2 / 5
Rating Breakdown
5 star:

9

4 star:

4

3 star:

1

2 star:

1

1 star:

1
Lovely place to while a way an hour or two over lunch. Very unhurried, great dishes, the tinned fish and the prawn rissois were brilliant. I'll be heading back for more soon, to try out the other creations.
OVERALL:
Very, very salty, disappointing, pompous uninterested waters who ask if everything is OK but can't take on criticisms when it's not. Dessert overpriced and minute. Only two sugary non-alcoholic drinks available. If you're Non-Portuguese you'll buy it as real Portuguese food by a great chef: it is not! This is fusion and Mendes' very salty take on it. Most Portuguese mums cook better but haven't got restaurants in trendy corners of east London.
If you're Portuguese and go there you'll know what I mean. This Taberna follows the Portuguese fad
of bringing back the bread-based snacks of traditional tabernas. But ''tis too posh and misses the point. The old dirty ones stank of bad red plonk and had cheap but very delicious and well seasoned acepipes or snacks. The many recreations of these I visited in Lisbon succeed in doing so, despite the posh and trendy revamp. Taberna do Mercado tries too hard at being hip, basking in Mendes' renown but fails to stay loyal to the substance and spirit of the taberna name -- the humblest form of food establishment providing good small dishes at affordable prices.
DETAILS:
We're Portuguese speakers (one of them native) and lusophiles. This is a resto that supposedly sings the virtues of Portuguese food but has no menu in Portuguese or a dish name, only sparse references in that language.
STARTER -- a pile of GREEN BEAN FRITTERS with a quarter of lemon: too salty, batter had no other seasoning, a bit greasy. Original dish is called Peixinhos da Horta. Taberna's version resonated more with Japanese tempura. One can argue that tempura itself was influenced by Portuguese cooking some centuries ago, so let's park that one.
Then, MACKEREL ESCABECHE. The nearest Portuguese standard is Carapaus de Escabeche. This is Mendes' take on it with sweet and sour caramelised onion on the broken fish fillet. Onion was OK but the fish was underdone and raw in places. (Has anyone read the recent news about eating raw fish? I'll just leave it there.)
PLATTER OF HOCK WITH CLAMS: Extremely salty! No warning given. Do NOT eat this if you have high blood pressure issues! We should have been told it's ham and very, very salty. You need gallons of liquid to keep it going. Perhaps that's the agenda... the clams are too small to make a difference to the taste or dampen the salt. Did I mention it was salty?
Dessert -- ABADE DE PRISCOS PUDDING. A finger-sized strip at £5! Well done you managed to get that name in Portuguese, Taberna! Very good and faithful representation of the taste of the actual pudding. But the salt grit? I'll excuse them for serving it with Port Wine (not bad) but the olive oil floating in it? No, thanks. And the ridiculous price of a pound per cubic centimetre of pudding? And why could I bite salt grit? Again, no warning of high salt content. When I complained it was too small, I got a very pompous explanation from a non-Portuguese waiter how it was "too intense and needed to remain small" and anyway "he'd been to Portugal and meal sizes there are too big". You can sell that one to a non-native (Para Inglês Ver) but it didn't washwith me...
Mr Mendes, you owe Portuguese tabernas -- old and new good ones -- an apology.
Dear reader, thanks for getting this far down! Have a go at trying Taberna for a meal but don't think you're having proper Portuguese food and certainly not from a Taberna. And for THAT price you can afford a plane ticket to Portugal to taste the real thing! Plus the sun, the beauty, the generous people...
As a vegetarian, very limited options and therefore extremely overrated. Also really quite expensive considering the abundance of choices in the area. Go as a group of at least four otherwise meh.
This is a hidden gem. Located in the bustling spitalfields market, this small restaurant shouts class from the off. The menu is full of items that you wouldn't dare touch in normal circumstances - for example, we tried pigs cheeks, which you may normally not go for! These were delicious. The chef knows exactly what flavours to pair together for the best flavour. As expected, for this quality, prices aren't the cheapest. Each item is a reasonable £6-7 but once you start adding this up it gets pricey. Especially if you get some wine in there! Definitely recommend for treat day or date night
Don't get all the fuss about this place.
I'm portuguese and found this restaurant really sad as a modern representation of portuguese food. Would not recommend it at all.
Found the food really tasteless and ingredients cooked in way that resulted in awful textures...
I've dined at plenty of good restaurants in my life, this is not a good one.
The service varies between waiters, some are quite arrogant while others are super nice.
But the food, a huge disappointment.
Good place to go if you're not planning on eating much. Prices are completely overrated also for the amount of food. Although I wouldn't mind the price if the food was mind-blowing, which was not, at all.
To be avoided, until they consider some changes on their menu and the way they confection food.
This was recommended to me by a friend who is a fan of Nuno Mendes. Prior to going, I had no idea what a feast I was going to have, and boy was I pleasantly surprised! All the dishes are a delight to look at and sample, everything tasted beautifully balanced and not too heavy, although there were lots of meat.I also liked how they served the seafood in cans - it was so innovative .
I particularly loved this place as I had never - before that day tried anything that tasted like what I ate. It definitely was a new experience for my senses. I would highly recommend this place if you have some cash to spare, and have at least 3 people with you in a group. They are all sharing plates - so the more the merrier!
Pleasant ambiance, friendly with some Portuguese speaking employees. The food is very Portuguese and very typical, enhance with a special "chef " touch. A fantastic Portuguese style in London. Congratulations!!! A restaurant to be saved in my shortlist
A fantastic relaxed place for lunch with all the dishes clever and creative but not over-clever, just good to eat small plates. As you might expect from NM an original offering and not a single disappointment. Don't miss out on the cheeses: good choice of Portuguese wines. NM himself was very much in evidence when we went - charming and modest.
Snap up exclusive discounts in London
Time Out's handpicked deals — hurry, they won't be around for long...