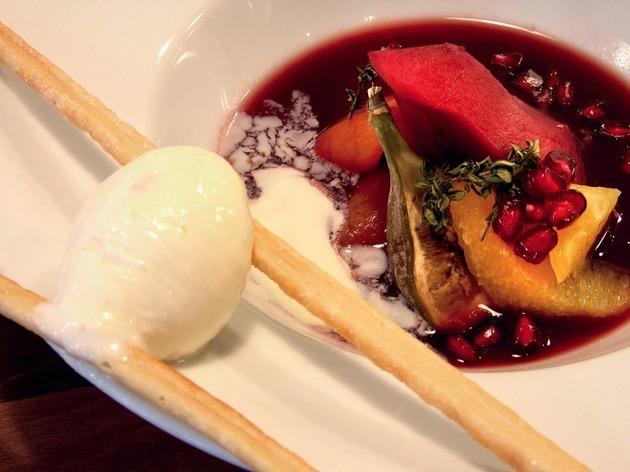 On the former site of well-respected Modern European restaurant Manson, the same people have now opened this pub. The menu includes a mix of pub classics and more unusual dishes and ingredients, plus a range of real ales.
Venue name:
The Brown Cow
Contact:
Address:
676 Fulham Road
London
SW6 5SA

Opening hours:
Open noon-midnight Mon-Fri; 10am-midnight Sat; noon-11pm Sun.
Transport:
Tube: Parsons Green tube
Menu:
View Menu
Do you own this business?
You may be interested in:
Average User Rating
3.6 / 5
Rating Breakdown
5 star:

9

4 star:

2

3 star:

0

2 star:

0

1 star:

5
Guaranteed a fantastic evening. Great place, delicious food and impeccable service. The Scotch Eggs are a must!
This is one of my favourite places to enjoy a Saturday evening with my friends. The atmosphere is relaxed but buzzing. The staff cannot do enough for you. I like my chips more than triple cooked and they never have a problem making sure they come out exactly how I like them. The food is Devine and whenever I have friends or family in town this is the place I always take them.
Anyone whose ever tried a brown cow roast knows why the place is always crowded. Beef is slow roasted, house made gravy made with so much love. and on any day there are the famous Triple cooked chips. always crispy and the house made mayo... Mmm. The cleanest guiness lines in south west London = best guiness this side of Ireland. Wine list is impressive, something most pubs can't boast. However, what makes the place is the staff. Everyone who walks in the door gets a greeting and a smile. The place is fun, decor is homey and inviting. Just writing this review is making me want to go eat a brown cow burger in the company of some wonderful people, provided consistently at the brown cow
Great atmosphere, great wine list (and beers so my father informs me), personable and knowledgeable staff - with an opinion (I always ask for recommendations and hate the standard response of "it's all great") and above all really fab food. Their Sunday Roast (beef) is the best I have ever had in a pub.
Fantastic spot in PG! Great atmosphere... great staff... great food Have a Scotch egg ;)
Awful experience, as usual. Why we went back again I will never know. Have been for Sunday Lunch- fish pie was mash, cream and a little salmon. Have been for drinks and been ignored and then laughed at. Staff attitude to anything is "tough," a kind of like it or lump it attitude. It is small, cramped and over priced. Food is over priced (dont get me wrong, I'm not cheap but do expect value for money) this is not a pub. Don't even have a license to be called one I was informed by a waiter. Fulham Wine Rooms is the way forward or Parsons Green .
Always love visiting the Brown Cow. We've been 4 or 5 times since the refit and every time has been enjoyable. The food, staff and atmosphere are always great. Can't wait to visit again.
The new BEST pub in Fulham. Great boozer, awesome food and atmosphere.
I have been to the Brown Cow quite a few times over the past few months. All I can say is that the quality food, and service, has vastly improved. I guess there is a new chef in the kitchen, because the bavette, and the chicken and leek pie were spectacular. The service, was attentive, knowledable, and were eager to please. I know the Brown Cow had some teething problems last year, but I ve been there 4/5 times since the New Year, and it is rammed with a great atmosphere. Whatever the owners have done - its worked! Whether you want to meet some freinds in the pub, go on a date or even take your parents out for dinner; the Brown Cow, really is the place to go in Fulham!
I live just down the road so thought it would be a perfect venue for dinner after work and a catch up with two girlfriends. I was wrong. This place is dreadful, I urge you not to go and here are my reasons why:- 1. The manager is, on first appearances, enthusiastic and welcoming. He's a kid in his early twenties who is trying far too hard - it's off putting to be pounced on when you've just walked through the door. Hey ho. We continued. 2. The service is dreadful. They haven't quite figured out how to balance bar and table service. We waited a painfully long time for a menu (we had to ask for it) and then a painfully long time for the bottle of wine we had ordered. It didn't bode well for the rest of the meal. 3. The food. Where do I start. The food is so ridiculously tiny that I don't know how the waiting staff can bring it out with a straight face. My face, however, was less than straight when my £14 portion of pork belly was put in front of me (sides are extra) and I realised that I would get through that in about 1 minute flat. It was embarrassing and they are trying to basically rip people off. We complained immediately and the manager offered us some side dishes. One of these was a bowl of french beans which when placed on the table by the waiter, put his hand straight in. Disgusting. 4. When the bill came, the jumped up manager decided to tell myself and my two friends that whilst he was happy he rectified our situation by offering us some vegetables on the house "he just wanted to know that we were the only two people that had complained that night". What a terrible thing to say. He is clearly in the wrong business because he had absolutely no idea about customer service. Giving something with one hand and taking it away with another is exactly the kind of behaviour that will get you a one star rating (I'd have given it zero if it was an option).
We live very locally and thought we would try this place out for the first time this morning. We were given menus and then proceeded to wait fifteen minutes despite only three other tables being occupied and there being about eight staff working). At this stage another, older couple walked in - one member of staff literally leapt across the room to greet them, they were obviously friends. Despite our still not having been offered even a cup of coffee, this couple's order was taken within about one minute of sitting down. Having looked at about five or six members of staff who all looked blankly back, still no one came and served us. We got up, two members of staff looked at each other. "No one served us," I explained, "We've been here for over fifteen minutes and no one has even offered us a drink." They said nothing and again looked blankly at us. Lots of staff floating around doing nothing and unaware of what is going on. I dread to think how they'd cope if it was busy. The food might be lovely, as may the drinks. We weren't given the opportunity to find out. Perhaps if you're a friend or connection you may love this place as you will be treated well. We won't be back.
Do not go here the staff are utterly rude. Our brash waitress practically through the wine we ordered at us and spat 'wanna taste it'. The rest of the staff despite it only 9.30 were clearly to get home as soon as possible so started crashing around putting cutlery in drawers and slamming played in cupboards. We had to spend at least 15 minutes trying to get any attention when we needed ketchup fret the chips had been flung on the table. worst service I've ever experienced truly regret wry penny we spent there. Such a shame as we love the Sands end pub whose staff are the most polite people and the service is so slick. someone needs to take control of Manson as the potential to be great is there it desperately needs a good manager to take control and get new staff. The food was average fine nothing spectacular.
Had a great meal here in early-October. Service was a little haphazard but utterly charming and the food - especially a main of pigeon with spelt and berries - was simultaneously ambitious and simple, with ingredients allowed to speak for themselves within the context of some interesting pairings. Highly reccomended,
Went for a birthday, embarrassed for the birthday boy, arrived at 8, food not even ordered till 9, main courses arrived at 10.15- raw chicken! apparently the kitchen is small so difficult to cope with big parties- the organiser was informed of this! only a choice of 3 dishes on the set menu. The rest of the restaurant was empty??? Staff with attitude, poorly cooked artichoke? No desserts left on a set menu but an empty restaurant? confusing? Complete lack of insight by the staff. Disgusted, hoping not to get food poisoning. Joke of the table Shall we go to Mcdonalds after? Ordering desserts at 11pm! Worst restaurant in london. Overpriced rubbish. £35 for mash and peas with a few artichoke leaves.
More venues
Sponsored listings