The Ivy Kensington Brasserie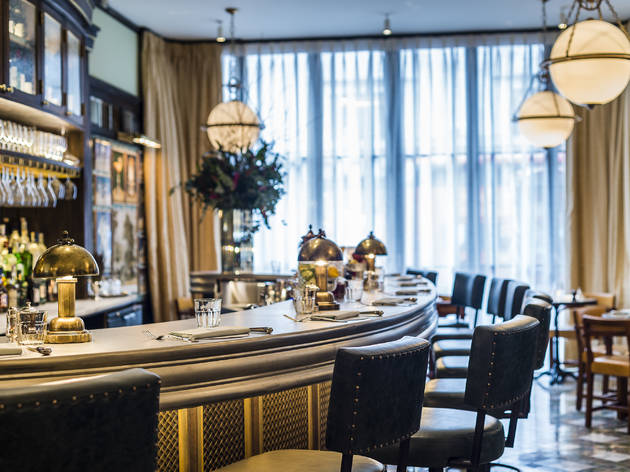 Time Out says
Another Ivy restaurant that bills itself as laidback with its all-day dining menu.
The Ivy: a fine dining institution once renowned for wooing the rich and famous while making us mere commoners wait, like, forever for a reservation. But with the launch of their new Kensington restaurant, the airs and graces have been scaled back just enough for you to get a table when you like. Everything else is still classic Ivy: the handsome dining room and bar buzzing with smiley waiters; the two-hour table limit (and they mean it); and a prudent menu of mod-Brit dishes that may lack a certain ingenuity but is very much on point.
The seared scallops, for instance, were technically wonderful, and the same goes for the slow-roasted lamb shoulder – a fatty chunk of tasty meat sitting pretty on a heap of cheesy polenta. But a side of kale and spinach? Boring. And the only exciting thing about the strawberry cheesecake sundae was that it was hoarding extra chunks of meringue.
But let's be honest: what The Ivy Brasserie lacks in culinary finesse, it makes up for by being that place you pick to impress your friends from out of town. Because who doesn't love to name-drop?
Details
Address:
98 Kensington High St
London
W8 4SG

Transport:
Tube: High Street Kensington
Price:
Dinner for two with drinks and service: around £120
Do you own this business?
Rating Breakdown
5 star:

0

4 star:

8

3 star:

0

2 star:

0

1 star:

0
I visited The Ivy, Kensington for a three course meal and some drinks post graduation. To start off with, Iboth opted for smoked mackerel on granary bread. I often find the taste of mackerel to be a little too strong but that wasn't the case here. The strong fishy flavour was balanced perfectly with lemon & pepper on two slices of soft bread. Most instances where I've ordered some sort of pâté in the past, to my great annoyance, there has not been enough pâté for all of the bread. The Ivy already gets a big thumbs up from me for awesome portion sizing.
Next up, I ordered the pork belly. I am so so glad I did because the mix of flavours were unlike any I'd ever tasted before. The meat was both tender and succulent and the shichimi crackling, Asian salad and matcha mayonnaise on the side were more exciting than expected. I think the photo describes the dish better than I could in words!

I have had some very bad creme brulees from my time living in Paris, but The Ivy didn't let me down as this crème brûlée was perfect: the top made that satisfying crunch sound as I cracked it and the rest was smooth and creamy. It was also a pretty large portion, which is always a plus.

Lastly, it's worth mentioning that it's not just the food that's amazing, but the decor and the atmosphere, too. This is a really lovely establishment with friendly and attentive staff. The decor oozes relaxed luxury and there are lots of plants and flowers dotted around the place. This is a great place to celebrate an occasion. @Laura Hartley
The Ivy Kensington Brasserie is a beautiful restaurant located on High Street Kensington, near the Royal Albert Hall and Kensington Palace. The service can be slow sometimes, however there is a fantastic all-day dining menu with lots to choose from including great food and cocktails.
I didn't have a starter and dived straight in for steak, eggs and chips which was delicious. I enjoyed a sticky toffee martini which was strong and appropriately sweet. For dessert, I had the super 'Instagramable' chocolate bomb, you know the one that melts and reveals a tasty treat underneath. I love the interior of the Brasserie, the flowers are a bonus.The restaurant is open 7 days a week and is reasonable. Perfect for group dining or a quiet brunch, lunch or evening meal. Will definitely be going back soon for brunch or afternoon tea!