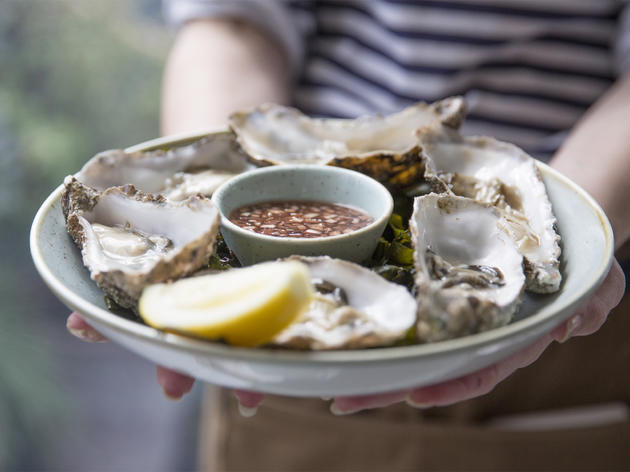 1/8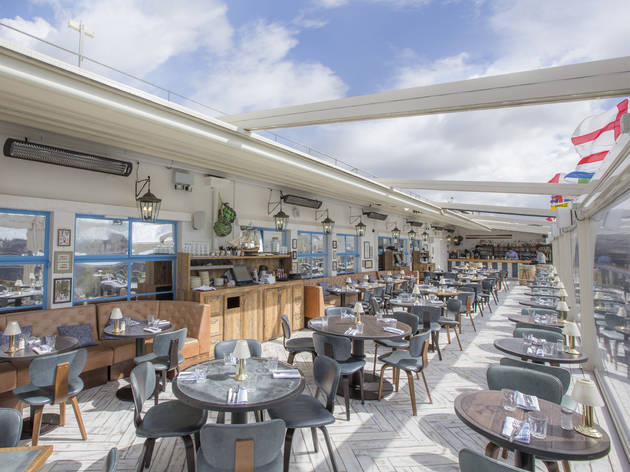 2/8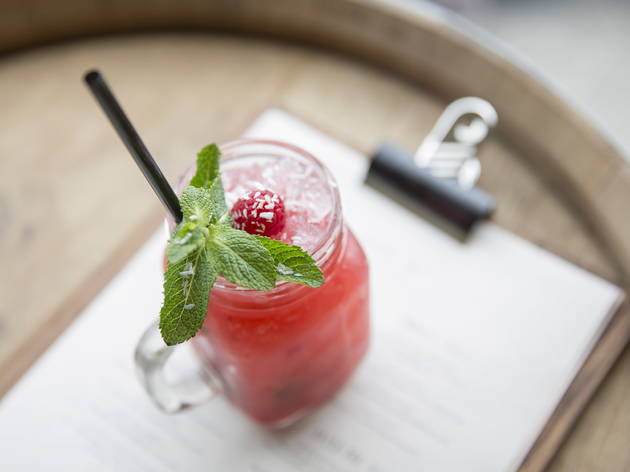 3/8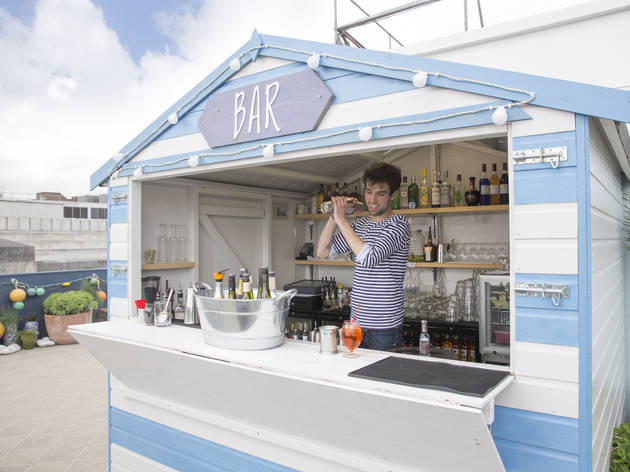 4/8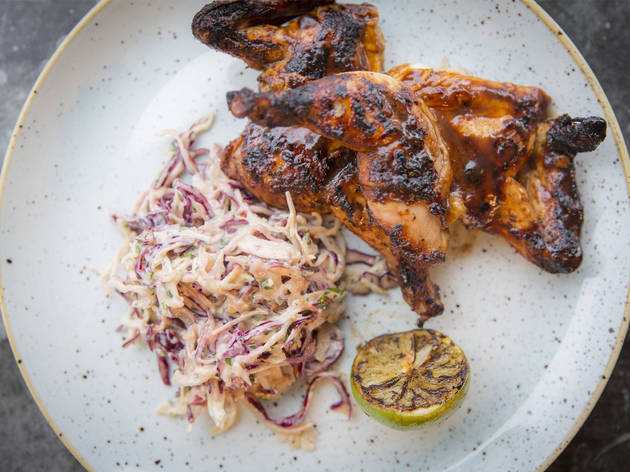 5/8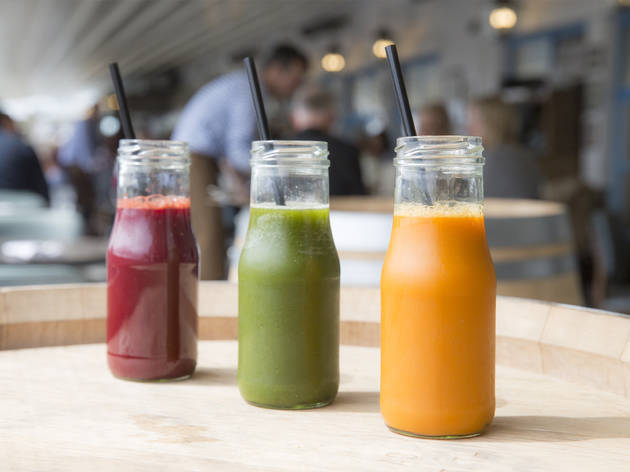 6/8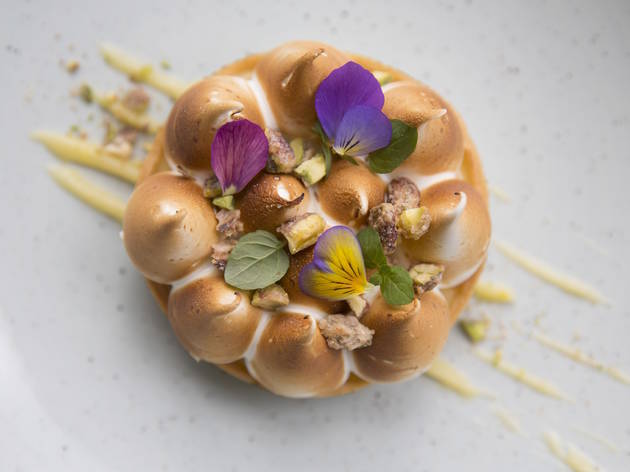 7/8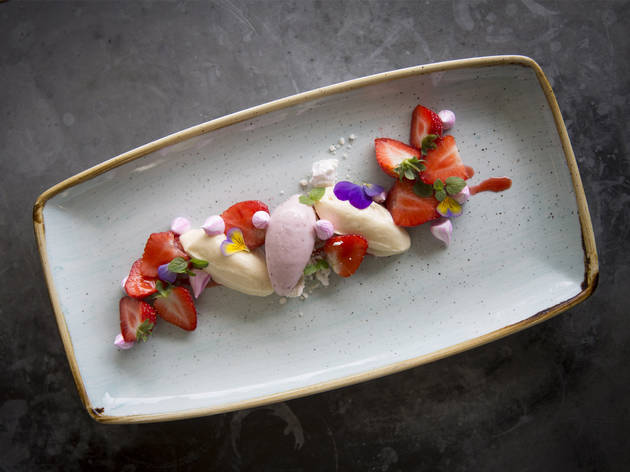 8/8
An ever-changing restaurant and bar on the Selfridges rooftop.
Please note, Vintage Salt has now changed names to Forest Restaurant and Bar. Time Out Food & Drink editors, Apr 2016.
Every summer now, the folks behind Q Grill kit out the Selfridges roof terrace above Oxford Street with a new theme and menu. But visit just for cocktails at the Drift Bar to take full advantage of 2015's tongue-in-cheek seaside theme. The look is brighter than a stick of rock, with the roof dressed with beach balls, deck chairs, fishing nets and adorable seaside huts straight out of St Ives. Postcards pinned to the walls show dreamy Cornwall climes for an overall nostalgia hit.
There's not much to see from the bar side of the roof terrace – the views are reserved for restaurant goers. But for people watching, it's good for in-the-know shoppers and media types from businesses nearby hoping to escape the throngs of Oxford Street tourists. The service on our visit was warm, friendly and occasionally even funny.
The drinks menu is enticing in range as well as seeming almost reasonably priced when compared with the offerings at other rooftop spots. Most cocktails cost £10 or just over, and use on-trend spirits and in-season flavours. The G&Tea in the Afternoon (£11) sees a generous dollop of gin and tonic sorbet floating on the top, blended perfectly with cold earl grey tea, lemon and gin. Sipping from a cup and saucer doesn't feel out of place in this twee British setting. For absolute refreshment from a shopping trip down below, order a Champagne popsicle for £7.
Venue name:
Vintage Salt
Contact:
Address:
5th Floor, Selfridges
400 Oxford Street
London
W1H 6HB

Opening hours:
Mon-Sat 11am-11pm; Sun noon-6pm
Transport:
Tube: Bond Street
Menu:
View Menu
Do you own this business?
Average User Rating
2.2 / 5
Rating Breakdown
5 star:

0

4 star:

1

3 star:

1

2 star:

1

1 star:

2
Poor service here, wouldn't go back and certainly wouldn't take anyone you're trying to impress. After standing at reception for 5 minutes while the receptionist took a phone call, I explained that I and my guests were there for coffee and afternoon tea however she cut me off and simply pointed down a long hallway and said 'that way'. We were not greeted in the restaurant and after looking around uncertainly we chose one of the cute looking beach hut booths outside. We were eventually brought a menu but were told when we ordered cream tea that we couldn't have food outside. So the receptionist had to go and find us a table in the restaurant (if only she hadn't cut me off when I said we wanted afternoon tea). We were placed at a noisy table next to the waiters' servery and different menus were eventually delivered. We waited so long to order that my guests tried to flag down a waiter but no one would make eye contact. Eventually we ordered our afternoon tea, which to be fair was delicious, if overpriced. Unfortunately my guests (in-laws) commented that the coffee was terrible. Our water glasses were never filled. Our waiter seemed to be attempting to be congenial and funny but came across as a bit snide. All in all I wouldn't recommend.
Went to their alfresco bar on a sunny evening for drinks. I asked the manager if there is any free table and he just said 'no!'. Then I saw an empty little hut and I asked if there was reserved as nobody is in there. So he said "you should hurry up and get in there then" and he walked off. Fine. So I went in and sat down to wait for my husband. 5-10mins later, nobody asked if I need a drink so I went to the bar counter and asked if I could order a glass of wine. The waiter said someone will come to me and I just have to wait. So I said ok and went back. Sat down for another 10mins...15mins... Still nobody. I went to the bar and even before I could say anything, the bartender just shot me an impatient look and said "we are very busy, we will come to you ok??'. Finally someone came to take orders. My glass of wine arrived 20mins later after I see everyone who ordered after me had been served. I had given up on service by then. My husband came to meet me and was met by a rude hostess in the lift telling him "doesn't matter your wife is up there with a table, we are full and you can't go up!". He managed to somehow argued his way up and was again met with very bad service at the bar. This place is not even posh but had the most snobbish and patronising waiters ever!! And the manager was just busy entertaining either his friends/regulars... If maybe he could help out on a busy fri night, we might get our drinks earlier.
When you come from nice (and expensive) shopping in Selfridges and go up to the 5th floor in the Vintage Salt, you have a certain expectation. Unfortunately I had a bad experience with the food here. The service and atmosphere here is great, but the food wasn't, at least for me. The young audience might not be so critical, but the older probably is.
More venues
Sponsored listings