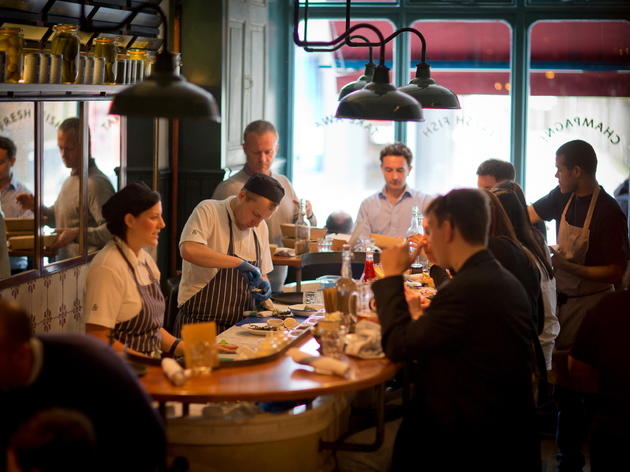 An Upper Street restaurant from the Des McDonald stable, with a sister restaurant over by Liverpool Street. It specialises in British seafood and meats, and aims to evoke a Cornish village – prepare for all manner of flotsam and jetsam.
The menu reads like a chippie with bells on. Expect dishes ranging from rock oysters, a breaded fish finger buttie and devilled whitebait with lemon mayo to fish pie with cheesy mash, roast cod with creamed sprouts and caramelised shallots and a classic fish and chips, with your choice of cod, haddock, crispy scampi or breaded fish fingers.
It's not all seafood though. Meatier options include beef rib pie with mash and parsley liquor, grilled chicken salad and a Scotched hen's egg with piccalilli. Brunch and lunch offers look like good value.
Venue name:
Vintage Salt
Contact:
Address:
189 Upper Street
London
N1 1RQ

Opening hours:
Open noon-11pm daily
Transport:
Tube: Highbury & Islington tube/rail
Price:
Meal for two with drinks and service: around £60
Menu:
View Menu
Do you own this business?
You may be interested in:
Average User Rating
3.6 / 5
Rating Breakdown
5 star:

2

4 star:

6

3 star:

1

2 star:

1

1 star:

1
Brill fish and chips, gorgeous space and the best service.
I visited Des McDonald's latest restaurant opening, which is this same restaurant but near Liverpool Street. It's basically just posh fish and chips (ergo: more expensive), but in a beautiful setting - I loved the interior and music soundtrack, and the great cocktails. I highly recommend it - would make a quirky date spot, or a good place with friends or the parents - a real all-rounder.

Full details and loads of photos can be found on my blog here: http://hyhoi.com/2014/12/the-fish-chip-shop-city-des-mcdonald/

- Nina
Have You Heard Of It? London bar & restaurant recommendations | HYHOI.com
Have been to Fish&Chips several times now.......we love it!
The fish pie is so good I'm drooling thinking about it! The traditional haddock,chips and mushy peas is another big favourite.
It can get noisy but the food and great staff make this our go to place!
Highly recommended.
over priced and over hyped. our waitress over charged my card by £2 and rushed us off the table. won't be going back.
Overall a disappointing experience. Sitting in a row of three (no tables were available but that was never mentioned beforehand) we eagerly awaited the promise of delectable fish and chips. Paying thrice the price, we expected that the fundamentals would be good, but it turns out that the decor is king. While the chips were good, the fish was underwhelming and service was average at best. We felt isolated at the bar, and struggled to talk while sat in a row. But my main gripe is that, if you are going to sell 'posh' fish and chips, you've got to prepare the fish properly. So when both Cod and Haddock were full of bones, it made me question whether the chefs should spend less time making sure the food looks good, and more time training in a real chippy.
Flat Fish... Sadly the much vaunted newcomer on Islington's Upper Street fell rather flat on our recent visit. Excited by the recent hype and front page splash in a local Magazine our tastebuds hoped for much more than was delivered. The sort of retro shabby feel of a Irish Oyster bar is nicely done, but just dont look UP before you eat...the ceiling may be covered in faux grubbiness and the brown stains may be simply a paint effect, but poised about your plateful, it is perhaps not for the tender to contemplate too closely. It is a great place to meet your mates, and have a shouted conversation over the loud & ecelectic music mix. It's buzzy and bouyant and our waiter was well informed about the menu choices, very pleasant and efficient without being too much of a mother-hen. Clientele are nicely mixed , and the ambience is inclusive of all-comers which is greatly to be encouraged. Too many trend-setter eateries can seem off-putting to older folk, or those with kids in tow. Prices are in the region of £50 per head for 3 courses with one bottle of wine. Main courses do not seem to be listed with veg or side dishes included , so "extras" can mount up the cost. Water is free and plentiful, and the only water-based improvement could be for BIGGER finger bowls please ! The fish curry as pleasantly light, but not as aromatic or flavoursome as one would have hoped. Cheesy fish pie was sadly rather bland, and there were no identifiable individual flavours as one looks for in a really good bite-back medley of a fishy-pie. The sauce was too thin to be memorable. The tiger prawns looked like body-building types and had great size and presence on the plate, but were rather too drowned in their sauce... Great to see samphire on the menu, but why swamp their delicate flavour with morel ? Cornish battered fish bites were nicely done, and great as a take-away option, and the horizontal-plate-presented prawn cocktails (instead of the tradtionally 1970's glass-and-tall-spoon variety !) were tasty. You will likely want to walk off with the charming coffee cups, and adopt, at home ,the sensible choice of using tea towels as napkins but I'm not sure this newby fish restaurant has really found its feet ( or fins?) and decided yet what it wants to be ? A vibrant retro fish-&-chipper with a nod to traditional London faves like eels and cockles, or a really regular haunt for those in search of stimulating and exciting piscinery-pleasures rustled up from the international waters of the world ? DMC-London
It's a treasured national dish as deeply ingrained in our culture as the monarchy, the BBC and complaining – fish and chips are truly part of what make us British. Growing up in the north, the local chippy was a regular haunt. Tightly wrapped parcels of The Yorkshire Evening Post encased a satisfyingly greasy but perfectly crisp Friday night treat. Doused in malt vinegar with a heart-stopping dose of salt, it was by far my most favoured takeaway (until I discovered the wonders of curry) and always tasted that little bit better on a cold, blustery evening. Finding a southern substitute that lives up to my childhood memories has proved fruitlessly difficult, that is, until now. 'The Fish & Chip Shop' is the first solo venture from ex Ivy head chef, Des McDonald and the latest restaurant to burst onto the booming Upper Street scene. The inventively titled establishment does pretty much what it says on the tin, although this is Islington darling – these are posh fish and chips. With chic 40's inspired décor and a retro playlist this place is a far cry from your regular walk-in joint. In addition to floor tables, seating is split between a 'raw' bar at the front serving seafood and another at the back by the kitchen – an unusual layout but it works nonetheless. It's small but perfectly formed with no more than around 60 covers. Once settled into my plush leather booth I cast a weary eye over the cocktail menu in search of a suitable aperitif, it'd been a long day. I was pleasantly greeted with an adventurous list that genuinely excited me, a welcome break from the monotony of most drink offerings in London at present. The succinct selection showcased unique variations on well-loved classics; a kind-of Negroni shaken with marmalade (Lady Marmalade), a spiced Old Fashioned with pickled onion, dill and fennel (Where is Wally) and a pea and mint gin Martini (Pea Tini) – the latter of which was superb. Inventive, original and dangerously easy to drink these were not exactly your typical chippy thirst quenchers. I consciously avoided the temptation to glug only for the sake of politeness. Further deviating from the traditional, the food has a few surprises in store too. Aside from the expected cod, haddock and chips the brown paper menus presented a range of alternatives delectable enough to distract you from the obvious. Hot and cold seafood starters were mouthwateringly tempting; rock oysters, prawn cocktail and smoked haddock scotch eggs. The signature 'butties' boast grown-up fish finger sandwiches and high-end lobster rolls and there's fishy comfort food too with pies, curry and even salt beef for the fussy eater. And because caring is cool, all of this is of course sustainably sourced. The north vs south haddock or cod debate fuels heated disagreements between my dining partners, prompting both to be ordered. The golden Camden beer batter loudly crunches to reveal the fresh, soft white fish gently steamed to perfection. Chips fried in rapeseed oil are slightly under seasoned but nothing a splash of vinegar and a shake of salt can't redeem. 'Mushy' peas are in typical posh fashion, smashed and minted creating a vibrant and sweet paste ready to be loaded onto a lonesome forkful of fish. Little crisp nuggets of scampi were a delight as was a cheese-crusted fish pie. Gravy boats filled with garlic mayo, curry sauce, regular and spicy tartar provide tantalizing accouterments to the main event. Although the spicy tartar lacks heat (I've had hotter lemon and herb chicken at Nando's) the curry sauce was spectacular. Spectacular might seem an overly enthusiastic word to describe curry sauce, but trust me, it was. I thankfully saved just enough room for 'Burnt Chocolate Cream' – imagine the Rolls-Royce of ROLO yoghurts with a hard sugared lid. Don't let the posh label put you off, The Fish & Chip Shop is a charming little restaurant that avoids the temptation to play too heavily on showy suppers, instead focusing on serving quality fish and seafood in humble surroundings. Prices are reasonable but understandably vary depending on what fish you order; battered cod is only £9 where as the lobster is £30, I can see the Ottolenghi yummy mummies and the John Salt yuppies flocking already. Staying true to their traditional routes there is, of course a takeaway option available – all that's missing now is a scoop full of scraps and a can of Dandelion & Burdock. You can take the girl out of Yorkshire ey.