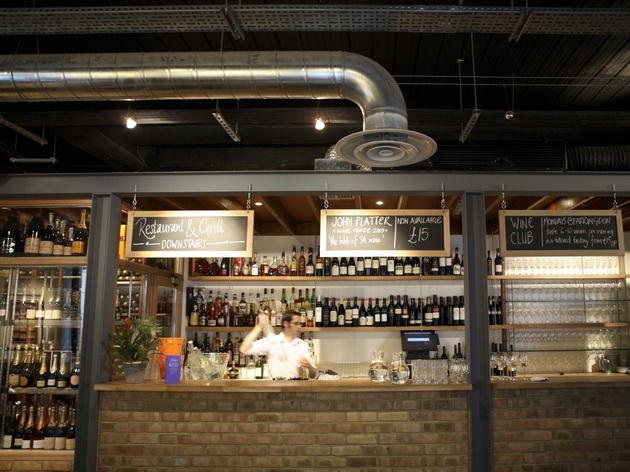 In a bland modern development off Tooley Street, this branch of the South African-owned mini-group sticks to a winning formula, with a basement restaurant complementing the deli counters upstairs. Although there's wine-themed decoration in the form of posters and crates, the climate-controlled cheese and wine rooms provide the most attractive element of the design.
The list pays attention to all the classic French regions (Champagne is particularly well represented) but it's difficult to avoid drifting back to the outstanding selection of South African wines. Some mark-ups are minimal - barely higher than the retail price - while others are fairly steep but not outrageous by London standards. There is a decent selection by the glass.
The menu is international in scope with an emphasis on French and Italian cooking, but makes a special feature of dishes from the grill, including Pata Negra pork chops and a côte de boeuf for two people. The bar has a simple menu of cold dishes, especially platters of charcuterie.
Venue name:
Vivat Bacchus
Contact:
Address:
4 Hays Lane
London
SE1 2HB

Opening hours:
Mon-Sat noon-midnight (food served until 10.30pm; drinks served until 11.30pm)
Transport:
Tube: London Bridge tube/rail
Menu:
View Menu
Do you own this business?
You may be interested in:
Average User Rating
3.6 / 5
Rating Breakdown
5 star:

1

4 star:

3

3 star:

2

2 star:

1

1 star:

0
It's funny - I was told this place was a meat specialist... but actually it does lots of good cheese and wine, and lots of very average meat! It's pretty expensive for what it is, so if you go, bear that in mind, save your pennies on the steak and stock up on the cheese!
I saw some bad reviews about service, ours however was quite pleasant and young lady who lead the testing was helpful and explained quite a lot about each wine, history, location and the way this particular wine has been prepared (turns out there is a difference and different wines could be produced from same grapes which is fascinating)
First impression of the restaurant was nice. Seems a little bit cramped inside though which means it got quite noisy as it filled up. Our waitress was pleasant and very friendly. I felt like having a milkshake due to the heat but there weren't any on the list so i asked her and she said they weren't available but said that maybe she can find out if they can make me a don pedro but without the alcohol which would in effect be a vanilla milkshake so i said sure to which she came back confirming so all good.. One of our party had the smoked salmon salad starter and could barely find any salmon in there. Literally 4 or 5 tiny slivers of salmon where your nail clippings would be bigger.. Pretty expensive £7.50 salmon starter.. Main course came and i had the BBQ platter which was quite nice apart from the baby chicken which was very dried out and not pleasant to eat at all. One of our friends had the springbok burger and after eating part of it, he found a long LONG hair actually INSIDE the burger. Not with the garnish or anything, actually part of the burger patty itself! He sent that back with the waitress apologising and another one came which was fine. Towards the end of his meal the manager came over with a quick "Sorry about the issue" and then walked off?! Not too much of a sincere apology to be honest.. Hygiene in a restaurant and customer service are nothing to compromise on. Its not like he wanted anything for free but after that, even if the manager offers to buy him a drink or something with more of a sincere apology, but he just didn't really care. Then when the bill came and we started going through it, I found that i was charged the full price for the don pedro / milkshake which turned out to be £8.75! For a vanilla milkshake! So no, definitely will not be walking through those doors ever again after that experience thats for sure.
On Timeout's recommendation we decided to come here for lunch. We opted for the braaivleis grill (South African Barbecue) as we thought it would be nice to sample a good braai from outside the family. The grill boasted chicken wings, steak, boerewors, chips and coleslaw so we sat with Windhoeks in hand and anticipated the feast to come. Before I get to the food I should say something of the restaurant itself: very unassuming, stripped-back interior, more reminiscent of a wine-bar than a traditional restaurant. This turned out to be appropriate when the wine list arrived; the selection is large and very fine but a little on the pricey side, to my eye. The service was quick, the waiters were friendly and open to banter and the atmosphere was lively as the offices of London Bridge had crammed the place for lunch. A promising sign by any stretch of the imagination. What arrived was largely a disappointment, the chicken was cooked well but left no impression on the taste-buds whatsoever. The chips amounted to one large potato, thin-cut and dusted with salt, again well cooked but, again, utterly forgettable. The coleslaw was flavoursome but the measure of a good braai is in the wors and the steak. Unfortunately this is where things went very wrong, very quickly. On our platter, instead of Boerewors, was a Walls'™ sausage. It was a well cooked, brown on the outside, beige on the inside, pork, Walls'™ sausage. I was heartbroken, I have all the time in the world for an honest British banger, but you never promise me wors and provide Walls'™. To the uninitiated, boerewors is a beef sausage originally devised by Afrikaaner farmers in South Africa to make tougher cuts of meat more palatable. Rather than the traditional short links of sausage that characterise a banger a boerewors resembles a very large cumberland sausage-one long coil of ground meat which is well spiced. A good slice of wors in a bun is a pleasure for the senses and a friend of the family has complained that he has never been able to really enjoy another barbecued sausage after trying my Dad's home-made wors. Things looked bad, but having read this far you may be wondering how good the steak was to save a three-star rating for Vivat Bacchus. It was exquisite. A quick warning to the picky, it is served very rare as that best compliments the seasoning and produces an exceedingly succulent experience. I would use every appropriate superlative in my vocabulary to describe this steak, but I've already spent 70 words on it so I will end here by saying today I heard Dame Jane Goodall imitate the greeting of a wild chimpanzee and this steak came a close third in memorable experiences, just after graduating. We rounded off the meal with Milk Tart and a Fig tarte fine with ice cream. Both were extremely enjoyable and I would recommend either.
More venues
Sponsored listings