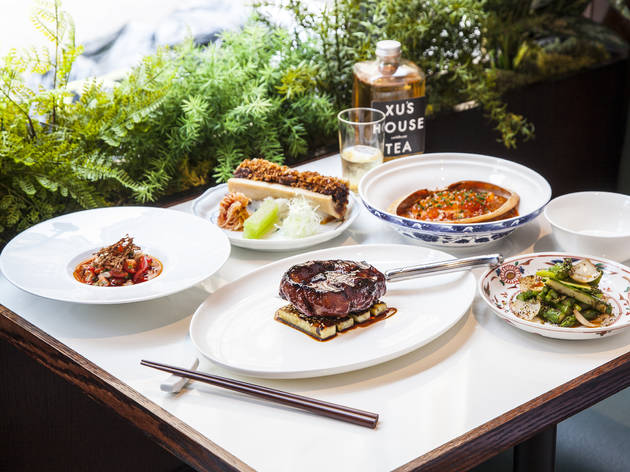 1/6
Andy Parsons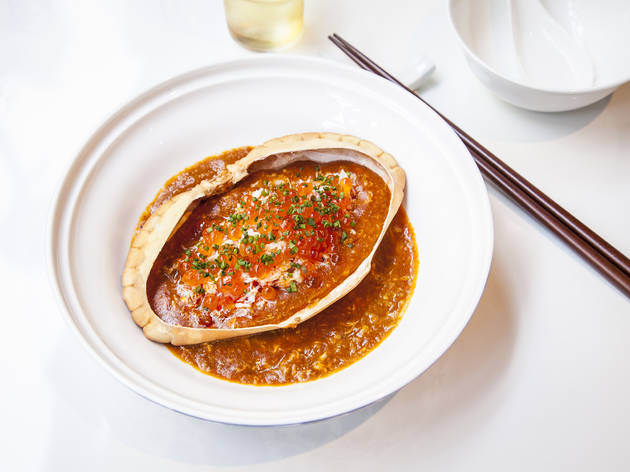 2/6
Andy Parsons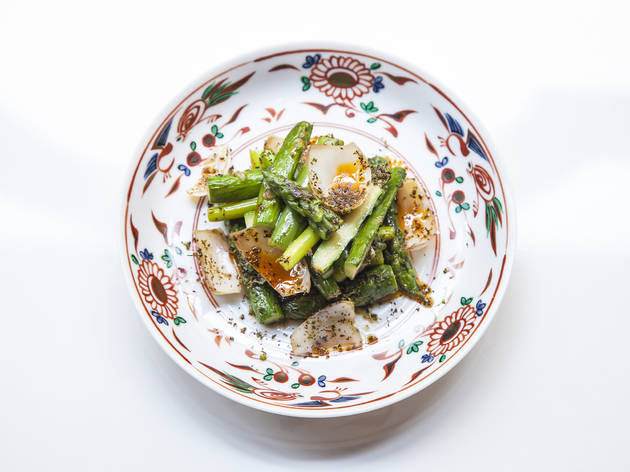 3/6
Andy Parsons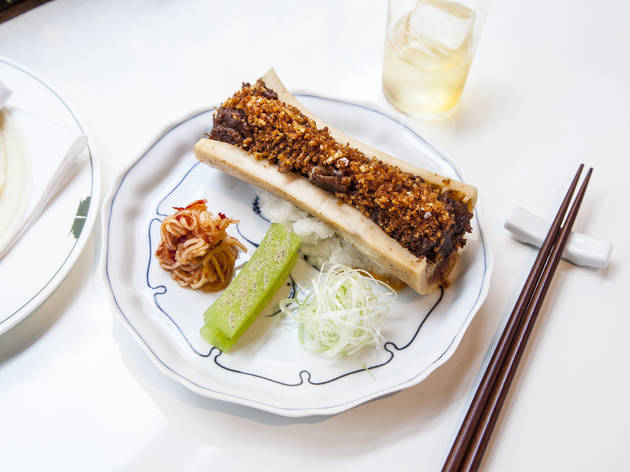 4/6
Andy Parsons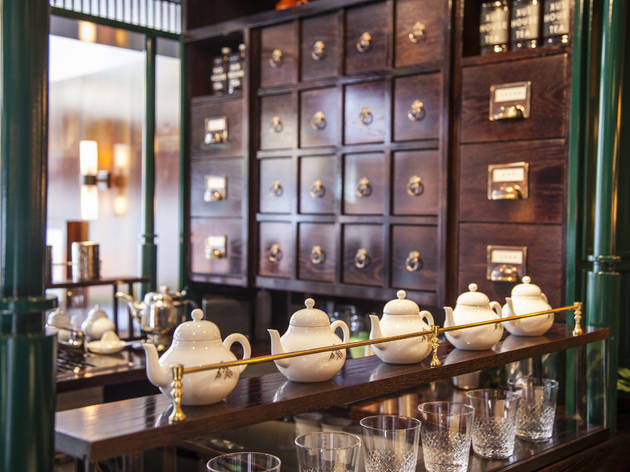 5/6
Andy Parsons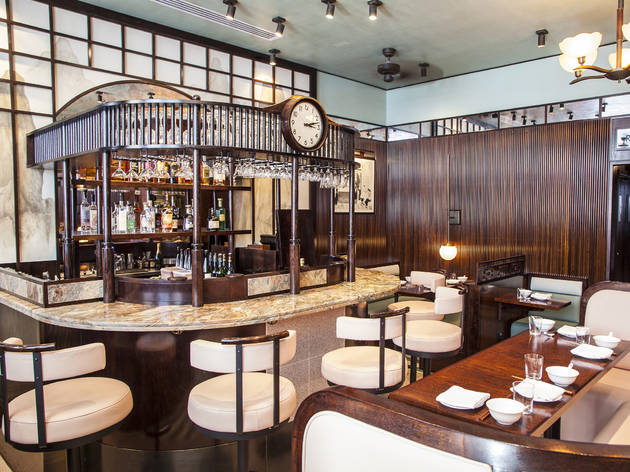 6/6
Andy Parsons
A smart Taiwanese restaurant from the crew behind Bao, with a vintage feel.
You know what's better than new? Old. Not 'old old', like when your housemate leaves a packet of chicken at the back of the fridge and goes on holiday, but the good kind, that evokes the best of a bygone era. Vintage. That's the vibe at Xu. (Which, btw, is pronounced 'Shu'. Not 'Joo'. Not 'Sue'.) The first 'smart' restaurant from the crew behind cult hit Bao, it's a love letter to 1930s Taipei. It's got class, but no hanger-up-its-bum. Our waiter was in black tie, yet effortlessly switched from 'chummy and attentive' toward those of us obvious Bao groupies, to 'polite and obliging' for the ostentatiously wealthy family that arrived, took umbrage with their table and demanded to be instantly rehomed.
True, it's not a perfect site. It's one of those narrow, awkward Soho spaces, but the Xu crew have been fairly clever about it, carving up the two small floors into a bundle of mini-spots, each with its own air of intimacy. There's dark wood panelling, crisp air con and ceiling fans idling overhead. The upstairs room has a teeny bar at its centre, offering a few more seats and a railway clock. It's the louder of the two floors, with lively chatter and Dean Martin singing 'Papa Loves Mambo' (anachronistic but fun). At street level, there's another central bar – more of a hatch, really – with someone polishing not glasses, but porcelain tea cups. Tea is big at Xu.
But you didn't come for the tea (though it's very good). You came for the food. And oh my. It's magnificent. There's a devotion to subtle nuances in texture, layered with the full spectrum of sweet, sour and spice. Everything I ate was terrific – from a bowl of plump rice with chewy fried onions, to grilled asparagus with the crunch of lily bulbs, to a juicy, sweet, smoky slab of char sui Ibérico pork.
But there are three dishes that have earned podium places. First up, beef with pancake: not unlike duck with pancake, only with a filling of tender shortrib. It had been enriched with bone marrow and came served in the hollowed-out canoe of a calf shin. With a potato 'crumb' on top. Because who doesn't love a cheeky gratin? It's this kind of attention to detail – without getting silly about it – that points to the kitchen's skill.
Or the tomato and smoked eel: a stunning cold soup-of-sorts, oscillating between sweet and salty, smoky and tangy, with notes of heat, the delicate texture of Lillipution cubed eel and the fragrant soapiness of coriander stalks.
And, oh yes, the chilli egg drop crab. A creamy curry, full of crabby flavour, with the odd blob of wibbly, jellyish egg (that's the 'drop' part), served in an upturned crab shell. It's got a punchy heat (that's the 'chilli' part), but plenty of depth. Not to mention delicious, delicately briny accents, when the salmon roe pops on your tongue.
Best of all, despite its upmarket schtick, Xu is not stupidly expensive. I mean, you'll pay more than you ever would at Bao, but that's missing the point: this is not meant to be a street food joint. Given the quality, it's still excellent value (tip: order lots of that lovely onion rice to make your meal go further). Xu: I think I love you.
Venue name:
Xu
Contact:
Address:
30 Rupert Street
London
W1D 6DL

Transport:
Tube: Piccadilly Circus
Price:
Dinner for two with drinks and service: around £100
Menu:
View Menu
Do you own this business?
Average User Rating
3.1 / 5
Rating Breakdown
5 star:

3

4 star:

1

3 star:

0

2 star:

2

1 star:

2
Had one of the most unfulfilling lunches in my life for a fortune. This is a place for fashionistas and hipsters, not food lovers.
Way to ruin a celebration....
This (on 19 Oct'17) a rainy thursday evening was our second visit to Xu to celebrate my friend's purchase of her first home, and Diwali the Hindu new year.
We went drawn by the excellent buttered champagne cocktail and good food from our first visit.
What a let down.
It was all about the attitude shown by the management.
My friend made a mistake and instead of booking a table for 2, she booked a table for 1. We showed up and were happy to wait for a table (for 2). We waited for 2 hours and 30 minutes from 6.15pm to 8.45pm. WE told them the occasion and how much we'd appreciate a table to celebrate.
They could not care less.
In 12 years living in London i have never been turned away from a restaurant (even if i had no bookings). So I wasn't impressed that Xu could not find us a table . What was worse was that the meaning of the words hospitality and celebration meant nothing to them. They almost ruined our evening. We went to a chinese place nearby in Chinatown on doorstep of Xu normally known for it's "robust" service and were welcomed warmly, served piping hot food and given lollipops to celebrate diwali.
Next time I have 200 quid to spend on a night out i will not think of Xu.