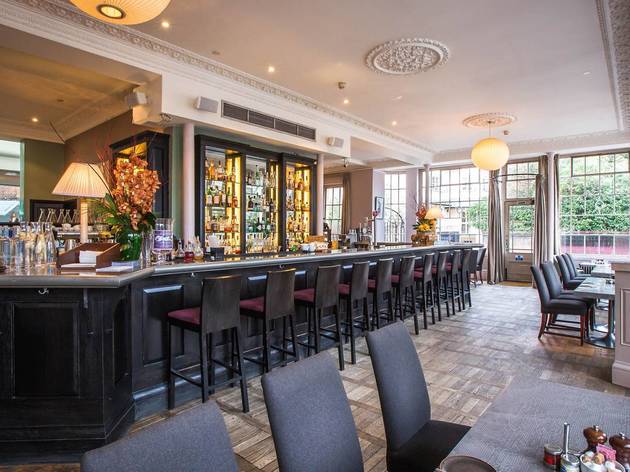 Time Out says
On the cusp of funky Camden and swanky Regent's Park, this boutique hotel, bar and restaurant (part of the Gordon Ramsay empire), set in a magnificent stuccoed Victorian pub, fits the latter better. The spacious, soigné bar area serves superior snacks like truffled chips, burger and pizzas at fairly well-upholstered prices.
The restaurant – an­ equally airy space with a Mediterranean-style courtyard behind (and plush basement overflow room) – seems constantly packed, with diners clamouring for zesty dishes like dill-cured salmon with fennel and orange salad or lamb with courgettes and mint gremolata. The decently priced and spritely set lunch is especially light on calories – and sometimes on advertised ingredients: legumes were scanty in a rocket-packed pea and broad bean salad with goat's cheese. Estimably gamey chicken with broccoli and pasta lacked the promised hazelnuts, but was nonetheless intensely satisfying; bream with sweet, sticky, meaty juices was beautifully paired with puréed and sliced artichoke. Refreshing desserts might include a cool, creamy rice pudding with morello cherries.
Y&A is perfect for lunching ladies and better for leisured classes than business: service is not paced for those rushing back to work. In the evening it's understandably popular for well-heeled north London family occasions. The adjoining former stables is a rustic-looking deli and pizzeria serving top-notch thin-crust pizzas.
York & Albany says
Tuck into a hearty meal and try our delicious seasonal menus – carefully created by York & Albany's head chef. These feature the freshest ingredients throughout the year.
Details
Address:
127-129 Parkway
London
NW1 7PS

Transport:
Tube: Camden Town
Contact:
Do you own this business?
Average User Rating
3.2 / 5
Rating Breakdown
5 star:

3

4 star:

3

3 star:

2

2 star:

1

1 star:

3
Took a friend here for Sunday lunch two weeks ago and glad to report the Y&A are back on form. Not sure if they have changed the chef or manager recently but everything was top notch. My 2 year old throwing a tantrum mid meal didn't even raise an eyebrow from our waiter - instead they offered a knowing smile along with more wine & napkins! Heard rumours Ramsey wants out, but I truly hope he stays, because all my other local pubs are going to the dogs.
The food may not be as spectacular as you expect, it's also not as expensive... Been here three times so far (without booking in advance) and always had a good experience. The food was good (but you can get a very similar dish down on Parkway slightly cheaper - and depending on the day, maybe even a bit better). The best thing about this place, in my opinion is the not the food, but its location! This is THE place for a drink on a summer evening. Of all places on Parkway, York & Albany catches the sun the longest. So this is your place for sunny drinks - and if you feel like a bit after those drinks - stay and enjoy some Gordon Ramsay food (you have to at least try it once!).
Nice ambience but has lost its way on the food front. Cassoulet is supposed to be a casserole of beans, meats and veg not a dry pile of beans. Medium- rare duck was promised but arrived medium - well done. The automatic cover charge per person is unforgivable - nothing more than a tax on diners.
MArch 9th. Horrible experience. Mixup with our dinner host who reserved the table. Initially two of us were seated in the basement-cum-toiet thoroughfare cum kitchen run. Waited for our friends for 25 minutes when a waitress arrives to say they are already seated upstairs. No apology. THE MOST ARROGANT Maitire D' suggested to get over it. Ramsey needs to rescue his own restaurant. The food was passable, but the service is shocking, inconsistent and over priced
The food was on a par with a good quality ready-meal from M&S or Waitrose apart from the bread, which was stale. The service was shambolic. Would anybody go here if it wasn't for the Ramsay name? It reminded me of the "before" in one of his kitchen nightmares.
Worst service ever! We were late for 10 minutes for the booking, and we've waited for 5 minutes until we've got seated, another 5 minutes later, the waiter with an arrogant smile on his face came over to our table and said, 'sorry the kitchen is closed, no food is available, because you are late!' We could not believe our ears. I have never been to a restaurant that normally the standard practice is to wait for 15 minutes for the guests, even without customer's notice in advance and we had confirmed that we were coming the just a few hours earlier. York and Albany should have warned us that if we were 10-minutes late, no food would be available! We were starving but had to find another place in the rain. What a nightmare! This is really a bad experience. Do not know why would any restaurant treat customers like this, shame to be a Gorden Ramsay restaurant! This restaurant is best avoided!