Heads up! We're working hard to be accurate – but these are unusual times, so please always check before heading out.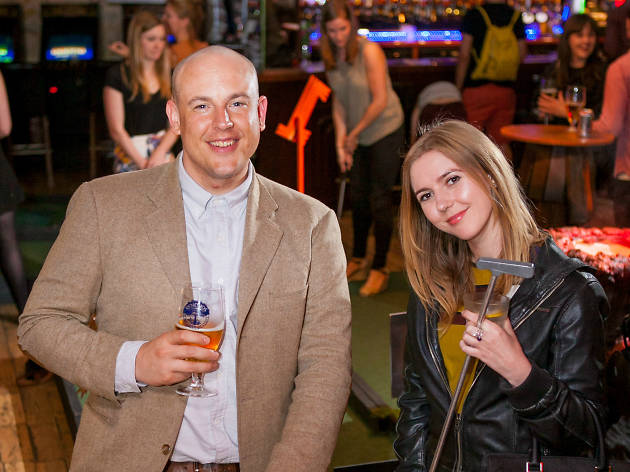 Date night: Crazy golf, bad date
Every week, two lucky Londoners get to have a night or day out - and it's on us! We sent Eddy and Karen on a blind date, but did they hit it off?
The venue: Dinner at Pond, Dalston and Plonk minigolf at Efes.
The couple: Eddy (30) is an account executive who lives in Brixton. Karen (28) is a business analyst living in Clapham.
First impressions
Eddy said: 'She was a lot smaller than me. Definitely not my type. I think that was quite clear to both of us. She was nice, quite pretty, but a bit beige. She corrected me a couple of times too, and was quite serious.'
Karen said: 'I was a little taken aback when I first saw him because he looked a lot like one of my old bosses. He's not the kind of guy I normally go for; I prefer a taller guy, with a different sense of style. I was a bit disappointed.'
Chemistry
Eddy said: 'We actually had loads of stuff in common – we'd both been to Craig Charles gigs – but had completely different personalities. She was quite mathsy as well; everything I'm not, basically. She was a bit miffed about the crazy golf too: I thrashed her.'
Karen said: 'He seemed really friendly and it wasn't awkward. We got on really well, and had been to a lot of the same gigs at the same time, which was a bit spooky! We had quite a lot in common, plenty to talk about, but there wasn't any romantic spark.'
Afterwards
Eddy said: 'There was just no spark between us. We did get the train back together and chatted the whole way, but there was no suggestion we should exchange numbers or anything like that.' 2/5 stars
Karen said: 'He asked if I wanted to grab a drink somewhere else, but I was quite tired. We got the train home but didn't exchange numbers; we're obviously not going to see each other again.' 2/5 stars
Worried you might be coming across too 'beige'? Check out Time Out's new dating advice section.
Do you deserve a blind date care of Time Out? Send a couple of recent photos and a short bio to dating@timeout.com.