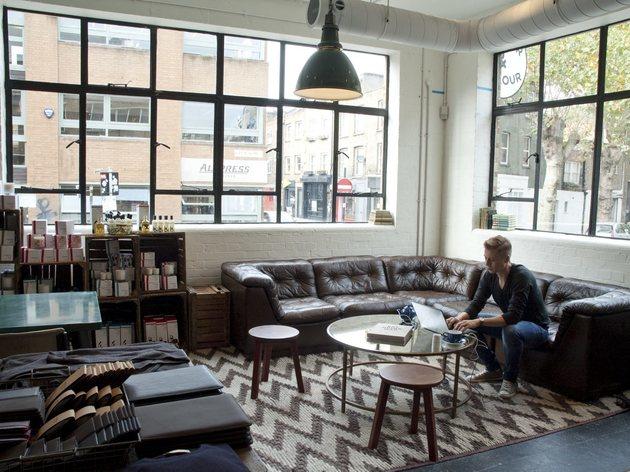 1/9
2/9
3/9
4/9
5/9
6/9
7/9
8/9
9/9
Time Out says
Grooming rooms and luxury treatment salons open in London all the time, and they're often excellent ways to blow the best part of £100, if you have the means or occasion. But while London is gradually developing a taste for blow-dry bars and polished nails, we're still miles behind our cousins in New York, where getting a 'do and a mani is something you'd consider for a meeting, not just your wedding day. But if anything is going to up our grooming game, it's Barber & Parlour, Soho House's newest London venture. Crucially, it's going to do so without boring us for a whole afternoon, or emptying our wallets. It's fun, fast and cheap.
Barber & Parlour takes up a whole building on Redchurch Street, also home to numerous cool fashion stores and a big advertising agency, with Shoreditch House members' club just around the corner. It fits in perfectly – and the casual ground-floor café with velvet-ey sofas and flat whites on the menu will no doubt be an instant hit. This is where you can also find Neville, a new barber shop and men's groomers serving up everything from a moustache trim (£12) to a men's manicure (£15) or a quick haircut (£30). Crucially, it's walk-in, so men working in the area can just amble over between thought showers.
Upstairs, the gals have The Cheeky Parlour (which has been open since this time last year) for rapid, excellent and cheap mani-pedis (£10/£14) – again, available on a walk-in basis. A further menu of waxing and beauty treatments is promised before Christmas, served from two little back rooms, done up Cowshed-style.
Most excitingly, there is now also a Josh Wood salon, with cuts and colour from this most esteemed of hairdressers. Wood has trained a new Shoreditch team, and somehow agreed to a menu of services at least half the price of anything in his two west London branches. A basic trim is £35, a fringe trim £10; while a colour touch-up is £40. That means follicular kingpin Wood is now one of the most reasonably priced snippers in the area, in probably the nicest setting.
If you're the kind of couple that are likely to go for a his-and-hers grooming session (we're not judging), then you're perfectly able to do so here. Then top your tandem-preening off with a film in the basement, where Portobello Road's Electric Cinema has taken over what was the Aubin & Wills screening rooms, filling it with luxurious furnishings to compliment a boutique film schedule. You'd never get an audience this well-groomed in the local Vue, would you?
Details
Address:
64-66 Redchurch Street
London
E2 7DP

Transport:
Overground: Shoreditch High St
Contact:
Opening hours:
9am-11pm Mon-Sat; 10am-11pm Sun
Do you own this business?
Average User Rating
3.6 / 5
Rating Breakdown
5 star:

7

4 star:

3

3 star:

2

2 star:

1

1 star:

3
I can't recommend Barber and Parlour enough. They've a great relaxed atmosphere with really good service, friendly staff and really reasonable prices for such a trendy neighbourhood. It's a nice break from some of the more chain-y shops on the same street.
I used to be a regular client from Barber & Parlour, using their parlour area ''Cheeky'' for my regular mani's and pedi's. There is a lack of communication and a group of demotivated team members, which I assume is caused by a VERY bad group of managers, especially Sam and Kayleigh. Both very rude and lazy. Huffing and puffing whenever you ask them to do something. All I've seen them doing is eating while others are working their guts out for minimum wages, which is probably one of the reasons why Cheeky is closing down soon.
Last but not least, I received a phone call, off course very last minute as usual, with the announcement that my services are cancelled for this weekend due to a ''Private Hire''. Its unbelievable that they actually think that no one would ever discover what I just discovered. Barber & Parlour will be shut down for the Sunday and Monday, no not due to a ''Private Hire'' but to clean their venue due to mice problems. This photo was only taken a few days ago so I DO NOT recommend anyone to visit their venue.
Awfully pretentious and poor skills. Don't think it's so tricky to understand how much 1cm is. It's definitely not 3cm.
went to get Shellac nails, everyone was very nice but nails were not very tidy and chipped a day later while shellac when done properly should last 2 weeks. Wouldn't go back

I followed my barber from another local shop to B&P when they first set up - couldn't be happier with the service. Great finish, friendly and polite staff and very well priced - its well worth walking all the way from the city for! Will be a regular for many years to come.
Have done the full round of barbers in London to find the best barber for me. Having checked off the usual, and some unusual suspects, I found the holy grail at Barber & Parlour. Have been going every month since it opened and have never had a bad cut. Tom is an excellent barber,and runs a tight ship. So much so that I have turned several friends on to him and they all have come to the same conclusion. What's more it is very competitively priced. Not eaten much there but the food was decent. Very highly recommended
I've been coming to Neville - the barber bit - for hair and the occasional beard trim since opening and can't rate the service and staff highly enough. The staff are always welcoming and I recommend arriving a bit early to have a coffee (or a cocktail if the time is right!) and relax in the cafe/restaurant section, and there's usually a good buzz around the place. I usually don't notice the time passing while getting a haircut, as most of it is spent chatting away to the barber, and have never been disappointed with either haircuts or beard trim. I've even learned a few things! Can't comment on the food as I've never eaten here, but the menu looks good and varied.
Lured in by the vintage look and cheap price I strayed here from my usual hairdressers who were booked up for a few days. I had a trim which was banged out with no love or attention to detail while all the time I had to endure cigarette scented breath all over me. Part of the 'Snoreditch House' empire this is a rich company that takes all the ideas of young, local business, copy them and undercut everyone, the big difference is that they are nowhere near as good as the other places, If McDonalds bought out a hairdressing chain this would be it.