Heads up! We're working hard to be accurate – but these are unusual times, so please always check before heading out.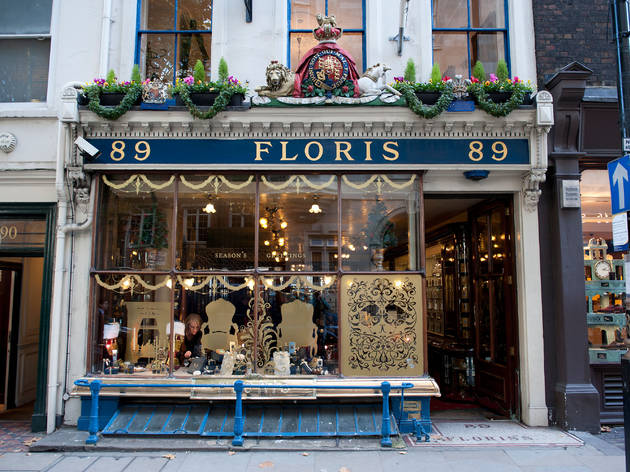 Beautiful old shopfronts in London
From umbrella dealers to art stores, these shopfronts are windows on an (old) world
London is an ever-changing city, but look hard enough and you'll find beautiful old shopfronts enduring between the skyscrapers and start-ups. Here are the loveliest.
This brolly merchant has been keeping customers dry since 1830. It moved to New Oxford St in 1857 and its gilded signage has stood there ever since. There might not be much call for some of the items listed above its windows now – not sure you'd be allowed on the tube with a 'dagger cane' – but as the area redevelops, let's hope James Smith & Sons never changes.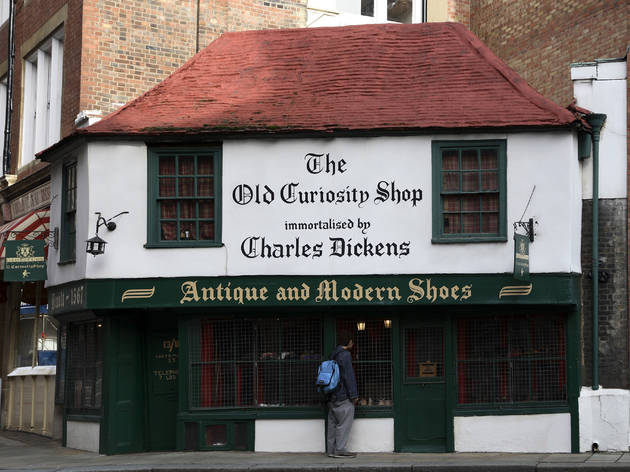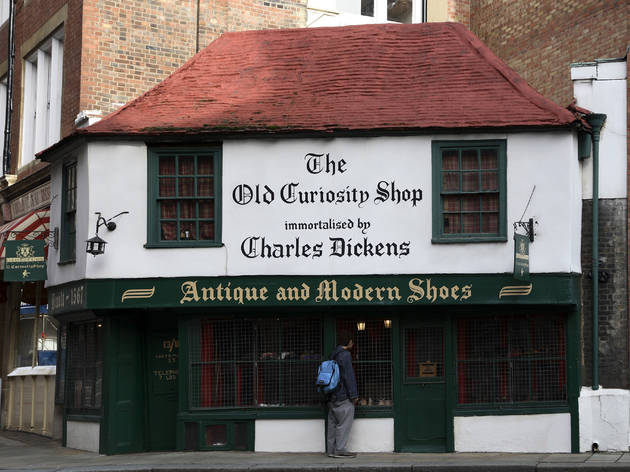 This building (once a dairy) dates back to the sixteenth century, but its name goes back to the nineteenth, when Dickens published his novel. This place was thought to be the inspiration for his titular junk emporium. The building still exudes Dickensian charm, and the gothic sign (painted on the front wall) remains – even if the shop has since pivoted to selling shoes.
Wine and spirit merchant Berry Bros & Rudd has been helping Londoners make merry for more than 300 years. Outside its original St James's Street shop hangs the 'Sign of the Coffee Mill' – a tribute to BBR's beginnings in the coffee biz. In 2017, the building became company HQ. But don't panic: you can nip round to 63 Pall Mall to get your hands on Berry bottles.
Founded by Juan Famenias Floris and his wife Elizabeth, this perfume shop has been a celeb fave since 1730. Florence Nightingale wrote Floris a letter about her love of his 'sweet-smelling nosegays' and George IV appointed him his official Smooth Pointed Comb Maker. These days, it's Insta-famous
for the floral displays that frame its classic signage.
Greengrocer Cruson might not be fancy, but it is a south London institution. It's been run by Cypriot owner Aris for nearly 50 years, and was open for decades before that. Today, its un-bougie charm is obvious. Cruson is an atmospheric interwar relic, with huge amounts of personality squeezed into the six minty green letters of its signage.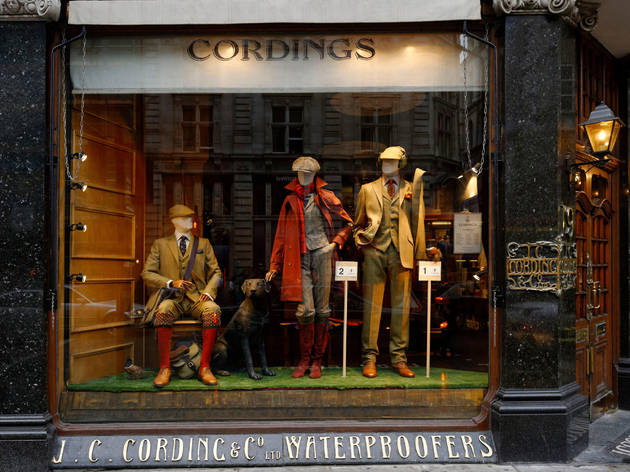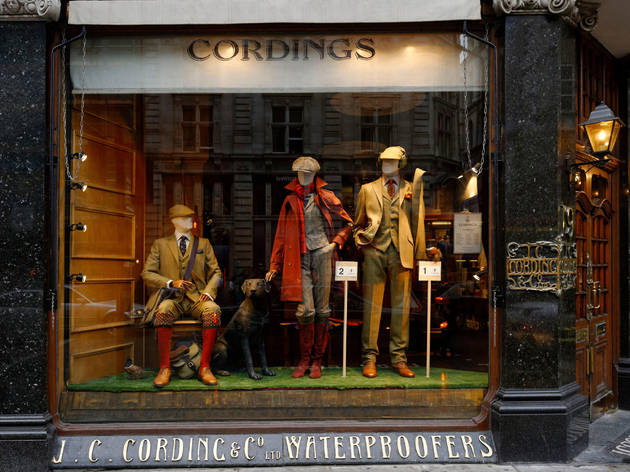 Hemis / Alamy Stock Photo
One of the first makers of waterproof coats, Cordings started life in the Strand before moving to Piccadilly in 1877. But the facade you see today only dates back to 1903. A project to widen Piccadilly meant the original had to be demolished and rebuilt ten yards back from its original site. Bizarre fact: since 2003, it's been co-owned by rocker Eric Clapton. So there you go.
Once a coffee house, 6 St James's Street was turned into a hatter's when James and Mary Lock took over in 1765. It still stands with its original black-and-gold signage – a prevailing aesthetic of the time. The oldest hat shop in the world has a rich history. One of the more eccentric members of the Lock family was said to be the inspiration for Lewis Carroll's Mad Hatter.
The forest green of this art shop has been brightening up Bloomsbury since the 1970s, but Cornelissen itself is way older. It opened as a shop for lithographic supplies on Drury Lane in 1848. By the twentieth century it had branched out into paints and art materials, with customers including Soho habitué Francis Bacon. Maybe its bilious frontage is in his honour.
Way before Mr Bing came on the scene, Arthur Beale was London's fave chandler. The supplier of sailing equipment relocated from a site near the Fleet River more than 120 years ago, bringing its knowledge of all things nautical to the West End. Its marine-hued colour scheme provides an endearing beacon for seafarers washing up in London's theatre district.
This spot might be a bar now, but until 2015 it was home to an umbrella-maker. Opened in 1868, T Fox & Co was a keen rival of James Smith. It was refurbished in 1937 in chrome, neon and vitrolite (opaque glass), and despite the business changing, that signage survives. The non-reflective windows once kept displays visible; now they let you check out who's at the bar.