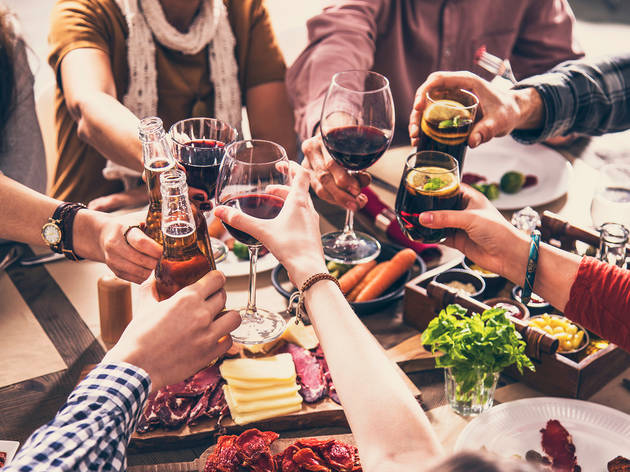 Best alcohol delivery services in London
You don't need to leave home to top up your spirit levels...
Oscar Wilde famously said that 'work is the curse of the drinking classes'. And while we can't promise to cut down your work hours, we do know how you can get booze delivered to your door without having to get off the sofa.
Okay, so maybe you do have to lift a finger – but that's really it. By ordering drinks online, you can sack off that trek to the corner shop or supermarket and have a great time in. Here are seven tipple-tastic alcohol delivery services in London that you need to know about. If the app fits, use it.
Drink delivery in London
A creation of Vanquish Wine, who supply many of the capital's best restaurants, bars, hotels and nightclubs with wine and champagne, 31 Dover offers a curated list of premium drinks. And since they boast next day delivery, if you've forgotten to get something in for a special occasion, you're sorted.
Beer's the thing at this reliably good delivery shop. They specialise in craft beers sourced from all over, with recognisable brands such as Beavertown, Brooklyn and Wild Beer Co alongside less-well-known but high-quality brewers like Siren, Salt and Wylam. Recommended.
Drinks delivery London claim to be able to deliver some drinks within an impressive 15 minutes, so if you're in a lucky location, you can re-stock before you run out. They cover a range of spirits (vodka, whisky and more) as well as wine, champagne, mixers and more. If you're throwing a party, you can purchase one of their 'party bundles', which includes a selection of spirits and mixers at a discounted price.
Sure, nabbing a delivery time isn't always easy (they're getting better!) but not many alchohol delivery services match Waitrose Cellar. Wine is of course a strong point but they've really upped their beer game recently too, with some decent craft options (FourPure, Brewdog and And Union) alongside crowd-pleasing lagers. And if you want spirits? They've got spirits.
Foodie favourites UberEats may know how to whizz your local restaurants to your door, but don't think that's all that they offer. There's an entire section dedicated to delivering alcohol, from newsagents to specialist stores.
Offering a collection of alcohol, soft drinks, snacks and more Booze Up promises late-night alcohol delivery across London in 30 minutes or less. And if things are getting hot and heavy? You can even add a pack of Durex onto your order. Ah, romance.
These masters of grain, malt and rye are celebrating their 20th anniversary, so they've kind of got booze delivery down. They go way beyond whisky though, with wine, beer, rival spirits and even everything you need to create a cocktail at home. Plus they do some pretty cool virtual tastings now, too.
Describing themselves as your 'personal beverage butler' (fancy), Bevy services Londoners within zones one and two with alcohol, mixers, snacks and more. Getting thirstier by the minute? You can track your delivery via GPS.
One of the UK's big-boy food delivery apps, Deliveroo has access to thousands of eateries and off-licenses across the city. Naturally, they can also whisk their mopeds across the night and bring you booze, too – just punch in your postcode and get ordering. Bottoms up!
Drinks delivery in London: special offers
Get your hands on a dozen of bottles of Virgin vino at a serious discount. This free and easy-to-use voucher download includes award-winning drinks. Cheers!
Get a wine education and two top-notch bottles delivered to your door. This great offer includes two specially-selected bottles of wine (that you can't buy from a supermarket), a guide containing easy-to-understand lessons about each bottle and a tasting guide for beginners.