Heads up! We're working hard to be accurate – but these are unusual times, so please always check before heading out.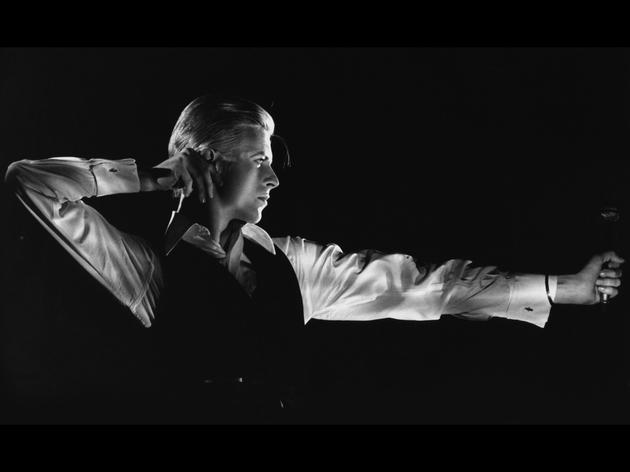 The seven ages of David Bowie
One career, many lives: take a look back at David Bowie's groundbreaking styles and sounds
From south-east London to outer space, David Bowie was rock's greatest self-reinventor. Katie Dailey pays tribute to the seven ages of the original starman, with featured outfits and pictures from the V&A's 2013 blockbuster Bowie retrospective.
1. Mod Bowie 1962-1968: The man who was called David Jones
It's tempting to imagine that David Bowie fell to earth in a spangly onesie, but photos of the artist as a young man show him to have been a serious mod. The ultimate early adopter, he started a trend for tapered-leg trousers at Bromley Technical High School, and dyed his hair with food colouring.
You can see the blazer he wore in beat group The Konrads in the exhibition, with bold stripes drawn on by Bowie himself. In 1964, his first TV appearance saw the 17-year-old on BBC2's 'Tonight' as part of the 'Society for the Prevention of Cruelty to Men with Long Hair'. 'I think we're all fairly tolerant,' a polite young Bowie opines, modestly attired in a suit and with a Brian Jones-esque moptop. 'But for the last two years we've had comments like "Darlin'" and "Can I carry your handbag?", and I think it has to stop.' He soon stopped worrying about reactions to his appearance and began playing with them.
Track of the era: 'In the Heat of the Morning' – romantic whimsy from a swinging suburbanite.
2. Hippy Bowie 1969-1972: The man who wore a dress
After escaping a loathed job in a Soho advertising agency, Bowie became a full-time performer – while still living in Foxgrove Road, Beckenham with his mum. He failed to secure roles in West End productions of 'Oh, What a Lovely War!' and 'Hair', and flirted with Buddhism, performance art and maxi dresses. When he married Angie Barnett in 1970, the two adopted a similar look: flowing locks, trousers and blouses. He was frequently described as looking like Greta Garbo. In 1971 he caused a sensation with the cover of 'The Man Who Sold the World', reclining in a medieval-style number by designer Michael Fish, whose Marylebone boutique specialised in 'man dresses' – one of the few missing pieces in the exhibition. His mum was bemused but tolerant, telling the press: 'As long as he remains a boy, I can't see any harm in it.'
Track of the era: 'Memory of a Free Festival' – an ode to Beckenham's one brush with counterculture.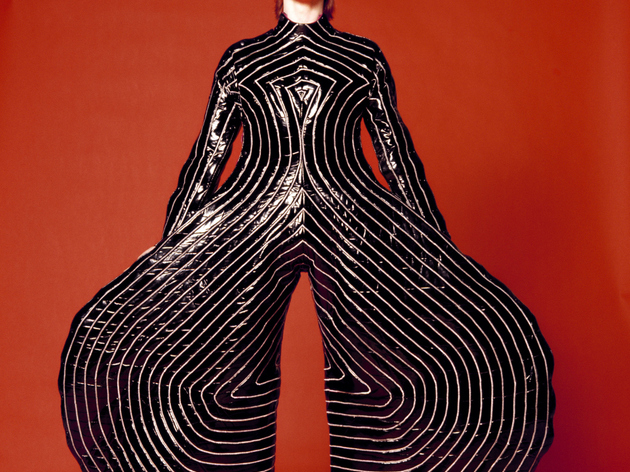 Photograph by Masayoshi Sukita. © Sukita / The David Bowie Archive 2012
3. Glam Bowie 1972-1974: The man who changed the world
Now living with Angie (still in Beckenham), with the world starting to take notice, Bowie decided to make things interesting. The streak of lightning, the shock of red hair, the insect-like body in a sequinned second skin: Ziggy Stardust is Bowie's most visually memorable persona.
It was created piecemeal, a jigsaw of cultural references assembled by the interested-in-everything Bowie. The haircut came first – courtesy of Suzy Fussey of Evelyn Paget ladies' hair salon on Beckenham High Street. She later dyed it red to match a picture of Marie Helvin that Bowie had seen in a magazine. The make-up was inspired by Alice Cooper and the outfit by costumes in Stanley Kubrick's 'A Clockwork Orange', stitched together by designer Freddie Burretti.
Finally, Bowie – always first to spot new talent – went to the first Japanese fashion show to take place in the UK and hired Kansai Yamamoto, who would become the genius behind Ziggy's most memorable costumes, like the catsuit that even Kate Moss struggled to get into on a 2003 Vogue shoot. Then Bowie shaved off his eyebrows and things started to get really weird. 'I can take on guises of different people I meet,' he said in 1973. 'I can take on their accents – I'm a collector.'
Track of the era: 'Rebel Rebel' Our man apes the Stones in glam rock's death throes.
4. Soul Bowie 1974-1976: The man who was black on the inside, thin and white on the outside
Having built Ziggy Stardust into a global phenomenon, Bowie killed him off, becoming preoccupied with a new interest in soul. While on the 'Diamond Dogs' tour in the States, he went to see The Temptations, The Spinners and Marvin Gaye. Now 28, his music took a more soulful turn and, as ever, he created a visual persona that worked in synergy with it. Living in LA, and subsisting on a diet of cocaine, Bowie took to dandyish tailoring, favouring a powder-blue Yves Saint Laurent suit. After seeing Judi Dench in a production of 'Cabaret' he adopted his iconic 'Thin White Duke' look. Emphasis on the thin: his monochrome Ola Hudson suits are in this show; the trousers have 26-inch waists.
Track of the era: 'Fame' – Bowie and John Lennon's brilliantly leaden paranoid funk.
5. Berlin Bowie 1977-1979: The man who did things differently
Close to self-destruction, Bowie took himself to Berlin to soak up the music and art scene, and break himself of an epic coke habit. Estranged from Angie, he immersed himself in the music of Brian Eno, the writing of William Burroughs and the art of Salvador Dalí – and moved in with Iggy Pop. Bowie played with Brian Eno's Oblique Strategies cards and borrowed Burroughs's cut-up technique to piece together lyrics from words on scraps of paper.
After his psychedelic, androgynous and theatrical characters, the most controversial thing Bowie could have done with his image was to pare it right down – so he dropped the glitter and went monochrome, pictured in black and white on the cover of 'Heroes', wearing a simple leather jacket and quiffy hairdo that suggests he might have caught a few episodes of 'Happy Days'. This artlessness was, of course, highly self-conscious: all his artefacts from the period were carefully squirrelled away, including sketches on Gitanes packets and menus from Bowie and Iggy's favourite Berlin café. We can't imagine they ate much…
Track of the era: 'Always Crashing in the Same Car' – Bowie at rock-bottom: chilly synths, dead-eyed vocals, despair.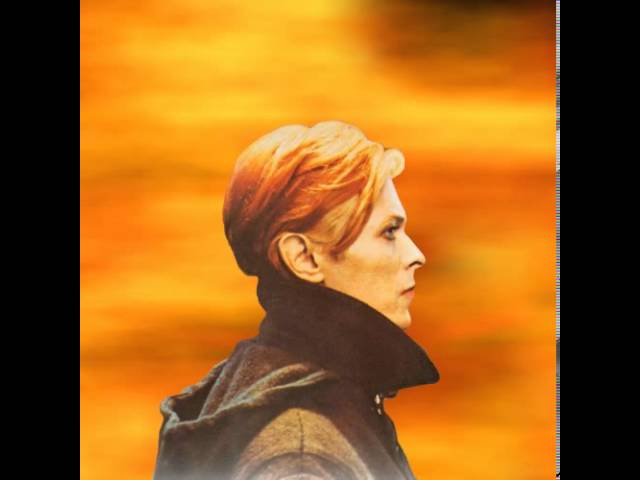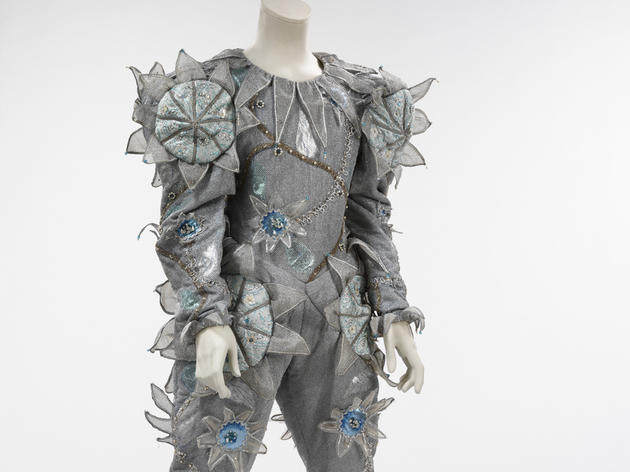 6. New romantic Bowie 1980-1989: The man who loved a performance
By 1980, Bowie was back in dress-up mode again – flying between London and New York and playing gigs in both cities. On 'Saturday Night Live', he performed with the then-unknown cabaret countertenor Klaus Nomi. To sing 'TVC 15' he wore a dress with a toy poodle at his feet with a television screen in its mouth. Don't think anyone saw that coming…
For the 'Ashes to Ashes' video, he revisited a lifelong fascination with sad clown figure Pierrot (who he would also reference in song 'Threepenny Pierrot': 'Happy little feet that dance all day/Lonely little heart with lots to say') and commissioned Natasha Korniloff (costume designer for Bowie's 1967 stage debut, 'Pierrot in Turquoise') to create an astonishing cyber-clown suit. He dropped in on London's Blitz club, the hive brain of the new romantic movement, and recruited scene kingpin Steve Strange for 'Ashes to Ashes'.
Ever prolific, he also played Joseph Merrick, duetted with Queen, and, in a performance that still gives children of the '80s nightmares, played the Goblin King in 'Labyrinth'. King Jareth's crystal globe is in the exhibition; thankfully his codpiece is not.
Track of the era: 'Ashes to Ashes' – Dave waves goodbye to Major Tom over a crunchy '80s workout.
7. Modern Bowie 1990-present: The man who turned his back on it all
If Bowie's career can be characterised by one thing, it is creative foresight. 'When he decides to do something, he picks the most cutting-edge, most interesting person in the world to do it with,' says Geoffrey Marsh. In 1997, Bowie commissioned a young Alexander McQueen to make him a Union Jack frock coat, painstakingly abraded with cigarette burns. It would be the centrepiece of the sleeve to 'Earthling', seen from the back as Bowie looks over the green fields of England, lord of all he surveys.
After a heart attack in 2004, he withdrew to New York, ceased touring and refused all interview requests. His surprising, brilliant comeback album 'The Next Day' marks yet another era for Bowie – one in which the music may have to make its own noise, without the performance that has been so instrumental to his success, and in which an element of retrospection is apparent for the first time. In 2013, Bowie is clearly as mesmerised by his past as we are.
Track of the era: 'Where Are We Now?' – the global fervour this track created online shows that our hero has kept his flare for the dramatic.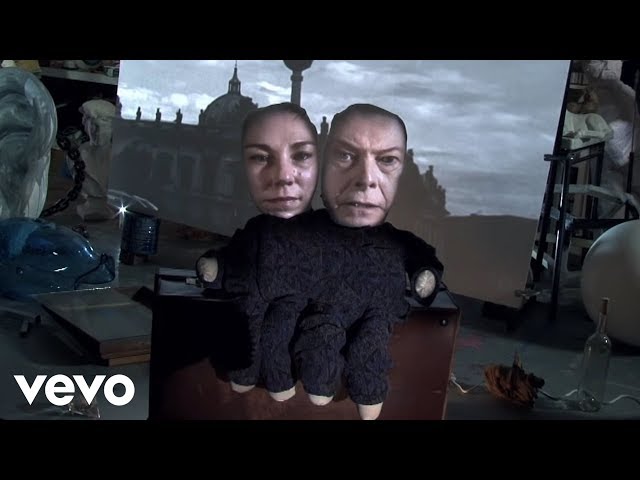 Support Time Out
We see you're using an ad-blocker. Ad revenue is Time Out's main source of income. The content you're reading is made by independent, expert local journalists.
Support Time Out directly today and help us champion the people and places which make the city tick. Cheers!
Donate now