Heads up! We're working hard to be accurate – but these are unusual times, so please always check before heading out.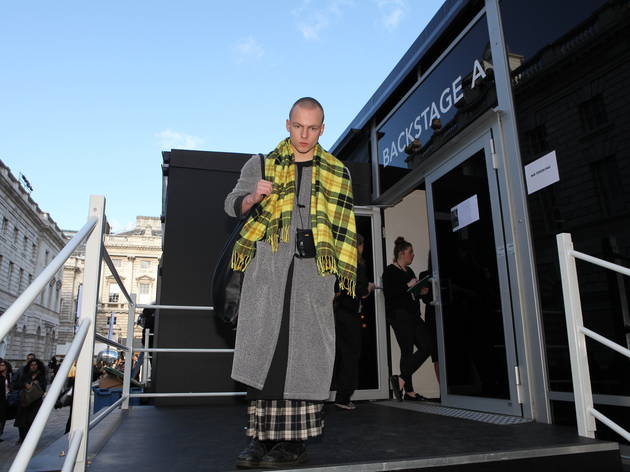 1/20
Age: 19 Occupation: Fashion Photographer Wearing: Scarf: H&M Dress: Topshop Jacket: Ann Harvey Apron: KTZ Favourite London Shop: KTZ Website: www.adampeterhicks.com Blog: www.adampeterhicks.tumblr.com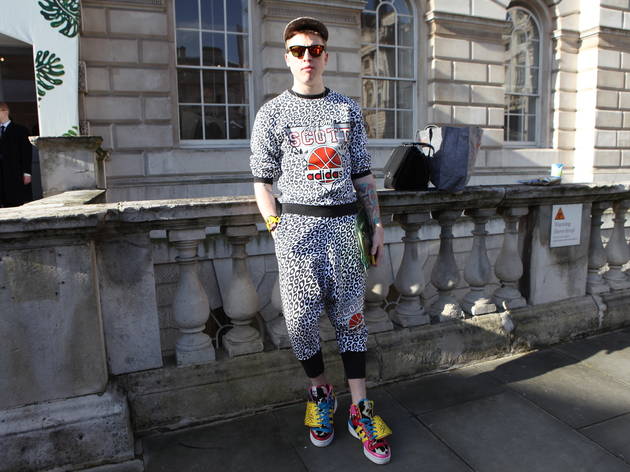 2/20
Age: 23 Occupation: Fashion journalist Wearing:Baseball Cap: Kenzo at New Era Tracksuit and Trainers: Jeremy Scott for Adidas Bracelet: Funky Bling London Favourite London Shop: Dover Street Market Blog: Fashion.In.A.Flash.London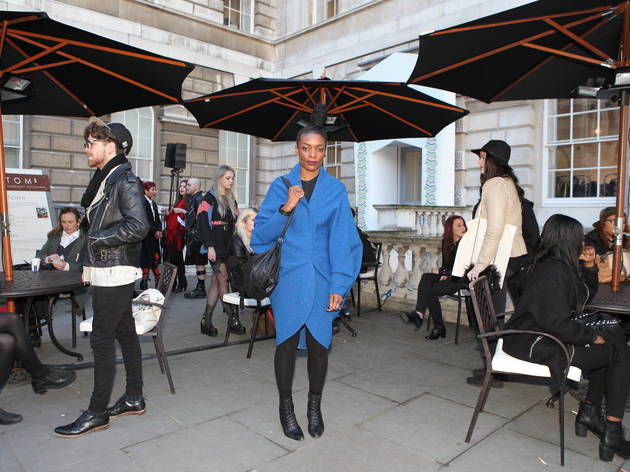 3/20
Age: 31 Occupation: Visual Merchandiser at COS Wearing: Coat: Made my designer friend Marnaz High-waisted trousers: Topshop Boots: Vintage Bag: American Apparel Favourite London Shop: Marjiel/COS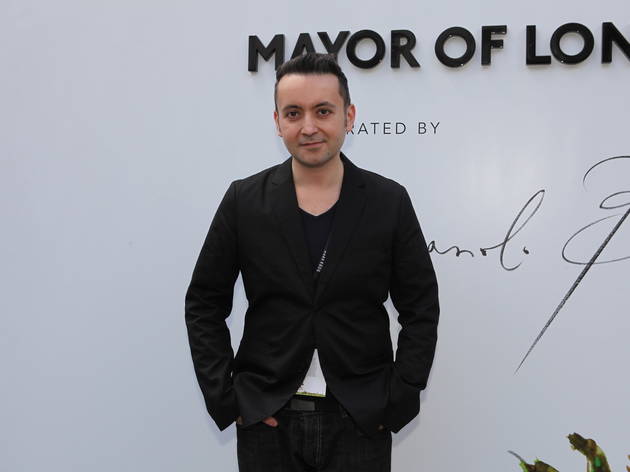 4/20
Occupation: Womenswear Designer Wearing: Suit Jacket and Top: M&S Jeans: Uniqlo Favourite London Shop: Foyles Bookstore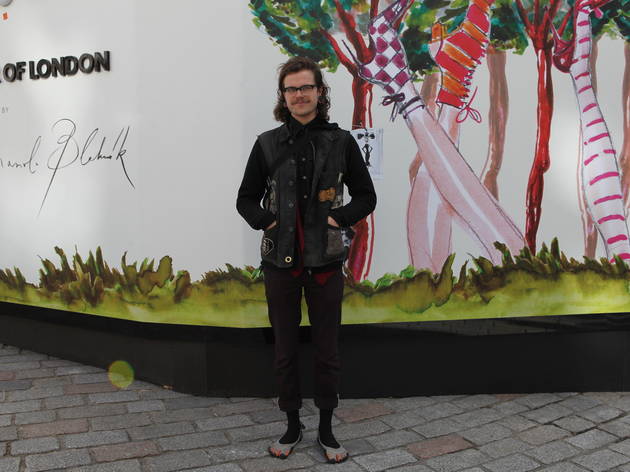 5/20
Age: 29 Occupation: Freelance illustrator Wearing: Jacket: Vintage Badges: Collected from around-the-world travels Shoes: Barefoot running shoes Favourite London Shop: tries not to shop Blog: www.sonofson.tumblr.com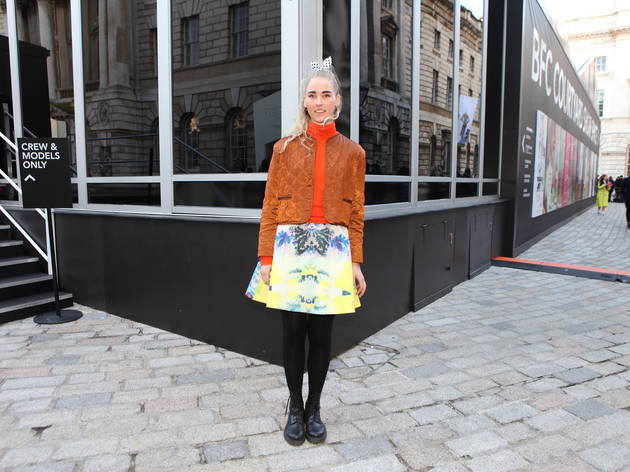 6/20
Age: 18 Occupation: Student Wearing: Dress: H&M Jumper: COS Jacket: Vintage Bow: Topshop Favourite London Shop: Topshop Blog: www.fannieriikka.blogspot.com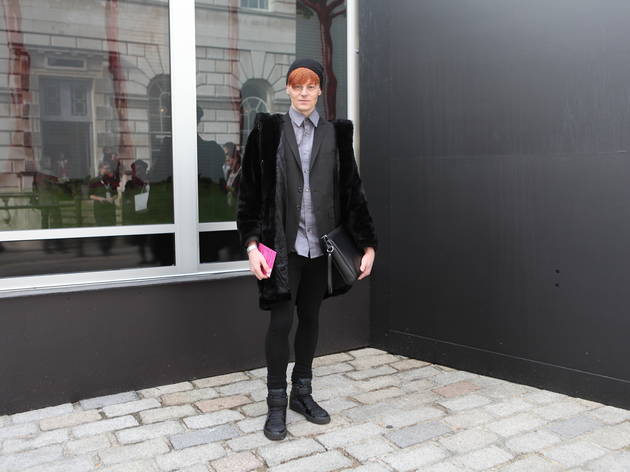 7/20
Age: 22 Occupation: Freelance Stylist Wearing: Hat: Own Design Coat: Vintage Suit Jacket/Trousers/Bag: Zara Shirt: Jenny Schwarz Shoes: YSL Favourite London Shop: Start / Mr. Start Blog: www.cristoclearfashion.blogspot.com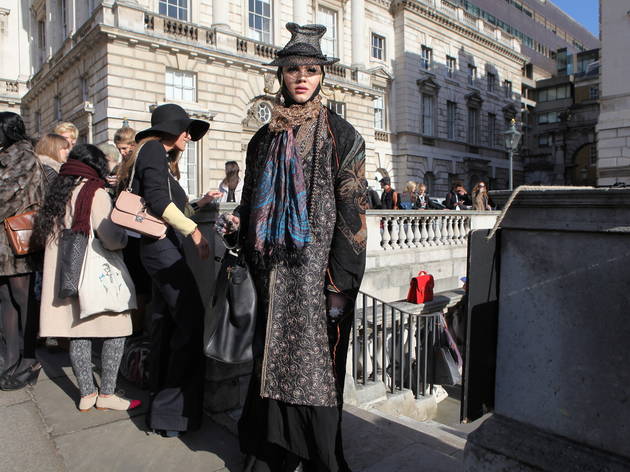 8/20
Age: 28 Occupation: Creative Director at Sorapol Wearing: Hat: Vintage Philip Treacy (owned by Boy George) Scarves: Matthew Williamson and Jean Paul Gautier Outfit: Pakistani hijab and embroidered Punjabi Kurta Bag: Hermes Necklace: Self-designed Favourite London Shop: Vivienne Westwood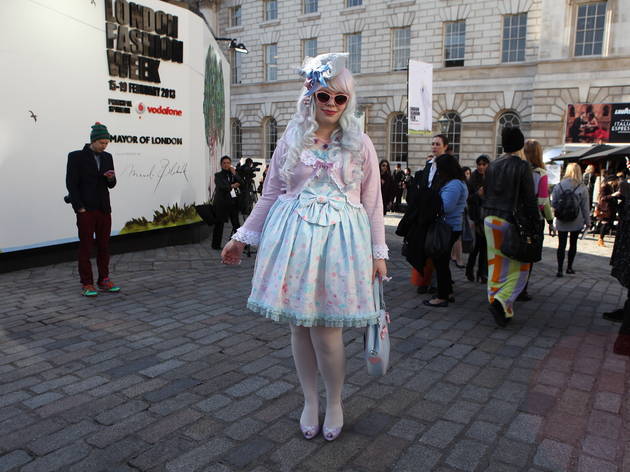 9/20
Age: Declined! Occupation: Fashion Blogger/ Writer Wearing:Dress and bag: Angelic Pretty Hat: Peacockalorum Shoes: Vivienne Westwood X Melissa Rings: Chinatown and Etsy Favourite London Shop: Selfridges Fashspiration: Japanese street style/ Marie Antoinette Blog: www.intrinsicallyflorrie.com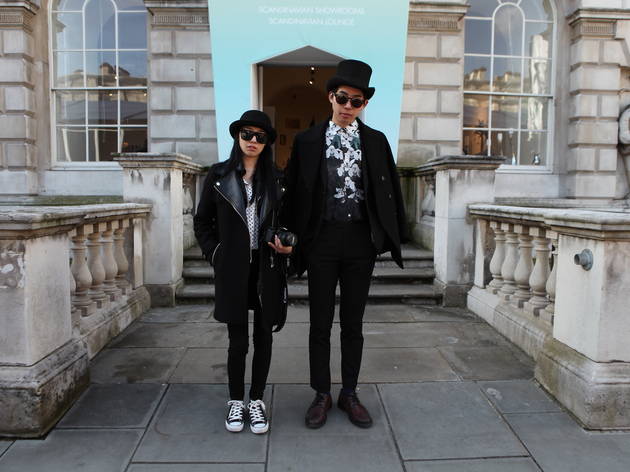 10/20
Ages: 29 and 20 Occupations: Office Worker and Student Wearing:Jin YeongOutfit: Zara Hat: Jill Stuart Sang Chon Outfit: Topman Hat: Jean Paul Gualtier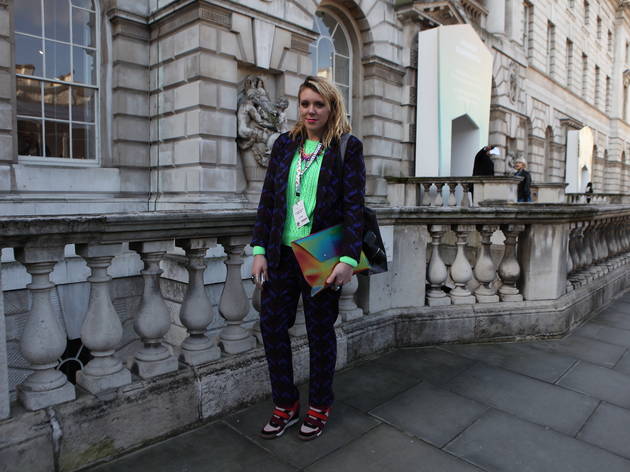 11/20
Age: 30 Occupation: PR at Carrot Top / Fashion blogger Wearing: Suit: ASOSJumper: Superdry Wedge Shoes: Ash Bag: Somewhere Nowhere on www.bengtfashion.com Favourite London Shop: Zara Blog: www.bunnipunch.wordpress.com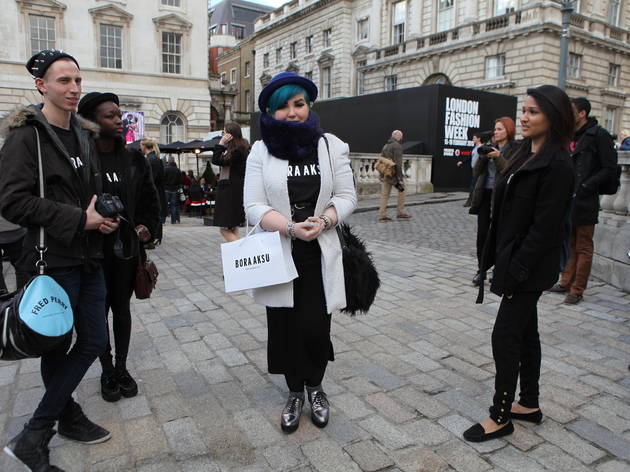 12/20
Age: 22 Occupation: Student at Huddersfield University Wearing: Hat: H&M Snood: Topshop Ear cuffs: Topshop Socks: Topshop Shoes: River Island Favourite London shop: Topshop Blog: www.clutterupthebedroomandshh.blogspot.co.uk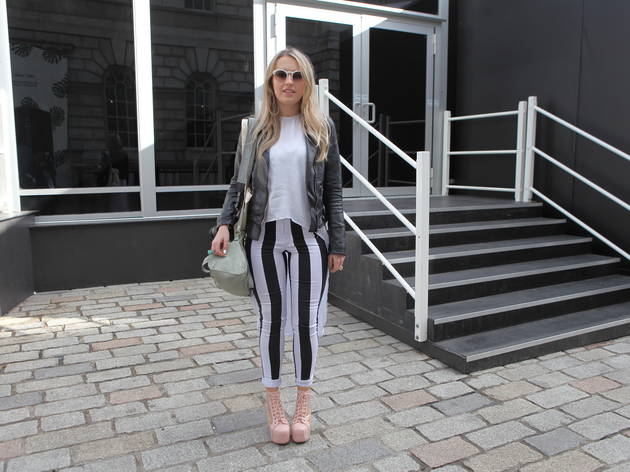 13/20
Age: 18 Occupation: Intern at Motel Rocks Wearing: Top and trousers: Motel Rocks Boots: Jeffrey Campbell Rings: Topshop Favourite London Shop: Topshop Blog: www.styleconfessional.com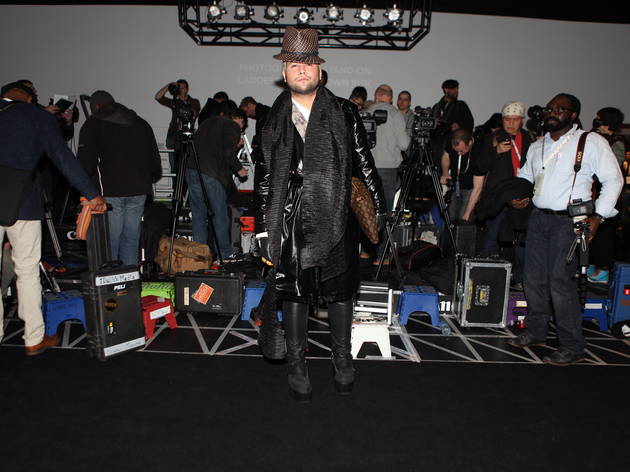 14/20
Age: 23 Occupation: Hair Stylist/ Freelance Fashion illustrator and writer Wearing: Calvin Klein PVC Jacket, shirt and leather trousers Scarf: Issiy Miyake Hat: Philip Treacy Shoes: Underground Creepers Rings: Wilson and Butler Favourite London Shop: Selfridges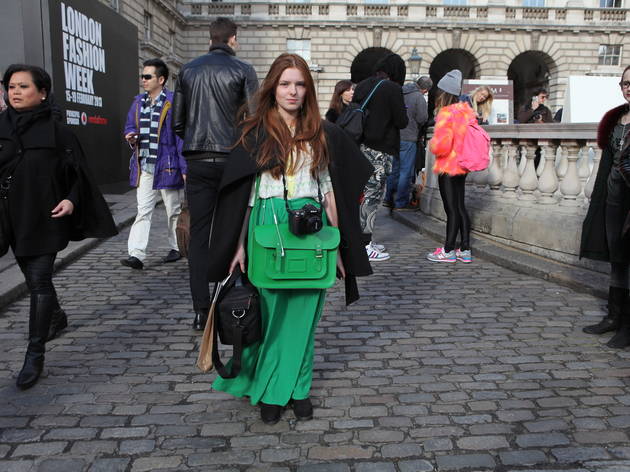 15/20
Age: 18 Occupation: Student at LCF Wearing: Top: Marc by Marc Jacobs Skirt: Topshop Jacket: Ted Baker Boots: Christian Dior Bag: Cambridge Satchel Company Favourite London Shop: Marc Jacobs Blog: www.mariamitovichdiary.com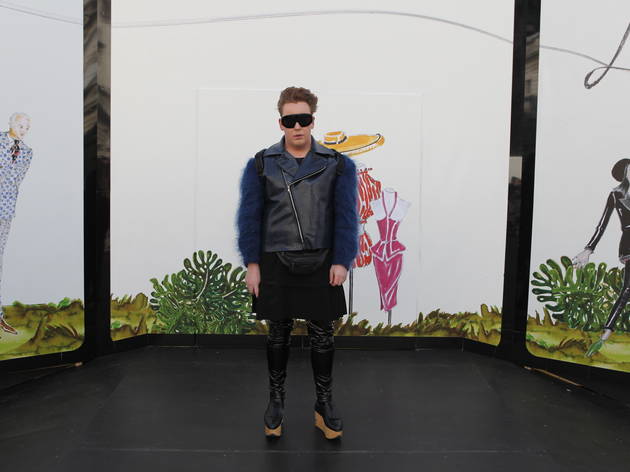 16/20
Age: 19 Occupation: Student at London College of Fashion / Intern at Sorapol Wearing: Jacket: Own Design PVC Trousers: Topshop Kilt: Vintage Shoes: Vivienne Westwood Rocking Horse Backpack: Mad Pax Favourite London Shop: Opening Ceremony / KTZ Blog: www.matthewkenny.tumblr.com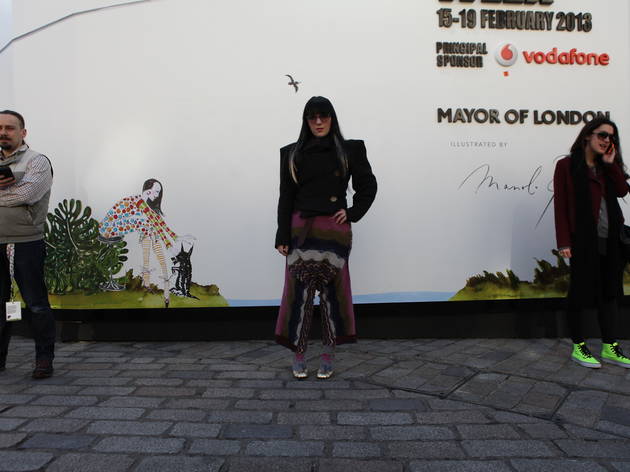 17/20
Age: 31 Occupation: Academic Consultant for Northhampton Shoe Museum/Fashion Week reporter for TK Maxx and Style etc. Wearing: Full Vivienne Westwood Sunglasses: Nicole Farhi Favourite London Shop: Vivienne Westwood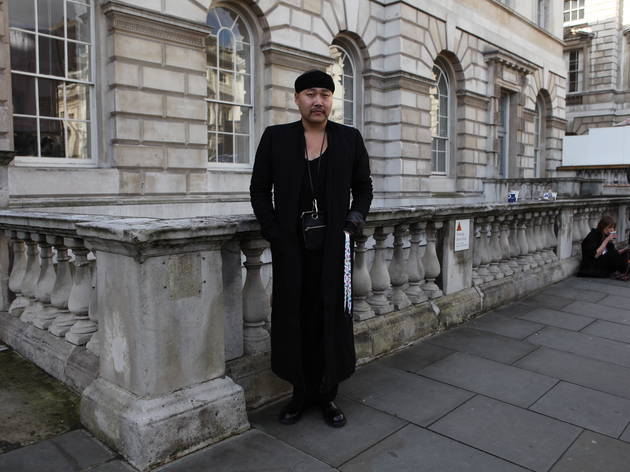 18/20
Age: 33 Occupation: Buyer at Henrik Vibskov Wearing: Dress: Barbara I Gongini Jacket: Obscur Top: Henrik Vibskov Boots: Rick Owens Favourite London Shop: LN-CC Blog: www.rppr.dk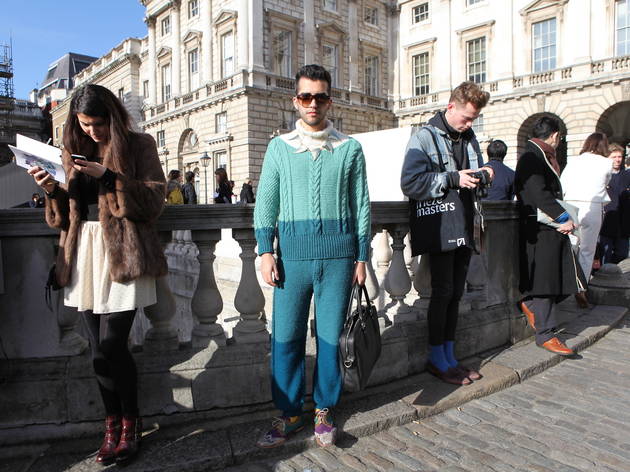 19/20
Age: 22 Occupation: Student at Instituto Marangoni London Wearing: Outfit/shoes: Self Designed 'Sevali' brand Necklace: River Island Favourite London Shop: Selfridges Blog: www.sevalibrand.blogspot.co.uk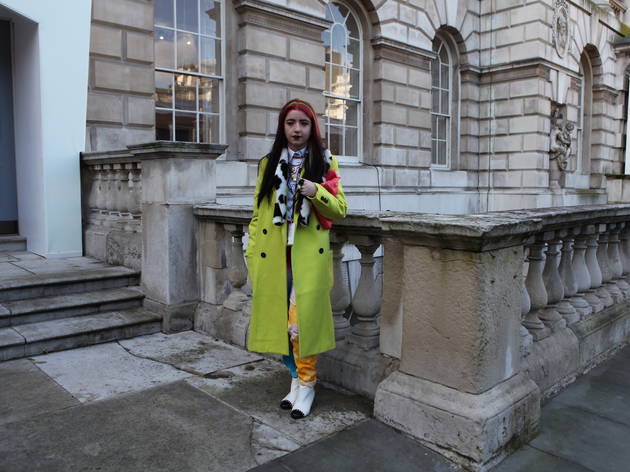 20/20
Age: 22 Occupation: Fashion Designer Wearing: Trousers and jewel collar: Shireeka Devlin Shirt: Urban Outfitters Jacket: Hearts and Hands Bag: Topshop Favourite London Shop: Public Beware Website: www.showtime.arts.ac.uk/shireekadevlin
London Fashion Week street style gallery
Some looks are bold, some beautiful, some bloody silly. See London Fashion Week's most striking outfits
The east end of the Strand is scattered with statement coats, soaring heels and hats that don't look like hats; it must be London Fashion Week. Browse these portraits of the people who most caught our eye at Somerset House on Friday February 15.