While the world's fashion buyers and writers worry about 2015's swimwear and the latest permutation of the flip-flop at London Fashion Week, we're resigning ourselves to putting away the summer wardrobe and going back to black. But there is solace to be found, and it comes from an unlikely source: Swedish indie musician Lykke Li.

She has designed a capsule collection of monochromatic womenswear for H&M's sister brand at & Other Stories that is everything you'd expect from a stylish Scandinavian with a taste for the dark side, and nothing like the usual celebrity-'designed' high-street fare. The mix-and-match range focuses on expensive-looking pieces that whisper luxury: perfect black polo-necks and sheeny evening tops, fine gold chains and classic white shirts.

This quiet, considered approach is typical of the 28-year-old. It's there in her most recent album 'I Never Learn', a haunting musical document of an excruciating break-up that she recorded in LA. I meet Lykke Li in the middle of Hollywood. So in the middle of Hollywood that I have to negotiate the paparazzi gathering outside a Jennifer Aniston movie premiere on my way to the small restaurant where the singer is taking an alfresco coffee break.

Today she's chipper and smiling, enjoying the LA heat. She wears a sheer black top, marking her out amid the Hawaiian shirts of the Angelenos. But then, she seems at home being an outsider: a Stockholmer in LA; a musician in the fashion world. 'I'm here for the light, for the weather, for the people, for the poetry, for the mysticism', she tells me. Her personality is like her fashion: a mixture of light and shade. And suddenly it all starts to make some sort of cosmic, tasteful, nonconformist sense.

A lot of your collection is black, but you live in LA. It's so hot here. Are you trying to suck up all the energy from the sun?
'To be honest, this line was definitely not created with LA in mind. I call it the "Nomad" collection. It's for a woman on the run, searching. It needs to be able to breathe in every temperature.'

Were you surprised when Other Stories approached you to do this?
'No. Stockholm is little. I'm friends with the main designer at & Other Stories, and the shoe designer. She was like, "I remember you always chatting to me about wanting to make a stage shoe. How would you feel about that?" So we started with the shoe, but then I was like, "What about these pants?" It kept adding up, and then I told her I'd always wanted to do a whole collection of stuff that fits in one carry-on bag for the modern, travelling woman.'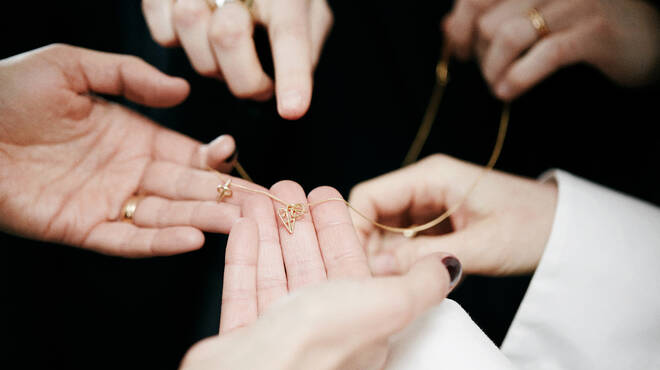 Were you inspired – like Coco Chanel was – to design the things that were missing from your own wardrobe?
'Exactly. I basically came up with what I would need for my wardrobe on stage. It's not me trying to become a fashion designer all of a sudden. It's more like me getting together with friends and a bottle of red wine and stories about broken hearts and travels: "I miss that scarf I lost in Paris" or "One time in New York, I found the perfect '70s vintage boot, but it was two sizes too small."'

Did you find sitting down and making a fashion line similar to sitting down and writing a song?
'Sure. It's all about creating an alternate reality. If you take the hard facts of a failed relationship, it's pretty grim. But if you make an album out of it, and if the violins represent all the tears, you create something magical out of something very normal. It's the same with clothes. You need shoes, pants and a shirt, but if you put on '70s pants and a heel, then say to yourself "I could wear this when I'm in Paris", you create a dream.'

Now that you're a designer you should expect questions like this one: can you describe the collection in three words?
'Uh. Useful, minimal, classic. Androgynous. That's more words.'

I'm glad you went over the word count with that one, because your style is quite masculine.
'Women get cheated, because all the fashion is created to [become] un-trendy. For men, it's about finding the perfect shoe or the perfect pants that will last you through the years. That's how I want to shop: sustainable, classic, great quality. When I go to [US department store] Barneys, I always go to the men's section.'

Do you think fashion is an important part of your career as a musician?
'If you mean "expressing myself through the way I look", yeah, that's important. But to be a part of the fashion world today? Not at all. I'm more old school: I want to be like Keith Richards on stage. It's not interesting to see straight-from-runway clothes slapped on an artist. It's more interesting when you see people who have their own style.'

Are you worried about how the collection will be received?
'The thought crossed my mind, but that was a long time ago. I decided to do it, so now I don't give a fuck. The thing is, if you're in this world, you have to do things for yourself, not for others, because everyone will judge you for anything. I've done worse. My last album was pretty nervewracking: I put my heart on a plate.'

Lykke Li's Nomad collection in collaboration with & Other Stories is on sale now.