Heads up! We're working hard to be accurate – but these are unusual times, so please always check before heading out.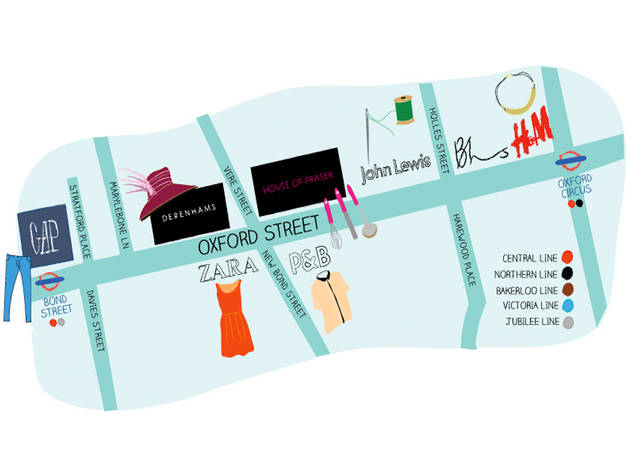 Oxford Street: Bond Street to Oxford Circus
Time Out's guide to Oxford Street shops between Bond Street and Oxford Circus
This stretch of Oxford Street houses London's department stores, lined up on the North side cheek-by-jowl. These have a comprehensive offering across the price spectrum – from the cheap and cheerless BHS to the trusted and much-loved John Lewis. If you can't find the clothing, homewares or cosmetics you seek here, you're not looking hard enough.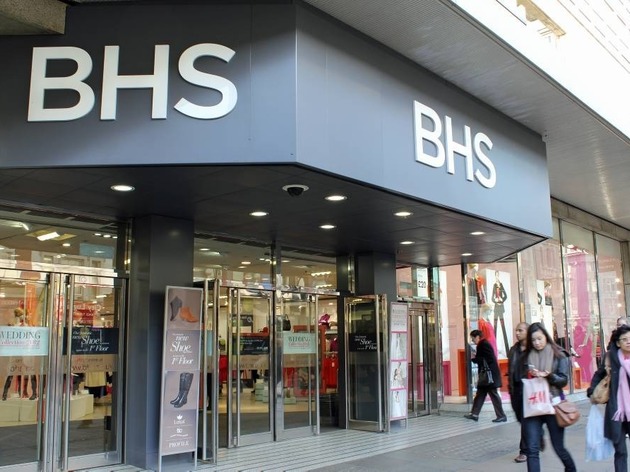 Oxford Street, London, W1C 1DL


There are few large shops lining Oxford Street that we have walked through at 5pm mid week and encountered not one other customer on the shop floor. It's easy to see why; this is the poor man of department store shopping. It offers brands widely available elsewhere (from the Arcadia stable – Wallis, Evans, Dorothy Perkins) in a low-rent shopping environment with unflattering lighting, indifferent staff and cheap looking shop fits. Despite all this, there are some unique selling points to the Oxford Street 'flagship'.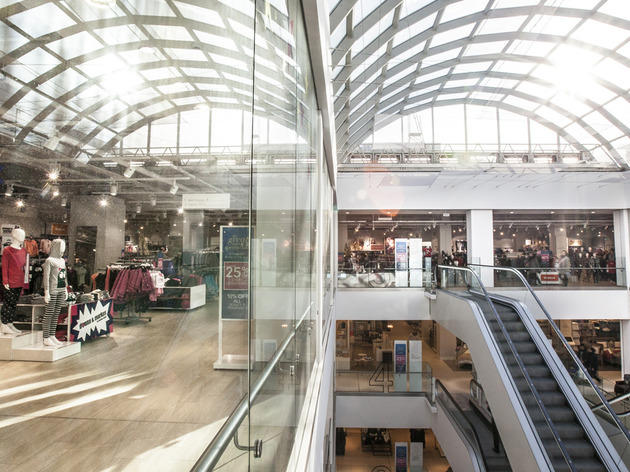 Oxford Street, London, W1C 1JG


This accessible store is designed to bring fashion shopping to the everyday customer – it is known for inviting fashion designers like Matthew Williamson, House of Holland and John Rocha to do cheaper (and boy do they look it) collections in store. There is none of the luxurious feel of shopping at John Lewis or Selfridges, product is crammed in, discount notices are splattered across the store, and the whole place is pervaded by a canteen smell emanating from the less than salubrious basement café.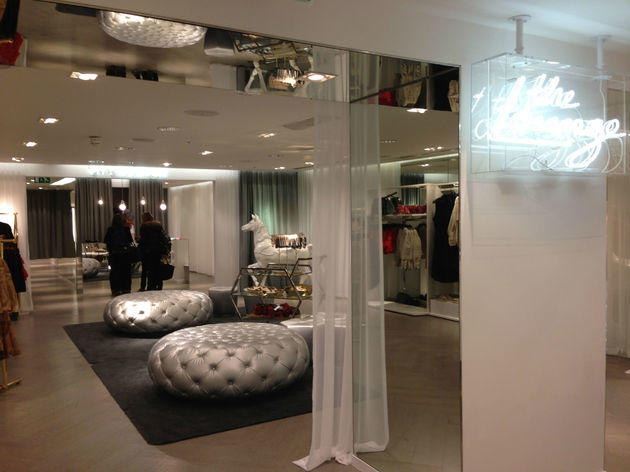 261-271 Regent Street, London, W1B 2ES


The Swedish giant of cheap, fashion-y threads has a large, chaotic store on Oxford Street with its full women's, men's and children's ranges as well as its new homewares department. H&M, for those who have been living under a rock, has been one of the high-street forerunners for catwalk-inspired, affordable (but low quality) clothing – although prices aren't as bargain-basement as they once were. Shopping here can be a bit of a jumble – typically too much is crammed onto rails, and there is frequently a long queue for the changing rooms.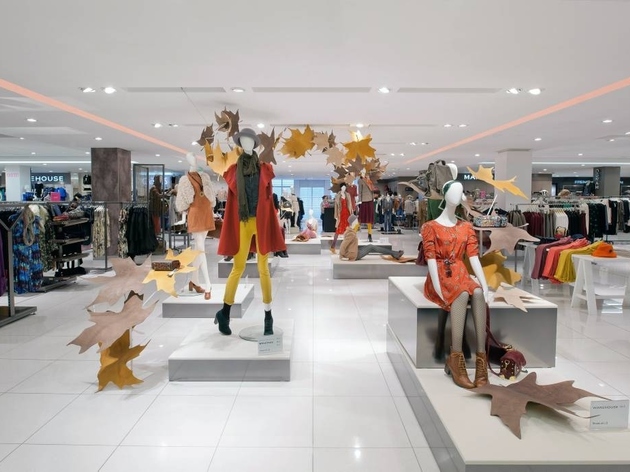 Oxford Street, London, W1C 1HF


The London flagship branch of this reliable department store chain has had a revamp of late. Well aware of the competition for Oxford Street shoppers' footfall, House of Fraser have gone on something of a campaign to secure exclusives to edge its fashion offering above that of its neighbours. In recent years that has meant the HOF is the only stockist of the re-launched Biba line, including its lovely new lingerie, a concept boutique by LOVE Moschino, East End thrift-finders Assembly Vintage and Farrell by Robbie Williams (who launched the range in person).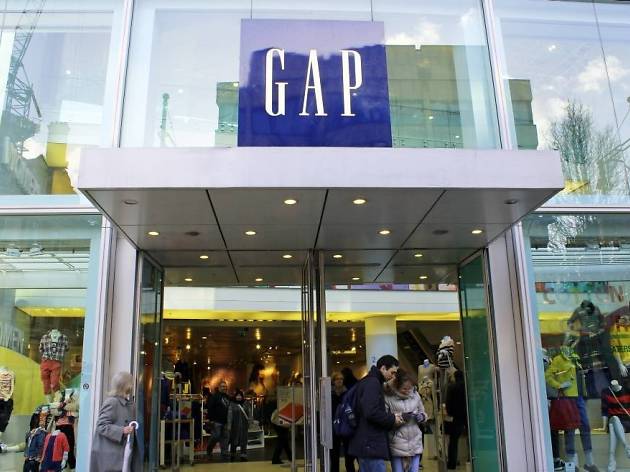 Gap, 376-384 Oxford Street, London, W1C 1JY


The American casual clothing giant has been a bit quiet of late, but it is worth remembering as one of the most civilised places to shop on Oxford Street. This store is large, well laid out – with all of the good stuff on the ground floor, and extras like underwear on first – in contrast to many Oxford Street stores which force you to wade through an initial floor of less appealing product to get to the 'destination' goods. Changing rooms are commodious, product is neat and tidy, and customer service is some of the best on the street.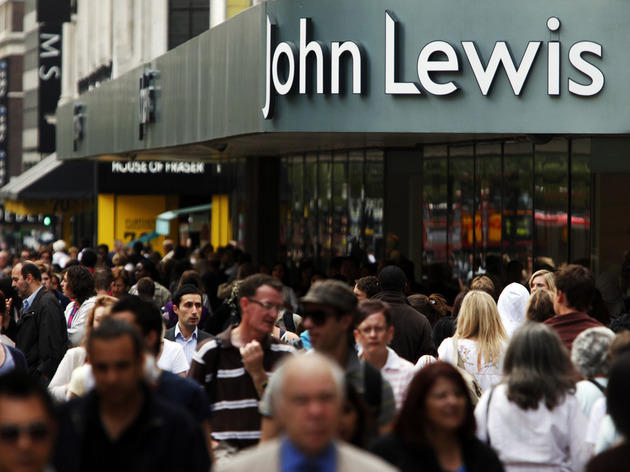 300 Oxford Street, London, W1A 1EX


There is a reason why John Lewis is one of the most respected and liked shops in Britain. And it's not a complicated one – John Lewis sells good products, in a pleasant environment, served by knowledgeable and amicable staff. Add to that its sensible ratio of quality-to-price for all its products, and you quickly see why John Lewis retains its rightful crown as the retail world's safe pair of hands. This large store offers a broad sweep of electricals, homeware, fashion (with some exclusives like Pistol Panties lingerie) gifts, furniture and leather goods.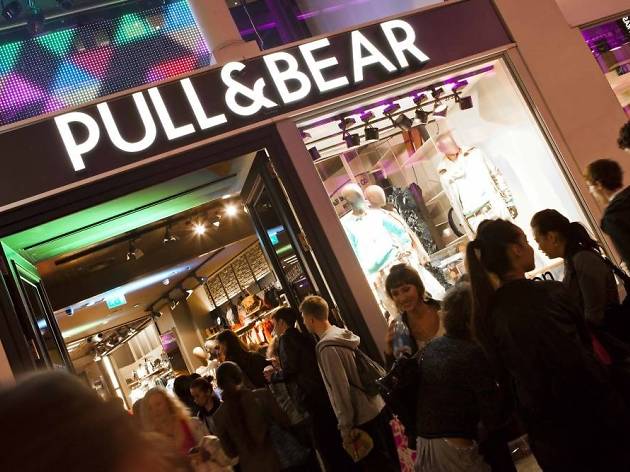 Oxford Street, London, W1C 2HS


This high street brand is the latest Spanish chain (following Zara, Mango and Massimo Dutti) to arrive in London. Pull & Bear is unusual in that its menswear label has equal weighting to its womenswear one, and it offers great value check shirts, relaxed trousers and low-key jackets as well as a big denim offering. The quality of the garments is not premium, but it easily matches what you'll find in nearest high street equivalent H&M – although the store is much noisier and more youth orientated in its layout and ambience.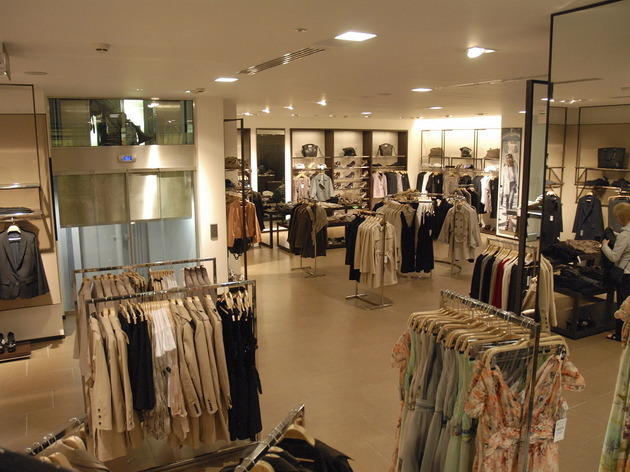 Oxford Street, London, W1C 2HY


Spanish high street chain Zara has been in London over a decade, and in that time has succeeded in toppling Topshop as our premiere go-to shop for catwalk inspired fashion. The branch on the corner of Bond Street and Oxford Street is Europe's largest Zara store – and it is fabulous. With several deliveries every week, and a fast turnaround of stock that means you won't see your new coat on everyone you meet, it's no wonder that Zara is leading the fast-fashion pack, serving up the latest trends hot off the catwalk.