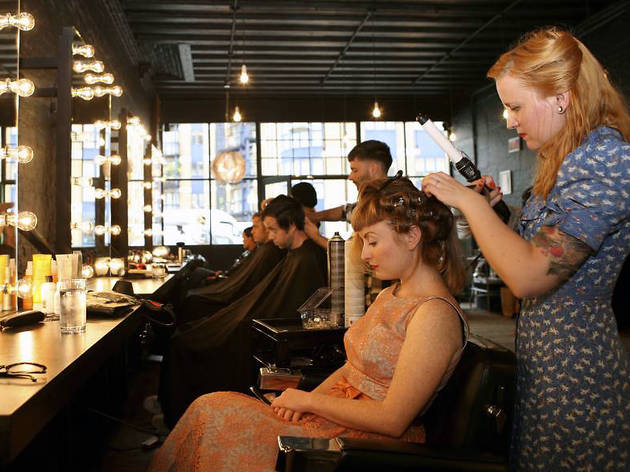 This retro salon, complete with dressing-room-style bulb-lit mirrors, is sandwiched between the boutiques that border Spitalfields market, and is adept at the kind of trendy-again ducktails and pin-curls that will make you look like a cast member of 'Grease' – in a good way. That doesn't mean it's stuck in the past – stylists dealt swiftly and expertly with the unruly curly mop presented to them at our visit, transforming it into something layered, modern and swishy that wouldn't look like Mr Hyde's hairdo as soon as it was washed. The ambience at Pimps and Pinups is neither clinical nor opulent, and you're likely to be snipped to the sound of AC/DC or an old rockabilly number. But service comes with a smile and, more importantly, a beer. Ladies' cuts from £40.
Venue name:
Pimps and Pinups
Contact:
Address:
14 Lamb Street
London
E1 6EA

Opening hours:
Open 10am-8pm Mon-Fri; 10am-6pm Sat, Sun
Transport:
Tube: Liverpool Street
Do you own this business?
Average User Rating
3.5 / 5
Rating Breakdown
5 star:

5

4 star:

1

3 star:

2

2 star:

0

1 star:

3
BADLY MANAGED HAIR SALOON, I was ASSIGNED TO AN ALTERNATIVE HAIR DRESSER at the saloon WITHOUT PRIOR NOTICE. This cost me more than 50 minutes to get to the saloon and money for the public transport (return!). The manager of this saloon - Bob - excused this confusion as a misunderstanding although I received confirmation twice on the phone by the receptionist to be scheduled with my preferred hair dresser. I was not offered compensation by the manager for the obvious error on the side of the saloon's customer service. OVERALL BAD MANAGEMENT AND TIGHT ON MONEY TO REFUND LOYAL CUSTOMERS! I have paid my hair dresser generous tips and this is what you get back...Only positive remark: Lorenzo is an outstanding hair dresser of this saloon - hopefully he finds a better place to work at soon!!
This is the first review I write, I just couldn't ignore the amazing job Jeremy did to my hair, he carefully listened to my suggestions and then cut my hair with style, originality and yet great technique; the end result is that the more I look at my hair the more I love it. Jeremy is a rare gem in the hairdressing world. Lucia
I had my hair cut and coloured here for the first time a couple of weeks ago... I've waited until now to write a review so I could see how the haircut settled down. My hair is fine and wavy hair and it was cut short - in my experience it takes real skill to get a good, easy to wear shape with my kind of hear. But just as I thought, it's FANTASTIC. The best hair cut I've had in years and I'm utterly delighted. The colour is lovely too but it's the cut that has blown me away. The salon was a joy to be in.... fun and relaxed without lots of attitude. I would recommend Ricky (cut) and Rocky (colour) highly. I can't speak for any of the other hair dressers, but with those two, you're in safe hands.
My daughter had her hair cut here today. Was greeted by very friendly staff. It was by far the best haircut my daughter has had. Very modern salon great cutters. I would rate this hairdresser 10 out of 10 and will definitely return.
My girlfriend and I went in and got totally revamped all the staff are friendly and inviting, we hadn't had our hair cut in about 4 months, Ross and Luke were amazing they looked after us from the moment they met us until we left, these are to hairdresser who clearly have wealth of experience, my hair was long a all over the place Ross made me feel like rockstar and look like one to, my gf left with the most beautiful curly hair like a new woman thanks to Luke, in summary always busy,always amazing hair cuts,always kind and inviting evinroment and we are now regulars, and free beer pretty sweet!
Pimps & Pinups was recommended at a point where i was losing the faith that any hair dresser in London could actually cut curly hair. After countless disaster hair cuts from established hairdressers, i had left my hair uncut for over 9 months and it was becoming unmanageable. After a friends suggestion i visited the Spittlefields Pimps and Pin ups salon and from the moment i stepped in my stylist could tell i was nervous and successfully put me at ease with his analysis of my hair and the technique he was going to use to structure my hair cut. I left happy and my hair is fantastic, in great condition and successfully layered....which if you know anything about extremely curly hair, is an amazing task. I am now a regular and won't consider leaving.
Absolutely terrible! After barely giving eye contact when asking what i would like, the guy started cutting without even thinking about washing my hair which was full of product. Then he started shaving the sides when i clearly asked for scissors, the result was a half arsed rush job, which ended in the guy putting on about half a tub of wax and leaving me looking like i'd done a double shift in a chip shop. i had to get my Girlfriend to trim all the bits he missed. Essentially a rude, amateur and disappointing service, for £35 (Mens Cut) AVOID! These aren't hairdressers they're extras picked up from dive bars in Camden.
My hairstyle is actually growing on me now. I think it was just a drammatic change for me initially.
I really regret cutting my long hair here. I now have 2 hair cuts in one since I have really short layers on top and long layers. It's terrible layering and I have had my hair layered short and long for years! Think twice about going there and I hope after 2 months my hair will grow and improve.
More venues
Sponsored listings