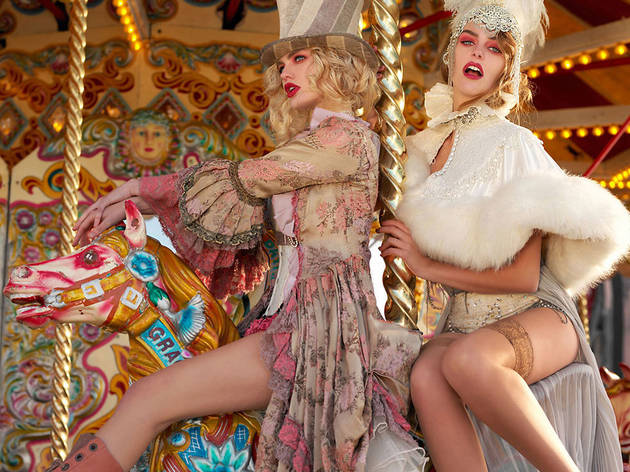 A bespoke costumier in New Cross with a unique made-to-measure service as well as ready-made outfits and staff who can help you put a look together thanks to their styling service. This is the go-to venue for circus styling, and 18th century outfits are their bestsellers, but demand means they've increased their 1920s range in recent times.
Venue name:
Prangsta
Address:
304 New Cross Road
London
SE14 6AF

Do you own this business?
Average User Rating
3.4 / 5
Rating Breakdown
5 star:

4

4 star:

1

3 star:

0

2 star:

0

1 star:

3
Do not use this shop. I have been waiting for my deposit to be returned for over 6 weeks, and they have consistently failed to return the deposit or call me back. The place is a shambles and the staff are rude and dishonest.
I would give it ZERO stars if possible. Rude staff that leave you waiting for HOURS as they wander aimlessly around the messy shop. Costumes are expensive (£100 per rental) but this would be understandable if the customer service was of a high standard to match the decadent costumes. After spending 2-hours there for a fitting, I went back to collect my costume and they had given it to someone else by mistake. I then spent another hour waiting for them to get a costume bodged together. The sewing they had to do last-minute as a result came undone in less than half an hour of me being at the event I had hired it for, so I had to go home. I had paid £100 for the costume and £50 for a party entrance so needless to say I was very unhappy. I went back to Prangsta and politely asked if there was something they could do to compensate me. I was spat at by Mel and told I only wanted money back because I couldn't afford it. I have never been spoken to like that in my life. Only worth going to if you do not have a job and can afford to spend hours there. Preferably be on a come-down from a drug fueled night and you'll fit right in. The costumes are beautiful, its such a shame it's run so hideously.
I used the service of Prangsta Costumiers recently, as I was looking for something truly unique and special for my sister's Woodland Creature themed wedding and was delighted, as a returning customer, to discover what seemed to be an entirely new shop:
The lay out was stunning; airy, spacious and contained so many costumes to discover and chose from, all displayed beautifully.
The staff were attentive to my requests and had prepared outfits for me which fitted well and matched my brief perfectly.
My only issue was having to decide which look to go with!
This is not a place to rush in and out of, the experience is one to be savored.
Had a great experience this summer at Prangsta, great advice from the team too.
The stylist was really helpful in finding exactly what suited me best among a wide range of incredible clothes, she took her time and was so efficient..I even bought a superb top on the rack, looking forward to going back !! thanks for all !
I came to Prangsta with such excitement and anticipation. When I arrived I was rather taken aback by the rushed manner in which they dealt with us, repeatedly telling us we needed to hurry. My stylist was lovely but really had no idea how to dress me with what I wanted. Nevertheless I left with a costume feeling rather half heartened about the whole experience.
A couple of weeks later the event comes around and we pick up our costumes, I arrive home from work the evening of the event to find that our costumes have been completely messed up with various wrong item in the mix. Leaving us with no option but to go back to the store 30 minutes before the event to get them changed. A rather frustrating thing to do when that time was supposed to be spent getting ready and enjoying the pre-party experience.
During this time I was pocket dialed by the store and subsequently listened in to their rather unsavory comments about my partners response to the utter stuff up on their behalf. His response was level headed and very reasonable, but I guess no one wanted to acknowledge their mistakes. I also discovered on this call that the only reason they were going to have us come back to the store, was that the crown given to us, which was wrong needed to be used the night after by another person and since the hire is a 3 day hire they were in a pickle- not because they felt the need to correct their mistake.
I felt incredible disappointed and rather peeved considering it cost $100 pounds deposit and £140 to hire the costume which was ill fitting and wasn't really what I wanted. To top off a rather terrible experience they deposited the the wrong depost into my account which I later found out they then deducted from my account once already in, how they can do that is beyond me and rather a concerning issue.
The pictures look amazing on their site and the reviews good, but the experience is very very very different from the flashy wonderful image displayed. I would never use Prangsta again. I was not offered a refund or even a partial refund for their mistakes, no effort was made to compensate their mistakes and to top it off with a rather rotten cherry was the stuff up with the deposited money.
I know mistakes happen, everyone is human but to deal with a business that continuously made mistakes and caused rather stressful issues with no effort to compensate all of us hiring their costumes was very disappointing. There was a lack of communication on behalf of staff and when we queried why these mistakes had happened no one could explain.
I later discovered a costume shop in Soho close to Holborn station that did costumes of even better quality for half the price. Oh well next year I know where to go !
Just to redress the balance - had completely great experience at Prangsta - really good personalised service, efficient, had great time at dark circus party this weekend - outfit got rave reviews :) thanks guys.
HELLO, >WE ARE PRONTIMOTOREAZIONE.COM, WARDROBE FOR RENTAL IN ROME, ONE OF THE MOST IMPORTANT CINEMA'S AND TELEVISION'S SERVICE. >IN ADDITION TO CLOTHING AN INDEX OF HEADS OF APPROXIMATELY 27,000 (TIME CIVIL, MILITARY, WORK CLOTHING) WE USE IN ADDITION OF SUPPORT SERVICES FOR FILM AND TV (CAR VINTAGE AND CURRENT, TECHNICAL MEANS, CAMERAS, LIGHTS AND MORE) >IN NOVEMBER WE WILL BE IN LONDON FOR MEETINGS WITH PROFESSIONALS IN THE FILM INDUSTRY AND WOULD BE A PLEASURE TO MEET YOU AND MAYBE WE FIND A MEETING POINT ON STRATEGIES TO BE APPLIED IN ITALIAN AND INTERNATIONAL FILM INDUSTRY. WE WOULD LIKE AN APPOINTMENT WITH YOU IF IT WERE POSSIBLE IN ORDER TO KNOW A REALITY 'LIKE YOURS. WAITING FOR A YOUR RESPONSE >Best regards >PRONTIMOTOREAZIONE.COM +39 06 793 20 793 >ROMA >ITALY
Snap up exclusive discounts in London
Time Out's handpicked deals — hurry, they won't be around for long...