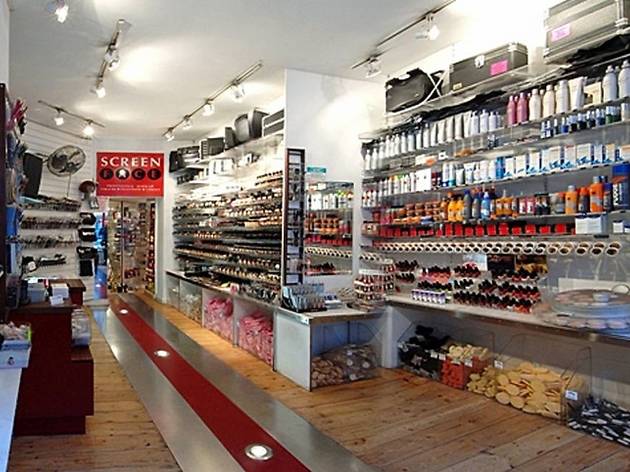 Professional make-up artists seek out Screenface for its high-quality, long-lasting make-up and tools of the trade. Fardel face and body paints, Blink mascara, Lord & Berry eye and lip liners and Screenface's own range of make-up. Haircare is of a similarly high standard (Joico, Fudge, Phyto), as are the make-up brushes and other tools. Special effects are big business: fake blood, adhesives and removers, plus all types of facial hair, from handlebar moustaches to mutton chops. The latest products include French skincare range Embyolisse and, for those looking for knockout effects for that forthcoming fancy dress party, torn skin gelatine prosthetic and werewolf double fangs. Branch also at 20 Powis Terrace, Westbourne Park Road, W11 1JH (7221 8289).
Venue name:
Screenface
Contact:
Address:
48 Monmouth Street
London
WC2H 9EP

Opening hours:
Mon-Weds: 10am- 5.45 Thurs & Fri: 10am- 6.45 Saturday: 10am- 5.45 Sunday: 12pm- 5pm
Transport:
Tube: Covent Garden, Leicester Square or Tottenham Court Road tube
Do you own this business?
You may be interested in:
Rating Breakdown
5 star:

0

4 star:

0

3 star:

0

2 star:

1

1 star:

0
I have used this shop for the best part of 15+ years and in that time I have seen shop assistants come and go.Most of the shop assistants were Austrailian,some were more helpful than others however I received outstanding service from a gentleman called Josh,he is a great resource and an asset to the company.In recent weeks I purchased a few items,and when I got home I was reluctant to open one of the products as i was in two minds in terms of the shade.I placed it aside and decided that I would return to the store and perhaps ask Josh or Anjelina to try the shade on me using a demonstration/display shade,just in case I had purchased the wrong one.In usual circumstances Screen Face are brilliant in terms of customer service,if you had the need to exchange any item there was never any issues.I always ensured that the product was sealed and not used.The product I took back was intact,both inside and the outer packaging was undisturbed.When I went in to the shop I looked around to see if either Anjelina or Josh were in the store,most definitely Josh was aware of every product I had at home.To my dismay neither were there that day,there were two new faces to the team and reluctantly I spoke to a new male member of staff.I took out the kit and informed him of my concern and that I would like him to ensure that I had the correct shade.The male staff member went up the stairs and down the stairs twice,and he asked me to follow him,which I did.I took in to account that he was new and perhaps was not aware of where every thing was.Notting Hill is the larger store and things some times can be scattered every where more so when they have had a delivery.I digress,howvever I am giving you all some background in to the kind of personal customer relations that had developed over time. Whilst following the staff member down the stairs and up the stairs and again,I placed my original product back in to my bag.I had purchased it 2 weeks ago,and I merely wanted the shade checked whilst in store.I had done nothing wrong in doing so.The staff member applied the product(concealer) to my face,whilst doing so he created some small talk,and I recall wandering whether I had locked my car door...every thing was going so so well.Across the way I saw the long hard aggressive stare from another new sales assistant she was young and English was not her first language.She was definitely from foreign shores but was not Austrailian.I was use to the Austrailians they were very content and a pleasure to meet.As you can tell I loved shopping and I loved shopping for make up.Okay,ladies and gentleman,this sales girl decided to point her finger at me from behind the till.She accused me of shoplifting!!!She accused me and in a foreign tone of voice she told me that she had seen me place some thing in my bag.Yes,she did see me place a product in my bag.It was my original product!!!!!