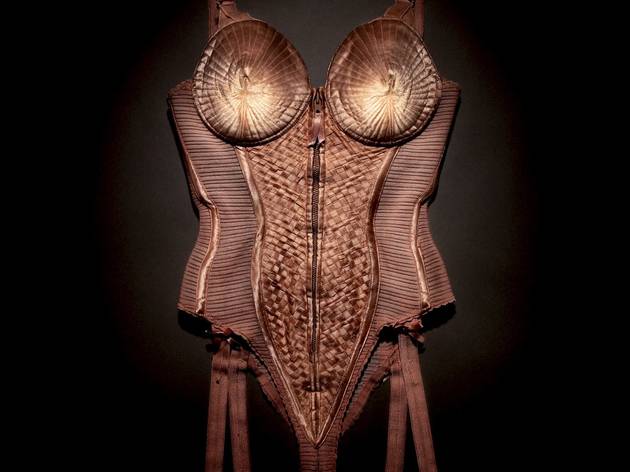 1/6
2/6
3/6
Krause, Johansen
FIG_202 73755
4/6
5/6
ANDREW THOMAS
6/6
The first major exhibition devoted to Jean Paul Gaultier, France's most rebellious designer and he of Madonna's conical corset fame. Gaultier, who has had a fashion label since 1976, is known for witty, revealing outfits inspired by low and high culture (from bondage to Rajasthani brides). This show brings together over 140 outfits including couture and ready-to-wear spanning back the past four decades. Spot stage costumes belonging to Kylie and outfits created for films such as Luc Besson's The Fifth Element. The exhibition – which has previously been to Stockholm and New York – doesn't take itself too seriously. There will be footage of catwalk shows, concerts and dance performances featuring Gaultier instantly-recognisable designs as well as the riotous '90s TV show, Eurotrash, he co-presented by Antoine de Caunes.
Rating Breakdown
5 star:

3

4 star:

0

3 star:

0

2 star:

0

1 star:

0
Absolutely wonderful! I could have spent the entire day there and I almost did. A quite thorough exhibit of his works from when he started to present day. Even if you aren't into fashion, his costume designs in films and for pop stars is enough to spark anyone's interest. He is a sheer genius and I am so thankful I was able to see this exhibit. I left very inspired and highly recommend it!
The exuberant French fashionista had resisted calls for a museum exhibition for some years, on the basis that museums are 'dead' spaces. In this epic new show at the Barbican, nothing could be further from the truth. The international creative team has staged a bold, lively and dynamic exhibition full of the humour and theatricality for which Gaultier has become known.
The content is divided into eight sections, each exploring a different facet of his work. A remarkable series of display mannequins, complete with voices and faces, bring the garments to life. Catwalk videos, thoughtful wall text and stunning photography from Gaultier's collaborators add depth and context.
Deserving of particular praise are the wigs that adorn some of the mannequins. Hair stylist Odile Gilbert has created a series of gravity-defying hair pieces, including a one-metre-tall Union Jack Mohican, as well as a top hat and other creations, all fashioned from human hair.
A consistent and perhaps surprising message is how warm, accessible and even down-to-earth Gaultier is. A whole section - Eurotrash - is devoted to his foray into television presenting; this also includes hisSpitting Image puppet and the barking mad pop video he once made. How many other fashion megastars - or artists, for that matter - would be so comfortable sending themselves up?
More than one million people have already seen this touring exhibition in North America. Once London has had its go, the caravan continues to Melbourne before its final stop in Paris. Because Gaultier holds London so dearly in his heart we get a few extra treats. The Muses section is expanded just for this stop on the tour, because so many of his muses come from London. Alongside costumes and photographs of the people who inspire him is a collection of newly-commissioned portraits by British artist Annie Kevans. Naomi Campbell, Kate Moss, Madonna, Deeta Von Teese and Beth Ditto are among the stars rendered in beautiful watercolour.
There's a host of events and other ways to get involved alongside the exhibition itself. A packed programme of talks, including an 'in conversation' event with the man himself, runs throughout the exhibition. A special film season in late May runs at the Barbican Cinema. You can see films for which Gaultier has designed costumers, like Peter Greenaway's The Cook, The Thief, His Wife and Her Lover. For a sparkling finish, you can even have a glass of champagne in Bar Gaultier, in which he designed the furniture.
The fashion event of the year has begun. Get your stripes on.
For more art in plain English, check out http://www.curatedlondon.co.uk
Completely ignorant of Jean-Paul Gautier till this show. Have I been living under a stone? Sensational; controversal; gender-bending, beautiful; trashy; endlessly inventive. A must-see for fashonistas