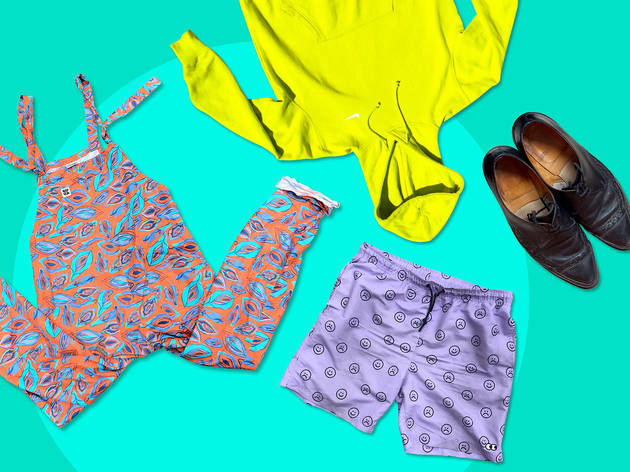 The one thing I've worn the most in lockdown
Comfy clothes, nostalgic clothes and absolutely wild clothes – Time Out writers share the one thing they've been wearing the most throughout lockdown
It's been a long time since the Time Out team were in an office. And, in the months since we got sent to work from home, many of us have developed strange lockdown habits that will never be spoken of once this is all over. Another change – perhaps less noticeable because none of us (other than maybe our social media editor Sam Willis) could really claim to be influential fashionistas before this – is our wardrobes.
While lockdown arrived with us all making promises to ourselves and HR to dress for work so that we could live our most productive lives, very few of us have kept that up. Our daily Zoom calls have become a fiesta of comfy clothes, old clothes and extremely wildly patterned clothes as we swaddle ourselves in nostalgia and fleece. And even more slobbish than that: many of us appear on screen again and again, in the same item, getting sweatier and more stain-covered every day.
Here are the clothes we've been wearing the most during lockdown. We'd love to see what you've been wearing too. Tweet us your #looks at @timeoutlondon.
There's a lot of links to big 'ol brands in this feature but, if you've got the urge to shop, maybe consider doing things a bit more ethically that some of us suckers have done. Here's a guide to black-owned businesses in London and here are loads of quirky indie shops.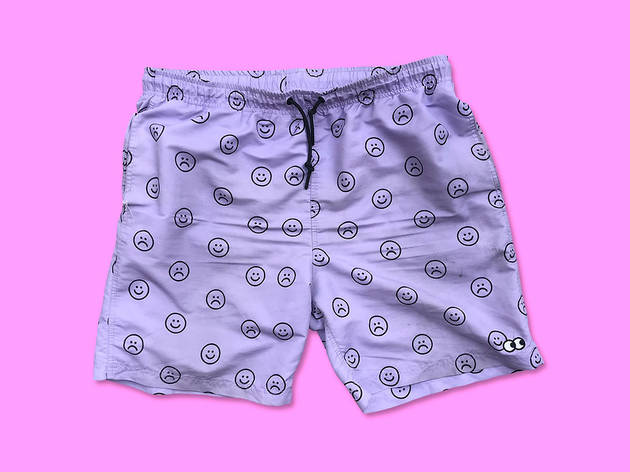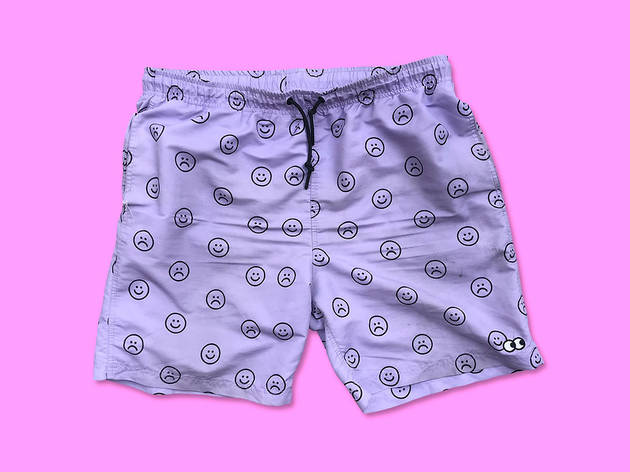 Photograph: Time Out
A pair of swimming shorts with the net cut out
A pair of funky swimming shorts I bought from Lazy Oaf a few years ago have been getting a real reprise in lockdown. They've got cool little happy and sad faces all over them – very apt for these times we're living in. Up until now I'd seen them solely as holiday shorts, reserved, mainly, for the sea or a swimming pool. And as most scrotum-ed humans will know, a netted knicker is not something you want in your life, especially when combined with a boxer short. But then... I decided to just cut that part out. Hello! Sure I've done myself out of some swim shorts for whenever the hell I go on holiday next, but at the rate I've been wearing these, that inner-panty would have perished by now anyway! Bryan Mayes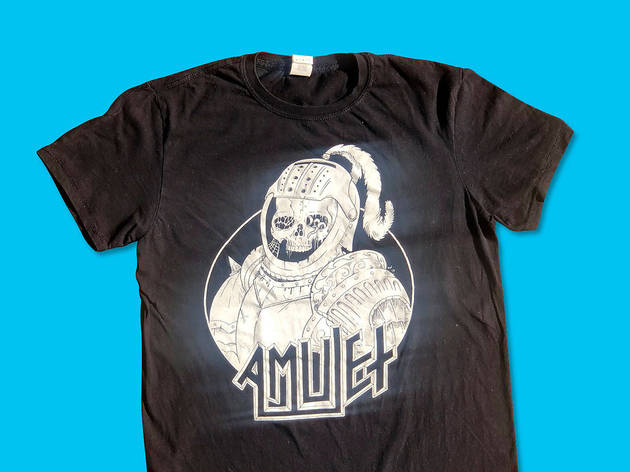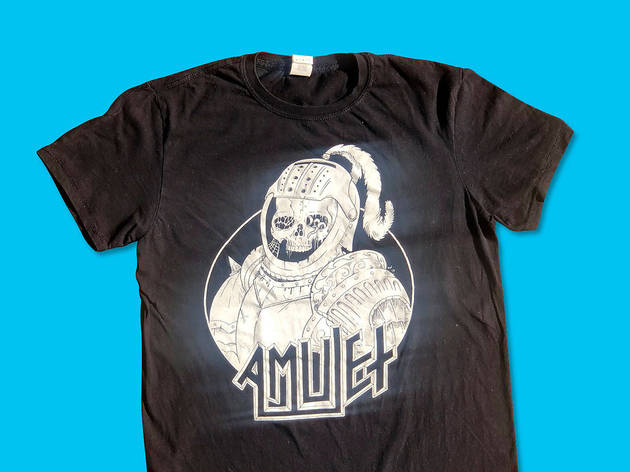 Photograph: Time Out
I've been wearing this bloody T-shirt. Amulet are my little brother's old-school heavy metal band, and while I love their music (I challenge you to watch this video and not be entertained), that's not why I can't stop wearing the shirt. I put it on because it connects me to London's temporarily vanished live music scene. What I wouldn't give to be down the front of an under-ventilated Camden or Hackney stinkhole right this minute. For now, though, I'll just don this tee, breathe in the subtle-yet-heavenly musk of heavy metal body odour and raise a cold beer to the gods rock 'n' roll. Joe Mackertich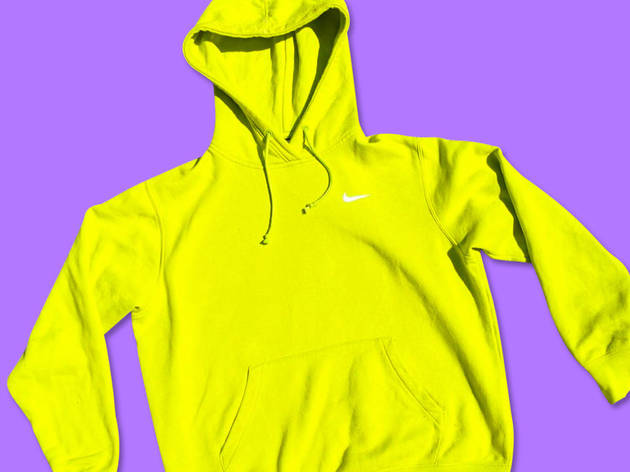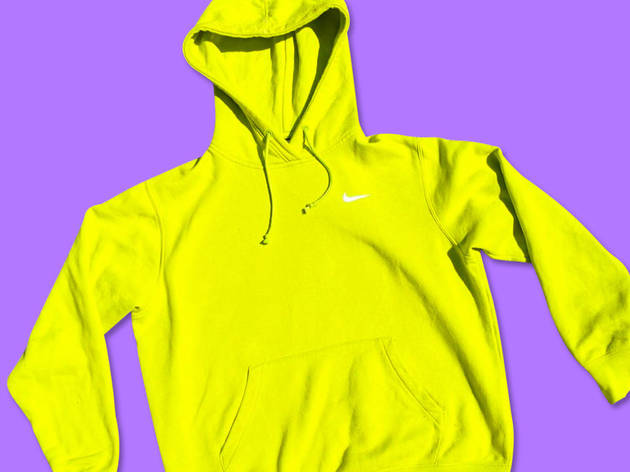 Photograph: Time Out
A hoodie that makes my face look very red
My Before Times wardrobe was mainly black, white or blue. But then we all started having daily Zoom meetings and every time I'd see myself on screen I'd feel sad. So I bought myself this acid-green Nike hoodie, the brightest soft thing I could find online. It's so neon that it makes my face look Tory-MP-pink on camera. Still, I love it. In fact, I've worn it so often it's now covered in stains. Kate Lloyd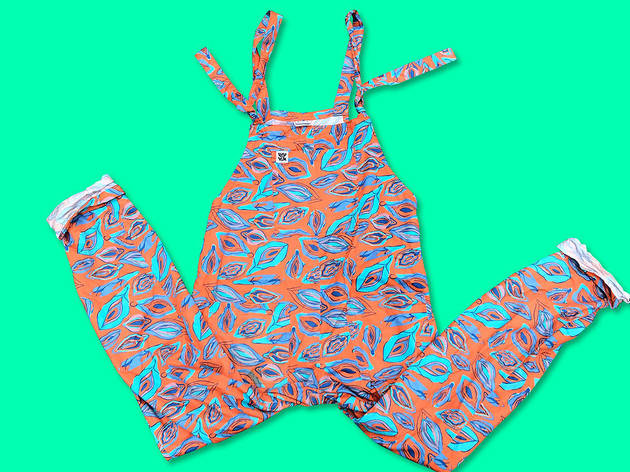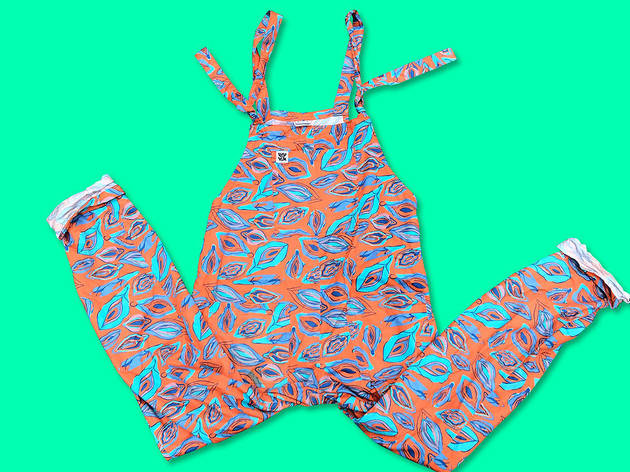 Photograph: Time Out
Dungarees that are covered in vulvas
A member of my family told me I shouldn't buy dungarees because – and this is a direct quote – 'you can't pull them off unless you're a toddler. Or Fleabag'. In response I got the loudest pair I could find: Lucy & Yak's Vulva Dungarees. Yes, they are decorated in bright blue illustrations of genitals, but the vulvas aren't the only appeal. These dungas are covered in enormous POCKETS that can transport just about anything. I could carry a copy of 'Middlemarch' in those suckers. Or a family-size bar of Fruit and Nut. It feels like revenge for those fake vestigial pockets they sew into women's jeans (flap of material, what is your purpose?). They've helped me embrace colour, too. In the pre-lockdown days, I dressed entirely in black, like a nervous stagehand. Now I spend my days looking like a rogue 'Playdays' TV presenter who got quietly taken off air. The way it was always meant to be. Katie McCabe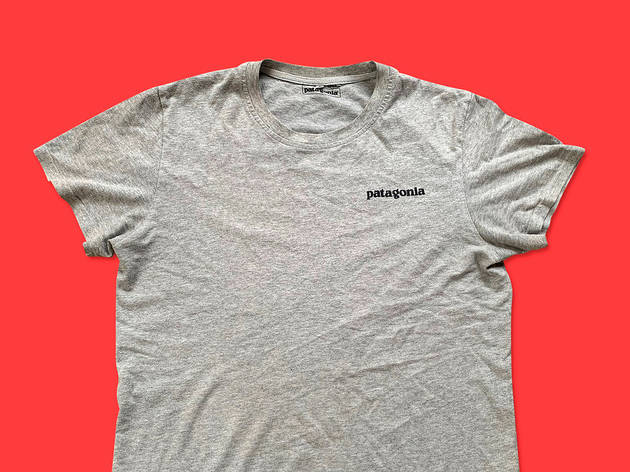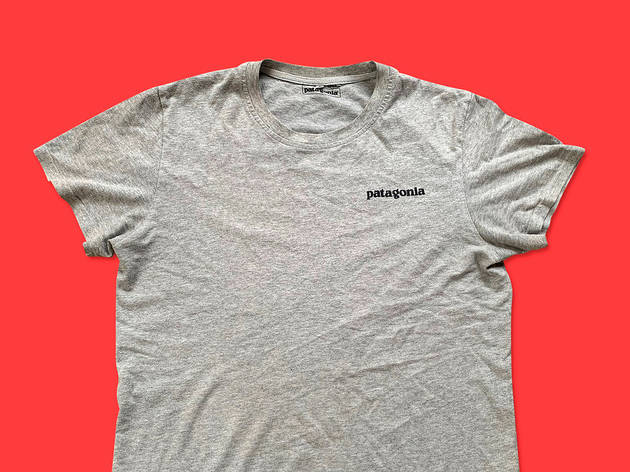 Photograph: Time Out
I've been wearing a fake Patagonia T-shirt someone bought for me from, I think, China. It's too small for me, the print is flaking and it smells because I keep forgetting to put on deodorant. I think it's a good symbol of my lockdown existence. Stephen Farmer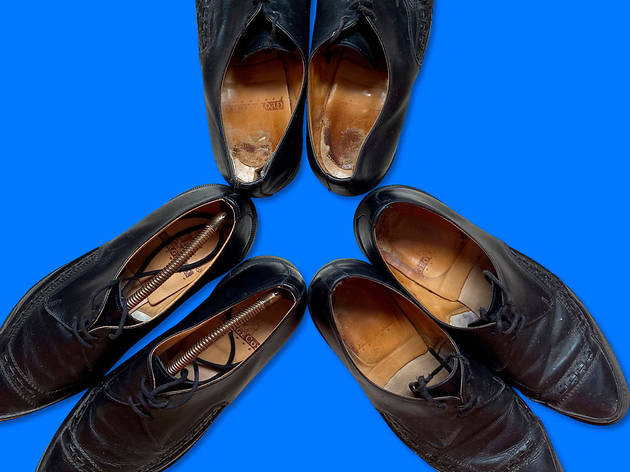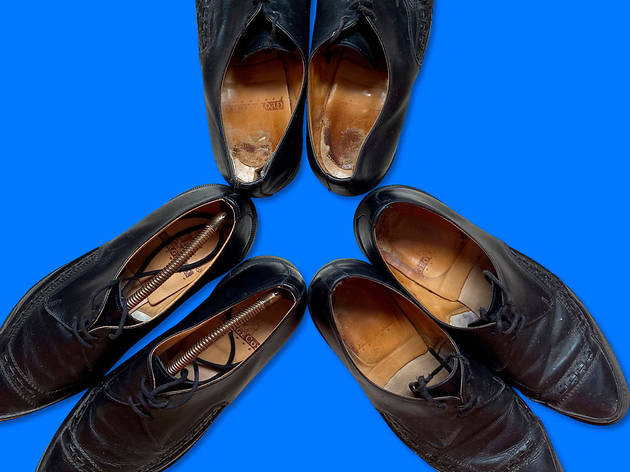 Photograph: Time Out
Multiple pairs of pointy black shoes
I've been wearing these shoes. Not all at the same time, obviously. They're made by George Cox in Northampton. Clockwise from the top, they are knackered, semi-knackered and nearly new. I wear them almost every day. No slouching round the house in slippers for me: I've got that to look forward to. These shoes remind me of the city. They are not suitable to wear to the beach or for a country ramble. They are not okay in snow. They are appropriate for pubs, gigs, certain types of weddings and funerals, and the more rough sort of city park (the kind Giles Coren probably doesn't like, the dick). I look down at my feet, and I know who I am. I'm a Londoner. Chris Waywell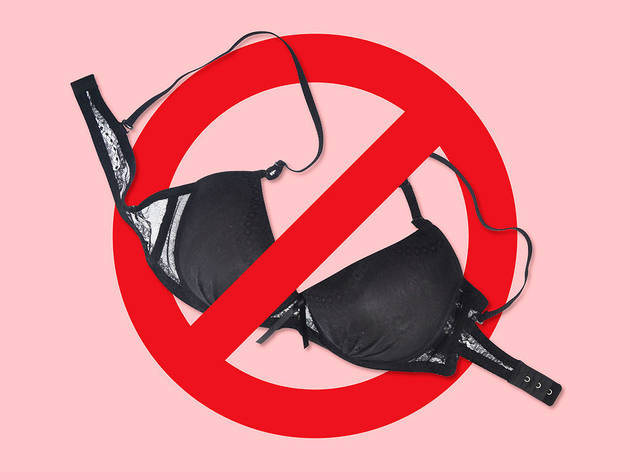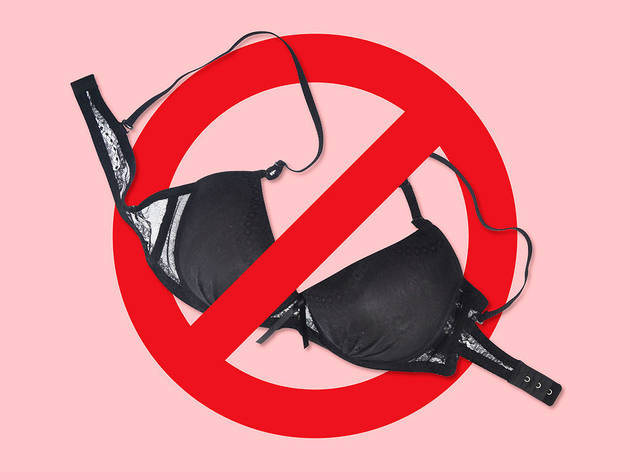 Photograph: Time Out
It's not so much the one thing I have been wearing, as much as the thing I haven't been wearing: my bra. Outside of the office, I don't need to worry about things like accidentally freeing the nipple or the ever-increased force of gravity on my 33-year-old fun bags. Gone are the restrictive underwires and constantly adjusting straps – there's only freedom and comfort now. If this goes on much longer, I might just remove them from my wardrobe entirely and start using them as hanging planters. Samantha Willis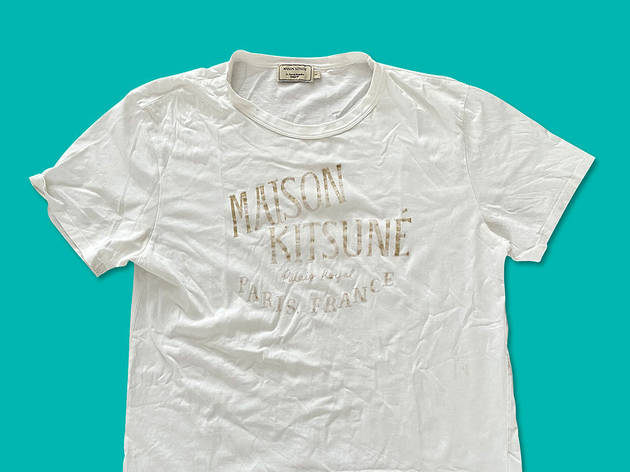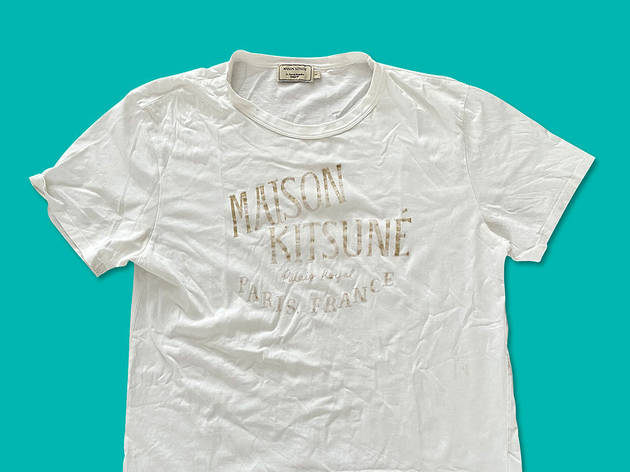 Photograph: Time Out
A top that's covered in pasta stains
I've been rocking what I call the 'Er, what's clean?' look: T-shirt, jeans, Clark Kent specs, Grizzly Adams-ish beard, look of steely determination as I clock in for another day of Not Going Out. (You want to look your best when the postman arrives.) I've been wearing this T-shirt a lot, although I'm not sure why. I mean, I like it – it reminds me of sunny days in Paris and was once a conversation starter with 'Arrested Development's Alia Shawkat – but as the weeks have become months, it's started to feel strangely symbolic of where I'm at: pale, crumpled, a bit French sounding, covered in pasta stains. Normally you'd be looking for comfort, style and durability in a good tee; now it's just: 'Will it take another massive ketchup spillage?' And, you know what? It always does. T-shirt, I salute you. Phil de Semlyen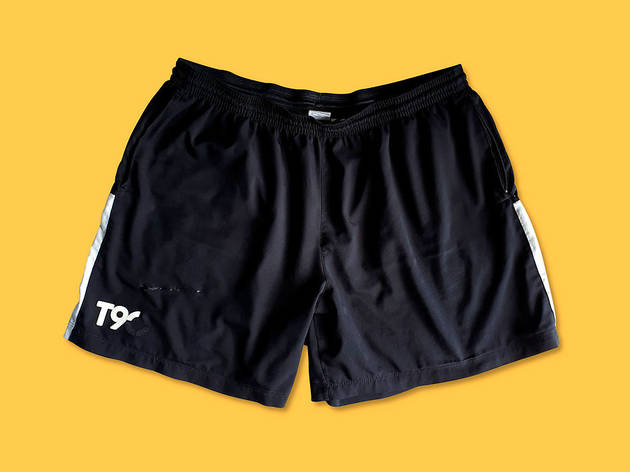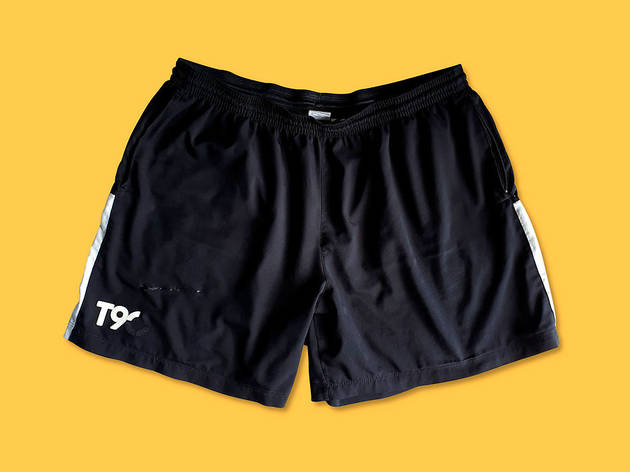 Photograph: Time Out
Oversized sports shorts with a ripped undercarriage
My trusty Total 90 shorts. I actually had two identical pairs of these when they were gifted to me by my dad at some point in the late 2000s (presumably found in the giant jumble sale that is TK Maxx). They were, and continue to be, far too big (I may have steadily grown outwards as a teenager, but come on dad, XXL? Really?), but this actually means that they provide a level of airy comfort that I simply cannot turn away from. For the last decade and a half, they've been everywhere with me. Even to South America where their twin pair was lost in an unfortunate lavanderia (laundrette to you and me) mix up, and where they picked up the burn mark that you can see on the right leg from an exposed Bolivian gas heater. Even now, despite a ripped undercarriage and partially lost T90 logo, I feel like I can make it through anything in these shorts. And, at a time like this, that's a feeling I'll happily cling to. George Blew